Since 2008, Based in Amsterdam, Netherlands
Shipping to all of EU, UK, Switzerland, and Norway
Credit Card, Direct Banking, Postepay, iDeal, Money Transfer
---
When it comes to online headshops or vape shops — most online stores are based in the United States or Canada.
As such, Europeans are always left with expensive shipping options and long wait times. If you're ready to buy vaping or smoking products in the E.U. in 2022 — it's time to look at VapoShop.
Are you wondering how fast VapoShop ships or what its return policy is like? If so, this review will answer all of your questions and more. From shipping practices, product quality, pricing, and payment information, you'll discover everything you need to know before shopping at VapoShop.
---
About VapoShop
VapoShop opened its online doors to European cannabis enthusiasts in 2008.
What originally began as an online smoke shop soon ballooned into something much bigger. From VapoShop's original distribution location in Amsterdam, it quickly gained recognition in Europe as the standard vape and smoke store.
The parent company that owned and operated VapoShop was Conscious Wholesale. However, Greenlane acquired Conscious Wholesale in 2019. Now, Greenlane owns and operates VapoShop via Greenlane Wholesale.
VapoShop's Product Selection
When we saw the name VapoShop — we immediately thought it was a vape shop.
However, VapoShop is much more than a vape shop because it offers a wide range of smoking products and accessories. As it turns out, VapoShop is a hybrid online store that offers the best of both worlds — smoking and vaping products.
By simply scrolling the menu, VapoShop is loaded to the gills with vaporizers and smoking gear. Below, we'll provide a glimpse at each category to help you understand VapoShop's menu.
Vaporizer Products
The first category that we'll discuss is an obvious one — vaporizers.
From portable vaporizers to discrete multi-use portable vapes, VapoShop appears to hold the keys to the kingdom of vapor bliss. Whether you're tired of inhaling smoke or you're ready to indulge in cannabis extract, vaporizers offer a wide range of products, such as:
Portable vapes
Desktop vaporizers
Pen vaporizers
Smoking Products
Smoking weed is the most common way to consume cannabis — for a good reason.
From massive bongs to smooth-hitting bubblers, smoking marijuana day or night is a soothing ritual that most cannabis enthusiasts partake in. Whether it's high-tech glass rigs with multiple percs or a perfectly rolled joint, smoking products are must-have gear, such as:
Pipes
Bongs
Rolling papers
Dab rigs
Smoking and Vaping Accessories
Whether you want a new quartz banger or you lost your favorite grinder, smoking and vaping accessories are the backbones of the cannabis sesh.
Accessories make the world go-'round — especially products that clean your glass or secure them during transit. As such, smoking and vaping accessories are just as crucial as the vaping or smoking products themselves.
Luckily, VapoShop carries an extensive range of smoking and vaping accessories, such as:
Batteries
Grinders
Storage containers
Cleaning products
VapoShop's Product Quality
Although VapoShop doesn't produce its own products — they carry nothing but heavy-hitting brands.
Remember, Greenlane owns VapoShop, and Greenlane is in deep with most of the top-ranked vaping and smoking brands. Therefore, don't be surprised when you see your favorite brands for sale at VapoShop, such as:
Storz and Bickel
Stundenglass
PAX
Boundless
DaVinci
Arizer
G Pen
Vibes
Below, we'll discuss a handful of examples of their overall product quality to give you a sense of what to expect before buying something from VapoShop.
Stundenglass Gravity Hookah Kompact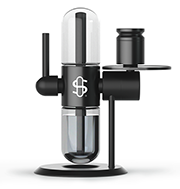 If there's a product that deserves an innovation award — it's the Stundenglass Gravity Hookah Kompact.
The Gravity Kompact oozes quality since it's handcrafted in Germany. Additionally, the piece works flawlessly as a gravity bong and infuser for the most efficient experience possible.
Ultimately, the Stundenglass Gravity Hookah is a precision-made glass product that's built to impress even the most discerning cannabis enthusiast. Although we don't believe in judging a book by its cover — you can rest assured that the Stundenglass Gravity Kompact is top-shelf quality.
PAX 3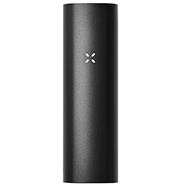 The PAX 3 is for sale at VapoShop, automatically telling you they aren't playing around.
The PAX 3 is rated as one of the best portable dry herbs and concentrate vaporizers for a good reason. From long battery life to silky smooth vapor hits, the PAX 3 is undoubtedly the vape world's reigning king (or queen).
Overall, VapoShop is an authorized reseller for the PAX 3, meaning you'll enjoy a 10-year warranty if your product ever malfunctions. If VapoShop carrying the PAX 3 isn't a testament to their commitment to quality — we don't know what more they could do.
Marley Naturals Smoked Glass Bubbler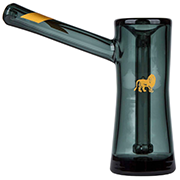 Marley Naturals' Smoked Glass Bubbler is a top pick if you're in the mood to kick back by the pool this summer with a smooth-hitting glass piece.
Known for its heavy-duty borosilicate glass and massive bowl size, Marley Naturals is an up-and-coming glass brand that offers exceptional quality. Once again, VapoShop scored by carrying Marley Naturals' glass products.
Pricing at VapoShop
A smoke or vape shop can carry all the best brands imaginable yet receive a low score if they don't adhere to a simple economic principle — competitive pricing.
Overall, we found that VapoShop's pricing is relatively competitive among its competitors. There are instances where you can buy vape or smoking products much cheaper than primary distributors, but we did view a few cases where products were priced in line with competing smoke and vape shops.
Below, we'll provide a few examples to showcase the competitiveness (or lack thereof) at VapoShop.
Arizer Solo II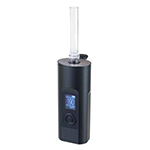 VapoShop sells the Arizer Solo II for €139.00.
Alternatively, Arizer themselves retails the Solo II for €141. As you can see, the price difference is roughly ~€2. In our opinion, VapoShop's price is relatively competitive because it is not overpriced compared to other smoke shops.
Dynavap Omni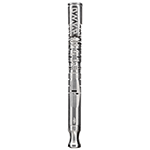 The Dynavap Omni is a portable dry herb vaporizer retailing for €199.00 at VapoShop.
At Dynavap, the Omni sells for €209.00. Once again, buying the Dynavap Omni at VapoShop compared to Dynavap isn't going to change your financial situation.
However, it's pleasing to see VapoShop provide slightly cheaper prices on popular vaping products such as the Omni.
Storz and Bickel Crafty +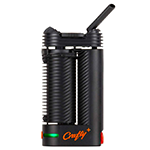 VapoShop sells the Storz and Bickel Crafty + for €219.00.
Alternatively, competitors retail the Crafty + for a whopping €298.00. As you can see, buying the Crafty + through VapoShop nets customers a massive discount that's worth every penny when considering Storz and Bickel's quality.
Special Discounts, Promotional Deals, and Coupon Codes at VapoShop
Next, we will delve into VapoShop's sales and promotional deals.
Considering VapoShop already offers relatively competitive pricing, any notable discount codes will significantly reduce the price of smoking and vaping products.
Below, we'll discuss VapoShop's various discount mechanisms and if they are reliable or not.
VapoShop's Exceptional Prices
VapoShop provides a section on their website's landing page that's called exceptional prices.
This section showcases all of the heavily discounted products found on VapoShop. Instead of searching tirelessly, the exceptional prices page allowed us to quickly find excellent discounts on high-end products, such as Storz and Bickel.
Remember, the products within VapoShop's exceptional prices page are ever-shifting and rarely stay the same.
Sales and Promotional Deals at VapoShop
When hunting for valid promo codes and other discounts, we always turn to VapoShop's social media accounts (Facebook, Twitter, Instagram).
Below, we'll provide a few examples of deals and discounts while perusing VapoShop's social accounts.
4/20 sale
Stundenglass sale
Giveaways
Winter deals
Black Friday and Cyber Monday
Overall, we were very impressed by the number of rotating promotional sales at VapoShop. As long as customers are patient, most notable holidays are paired with a significant discount opportunity.

Payment Methods at VapoShop
VapoShop stands out among its competitors because it accepts a wide variety of payment methods.
Considering VapoShop is a European smoke and vape shop — they need to offer a variety of payment methods since there are so many different methods across Europe, such as:
Major credit cards
Bank Contact
Direct Banking
EPS Giropay
Postepay
iDeal
Money Transfer (Revolut or Currency Cloud)
As you can see, VapoShop makes it easy to pay for your smoking or vaping products. However, it would be great to see VapoShop accept alternative currencies, such as Bitcoin, in the future.
Shipping Methods at VapoShop
Next, let's talk about how VapoShop deals with shipping.
Shipping plays a large role in our reviews because it's a matter of receiving your order in 3-days or 14-days. In our experience, the shipment process is enough to make or break a brand.
Ultimately, we were impressed by VapoShop's shipping methods. Below, we'll describe all the notable aspects of the shipping methods presented by VapoShop.

Free Shipping
As long as customers meet VapoShop's 50 EUR minimum — you'll receive free shipping.
Although 50EUR may seem relatively high — most smoking and vaping products exceed this amount. Therefore, it's easy to meet the minimum while shopping at Vapo Shop.
Shipping Destinations
VapoShop is a European smoke and vape shop — meaning they do not ship internationally.
Overall, VapoShop ships to all EU countries. Furthermore, VapoShop ships to non-EU countries, such as:
Whether you're in Greece or Lichtenstein, VapoShop has you covered with rapid shipping all across the EU.
Shipping Speed
In our experience, VapoShop provided excellent shipping speeds once we placed an order.
Generally, VapoShop is capable of rapid turnaround times because its primary shipment facility is based in the Netherlands. The fastest shipping speeds are to destinations in the Netherlands (1-2-days).
Alternatively, the longest shipment times are in Spain and the UK (4-5-days). Overall, even the longest shipping times are relatively fast compared to other online smoke and vape shops.
Shipping Taxes
Countries like Norway, the UK, and Switzerland may experience VAT or customs fees.
Although it's not guaranteed that you will need to pay certain shipping taxes, individuals in non-EU countries must be prepared to pay import taxes.
Discrete Packaging
All of VapoShops' packages are shipped in discreet boxes that do not describe the contents of the package.
Furthermore, all orders shipped from VapoShop are fully insured and offer tracking. Therefore, customers will always know where their products are after shipment.

Customer Support at VapoShop
When things go wrong — it lands squarely on customer support.
In our years-long experience of buying smoking and vaping products online, we've learned that customer service is the Achilles heel of most online stores.
However, VapoShop hit the nail on the head with its customer service representatives. Ultimately, VapoShop's customer care is a breath of fresh air compared to so many other online headshops.
Below, we'll provide details about VapoShop's customer support.
Return Policy
VapoShop offers one of the most flexible return policies we've seen.
With a 14-day return window, customers have an easy experience returning new and unused products for a full refund.
Broken or Missing Products
If your products arrive broken or lost during transit, you can easily file a claim with VapoShop for a refund or replacement.
Ultimately, the entire process regarding broken or missing products is incredibly smooth when buying smoking or vaping products with VapoShop.
Warranties
VapoShop sets the bar high by offering a 2-year warranty period on their vape products.
After the 2-year period ends, customers can continue to rely on the manufacturer's warranty. Ultimately, it's uncommon to find a lengthy warranty period from an online smoke or vape shop.
Ultimately, VapoShop's extended warranty period shows how much they care about their customers.
Contacting VapoShop
If you need to get in touch with customer care at VapoShop — it's relatively easy.
VapoShop offers an online contact form. Once you fill out the necessary details, a customer care representative will reach out to you within two business days.
Although they do not offer a phone number, the contact form is extremely convenient to use.
Canceling Your Order
If you need to cancel your order before it's been shipped — it's a straightforward process.
However, if your order has already shipped, you can quickly return the package for a full refund. Once again, these examples only solidify our view that VapoShop's customer support excels compared to other smoke shops.


Our Final Thoughts on VapoShop
Ultimately, VapoShop exceeded our expectations on nearly every front. Below, we'll provide an overview of the pros and cons we found during our review of VapoShop.

Pros
Competitive pricing
Name brand products
Carries high-quality products
Extended warranties
Rapid shipping
Excellent return policy and customer support
Many payment methods
Cons
Does not ship to the USA or Canada
Shipping tax for non-EU countries like Switzerland, Norway, and the UK
50EUR minimum for free shipping
From pricing to customer support, VapoShop is a premier vape shop and head shop that offers incredible deals for the European cannabis community. If there's ever been a reason to lament not living in Europe — it's VapoShop and its stellar business model.
The Best Head Shops of 2023

1. Grasscity

• Overall Best Head Shop

• Oldest Headshop & Best Reputation

• Since 2000, Based in Amsterdam, NL

• Free Stealth Worldwide Shipping

• Bitcoin Accepted!

[Read Our Review]
• Promotions & Special Offers • Pay with

Bitcoin

• Reward Program Read Our ReviewVisit Website

2. Smoke Cartel

• Best Shopping Experience

• Since 2013, Based in USA

• Stealth Worldwide Shipping

• Free Shipping in USA

[Read Our Review]
• Promotions & Special Offers • 10% Coupon Code:

CNBS

• Subscription Box • Reward Program Read Our ReviewVisit Website

3. Vapor.com

• Best Headshop for Vaporizers

• Since 2005, Based in Florida, USA

• Shipping to U.S, CA, U.K, EU, AU, & NZ

[Read Our Review]
• Promotions & Special Offers • Price Match Guarantee • Reward Program Read Our ReviewVisit Website

4. Hemper

• Best Subscription Box

• Since 2015, Based in NY, USA

• Shipping to Selected Countries

[Read Our Review]
• Sunscription Boxes • Gift Cards • Themed Boxes Read Our ReviewVisit Website

5. Allin1SmokeShop

• Best for Artistic Heady Glass

• Since 2016, Based in Florida, USA

• Stealth Worldwide Shipping

[Read Our Review]
• Promotions & Special Offers • Reward Program Read Our ReviewVisit Website
---
Category Pages: