Since 2005, Based in Florida, USA
Shipping to U.S, CA, U.K, EU, AU, and NZ
Credit Card, Gift Cards, USPS Money Orders
Special Offers , Reward Program
Price Match Guarantee
---
The cannabis community expands daily, with more people looking for an easy outlet for all their smoking needs. From portable vape pens and pipes to rolling paperas and grinders, Vapor has an extensive collection for seasoned smokers and newcomers alike.
For those looking for evidence to trust Vapor.com as your new (or ongoing) provider, look no further. Our comprehensive review covers all your questions and concerns, giving you all the information you need to stay informed in the world of online head shops.
Quick Links – Vapor.com Online Head Shop:
---
A Quick History of Vapor
New head shops appear online daily with flashy sites and attractive prices. But should that warrant your trust?
The Vapor smoke shop is far from that crowd of newbies. They're not in the business of making a quick buck from smoke fanatics or one-and-done sales. In fact, Vapor has been around for nearly 20 years as an online head shop.
Originally named VapeWorld in 2005, the company was purchased by Greenlane in 2018 and renamed to simply Vapor. As VaporNation, the brand sought to sell e-cigarettes, vaporizers, and related products. However, since it's recent buy-out, it's expanded to offer products in all aspects of the cannabis scene.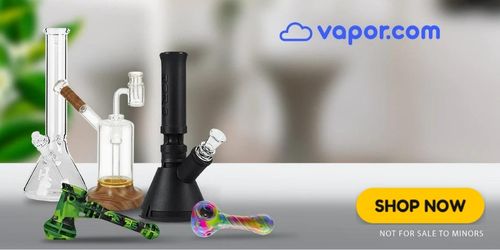 Where is Vapor.com located?
Vapor.com is headquartered in Boca Raton, FL. The company has several warehouses around the US and Canada, readily serving North America.
Is Vapor com a legit site?
When it comes to legitimacy of online retailers for vape products and smoke paraphernalia, users are rightly skeptical before making their first purchase. We understand that when searching for Vapor smoke shop or other sites and finding common questions like "is vapor.com legit?" or statements such as "complaints against Vapor.com", it can be disheartening.
Rest assured, you have nothing to worry about when it comes to Vapor.com. It is 100% legitimate as an online marketplace that's utilized by the cannabis community daily.
---
Vapor's Extensive (and Growing) Product Selection
There is nothing—or very little—that the Vapor head shop doesn't offer. From portable vaporizers, oils, and edibles to storage and cleaning products, Vapor.com will have what you need for your next sesh.
Almost to fault, too. There's such a wide variety that it can easily become overwhelming for newcomers. Luckily, there are solid recommendations for each category and user reviews can help quell any doubts or uneasiness.
Top Vapor.com Brands
We're no stranger to brand loyalty. We also know you want the best of the best when it comes to quality, price, and name.
The Vapor smoke shop wins big in this category, offering products from top brands in the CBD and cannabis world. Portable vaporizers from PAX and rolling papers from RAW are just two of the headliners here.
It's not just about selling a popular product or a brand-name product. For Vapor, it's about the guarantee of quality and support for their customers.
We see a lot of you asking, "is Vapor com an authorized PAX dealer?" The answer is yes, Vapor is an authorized distributor.
The site also provides the manufacturer warranty (typically a two year warranty or lifetime warranty) within the details of each product. This information can be helpful when comparing products and if ongoing customer support is important to you.

Custom Products
While Vapor might be one of the leading head shops in the world, selling top brands and popular items throughout North America, they also maintain some mom-and-pop qualities.
What we're referring to is their focus on offering custom glass work or handmade products. Not everything needs to come from a big corporate factory. Sometimes, your favorite pieces are the unique, can't-find-it-anywhere-else type.
Vapor.com's Product Strengths
From its inception, Vapor has always been a vaporizer-first business. The focus on providing a large selection of portable vaporizers, desktop vaporizers, vape pens, and more is the clear purpose of this business.
As an authorized retailer of top vape brands as well as minor ones, this online smoke shop is keen on supporting the industry, from seasoned brands to newcomers. They also provide detailed and instructive buying guides for new vape models and new vapers.
Something to note here is that Vapor isn't trying to be the Amazon of the vape world. The company isn't offering every single vape product on the market so they can win over your wallet. It feels like a much more curated experience. We would much rather have a select few test and vetted products than hundreds of questionable ones.
Vapor.com's Product Weaknesses
Since being rebranded just 5 years ago, the company is expanding its offerings into non-vape products. Things like rolling papers, storage containers, grinders, and bags.
Accessories are great to have. They help keep you organized, and we can't argue with that. So selling a few carrying cases or even a backpack is something we support. Especially considering that none of these accessories are branded. Because if they were, it would defeat the purpose of the commitment to discretion.
Branching out to non-vapers—specifically, traditional smokers—is where their product weaknesses come into play. You can certainly find rolling papers from top brands like RAW and glass bongs from Studenglass. The quality is great (which relays back to the manufacturer more than Vapor). Offering these products is great. Their weakness here is selection. It's few and far between.
Granted, this is a vape-first business. Selling anything is clearly secondary, and it shows. But that shouldn't deter you from purchasing a new pipe or concentrate rig here. If that's your style of partaking, we encourage you to look at Vapor.com, it just might not become your top smoke shop until inventory catches up.
The most frustrating part of browsing this site is the persistent "Out of Stock" sticker on seemingly half of their products—even the ones under the Hot & New category. It would almost be better if they simply had fewer products than hundreds listed as out of stock.
They do allow you to be notified once stock is replenished, so if you're keen on buying from Vapor com smoke shop and can hold off for a few days, then their stock issues shouldn't affect your shopping experience.
---
Pricing on Vapor com Reviews
We find that pricing here is slightly above the average markup, with many products selling at the same rate you'll find elsewhere.
The company actually has a pledge, a guarantee, to sell products at the best possible pricing. That type of language is vague enough to win over most customers, even when prices aren't at their best.
We have no doubts about Vapor.com and their commitment to quality in both products they sell and customer service.
Sales, Bundles, and Deals
One way Vapor smoke shop beats the competition when it comes to pricing is with bundles, sales, and daily deals. As expected, daily deals are updated daily. But sales happen often and there's always an appealing bundle to snag (if it's not already sold out).
As of writing this, the sales products available are really top-notch:
PAX 3 Complete Kit for $250
DaVinci MIQRO Vaporizer for $100
Vibes Bundle at $50 off
We recommend checking on their Daily Deals section regularly for good deals on high quality products.
Alongside their site-wide sales and offers, they do provide Vapor com discount codes to regular purchasers and members. Using discount code providers or performing a quick online search provided several working coupons.
Price Match Tool
Don't be discouraged. Vapor has an amazing tool to help you combat markups: a price match guarantee. If you find the same product for a better price on another head shop, tell Vapor. They are more than happy to sell at the price you've found.
It's easy to use this tool, too. You can either:
Call in your order and tell the sales rep the URL of the site you want price-matched.
Place your order online as usual, then email customer service with your order number and URL of the price-matched product.
Both methods should save you time and money. We're glad to see Vapor offer a service like this and cater to their customers.
Reward Program


If daily deals and price matching weren't enough to win over even the most indelible customers, then Vapor.com's free reward program should.
The only requirement is to have a Vapor.com account. Points can be stacked, expire after one year, and can be used to make any future purchases.
Earning is easy:
1 point per dollar spent
Points on your birthday
Reviewing products
Referring friends
---
Payments and Shipping on Vapor Review
Overall, we can summarize by stating payment options on Vapor.com are minimal but provide the most popular methods. Shipping is a strong point for the company, which we will detail below.
Acceptable Payment Methods on Vapor.com
People want convenience more than anything when it comes down to the final stage of making a purchase. You've gone through the site, you've chosen your products, you've applied your points and discounts, and now you need to pay. How is easy it on Vapor's site?
While you won't find one-click payment options like Apple Pay or PayPal, you will find the traditional credit card and debit card options. Accepted networks include Visa, Mastercard, American Express, and Discover.
You also won't find the increasingly popular method of paying with Bitcoin here. Crypto payments are common within the cannabis community and are converting from a convenient niche to a requirement.
The site also accepts USPS money orders when placed over the phone, as well as a Buy Now Pay Later (BNPL) option. The latter is provided by Sizzle.
In total, the accepted payment methods are:
Credit Card
Debit Card
Money Order
Buy Now, Pay Later
NOTE: When making a purchase, your bank statement will show "Warehouse Goods Inc." instead of "Vapor.com".
Applicable Sales Tax
The amount you see on your cart is what you pay with no added fees or tax and (usually) free shipping. This is true as long as you don't live in:
Nevada
New York
Pennsylvania
New Jersey
Florida
California
Residents in these states are required to pay sales tax, and that tax may be adjusted according to local legislation.
It's nice to see the company state clearly who pays what amount and for what reason without nickel and diming every customer that visits their store.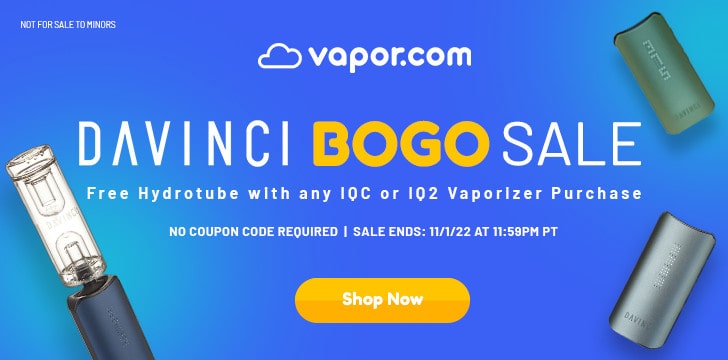 (Mostly) Free Shipping
Vapor com provides free shipping to the US (including Alaska and Hawaii) for:
All vaporizer orders
All orders over $48
We saw free shipping times ranged between 2-5 days upon payment. If you want your order shipped faster, you can choose express shipping.
A shipping label is provided by FedEx for larger orders, otherwise you'll receive one from USPS.
If you're wondering, "how long does vapor com take to ship," the answer depends on where you live and which type of delivery you selected. They offer fast shipping, sending orders the same day you place them, and most orders arrive within 3 business days.
Vapor's Claim to Ship Internationally
As of this writing in 2023, Vapor does claim to offer international shipping with free shipping on all order above $48. However, upon inspection there is no option in checkout to ship outside of the US. That also includes Canada.
We've contacted Vapor about this for clarification. We'll update this review once we get clarity on the international situation.
Does Vapor com ship discreetly?
We're happy to say yes, Vapor does ship discreetly. In fact, the company states throughout their documentation, site, and emails how much they value your privacy.
You can expect packages to appear in a plain package, unmarked and unlabeled.
This discretion is the likely reason they don't appear as "Vapor.com" on your bank statement.
As previously mentioned, Vapor has warehouses across the US and Canada which makes fast, discreet shipping possible no matter where you live. Warehouses are located in:
South Florida
Central California
Canada
Kentucky
Making Returns
Each package arrives with a return label and a generous returns window of 30 days.
The caveat is that you cannot open the sealed device. So returns are only possible if you change your mind about a purchase after it's been shipped.
---
Great Customer Service at Vapor.com
Of course, you can expect raving reviews on Vapor.com's own website. But if we take a look elsewhere, on sites like Trustpilot and ResellerRatings, we can dive a little deeper into the sentiment around this head shop.
Trustpilot Score: 4.0/5 stars with 5803 reviews
ResellerRatings Score: 4.04/5 stars with 11,903 reviews
Complaints for Vapor.com
We need to take into consideration these past couple years leading up to 2023 where shipping was limited, businesses suffered, and consumers suffered.
The biggest complaints revolve around defective products, products that don't have the quality customers expected, and with customer service—specifically shipping.
Having said that, it is a select few (12% of customers in the lifetime of the business) that has reported negatively about the company. Which leaves 88% of customers satisfied and happy with their purchases.
Responsive Customer Service Team
The customer service representatives at Vapor are available via:
The company is also on every social media network, with DMs open.
From our experience, answers to simple questions about orders, account, and shipping were rapid. Other, more involved questions, took about a day to receive a response.
Overall, the company (as of 2023) has great customer service and offers returns, exchanges, and refunds to customers.
Summarizing Our Vapor Review
PROs
Wide range of vape, smoke, and accessory products
Authorized retailer of top brands
Price match guarantee, discounts, and rewards
Fast shipping through the US, Canada, and internationally
Discreet shipping on all orders
Solid customer service
CONs
Average to above average pricing
No one-click or alternative payment methods
Small selection of oils and CBD products
---
Final Thoughts
Vapor.com is one of the top online vape shops in the world, and for good reason.
The devices they carry are high quality and come with manufacturer warranties that range from 2 year to lifetime.
Shipping as of 2023 is performed in a timely manner and always comes with discreet packaging and a tracking number.
Finally, excellent customer service with easy and direct contact make this a go-to service for any cannabis lover.
There's something for everyone on the Vapor online smoke shop, and they surprisingly cater well to each type of smoker. You can put your trust in Vapor.com.
Quick Links – Vapor.com Online Head Shop:
The Best Head Shops of 2023

1. Grasscity

• Overall Best Head Shop

• Oldest Headshop & Best Reputation

• Since 2000, Based in Amsterdam, NL

• Free Stealth Worldwide Shipping

• Bitcoin Accepted!

[Read Our Review]
• Promotions & Special Offers • Pay with

Bitcoin

• Reward Program Read Our ReviewVisit Website

2. Smoke Cartel

• Best Shopping Experience

• Since 2013, Based in USA

• Stealth Worldwide Shipping

• Free Shipping in USA

[Read Our Review]
• Promotions & Special Offers • 10% Coupon Code:

CNBS

• Subscription Box • Reward Program Read Our ReviewVisit Website

3. Vapor.com

• Best Headshop for Vaporizers

• Since 2005, Based in Florida, USA

• Shipping to U.S, CA, U.K, EU, AU, & NZ

[Read Our Review]
• Promotions & Special Offers • Price Match Guarantee • Reward Program Read Our ReviewVisit Website

4. Hemper

• Best Subscription Box

• Since 2015, Based in NY, USA

• Shipping to Selected Countries

[Read Our Review]
• Sunscription Boxes • Gift Cards • Themed Boxes Read Our ReviewVisit Website

5. Allin1SmokeShop

• Best for Artistic Heady Glass

• Since 2016, Based in Florida, USA

• Stealth Worldwide Shipping

[Read Our Review]
• Promotions & Special Offers • Reward Program Read Our ReviewVisit Website
---
---
Category Pages: