It seems that every few months, the list of places with legal recreational marijuana grows even longer. Amsterdam has been a marijuana hotspot for decades, Colorado added itself to the list in 2012, and in 2018, Canada got on board with recreational bud. Not everyone is lucky enough to live in a place where marijuana flows freely (and legally), however. This has given rise to a new field within the marijuana industry: marijuana tourism.
Whether people are traveling from their marijuana-friendly states to see how green the grass is on the other side or are planning a marijuana vacation to experience the fun of spending time in a legal state or country, cannabis tourism has given rise to tax revenue for governments, great opportunity for businesses, as well as challenges for travelers and local authorities.
---
Cannabis Tourism by the Numbers
One of the first things that became apparent about legal recreational cannabis is that it would be a huge attraction for tourists. Amsterdam knows this well; its cannabis coffee shops have been a draw for travelers since the late 60s.
What of the newest wave of marijuana legalization? Colorado marijuana tourism is an excellent case study in this new frontier; because it legalized recreational back in 2012, marijuana tourism numbers for the state are finally starting to become available. According to the state department of tourism, Colorado cannabis tourism has grown by 51 percent since 2014. The most recent year that numbers are available is 2016; that year, the state saw 6.5 million cannabis tourists visit its ski slopes, mountain vistas, and dispensaries.
For other states like California (which legalized recreational marijuana in 2016), time will tell how many people come to the Golden State for the sole purpose of experiencing cannabis on the West Coast. In Canada, some experts estimate that the yearly tax revenue on legal marijuana sales could run as high as $1 billion.
---
Marijuana Tourism Activities
For someone planning their first marijuana vacation or traveling to a new cannabis-friendly locale for the first time, it can be challenging to know where to go (especially since the tourism boards in some places avoid promoting cannabis). Numerous entrepreneurs in places with legal recreational marijuana are stepping up to cater to vacationers on the hunt for THC. Whether a visitor prefers touring in a group, checking out the cannabis scene solo, or experiencing the world of legal marijuana with a close group of friends, there are many opportunities for activities, shopping, and more.
Festivals
One of the easiest ways to plan a marijuana vacation is to schedule it around a marijuana-themed festival. These events vary in size and are a celebration of everything 420-related. Visitors will find music, activities, food, and booths from every seed shop, head shop, rolling paper brand, and dispensary imaginable. Depending on the location and the local laws, attendees can purchase bud, dabs, edibles, and and endless variety of rigs, pipes, papers, oils, and more. Such events also feature activists and offer education on how people can get involved to push legalization efforts forward in places where they're currently lagging.
Marijuana-themed festivals range from huge international events like CannaFest to smaller festivals taking place all over. This gives travelers the opportunity to plan their vacation around a huge festival or simply check to see if a smaller event is going on wherever they plan to visit.
Group Cannabis Activities
Even if there aren't any 420 festivals going on, there are still plenty of options for cannabis tourists to enjoy their favorite pastime with like-minded people. A growing part of the marijuana industry consists of budding entrepreneurs creating cannabis tours and getaways that allow visitors from all over to immerse themselves in a marijuana-friendly experience as a group. Among the various types of activities and tours, visitors may find:
Weed Tourism Bus Tours
These party bus tours travel around to to grow facilities, dispensaries, and more in order to teach visitors about the science behind growing and harvesting the plants, the art of crafting the glass pipes and pieces consumers love, and give them a chance to sample and purchase a variety of strains, concentrates, edibles, and more. Most bus tours have a wall installed in between the driver and the passengers, allowing participants to partake in between destinations.
Loopr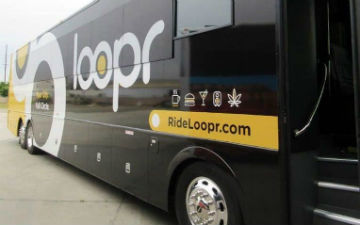 Loopr offers cannabis-centric bus tours in Denver, Colorado and Los Angeles, California. By utilizing the Loopr app, travelers will use a reliable, organized transit network while enjoying the best the city has to offer. From cannabis tourism, nightlife, dining, and craft brewing, there is something for everyone to enjoy.
Tours
By riding with Loopr, travelers can enjoy their tour by engaging in multiple activities while consuming and learning about cannabis and the culture surrounding the plant. The bus ride itself allows travelers to enjoy their cannabis in a comfortable, multimedia environment with vibrant music videos and laser light shows to heighten their experience.
Loopr offers 1-Day, 3-Day, weekly, and monthly passes that allow unlimited boarding and un-boarding as the buses travel on their planned routes throughout their cities. Loopr is unique as it is the only bus tour insured and licensed by the State of Colorado.
The Loopr App
The experience begins after downloading the app. The app sends users notifications when their bus is arriving and provides live tracking throughout the tour, allowing users to know exactly where they are throughout their trip and anticipate future destinations. In addition to these services, the app offers exclusive promotions for travelers and the Loopr Shop, where travelers can upgrade their ride and enjoy on-bus refreshments.
Additional Information
While Loopr does not directly provide or sell cannabis to travelers, they are partnered with select dispensaries that offer exclusive discounts on chosen products. Loopr is planning on expanding to other regions throughout the country including California, Massachusetts, and any place where cannabis consumption is legal.
Website: www.rideloopr.com
Watch: Sightsee in high style with Loopr LA
---
High 5 Tours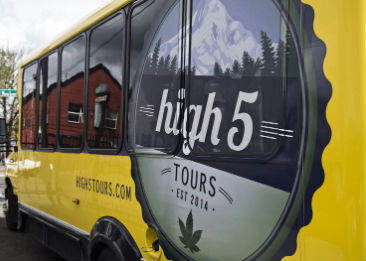 Portland, Oregon's High 5 Tours provides fully infused cannabis tour bus experiences, combining an overview of the city's vibrant weed scene, along with dashes of food, drink, and sightseeing. The tour company, which has recently been featured in The New York Times Travel Section, and is Oregon's first cannabis bus tour outfit, offers four different cannabis experiences. And, since state and local law permits consumption during the tour, whatever you choose, you get a complete trip. Here are High 5 Tours' offerings:
CannaPDX Adventure: Loads up on High 5 Tours' Yellow Pot Bus with a group of cannabis-curious every Wednesday, Friday and Saturday and get the full Portland marijuana experience. This tour combines dispensary visits, including Farma PDX and Homegrown Apothecary, with a craft brewery stop, Portland sightseeing, and food truck munchies.
Multnomah Falls Tour: For those looking for a natural experience, every Friday High 5 Tours pilots the Yellow Pot Bus away from the city for scenic views of the Columbia River Gorge. Supplement your natural high with a stop at Be Wonderful Wellness dispensary and the Hawthorne Asylum food cart pod.
Green Choice Farms Tour: What is a cannabis experience without seeing a grow operation up close? On Saturdays, High 5 Tours travels to Green Choice Farms, where tour-goers can learn about organic cannabis, see the lifecycle of the cannabis plant, and see some of the biggest buds. The tour also hits some of Portland's famous food carts, to round out the weed experience.
CBD Tour: Interested in learning the chemical, therapeutic, and legal differences between THC and CDB? This Sunday-only tour will teach you all about CBD with visits to Homegrown Apothecary and CBD World, product samples, and drink and food stops (with CDB beer and Garlic Knots with CBD dipping sauce).
Website: www.high5tours.com
Watch: High 5 Tours
Wine and Weed Tours
A new spin on the weed bus tour, some cannabusinesspeople in California's wine country are taking things to the next level with wine and weed tours. These kinds of tours allow wine lovers and cannabis connoisseurs to combine their two interests by visiting wineries as well as marijuana dispensaries for tastings of California's finest wine, as well as its finest cannabis strains.
Marijuana-Themed Activities
In addition to tours, visitors or locals in marijuana-friendly places are likely to find cannabis-themed activities on the schedule around town. These may range from dance parties to art events or cooking classes. "Puff and paint" events allow participants to bring out their artistic side while consuming strains provided by local dispensaries. Cannabis cooking classes teach people how to infuse their own edibles at home – from sweet treats to THC or CBD rich savory dishes.
Cannabis Getaways
For cannabis-centric or cannabis-friendly social clubs, a cannabis getaway is the ideal way to achieve marijuana immersion. These members-only groups often schedule ganja-centric getaways that incorporate 420-friendly lodging, classes, activities, and plenty of downtime to simply relax and puff away.
Solo Activities
For some folks, a marijuana vacation isn't meant to be enjoyed on a tour; they prefer spending it exploring solo or with a few friends or family members. Here are more individualized activities travelers enjoy when traveling in 420-friendly places.
Marijuana Dispensaries
The most obvious item on any marijuana vacation agenda is local marijuana dispensaries. Those who are new to marijuana might feel intimidated by the idea of walking into a store that's full of strains, edibles, tinctures, and other products, but cannabis dispensaries have helpful budtenders on staff to help answer questions and guide novices in the right direction.
Before heading out to a specific dispensary, visitors should make sure they can actually purchase their products. Some cannabis dispensaries only cater to medical customers (due to local ordinances or a desired focus by the owner). Those kicking off a Colorado marijuana vacation, for example, should do a bit of research online or call ahead before heading out; this will prevent a two-hour drive over a mountain range only to arrive at a dispensary that turns away everyone without a medical marijuana card. Most dispensaries will indicate this on their website as well as offering a menu of the strains they currently have available.
Headshops
For years, headshops in areas where cannabis was illegal were forced to offer rolling papers, bongs, pipes, and other accoutrements that were sold with a wink, wink, nudge, nudge "for use with tobacco and legal herbs only." In places with legal recreational marijuana, stores are free to drop the pretense and give folks taking a marijuana vacation a place to peruse a wonderland of items to add to their cannabis toolboxes.
Cannabis Lounges, Clubs, and Coffee Shops
Laws pertaining to public consumption have been a sticking point for many a cannabis vacationer; just because one travels to a place where marijuana is legal doesn't mean that there are a variety of places where people are allowed to consume it. In many places, it's illegal to consume cannabis in the same place it's purchased.
Cannabis coffee shops have long offered tourists in Amsterdam a place to drop in, light up, and relax. In other places throughout the U.S. and the rest of the world, cannabis lounges and clubs provide a way to abide by local public consumption laws while still allowing people a place to enjoy their favorite strains.
A typical cannabis lounge will offer a variety of pipes and glass pieces for public use (with alcohol wipes to sanitize them in between different users). Some request that members bring their own bud, while others might provide bud as a benefit of the membership donation fee. Visitors will typically find comfortable places to sit as well as snacks and drinks to enjoy while they smoke or vape.
Many cannabis clubs and lounges operate on a members-only basis. Depending on local laws, a club or lounge may be restricted to membership of local residents only. It's always important to check online or call ahead to find out the rules before showing up. Some areas are beginning to issue licenses to allow consumption and purchase of cannabis in the same location; this will create new potential for lounges and even cannabis restaurants.
---
Challenges to Marijuana Vacations
From the most experienced cannabis connoisseur to those who are venturing into fields of green for the first time, there are several things to be aware of before dipping one's toes in the water of cannabis tourism. Here are some factors that can take tourists off-guard (or even get them into trouble) if they're caught unaware.
Payment Methods
Before wandering into a cannabis coffeeshop or dispensary anywhere in the world, travelers must be prepared with multiple ways to pay. In Amsterdam, for example, some coffee shops don't take cash, while others insist on cash only.
Cash only is the current state of affairs for dispensaries in the U.S., as well – at least until federal cannabis law changes and banks are allowed to handle marijuana-related money. Some dispensaries have an ATM on site, but visitors are advised to come prepared with cash in hand just in case they don't.
Public Consumption
Although fines and penalties may differ from one place to the next, a general rule of thumb is that even where recreational cannabis is legal, consuming it in public is not. This means that tourists run the risk of getting ticketed or arrested if they're caught lighting up or vaping in a public park, on a beach, or while sitting on a restaurant patio. People must keep cannabis consumption within the confines of a private property, 420-friendly rental or hotel room, or an establishment with an approved marijuana consumption lounge or area.
420-Friendly Lodging
Another difficulty caused by public consumption laws arises when eager marijuana tourists leave a dispensary with their purchases and discover that they have nowhere to legally consume it. Most major hotel chains ban all forms of smoking on their properties.
There are still ways to consume while on a marijuana vacation, however. The growing cannabis tourism industry has given rise to marijuana-friendly hotels – many of them smaller boutiques or so-called "bud and breakfasts" that offer special weed-centric amenities to their guests. Some tour operators have deals with larger hotels to book rooms in which guests are allowed to vaporize cannabis, but many of these hotels won't discuss this arrangement if customers call and ask directly.
Finally, sites like VRBO and Airbnb are full of 420-friendly rentals that are owned by private individuals. Even if mainstream hotels are out, there are still plenty of options for those who travel to a destination to partake in legal cannabis.
Overconsumption
Cannabis novices can find it easy to overconsume, but even experienced cannabis connoisseurs can be taken off-guard by the strength of many of the products available in dispensaries. This is especially the case with edibles, where someone may consume a serving and not feel the effects for an hour or more later (during which time many people have already eaten another serving or two, unaware that the effects haven't kicked in yet). Experts advise those who are new to a particular product (or new to cannabis altogether) is to start with a low dose and consume very slowly.
Possession/Travel Laws
Although legalization has opened the floodgates to cannabis tourism in many places, it's also created the potential for misunderstandings around public possession and traveling with marijuana. How much people are allowed to carry varies wildly from one place to the next; in Amsterdam, the limit is 5 grams per person, while in Canada, it's 30 grams.
In most U.S. states with legal marijuana, products are required to be carried in the containers in which they were sold. Drivers must avoid traveling with opened cannabis containers in the passenger seat, and consumers should take care not to drive with blood THC levels that are over that state's legal limit (in Colorado, for instance, people with THC levels over five nanograms can be prosecuted for driving under the influence).
Traveling internationally with cannabis in tow is not allowed. Passengers flying within Canada are allowed to take up to 30 grams of cannabis on board a plane with them. Airport security in the U.S. operates under federal law, so marijuana discovered at security checkpoints there may be confiscated despite the laws at the passenger's departure or arrival destinations.
Non-Promotion of Cannabis Tourism
Some would-be cannabis tourists are surprised when they visit the websites of tourism boards in cannabis-friendly places only to find little to no mention of legal marijuana or the best places to enjoy it. This is because many tourism boards and destination marketing organizations don't want to promote cannabis due to federal law and the stigma that still surrounds marijuana. Many of these organizations take steps to inform tourists about the existence of legal recreational cannabis and how to stay safe, but they stop short of actually endorsing it. One example is the Colorado Tourism Board, which simply links to information about marijuana safety from their website.
---
Cannabis Tourism: Knowledge Is Power
Whether someone is dreaming of backpacking through Europe with a stopover in Amsterdam, a THC-rich trip to Toronto, or a mellow marijuana vacation on the west coast of the United States, it's a good idea to do a bit of research before setting out. Travelers should be aware of the marijuana laws in the area they're planning to travel, as well as researching dispensaries, lounges, and lodging to make sure they don't encounter any unexpected surprises along the way. As legalization expands and the stigma surrounding recreational marijuana lifts, so will many of the restrictions on it. For now, the best rule of thumb for all cannabis tourism is to know before you go.
---
Category Pages:
Related Categories: