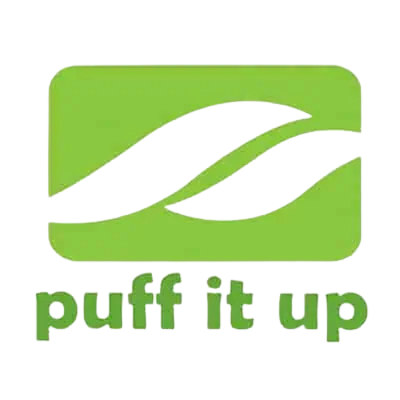 Since 2017, Based in NYC, NY, USA
Shipping to USA and Canada
Credit Card, Gift Cards, USPS Money Orders
---
The popularity of vaping and CBD oil has led to an explosion in the vape industry. This includes a myriad of websites that sell vaping products. Is PuffItUp.com one to consider? Or would you be better off passing it by?
Let's take a look at what PuffItUp.com has to offer, and whether or not it's worth your time.
See our recommendations for better alternatives at the bottom of this page!
---
History and Reputation of PuffItUp
PuffItUp started in 2007 as a passion project by its founder. Since then, product offerings on PuffItUp.com has changed significantly, no doubt due to both the increased popularity of vaporizers and changing legislation.
The company runs on the premise of testing before selling, so in theory every product should pass some form of internal test. We can't say exactly what that test is or how biased it is, so results may vary. But it is an admirable mission, nonetheless.
A CBD online vape shop that's been in business for 15 years now must be doing something right and should warrant a level of trust from customers.
If that is the case, then why has this smoke shop remained so small? If it garnered attention due to its incredible customer service policies, then shouldn't there be more attention focused on the shop? Let's take a look at what the customers have to say.

Reputation Among Customers Is Mixed
In previous online vape shop reviews, we take customer reviews directly from the business' website with a grain of salt. However, we're making an exception for PuffItUp. Why? Because they've clearly left in the negative reviews.
For clarity, a review on a company's website doesn't always reflect the quality of the company, but rather the quality of the product. Since PuffItUp doesn't product their own vapes, negative reviews on the products they sell shouldn't affect sentiment around the company.
But in this case, it does. Remember they state that every product is vetted before its allowed to be sold? If that were the case, then why are there so many 3-star reviews on products? Shouldn't every review be raving?
We don't want to deter you from buying from this site entirely. If you're looking for a DaVinci IQ2 vape, you can get it here for a good price.

We can also take a look at PuffItUp.com's
TrustPilot
page. Here, they have a near 5-star rating based on 5.5k reviews. That's something to praise.
Looking closer, we find that the most recent reviews claim decreased customer satisfaction due to their customer service department.
"I will buy directly from [the manufacturer] from now on and not through PuffItUp again."
"I've reached out to the company three separate times for two different orders and received NO response."
"Product return process was horrendous."
Again, not everything is bad. 94% of the reviews are positive:
"Best price with fast shipping."
"[Zach from customer support] solved all my issues and makes me feel like I'm a valued customer, and because of him, now I will be a loyal one too."
"PUFFITUP has great products of all price range and type at lower prices than competitors."
---
Product Offerings at PuffItUp Vape shop
Puff It Up focuses primarily on vapes and CBD. In fact, that's essentially all they sell aside from a few accessories like grinders and scrapers.
Wide Range of Vaporizers…
Navigating the site is a bit overwhelming. You hover over the "Vaporizers" menu category and suddenly your screen is filled with options.
This design is, potentially, to get you to a vape you've had your eye on. In other words, it's not really a place to browse, instead it's a place to buy. But it's just too overwhelming. You can easily see all of the brands, including:
PAX
DaVinci
FireFly
Arizer
Viewing all vapes on sale is a bit tougher to find, even if the button is directly at the top left of the screen. It's just too overwhelming to enjoy the browsing experience.
To their credit, PuffItUp sells some of the most popular vapes in the world (mentioned above). Here, you'll find:
Portable Vapes
Desktop Vapes
Concentrate Vapes
Vape Bundles
Keeping it down to the basics is a great thing. Somehow, though, this site manages to make everything feel bloated with very little actual bloat.
Also to note: why is "Concentrates" a separate menu category? It seems disorganized, especially seeing that this is a vape section and not a section that sells concentrates (i.e., CBD oil).
…But Mostly Sold Out
There are 54 vapes in total on this site. That's a solid range, right? Wrong. 29 of those vapes are sold out. Why even list them?
It seems like a sneaky way to make stock feel much fuller than it actually is. And since there is, in fact, such little to choose from, then why are there so many shipping complaints on Trustpilot?
"Everything Else" Is…Also Sold Out
You could get a good scraper, some storage containers, and even a bubbler here in this mega-category. But most things are sold old.
All CBD oils are sold out, so we hope you weren't planning to get a vape and oil from PuffItUp.
It's a shame, really, because the store "stocks" products from big names:
Higher Standards
Santa Cruz
Jyarz
There is a lot of potential here, but in 2023 PuffItUp.com simply doesn't keep up.
---
Sales and Promos on PuffItUp.com
If there's one category this business wins in, it's sales. The owners are no enemy to providing a PuffItUp.com discount code, promoting sales, and daily promos.
Your Vape Is Probably on Sale
You're here to shop vapes—it's the only thing they sell successfully. Those vapes are from top manufacturers, like Arizer. So what if we told you that you can get a brand new vape at 40% off?
The customer experience on this online vape shop might not be up to par, but it's forgivable given the sheer number of sale items they have (minus the sold-out options).
The company is also willing to give you a personal discount, too. Yeah, you can get a discount code by registering for email updates. But if you simply send them a message, they're willing to sweeten the deal for you.

Promos Galore, Daily
If you navigate to this page on any given day, you'll see a bright green ticker at the top that says something along the lines of, "Price Grab!" with a really good discount.
Even with limited stock, getting something on sale at Puff It Up is easy.
Free Gift at Checkout
It's not written anywhere, but when you go to checkout, there is likely a small gift waiting for you in the basket.
Grinders are the most common type of free gift. At around $20, it's a good value to see it situated cozy in the cart with a price tag of $0.
---
PuffItUp Payment, Shipping, and Returns Review
In 2023, shipping and returns is a touchy subject for any online business, let alone one selling products that legislation can't seem to tackle correctly. And that affects greatly the payments they are legally allowed to accept, too.
Credit Cards Only
While we are skeptical of vape shops that offer options like PayPal as payment, we do expect some options.
Here, credit cards are your only way in or out. There are no crypto payments, no buy now pay later options, and no ACH.
Bitcoin is one of the more popular ways to pay for weed, cannabis, and oils online as it adds a layer of anonymity. PuffItUp! could easily add a payment gateway that accepts crypto.
Discreet, Fast, and Free
For orders in the US above $49, that is. That amount is easy to obtain. A single, high-quality vape is generally priced higher than $50.
The lowest price vape pen on PuffItUp is $30. The next lowest product in stock, as of this review, is $55. Free shipping will basically apply to every order.
Discreet packaging
UPS or USPS
Express Shipping
Signature Required if Order is $200 and up

International Shipping Not Available
There's a trend for online vape shops: many claim to ship internationally, but don't offer international shipping at checkout.
They either need to update their policy or start offering the shipping they promote on their site.
The cannabis community is worldwide, not just nationwide. We simply can't promote a site that leaves out a massive chunk of the community. When this feature is live again, we will update our stance.
One of the Best Return and Refund Policy
PuffItUp spells out their terms quite clearly.
New products: no questions asked, return unopened within 30 days.
Used products: return within 15 days and in original condition.
We like this policy because most vape shops won't accept opened packages. There are two caveats to deter you from buying, using, and returning: shipping costs are not refunded, and only your first return is fully refunded. The consecutive ones may only refund 60%.
Lack of Communication Muddles the Return Experience
Many customers have published reviews that state how horrible the return process is. Even for missing products in the order, it seems impossible to find a resolution before customer service stops responding.
We understand there are outliers. These terrible experiences could be few and far between. But we expect the company to respond appropriately. At times they do, responding to most reviews (good and bad). Other times, they don't.
We'd like to see an improvement on shipping and returns over the next year.
---
PuffItUp! Customer Service Review
As mentioned with the reviews, customer service is mostly great…except when it isn't. Where this smoke shop falls behind is a critical aspect of the customer experience and one that needs to be improved ASAP.
Lack of Response to Negative Customer Experiences
Sometimes, the courier mishandles products and they arrive broken. Or someone forgets to put in an item in the package. Packages can even get sent to the wrong address. The point is, things happen.
Several customers have experienced one or more of the above-mentioned scenarios, but few have received compensation—let alone a response from PuffItUp.com.

Many Customers Are Happy with Their Customer Support Team
Aside from these negative points, many of PuffItUp's customers are happy with the level of attention they've received from a customer service rep.
At times, these experiences have led to creating brand loyalists.
---
Final Thoughts on PuffItUp! 2023 Review
PROs
Discreet, fast shipping
Big-name brands on sale
Great sales and discounts
Free gift at checkout
Great refund/return policy
CONs
No international shipping
Only accepts credit cards
Several bad customer service experiences
Messy website
Most products are sold out
No CBD oil for sale
For a vape shop that focuses on the convenience of offering vetted vaping products to customers, PuffItUp needs some improvement. If you're looking for a good price on a name-brand vape, you can find it here. Otherwise, we recommend shopping elsewhere.
---
Better Alternatives
For a more pleasurable online shopping experience, we highly recommend browsing the following headshops:
Grasscity — Pioneer of the online smoke shop and based in Amsterdam, Grasscity is your international source for any cannabis related. Warehouses exist in Europe and North America, which means you can expect fast and affordable (even free) shipping worldwide. Browse from mid-range to high-end products, pay with virtually any payment method (including Bitcoin), and save with regular sales, discounts, and rewards.
Smoke Cartel — As one of the most popular headshops, Smoke Cartel excels in providing top-quality products. While prices hover around average, you have plenty of discount opportunities via codes and their rewards program. This, exceptional customer service, and fast international shipping make Smoke Cartel one of our top recommendations for all cannabis lovers.
Vapor.com — A comprehensive range of vaporizers and smoking accessories, as well as fast and free delivery, make Vapor.com the go-to shop for all things vape. The shop offers many savings opportunities and a price match guarantee that helps you save on every purchase no matter where in the world you are buying from.
The Best Head Shops of 2023

1. Grasscity

• Overall Best Head Shop

• Oldest Headshop & Best Reputation

• Since 2000, Based in Amsterdam, NL

• Free Stealth Worldwide Shipping

• Bitcoin Accepted!

[Read Our Review]
• Promotions & Special Offers • Pay with

Bitcoin

• Reward Program Read Our ReviewVisit Website

2. Smoke Cartel

• Best Shopping Experience

• Since 2013, Based in USA

• Stealth Worldwide Shipping

• Free Shipping in USA

[Read Our Review]
• Promotions & Special Offers • 10% Coupon Code:

CNBS

• Subscription Box • Reward Program Read Our ReviewVisit Website

3. Vapor.com

• Best Headshop for Vaporizers

• Since 2005, Based in Florida, USA

• Shipping to U.S, CA, U.K, EU, AU, & NZ

[Read Our Review]
• Promotions & Special Offers • Price Match Guarantee • Reward Program Read Our ReviewVisit Website

4. Hemper

• Best Subscription Box

• Since 2015, Based in NY, USA

• Shipping to Selected Countries

[Read Our Review]
• Sunscription Boxes • Gift Cards • Themed Boxes Read Our ReviewVisit Website

5. Allin1SmokeShop

• Best for Artistic Heady Glass

• Since 2016, Based in Florida, USA

• Stealth Worldwide Shipping

[Read Our Review]
• Promotions & Special Offers • Reward Program Read Our ReviewVisit Website
---
---
Category Pages: