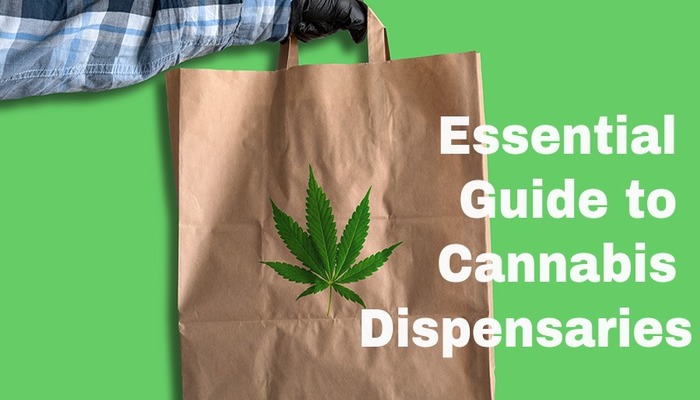 Cannabis dispensaries, once a rarity restricted only to those diagnosed with a select few serious illnesses, are becoming more and more common throughout the US each year. Despite their growing ubiquitousness, a significant percentage of the population has yet to visit a cannabis dispensary. If you are newly considering exploring recreational weed, or have recently been advised to use medical marijuana, our complete cannabis dispensary guide has all the information you'll need to feel confident on your first visit.
In-Depth Local Dispensary Guides
Over the weeks to come, we'll be publishing localized cannabis dispensary guides, covering all the essential information about dispensaries in each legal state. Also, keep an eye out for our city-specific dispensary guides, full of insider details for cannabis consumers and detailed reviews of the best dispensaries in your city.
---
What is a Cannabis Dispensary?
Cannabis dispensaries are dedicated retail shops that sell flower, concentrates, edibles, and other cannabis products. One of the provisions of marijuana's legalization in the United States was that it only be sold at these secured, licensed, and heavily-regulated dispensaries. Since the very first medical marijuana dispensary was established in San Francisco in 1992, the US is now home to over 8,500 cannabis dispensaries – and projected to add many more as additional states legalize marijuana.
Recreational vs. Medical Dispensaries
In the US, there are two types of dispensaries – medical marijuana dispensaries and recreational (also called adult-use) dispensaries. 40 out of the 50 US states (and the District of Columbia) have legalized medical weed, making access to medicinal marijuana easier than ever before for patients in most of the country. 21 of these states (and DC) have also legalized adult-use cannabis, with more expected to join these ranks in the coming years.
Medical dispensaries are restricted to visitors with a valid physician-issued medical marijuana card. Some states (but not all) allow out-of-state MMJ cardholders to purchase weed at their medical dispensaries. Recreational dispensaries, on the other hand, may be visited by anyone of legal age, including visitors from states or countries that forbid marijuana use.

---
What Products Do Cannabis Dispensaries Sell?
Cannabis dispensaries are the only place to legally buy any and all types of cannabis in the US – with the exception of cannabis seeds, which can be purchased from online seed banks. Some cannabis dispensaries are vertically integrated, meaning that they grow and produce the products they sell. Others are simply retailers of other cannabis brands. Some dispensaries sell a combination of their own products and those of other brands.
The products you can find in cannabis dispensaries include:
Loose flower
Pre-rolled joints
Shatter, wax, and other concentrates
Edibles, including chocolates, gummies, mints, and other tasty treats
Vaporizers and cartridges
Topical products, such as infused lotions, creams, and even lip balms
Of course, the array of products and brands available at any given dispensary will vary significantly by store and by state. Most cannabis dispensaries make their menus available online, so if there is something specific you're hoping to find, you can check in advance whether it's something your local dispensary carries.
---
What to Expect at Your First Dispensary Visit
Here's the full rundown of what to expect when you visit a marijuana dispensary.
Age Verification – Make sure to bring your government-issued photo ID (or passport if the US is not your home country). Dispensaries are required to verify your age upon entry and once again at the point of purchase. All medical dispensary visitors must be 18 years old or over, and possess a valid MMJ (medical marijuana) card. Adult-use dispensary visitors must be 21 or older. Minor children are not allowed to accompany dispensary visitors inside.
High Security – Be aware that cannabis dispensaries have a high security presence, often including armed security guards as well as 24/7 video surveillance.
Secure Purchase Process – Unlike liquor stores and most other types of retailers, you cannot select your own cannabis products off the shelf at US dispensaries. All cannabis is kept under lock and key at all times, and until your purchase is complete, the budtender is the only person allowed to handle the merchandise. Because of this, walk-in dispensary visitors may experience a wait if a budtender isn't available right away, so always go in prepared for this possibility.
Budtender Assistance – Budtenders at the best dispensaries go through extensive training and have a significant amount of cannabis knowledge to share with dispensary visitors. However, the specific advice budtenders can offer is somewhat limited. Since cannabis is not an FDA-approved drug, budtenders (even at medical marijuana dispensaries) are not allowed to offer medical advice. Their recommendations must be based on general product facts, which may be supplemented by anecdotal information based on personal experience. That being said, budtenders are an excellent resource for cannabis newcomers and can be extraordinarily helpful in helping you select the right products for your needs.
Daily Purchase Limits – Each state enforces strict limits on how much cannabis an individual may buy in one day. Medical marijuana patients are typically allowed to purchase larger daily quantities than recreational customers.
Cash Payments – Due to banking laws and cannabis's federally illegal status, credit and debit cards cannot be used as payment at dispensaries. Historically, dispensaries only accepted cash payments to get around this roadblock. While this is still the case at some cannabis retailers, many have begun employing workarounds that help customers enjoy the convenience of paying with a debit card, such as cash-back ATMs. You can expect a small convenience fee for utilizing these ATM-style payment methods.
Tax and Tip – Recreational cannabis is taxed heavily in the US, with rates varying considerably by state and municipality. However, in many (but not all) municipalities, medical marijuana is sold tax-free, or at a reduced tax rate compared to recreational weed. Most cannabis dispensaries also allow customers to leave a cash gratuity for their budtender.
No Alcohol or Tobacco – You won't ever find alcohol, tobacco, and cannabis in the same shop, since any business selling cannabis products is forbidden from selling either of these other substances on the premises.
No On-Site Consumption – In most places, consumption of cannabis products in any public place, including dispensaries, is strictly prohibited. However, this may gradually change in years to come, as several states and municipalities have begun approving permits for dispensary tasting rooms or on-site cannabis consumption lounges.
---
How to Find a Quality Cannabis Dispensary
Knowing what you want out of your experience is the first step to finding the best dispensary for your needs. First, determine whether you need to visit a recreational or medical dispensary. If you're interested in a specific product type or brand, you can usually verify online in advance whether your local dispensary carries it. A marijuana dispensary's website will also let you know if it offers delivery, drive-thru, or pre-order services.
Once you've narrowed down which dispensaries carry the products you need, it's time to research which local dispensaries get the highest marks from satisfied customers. Peruse online reviews from trusted cannabis industry resources, and ask other cannabis users in your social network where they prefer to shop and why. To make your search easier, we've put together a collection of local dispensary guides, including a list of the best medical and recreational dispensaries in each city and US state.
The Top Marijuana Dispensaries in the US
Dispensaries vary considerably by state and even by city. Get an insider's look at your own local dispensary scene with our in-depth cannabis dispensary guides for each legal state. Each guide includes a list of the state's best dispensaries and essential city-specific dispensary information.
---
Category Pages: