As marijuana has become more and more a part of people's lives – both for medical purposes and due to recreational legalization in many places – the issue of cannabis for dogs has become an increasingly popular topic. What are the effects of marijuana on dogs? Can it be used for medical purposes? Is it harmful or beneficial to them?
Cannabis comes in many forms that include THC-rich marijuana as well as non-psychoactive hemp. While a carefully-controlled dose of medical marijuana for dogs can bring relief where other medications are too strong or have failed, if a dog eats marijuana or concentrates that are high in THC, the results could be deadly. This has led many pet owners to avoid using regular marijuana as medicine for their dogs; instead, they opt for CBD oil or hemp-derived products (all of which contain little to no THC).
Read on for our list of the best hemp and CBD-infused treats, oils, topicals, and more to help your pup live their best and healthiest life.
Effects of Marijuana on Dogs
Dogs have the same endocannabinoid system as humans do. This is the network of receptors throughout the brain and body that connect with cannabinoids, the active ingredients in marijuana. In humans, cannabinoids such as tetrahydrocannabinol (THC) and cannabidiol (CBD) can create euphoria, sleepiness, relieve pain, and calm nausea and anxiety.
Cannabis for dogs works similarly to the way it does in humans. This means that a dog that consumes marijuana could experience a lack of coordination, sleepiness, dilated pupils, increased heart rate, dilated pupils, or an increased startle reflex.
Depending on the dose, dogs and marijuana can be a deadly combination. This is because in higher doses, THC can be toxic.
---
Marijuana Toxicity in Dogs
As recreational legalization started spreading to more places, the number of dogs consuming their owners' marijuana began to skyrocket. In fact, pet-related calls to poison control centers have shot up by 756 percent over the past decade. The ASPCA reports that it received over 1,800 calls in 2018 alone. These kinds of calls result when a dog eats marijuana flower, edibles, or even BHO and other marijuana concentrates.
What happens when a dog eats marijuana? Effects of THC can set in anywhere from five minutes to as long as 12 hours after consumption, and they can last for a half hour up to several days. The severity of symptoms will depend on the size of the animal and the potency of the product consumed. Symptoms of marijuana toxicity in dogs will be similar to overconsumption in humans.
Signs of marijuana toxicity in dogs include:
Lethargy
Sedation
Glassy eyes
Vomiting
Difficulty Walking
Tremors
Whining/crying
Agitation
Trouble regulating body temperature
Seizures
Coma
Treating Marijuana Overconsumption in Dogs
Typically, too much THC for dogs results in an uncomfortable several hours until the effects wear off. If the dosage consumed is very high, however, the results can be more serious. Extremely low blood pressure or irregular body temperatures can be dangerous to a dog and can potentially cause death.
If an owner suspects their pet has consumed cannabis – whether a bag of flower, edibles, or a vape cartridge – it's important to take action right away. As a first step, activated charcoal can be administered to help absorb some of the THC remaining in the pet's stomach. If that doesn't work, it may help to induce vomiting. If these steps don't help, seek veterinary care right away.
While there's no way to reverse marijuana overconsumption, a veterinarian can help manage the dangerous effects of THC toxicity. This means monitoring the dog's heart rate and other vital signs, keeping the dog confined so it doesn't harm itself, as well as giving intravenous fluids to ensure that it stays well-hydrated. A veterinarian can also take steps to help the dog regulate their body temperature so it doesn't drop too high or low and administer anti-vomiting medication to keep them more comfortable and prevent dehydration.
---
Benefits of Cannabis for Dogs
While marijuana toxicity is a real concern if a dog is able to access their owner's stash of flower, concentrates, or edible cannabis treats, cannabis can also be an effective medical treatment and health supplement for dogs. In fact, there is a growing interest in using cannabis for pets to treat many of the same conditions it helps in humans. Just a few of them are:
Pain
Just as in humans, cannabis is excellent at controlling pain in dogs. While there have been a greater number of studies into the effects of cannabinoids on human pain, research is beginning to catch up to the growing interest in cannabis for dogs. One study found that CBD-based oil was an effective treatment for osteoarthritic dogs, helping reduce their pain and increase their activity levels.
Anxiety
A common discomfort and disorder for humans, anxiety can also plague dogs. It ranges from separation anxiety that sets in when an owner leaves to generalized anxiety due to personality, trauma, or illness. As in humans, CBD is particularly effective at treating anxiety in dogs.
Nausea and Low Appetite
One of the best-known uses for medical marijuana is in human patients undergoing chemotherapy, as cannabis can help calm nausea and stimulate appetite. Cannabis works similarly in dogs who have developed stomach problems or who have lost interest in food, whether due to age or illness.
---
Types of Cannabis for Dogs
Cannabis for dogs isn't one-size-fits-all, however. Not only do different doses vary depending on the concentration of cannabinoids, the size of the dog, and the way their endocannabinoid system metabolizes cannabis; products and their effects vary wildly depending on how they're made. Cannabis for dogs is best divided into three separate kinds:  those made with marijuana, CBD extracts, and products made from hemp.
Marijuana for Dogs
Marijuana as most people know it is a plant that's abundant in tetrahydrocannabinol, otherwise known as THC. It's this cannabinoid that's responsible for marijuana's most famous effect: getting people high. While marijuana should never be given to a dog for kicks or as a joke, carefully-administered medical marijuana for dogs can bring great relief to dogs who are older and ailing or suffering from various illnesses.
It's the careful administration of THC that makes the difference between a therapeutic dose and an overdose. A study from the mid-70s found that dogs have a large number of CB1 endocannabinoid receptors in various parts of their brains. This means that dogs require a very small amount of THC in order to obtain a therapeutic effect. While CBD is also effective at treating pain, anxiety, nausea, and more, some pet owners insist that their dogs do better when receiving the full spectrum of marijuana cannabinoids, including very small amounts of THC.
Dosing Medical Marijuana for Dogs
When it comes to dosing medical marijuana for dogs, most owners are left to a combination of internet research and trial and error. Due to marijuana laws that have been slow to change in many places, a large number of veterinarians cannot discuss medical marijuana for their patients.
When people do use medical marijuana for dogs, they typically administer it as a marijuana/cannabis oil concentrate. Percentages of THC in cannabis oil can vary depending on the product, but giving it this way makes it easier to control the dosage of THC, as administering too much can be lethal. Using medical marijuana with THC on dogs can be tricky, as dosage and potential results are highly anecdotal. For this reason, most people who use medical marijuana for dogs turn to CBD oil or hemp products. Certain THC products can also be administered topically to treat external ailments, but this method of treatment raises concern about the dog licking the oil or ointment off and ingesting it.
CBD Products for Dogs
Like THC, CBD is also effective at treating a wide range of ailments that dogs often face. It's frequently used for everything from pain and anxiety to nausea and low appetite. It's also been studied for its anticonvulsant and antiepileptic activity in canines, raising the potential that CBD may be useful for dogs who experience seizures. However, CBD doesn't create the same toxicity issues that come with using THC on dogs. It also doesn't cause the psychotropic effects seen with THC, meaning that CBD won't make a dog feel intoxicated.
CBD oil can be extracted from high-CBD, low-THC strains of marijuana, but most commercially-available CBD oil for pets is extracted from hemp, which contains less than 0.3 percent THC. The latter is also known as hemp extract (which is different than hemp oil – a product that will be discussed later).
Some people refer to hemp-derived CBD oil for dogs as "cannabis oil," as hemp is part of the cannabis family (just like marijuana). Some high-THC oils derived from marijuana are also referred to as "cannabis oil," so it's essential for dog owners to carefully research any product to find out the amount of CBD and THC it contains before giving it to their pets in order to prevent accidental administration of THC.
CBD Dosage for Dogs
While CBD isn't toxic, it can create unpleasant results if too much is administered. Because cannabis for dogs is becoming increasingly popular, there are a growing number of products made just for dogs. CBD is available as oil as well as in CBD-infused chews and treats. It's essential for owners to find a product with clear dosing instructions and follow them carefully. Just as with humans, it's best to start with the lowest dose, as more can always be given if necessary.
Signs of CBD overconsumption in dogs may include:
Lethargy
Severe drowsiness
Nausea
Vomiting
Hemp Products for Dogs
Hemp is another popular form of cannabis for dogs – either as a supplement for general health or as a treatment for specific conditions. Hemp is naturally high in CBD, but unlike marijuana, it contains next to no THC. In fact, in order to be considered hemp, cannabis must contain 0.3% or less of THC. Hemp also contains a wide range of other cannabinoids (although in smaller concentrations than CBD), as well as omega-3 fatty acids and other essential nutrients.
Those who are interested in hemp-derived cannabis for dogs will find a variety of hemp products available for their furry friends.
Hemp Extract
Hemp extract is also referred to as CBD oil (discussed above). It's an excellent choice for dog owners who are hoping to target their dog's ailments with a CBD-specific treatment that will not contain unsafe levels of THC. With so many different products on the market, it's easy to confuse hemp extract with another common hemp product: hemp oil.
Hemp Oil
Although the two products sound alike, hemp oil is quite different from hemp extract. While the extract comes from the whole plant, hemp oil is made by cold-pressing hemp seeds. While hemp extract is high in CBD, hemp oil is low in the cannabinoid. Hemp oil is high in calories, however. It's also high in protein, and contains omega-3 fatty acids and vitamin E, making it an excellent dietary supplement to treat or prevent canine health problems over the long term. Hemp oil has been studied for its cardiovascular benefits in animals, can help ease inflamed joints, and can make a dog's coat and skin softer and healthier.
Hemp-Infused Treats
For owners who would like to supplement their dog's diet with hemp but who don't want to administer hemp oil or drops orally or over food, there are many different hemp-infused chews, cookies, and treats available on the market today. Unlike marijuana-infused edibles for humans, cannabis edibles derived from hemp don't carry a danger of THC toxicity. CBD levels in hemp treats depend on whether or not they were made with hemp oil or concentrated CBD oil. Some may have very small amounts, while others may have a higher percentage.
The Best Hemp & CBD Products for Dogs
When it comes to hemp and CBD for dogs, product quality makes a big difference. Look for companies that use high-grade ingredients and whose claims are backed up by consistently great reviews. Read on for our list of canine CBD and hemp products that check all the boxes – ingredient quality, efficacy, and pet parent approval.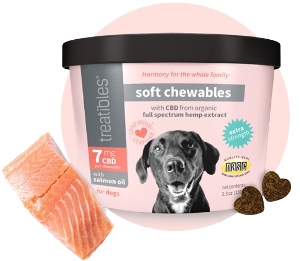 One of the original canine CBD pioneers, Treatibles originated from one of California's very first medical cannabis producers, extending compassionate care to furry family members as well as humans. Now based in Pleasant View, Tennessee, Treatibles has since grown into one of the world's premier pet CBD producers, achieving NASC certification and crafting its products with USDA-certified organic full-spectrum hemp CBD oil, as well as other real food, herbal, and high-grade oil ingredients. Treatibles's product selection includes hard and soft chews (in tasty flavors like blueberry, sweet potato, pumpkin, turkey, and beef liver), as well as capsules, topicals, and oil droppers. Treatibles chews and oils are also available in extra-strength formulations – and at the best price per mg of CBD that we've seen! Treatibles are available at specialty pet retailers and groomers, CBD shops, and veterinary offices throughout the US, Japan, Brazil, and Mexico – and ordered directly from its website. Treatibles also gives back to pets in need through partnerships with dozens of pet rescue organizations across the US.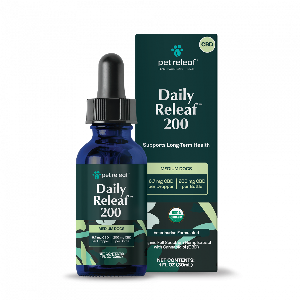 Founded by pet parents seeking a healthier way to aid their own aging dogs, Pet Releaf has grown into one of the most trusted and effective canine CBD brands on today's market. Their wide variety of pet care products are made with human-grade, plant-sourced ingredients and US-grown organic full-spectrum hemp oil, are herbicide- and pesticide-free, and are sustainably produced every step of the way, from cultivation to packaging. The full collection of Pet Releaf CBD products for dogs includes soothing shampoos, skin & paw ointment, capsules, an array of specialty oil formulations to enhance targeted health and wellness areas, and the Edibites line of CBD chews, available in a wide selection of flavors, including peanut butter, sweet potato, cranberry, bacon, and even pizza – in doses appropriate for large or small dogs. Pet Releaf is based in Littleton, Colorado, with products available throughout the US or ordered through its website. Additionally, Pet Releaf regularly donates Edibites to dogs in need via rescue organizations.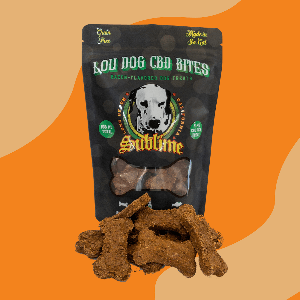 Doggie Beer Bones is a California company known for its unique all-natural dog treats sustainably crafted with upcycled wheat and alcohol-free spent grain from local craft breweries that are filled with a variety of tasty and highly nutritious ingredients. In addition to its signature CBD-infused offerings – soft-baked, grain-free, bacon-flavored chews and CBD-infused peanut butter blends – Doggie Beer Bones has partnered with the iconic band Sublime to create Lou Dog CBD Bites, an exclusive, officially-licensed treat named in memory of their band mascot Dalmatian Lou Dog and his late devoted dad, Bradley Nowell. These delicious, grain-free, bacon-flavored treats are made with ocean fishmeal, brewer's yeast, pumpkin, and carrot, packed with omega fatty acids, and deliver a CBD dose of "5 mg to Freedom" for dogs of all sizes. Doggie Beer Bones dog treats are made with US-grown full-spectrum hemp oil, are free of fillers and artificial preservatives, and are tested for quality, potency, and AAFCO standard compliance by Infinite Chemical Labs. Doggie Beer Bones ships throughout the US with bundle and subscription discounts available.

With its veterinarian-crafted canine soft chews, topicals, and cannabinoid oils, Bailey's has made a name for itself as one of the best CBD brands for dogs, garnering hundreds of rave reviews from pet parents all over the world. Each of Bailey's full-spectrum CBD soft chew varieties is formulated for a specific wellness concern, including anxiety relief and hip & joint health, as well as CBD shampoo, paw & nose balm, CBD oil, and an extra-strength CBD + CBG oil formulation. Bailey's CBD soft chews come in tasty chicken, bacon, and (vegan) peanut butter & banana flavors, and are made in the USA, with human-grade ingredients, free of GMOs, grain, and soy, lab-tested, and backed by a money-back guarantee. Bailey's products are available at specialty CBD and pet care shops throughout the US and Japan (including its flagship store in Costa Mesa, California) or may be ordered online, with a cost-saving membership option for repeat buyers. Bailey's also makes a practice of giving back to pets in need, regularly donating CBD oil to rescue organizations.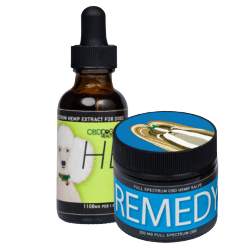 CBD Dog Health is a Florida-based company dedicated to sharing the benefits of high-grade, full-spectrum CBD with your furry best friend. Their truly impressive selection of top-rated canine CBD oil tinctures and CBD salves are each formulated to target specific health concerns, including the lavender-infused, anxiety-reducing Calm tincture, Ease, containing turmeric and frankincense to ease arthritis, joint pain, and other painful ailments, and Heal, the most potent and best-selling hemp and MCT oil blend. CBD Dog Health's topical salve selection includes Remedy, which has garnered hundreds of rave reviews for its effects on tumors, cysts, skin tags, and infections; Soothe, offering a sigh of relief from hotspots, bug bites, and allergies, and Nourish, bringing soothing comfort to dry elbows and paws. CBD Dog Health's products are all 100% natural, human-grade, made with CBD extracted from US-grown hemp, and free of GMOs, pesticides, herbicides, heavy metals, and solvents. CBD Dog Health can be found in specialty pet shops and veterinarian offices throughout the US, as well as ordered online.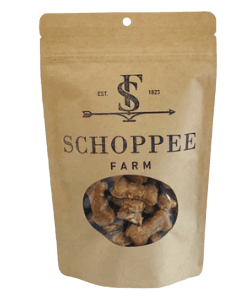 Schoppee Farm, an eighth-generation family-owned organic hemp farm in coastal Maine known for its high-grade craft CBD products, offers two tasty, effective products for your furry best friend – organic CBD dog treats and full-spectrum Pet CBD drops in a wild Alaskan salmon carrier oil. Schoppee's dog treats are made fresh weekly with human-grade organic ingredients, flavored with chicken broth, peanut butter, and raw honey, and each treat contains 5 mg CBD. Since they are preservative-free, it is recommended that your pup consume these treats within 60 days of purchase. All of Schoppee Farm's canine CBD products are lab-tested, packaged in either recyclable or compostable material, and are free of pesticides, herbicides, GMOs, solvents, chemical fertilizers, additives, and preservatives. Schoppee Farm's prices are quite reasonable, and the company offers additional discounts to educators, first responders, and active duty military. Schoppee Farm ships quickly and discreetly anywhere in the US and some products are also available at select specialty stores in Maine.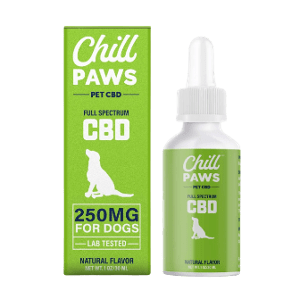 Chill Paws is a California company that's made a name for itself crafting high-quality full-spectrum CBD oils and treats for pets. Made with organic, human-grade, hemp-extracted CBD, Chill Paws' full-spectrum canine CBD oils come in a variety of different strengths (from 250 – 1000 mg), while its award-winning, handcrafted, 6 mg CBD peanut butter treats are soft, chewy, and easy to break apart into smaller doses. Both the treats and oils are third-party lab tested to ensure proper potency and the absence of soy, corn, wheat, pesticides, residual solvents, and toxic heavy metals. All Chill Paws products are backed by a money-back guarantee, and the company's team of pet-loving employees are always happy to answer questions and walk pet parents through discerning and administering the right dose for their individual pup's size and needs. Chill Paws is based in Santa Monica, California, and ships to most US states. A portion of every purchase is donated to support local pet rescue organizations.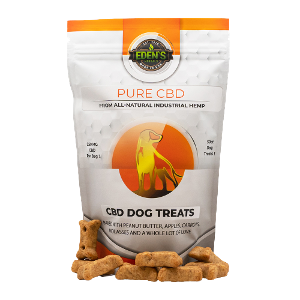 Eden's Herbals is a veteran-owned specialty CBD company dedicated to making high-grade CBD accessible and affordable for humans and pets alike. All Eden's Herbals products are made with CBD extracted from organically-grown, non-GMO hemp, sourced from farms in Colorado and Washington. One of Eden's Herbals' most-loved products is its CBD dog treats, made with all-natural peanut butter, apples, carrots, and molasses, and delivering 5 mg CBD per tasty treat. Eden's Herbals also produces a CBD oil tincture for dogs, with a potent 300 mg of full-spectrum CBD per bottle and high-grade MCT carrier oil. All products are lab-tested by Botanacor Labs to ensure potency and the absence of pesticides, residual solvents, and THC. As well as top-grade CBD products, Eden's Herbals offers superb customer service, with staff on hand to answer questions via phone, email, or chat, 7 days a week. Eden's Herbals is headquartered in Sanford, Maine, and offers free standard shipping as well as super-fast express shipping options. True to its mission, Eden's Herbals CBD dog treats and tinctures are very affordably priced, with weekly sales, discounts, and a rewards program to help pet parents save even more.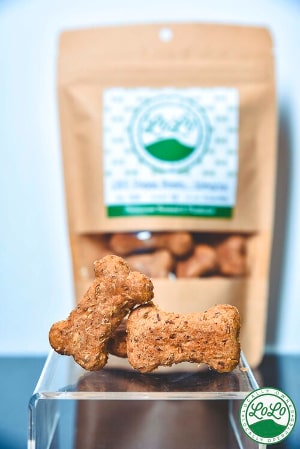 LoLo Bones is the top-rated specialty pet care line from LoLo, a woman-owned top-grade CBD company based in Chattanooga, Tennesse, specializing in handcrafted small-batch edibles and tinctures. LoLo Bones's peanut-butter-flavored dog biscuits offer a 10 mg dose of CBD alongside other nutritious ingredients, including gelatin (collagen) and fiber-rich spent grain sourced from a local Chattanooga brewing company. LoLo also offers a premium full-spectrum CBD and salmon oil tincture, designed to promote your pup's wellness and longevity, while alleviating anxiety, pain, mobility, and skin issues. LoLo uses full-spectrum CBD extract sourced from locally-grown hemp, and all products are third-party lab tested to ensure quality and potency. LoLo Bones and pet tinctures are affordably priced and available online as well as in local hemp shops, pet shops, and other canine care facilities throughout Tennessee.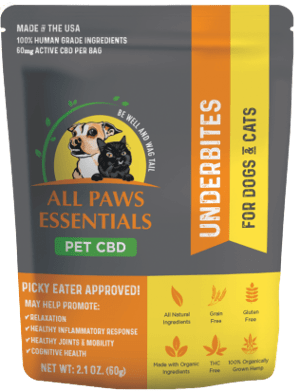 Founded by a canine behavior expert who works with many anxious, ailing and fearful pets, All Paws Essentials is a California company crafting organic CBD products for dogs and cats. All Paws Essentials' veterinarian-recommended offerings include CBD oils for pets in a variety of strengths, catering to the needs of different-sized pets; the new and popular Trinity Blend oil, which combines CBD with complimentary cannabinoids CBG and CBDa; a soothing topical "hot spot" CBD spray; and Underbites, a tasty infused treat made with turkey, organic banana and peanut butter, raw honey, and other human-grade food and vitamin ingredients. All Paws Essentials uses broad-spectrum CBD sourced from organically-grown US hemp, preserving the whole-plant benefits without any intoxicating THC. All products are third-party lab tested for potency and the absence of toxins, pesticides, and harsh chemicals. All Paws Essentials can be found in select pet care stores in southern California or ordered directly from its website which offers free shipping for most orders nationwide.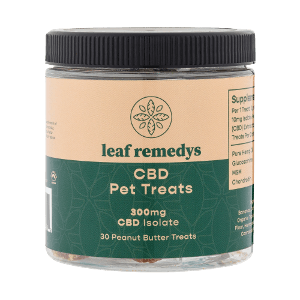 With a dedicated mission to make high-grade CBD products affordable and readily available, Leaf Remedys offers a wide selection of topicals, tinctures, edibles, and more – including CBD tinctures and treats specially formulated for dogs. Leaf Remedys' gluten-free peanut butter-flavored CBD pet treats, made with pure CBD isolate extracted from pesticide- and herbicide-free Colorado-grown hemp, and all-natural real food ingredients like bananas, oats, and organic tapioca flour, consistently receive rave reviews from pet parents all over the US. Likewise, Leaf Remedys' CBD isolate oil tincture for pets contains 500mg CBD per 1 oz bottle, and is available in chicken, bacon, or salmon flavor to help your pet enjoy them even more! All Leaf Remedys products are GMP certified and third-party lab-tested to ensure potency and purity. Leaf Remedys CBD products for dogs are available directly from its website, with quick shipping (free within the continental US!), backed by a money-back guarantee, and an excellent customer support team to assist with any questions.

FAQ About Marijuana and Dogs
Cannabis, marijuana, hemp, CBD, oil, extract – with so many terms flying around, it's easy for people to get confused about the different types of cannabis for dogs as well as their safety. Here are some of the questions that arise most frequently.
Can dogs get high?
Yes. Because dogs have an endocannabinoid system just like humans, they can also get high after consuming marijuana. Marijuana oil, edibles, or smoke can make a dog uncoordinated, sleepy, nauseous, agitated, or at worst, cause a drop in blood pressure, seizures, or a coma.
Is marijuana bad for dogs?
Dogs have a large number of endocannabinoid receptors in their brain, which means that they experience effects from very small amounts of THC. While CBD can be beneficial to dogs, THC can be toxic and even deadly in high amounts.
What happens if a dog eats marijuana?
Within 30 minutes to a few hours after a dog eats marijuana, it will typically begin to show signs of intoxication. Effects depend on how much THC was consumed and can include dilated pupils, lethargy/sleepiness, lack of coordination, vomiting, agitation, tremors, or seizures.
My dog ate weed – what do I do?
While many humans enjoy THC for its intoxicating effects, high doses of THC for dogs can be uncomfortable and even dangerous. If a dog eats marijuana, the owner should administer activated charcoal to help absorb THC in the stomach. If effects grow worse, immediate veterinary care is necessary.
Is there medical marijuana for dogs?
Because a dog can easily overdose on THC, many pet experts recommend that people who are interested in cannabis for dogs use CBD oil or hemp products that have very little THC. These may be used as a treatment for specific conditions or as a supplement for general health.
---
Cannabis for Dogs: A World of Potential
Although many studies have been done on the health benefits of cannabis for humans, there has been very little research on medical marijuana for dogs. The little evidence that is available shows that dogs have endocannabinoid systems as humans do and that cannabis – particularly in its high-CBD forms – can be safely used to treat certain diseases and ailments in dogs.
It's clear, however, that THC has a high potential of overdose and toxicity in canines, which is a concern for marijuana consumers who often have it around the house as well as people interested in medicating their dogs with cannabis. This is why many dog owners who choose cannabis as a medication avoid THC altogether and choose CBD oil or hemp-derived products that contain little to no THC. With proper research, education, and care, pet owners can not only cut down on the number of emergency calls for canine marijuana overconsumption; they can harness the power of cannabis and use it to improve the health of their tail-wagging friends.
---
Category Pages: