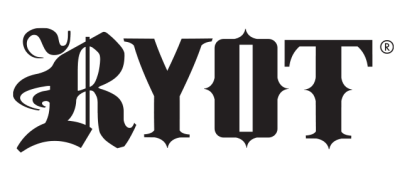 Since 2010, Based in NYC, NY, USA
Shipping to USA and Canada
Credit Card, Gift Cards, USPS Money Orders
---
For smokers, by smokers. On the surface, Ryot is a brand that appears backed by retailers, customers, and smokers around the world. Is that support purely cosmetic, or is it indicative of something deeper, like high-quality products and a good headshop?
As a product developer, Ryot is one of the better brands to buy. As a headshop? That's another story. Read our full review below to find out if this headshop is worth it, or if your money is better spent elsewhere.
See our recommendations for better alternatives at the bottom of this page!
---
Ryot.com's History and Reputation
Ryot was founded in 2010 with smokers in mind. They've been around for over a decade now, and they're one of the most reputable brands out there. That said, their reputation is not without its fair share of controversies, namely with consumers.
Love for Ryot Products, Not the Headshop
Ryot gets a lot of praise for the most well-known products, like their dugouts, one-hitters, and grinders. All of which are top-notch and made with smokers in mind.
However, the headshop side of things is where they seem to fall short. A lot of customers have complained about the lack of customer service, the slow shipping times, and the poor site performance.
In other words, while Ryot's products are great, their headshop is lackluster at best. Here are a few stand-out reviews:
"Always website trouble"
"Poor mobile site performance"
"Absolutely love RYOT products"
"The quality is worth it"
As you can see, there is mixed consensus over RYOT. But the only real negative qualities are strictly with the headshop.
The Preferred Way to Buy is Elsewhere
Whether from a brick-and-mortar headshop or another online smoke shop, customers love RYOT products…just not from Ryot.com.
The great thing about being a manufacturer and a retailer is products can be sold everywhere. The RYOT smoking brand is smart to stock their high-quality products on the shelves of local shops and top-visited online headshops. Otherwise, we don't think this brand would last.
10 years in the game and RYOT still hasn't quite figured out how to set up an online vape store.
We recommend shopping at either GrassCity or Smoke Cartel. Both headshops are among our top-rated, offering incredible value, convenience, and security.
---
RYOT Product Offerings Review
Ryot offers a wide range of smoking products, including pipes, bongs, vapes, grinders, and more. Their headshop, RYOT.com, is just one of the many places where you can buy all of those items and more. For the purpose of this 2023 RYOT Review, we'll cover the products offered on their own smoke shop.
As mentioned above, the quality of their products is top-notch. They have a great selection of items to choose from, and their prices are fair. However, their headshop is not without its flaws.
Good Organization, Out-Dated Design
First, let's cover the browsing experience. We like the way RYOT has organized their smoking products into simple categories:
Store
Prepare
Consume
Live It
Collections
"Live It" is the only one that could use a renaming. Maybe "Wear It" is better, since this category is for buying products like shirts and hats. Though they also sell some other random products here, too, like lanyards and stickers. (I'm not sure I'd want to "live it", but I'd use some of these products)
The subcategories get a bit less pleasant. When you click on a main category like "Store", you're brought to a page that only lists the 4 sub-categories within Store. It would be better to browse all the products under the main category and filter which sub-category I want, specifically.
The design of the site also seems to date back to 2010. It's flat and easy on the eyes, sure, but the lack of hierarchy makes browsing a little too one-note.
High-Quality Products Smokers Love
Now, on to the products themselves. Ryot.com has a great selection of high-quality smoking gear. They have all the basics, like bongs, pipes, and vaporizers. The products they're most known for are dugouts, one-hitters, and grinders.
Verb vaporizers
wooden dugouts
wood or aluminum one-hitters (twist and spring)
standard one-hitters
glass-tip one-hitters
Then, they sell all the accessories and replacement bits for their brand products. That's actually something we admire from RYOT. Not very many manufacturers sell parts for their smoking paraphernalia.
Many of these products have led 1st-time buyers to become loyal customers.
"I would give it 6 stars if I could. That is why I am on this site buying another."
"I got this as a gift years ago and loved this little pouch so much that I became an instant loyal customer."
It seems the quality of their products are well-worth the headache of making a purchase. We shouldn't assume all these happy customers are purchasing directly from RYOT. In fact, many of these reviews are solely about the product, which is often purchased elsewhere.

Pricing is Fair On RYOT.com
There's nothing surprising about the pricing here. It's average. RYOT products are already priced fairly—for the quality, they could easily price-gouge you. We have no complaints.
---
Sales, Discounts, and Promos for Ryot in 2023
With a dedicated deals section and an instant 10% off coupon pop-up upon visiting the site, it's safe to say Ryot.com headshop is not one to shy away from a deal.
A Small Portion of Items on Sale are Well Worth the Buy
We've taken a look at some of the items on sale and we're happy to report that they're actually worth your time and money.
The worthy products on sale include just one vaporizer and a grinder. Otherwise, you'll find a few replacement parts (which is helpful) and random accessories.
Ryot likely won't have a huge selection of products on sale all the time because they're prices are already quite affordable. So, if you're looking for daily steals, it's best to shop elsewhere.

Bundles Make Up for Lack of Sales and Discounts
In 2023, subscriptions boxes appear to be a growing offer. Ryot.com doesn't offer a subscription box, but they do have something to compete with: build-your-own bundles.
They also offer pre-built bundles that include:
bubbler bundles
storage box bundles
travel bag bundles
vaporizer bundles
The build-your-own smoking bundle allows you to select the storage/bag/kit you want and add on a vaporizer and other accessories at a heavy discount. For example, you can add on the VERB DHV for $15 off.
These bundles are great if you're building a replacement kit or a gift set for someone. We don't see customers buying multiples of these very often, which may be why they haven't offered it as a subscription.
Discount Codes are Available (Few and Far Between)
Upon visiting the site, you're greeted with a "sign up and save 10%" pop-up. If you subscribe to RYOT smoke shop emails then you'll receive discount codes throughout the year, but don't hold your breath on getting them often.
Again, prices are a happy average on this site, so adding a discount isn't entirely necessary in order to get a good deal. But if you're looking for a better deal, then either shop RYOT products elsewhere or build a bundle.

---
Payments, Shipping, and Returns for RYOT.com
Here's where things for this site can get a bit sloppy. See what customers have to say about their shipping practices before you make your purchase.
Take Advantage of Buy Now, Pay Later
There are two ways to pay:
Credit Card (Visa, Mastercard, American Express)
Sizzle
Sizzle is the BNPL option RYOT has chosen for checkout, and it works well. Every two weeks, you get charged 25% of the order. That should ease some of the burden—especially if you've built a bundle now see a $300 price tag in your cart.
You won't find any alternative payment options here, which is something we don't take lightly. Options like PayPal and cryptocurrency are almost essential in today's ecommerce world, especially in the cannabis community.
Free Fast Shipping, When It Works
For US smokers, RYOT has you covered with free shipping. Or you can choose expedited shipping if you want your products sooner. According to their policy, products are shipped out within 3 days of ordering.
There have been known issues with shipping products via FedEx from RYOT. Thankfully, their customer service team is willing to refund any shipping costs paid if products aren't delivered on time.
There are many complaints about shipping:
"Great item, slow shipping"
"Be ready to wait a couple weeks before shipping"
But then there are many praises:
"…Ryot is quick to ship and they communicate every step until the product is delivered."
"I'm happy with my dugout, and the ship time was so quick."
In conclusion, we will warn you not to get your hopes up too high on receiving an order early or quickly.
NOTE: RYOT doesn't claim that packaging is discreet but they do claim that they use plain brown boxes.
No International Shipping
International shipping is not offered by RYOT.com smoke shop. Instead, the company asks you to find their products in a local shop. Or you can email them and they can inform you of somewhere local, if you can't find one yourself.
We prefer online headshops that ship internationally, serving the international community of smokers. It's great that the USA is covered well, but Canada? Europe? In 2023, selling weed products online is simpler. International shipping is possible and should be offered.
30-Day Refund Policy is Strict
The standard policy exists here, with no leniency. You have 30 days to return a product for a full refund. only unopened and unused products are accepted. However, if there is a manufacturer defect, then they request proof upon arrive in the form of pictures.
One thing we don't like about this policy of RYOT's is the unaccountability for damaged goods. If a product arrives damaged and it's the fault of FedEx, they won't accept the return.
---
Customer Support Review for RYOT.com
RYOT is a small team, meaning customer support is likely just the team listed on their team page. Nothing wrong with that, but when you have a team of just 5 people and a potential consumer base in the hundreds of thousands, things just don't add up.
Ways to get in touch with RYOT include:
Email
Social Media (maybe)
No live chat, no dedicated support channels. Just one single email address to cover all business happenings. It's no wonder some purchasers haven't received a response about their order.
The store is small enough at this moment where a larger support team isn't needed. You can see proof of that on their Trustpilot page where they comment on nearly every review that gets published. However, if things go wrong then I wouldn't get my hopes up about a quality resolution (or speedy, for that matter).
---
Final Thoughts on RYOT.com
PROs
High-quality products
Great bundle options
Fair prices
Customer loyalty
CONs
Lack of quality sale items
No dedicated support teams
No international shipping
No alternative payment methods
Poor site design
Poor customer experience
RYOT makes great products, but we can't recommend buying directly from their site—they don't even recommend buying from their own site, depending on where you live.
We happily promote RYOT products, as they are built with quality in mind and last longer than expected. Find them at a local headshop, or checkout our recommended online smoke shops below.
---
Better Alternatives
For a more pleasurable online shopping experience, we highly recommend browsing the following headshops:
Grasscity — Pioneer of the online smoke shop and based in Amsterdam, Grasscity is your international source for any cannabis related. Warehouses exist in Europe and North America, which means you can expect fast and affordable (even free) shipping worldwide. Browse from mid-range to high-end products, pay with virtually any payment method (including Bitcoin), and save with regular sales, discounts, and rewards.
Smoke Cartel — As one of the most popular headshops, Smoke Cartel excels in providing top-quality products. While prices hover around average, you have plenty of discount opportunities via codes and their rewards program. This, exceptional customer service, and fast international shipping make Smoke Cartel one of our top recommendations for all cannabis lovers.
Vapor.com — A comprehensive range of vaporizers and smoking accessories, as well as fast and free delivery, make Vapor.com the go-to shop for all things vape. The shop offers many savings opportunities and a price match guarantee that helps you save on every purchase no matter where in the world you are buying from.
The Best Head Shops of 2023

1. Grasscity

• Overall Best Head Shop

• Oldest Headshop & Best Reputation

• Since 2000, Based in Amsterdam, NL

• Free Stealth Worldwide Shipping

• Bitcoin Accepted!

[Read Our Review]
• Promotions & Special Offers • Pay with

Bitcoin

• Reward Program Read Our ReviewVisit Website

2. Smoke Cartel

• Best Shopping Experience

• Since 2013, Based in USA

• Stealth Worldwide Shipping

• Free Shipping in USA

[Read Our Review]
• Promotions & Special Offers • 10% Coupon Code:

CNBS

• Subscription Box • Reward Program Read Our ReviewVisit Website

3. Vapor.com

• Best Headshop for Vaporizers

• Since 2005, Based in Florida, USA

• Shipping to U.S, CA, U.K, EU, AU, & NZ

[Read Our Review]
• Promotions & Special Offers • Price Match Guarantee • Reward Program Read Our ReviewVisit Website

4. Hemper

• Best Subscription Box

• Since 2015, Based in NY, USA

• Shipping to Selected Countries

[Read Our Review]
• Sunscription Boxes • Gift Cards • Themed Boxes Read Our ReviewVisit Website

5. Allin1SmokeShop

• Best for Artistic Heady Glass

• Since 2016, Based in Florida, USA

• Stealth Worldwide Shipping

[Read Our Review]
• Promotions & Special Offers • Reward Program Read Our ReviewVisit Website
---
---
Category Pages: