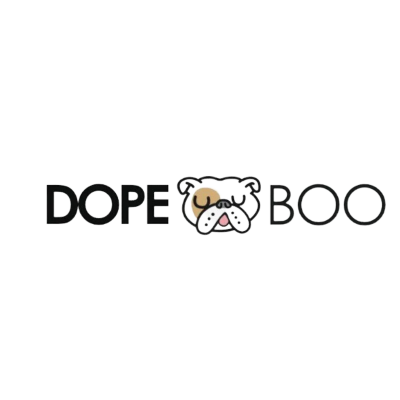 Since 2000, Based in NYC, NY, USA
Shipping to USA and Canada
Credit Card, Gift Cards, USPS Money Orders
---
In recent years, the cannabis industry has seen a surge in the number of smoke products available for purchase. Many of these are marketed as being high-quality and curated specifically for the cannabis community.
However, it is important to stay skeptical when considering these products, as there is no guarantee that they will meet your expectations.
In this review, we take a close look at one such retailer, DopeBoo. We evaluate the quality of the products they sell, as well as the quality of their service, and how it stacks up against other options on the market.
See our recommendations for better alternatives at the bottom of this page!
---
DopeBoo History, Location, and Reputation
DopeBoo is a Chicago-based online headshop built as a solution after its founders continuously felt disappointed from the area's local headshop experiences. It started as a small online shop in 2017 and has since grown exponentially.
Fun fact: the name derives from the founders' favorite (and lazy) bulldog, Boo, who is also the face of the brand.
DopeBoo Is Headquartered in Chicago, IL.
It was founded and currently headquartered in the founders' hometown of Chicago, IL. It was also founded on April 20th, which is no small coincidence.
Though it might be based in the Midwest, it is not limited to Midwest shoppers. Cannabis smokers from all over the world (but mostly the US) can enjoy the curated products sold on this online headshop.
Customers Are Divided in How They Rate Dopeboo.
First, we'd like to point out that reviews on the site should be taken with a grain of salt. Not to say they are fake reviews—we do truly believe that everything published comes from real customers. The issue is the fear that their "curation" spreads from product to review, meaning DopeBoo doesn't publish every review they receive.
It's human nature to be more inclined to publish a review that's negative than one that's positive. So why is every single review (except one that I've come across on the site) either 4-stars or 5-stars?
Having said that, there's typically just 1 or 2 reviews per product—and most products have zero. For an international store that's gotten praise from High Times, Leafly, and Herb.co there's not much praise seen on their own site.
Looking at Trustpilot, we can see several positive remarks:
People, domestic and international, seem to enjoy the curated service DopeBoo headshop provides. Please note there are few reviews here, as well, so we must consider pre-, during, and post-pandemic.
More customers are upset, to say the least, with DopeBoo though:
It appears that people have more complaints about customer service and shipping than anything else. Broken products arriving is avoidable but understandable, as long as it's taken care of. But DopeBoo fails to meet their own "satisfaction guarantee" where customers can get their money back if they are dissatisfied.
---
DopeBoo Headshop Product Selection, Quality, and Prices
The variety of products is quite vast, though it's impossible to say just how many bongs and pipes are available due to poor site organization.
We can vouch for the variety of products on DopeBoo. There are themed bongs and hand pipes, elegant/minimal rigs, and several vapes to choose from. So, while we can't say exactly how many products there are, we can say the products they have should appeal to a wide variety of people.
And that's something that should be praised on a headshop that touts a curated experience. We're not looking for quantity, we're looking for quality.
Several Subcategories of Pipes, Vapes, and Accessories Do Provide a Solid Base for Shoppers.
Without getting too specific, you will find:
Water Pipes (like bongs, bubblers, and dab rigs)
Hand Pipes (chillums, sherlocks, and spoons)
Vapes (portable, pens, and desktop)
Parts
Accessories (grinders, storage, and more)
As you can see, DopeBoo covers all the bases. They really have at least attempted to create the foundation of a headshop that could easily become a one-stop-shop.
Again, curation is an issue. Or maybe it's a lack of transparency surrounding that curation. We don't really know where these products come from or who chose them. Their own site says products come from abroad and domestic, so that narrows down nothing. But we also don't know anything about who the founders are. Is there just one? Two? Seven?
The point is that, because of the range in product styles, it would be helpful to see who curated which products. As it stands now, there's just a mishmash of designs, all of which lack any cohesion.
A Lack of Reviews Speaks to the Lack in Quality of the Pieces.
Quality for products sold on DopeBoo.com is difficult to gauge. There's a complete lack of response from the customer base, though the few reviews published are positive.
Brand Quality is entirely dependent on the manufacturer, which does reflect the brand's ability to curate in theory.
The products on offer here come from some of the most well-respected brands available.
Aerospaced
Arizer
Cheech and Chong
DaVinci
Famous X
GRAV
MJ Arsenal
PAX
Puffco
RAW
Santa Cruz
You should expect the highest quality from and of the products by these brands.
DopeBoo Also Crafts Their Own Glass Products.
Why is this not advertised sooner on the site? We're not sure. But we do love when we see an in-house brand. The products by DopeBoo (under the brand of BOO Glass) range from parts to pipes to full-size (even oversized) bongs. Some are quirky, others are simple. The lack of cohesion exists even here.
We do appreciate the themed pieces, like cactus pipes and elephant bubblers as well as the simpler products. Better site organization would help boost awareness and display these pieces in more curated collections.
Prices Range From Absurd to Affordable.
$3000 for a bong?? This headshop needs more clout before it can sell such high-ticket items.
But a 17" classic beaker for $130? Now that's something we can all get behind.
As you can see, there's a range of prices on this site. Most products hover between $60 and $200, which is perfectly reasonable. But a sudden breach past $1000 is a bit shocking.
Overall, prices are acceptable. On any online headshop, you'll see quality smoke products between $50 and $200. DopeBoo doesn't take the cake for pricing, but it doesn't disappoint (only shocks every once in a while).
---
Sales and Discounts for DopeBoo Online Headshop Review
Everybody loves a sale, and the more chances to get something at a discount the more likely you are to make a purchase. It's standard marketing. So how does DopeBoo stack up when it comes to offering discount codes, running promotions, and providing quality sales items? Let's take a look.
Dedicated Sales Tab Makes Shopping for Less Easy.
As of writing, the tab is titled "Black Friday Deals". We imagine this would change depending on the season, as the products listed within simply have a "Sale" tag on them and the Black Friday savings comes after using a discount code.
Either way, it's a great way to set a time limit for products to remain on sale as well as provide headshop visitors a quick and easy way to locate items on sale.
The homepage is riddled with sales items. Literally every item listed on the homepage is on sale. It treads the line of "super sale" and "everything must go".
When navigating the main categories and subcategories, there's no way to sort by sale items. Therefore, this section serves as the one and only way to browse products on sales. Again, this is something that should be changed in a future update of the site.

Tons of Promo Codes Means Lowering Your Cart Price Is Always Possible.
DopeBoo is not afraid of providing a discount code to customers.
A banner at the very top of the site currently provides a pre-Black Friday sales code for 10%.
The hero section scrolls through several codes: BOGO, pre-Black Friday, and a 69% off deals section.
You can also sign up for emails to receive sales notifications and discount codes in your inbox. There is no rewards program here, so take every code you can get if you're keen on saving.
---
Payments, Shipping, and Returns Review for DopeBoo.com
One of the most important factors in deciding whether an online headshop is worthy of a customer's purchase or not is layered within what type of payments are accepted, how products are shipped, and the return policy.
As we've seen with some of the reviews previously, returns and shipping haven't been on par with customer expectations. To give the benefit of the doubt, those could just be flukes. Let's find out how DopeBoo performs.
Discreet International Shipping Is Available for Nearly Every Country.
It's a big relief seeing the dropdown of countries at the shipping stage during checkout. We live in such a connected world that international shipping should be ubiquitous by now. Luckily for all of us, DopeBoo delivers on the international front.
Prices for international shipping depend on how far and how fast you want your product. But you can get your package in as quickly as 5 days or as slow as 21, the choice is yours.
Discreet Domestic Shipping Is Free for Orders Over $50.
We do love free shipping, and while $50 is not difficult to reach it would still be nice to see free shipping for members.
Still, free shipping in 4 days is absolutely acceptable. You could choose 2-day delivery for an additional $19 if you are willing. Shipping options include USPS, FedEx, and UPS.
Again, you can expect discreet shipping: plain cardboard boxes and envelopes with no indication of the brand or what's inside.
Satisfaction Guaranteed or Your Money Back Is a Possible Bust.
Promising satisfaction is not an easy task for brands. DopeBoo offers your money back or an exchange if you don't like your product. But that's a completely subjective policy and one they can't live up to.
DopeBoo does not accept returns of used products. In fact, the company doesn't accept returns of products unused but removed from packaging. So…how do you know if you like the product if you can't remove it from the package?
The return for unused items is also very small—just 3 days! And that only applies to domestic orders, so international buyers should be firm in their desire to make a purchase. Or else.
There's also a 10% restocking fee for returns. So where does this satisfaction guarantee come into play? If you're unsatisfied with the product, then you're stuck with it. And if you do decide to return it, then you're hit with a partial refund. There's no way to win.

Only Credit Cards Are Accepted.
We all have a credit or debit card, but it's so convenient when an online headshop offers PayPal or digital wallet payments or bitcoin.
DopeBoo keeps payments simple by only offering ONE type of payment method. On the bright side, they do accept all major credit cards:
Visa
Mastercard
American Express
Discover
DopeBoo Customer Service Review
A headshop is only as strong as its support team. Live chat via Facebook Messenger makes getting in touch simple, as you can do it from the site or from Facebook (and presumably Instagram, too). There's a dedicated email support line as well as a phone number.
DopeBoo at the very least wins on its ability to provide multiple customer service outlets.

Many Customers Have Had Great Experiences With Customer Service, and Many Haven't.
Referencing the reviews we posted previously, there were multiple remarks about DopeBoo's customer service team. Some folks love them, other's hate them. Here are a few quotes from reviewers of both sides:
"…I got good customer service from them throughout the journey."
"Absolutely the worst customer service I have ever experienced."
"So I called the phone support number, and the owner picked up right away."
"…I replied and got no response."
Reviews are clearly mixed. But what tips the scale for us is the fact that none of these reviews—not even the good ones—have a response by the company. If they wanted to quell any negativity, that would be a great way to do it. Instead, they are leaving these customers in the dark. That's not something we can support.
---
Final Thoughts on DopeBoo.com
PROs
Wide variety of vape and smoke products
In-house products alongside top brands
Plenty of discount opportunities
International shipping
Discreet shipping
Generally good prices
CONs
No alternative payment methods
Abysmal return/refund policy
Subpar customer service
Some products are priced far too high
Not curated
Overall, we like DopeBoo.com as a headshop but we can't recommend it to the cannabis community. Even though the brand has been featured in respectable publications and provides solid shipping and sales, the customer service, lack of curation, and poor refund policy make for an experience that simply needs improvement.
---
Better Alternatives
For a more pleasurable online shopping experience, we highly recommend browsing the following headshops:
Grasscity — Pioneer of the online smoke shop and based in Amsterdam, Grasscity is your international source for any cannabis related. Warehouses exist in Europe and North America, which means you can expect fast and affordable (even free) shipping worldwide. Browse from mid-range to high-end products, pay with virtually any payment method (including Bitcoin), and save with regular sales, discounts, and rewards.
Smoke Cartel — As one of the most popular headshops, Smoke Cartel excels in providing top-quality products. While prices hover around average, you have plenty of discount opportunities via codes and their rewards program. This, exceptional customer service, and fast international shipping make Smoke Cartel one of our top recommendations for all cannabis lovers.
Vapor.com — A comprehensive range of vaporizers and smoking accessories, as well as fast and free delivery, make Vapor.com the go-to shop for all things vape. The shop offers many savings opportunities and a price match guarantee that helps you save on every purchase no matter where in the world you are buying from.
The Best Head Shops of 2023

1. Grasscity

• Overall Best Head Shop

• Oldest Headshop & Best Reputation

• Since 2000, Based in Amsterdam, NL

• Free Stealth Worldwide Shipping

• Bitcoin Accepted!

[Read Our Review]
• Promotions & Special Offers • Pay with

Bitcoin

• Reward Program Read Our ReviewVisit Website

2. Smoke Cartel

• Best Shopping Experience

• Since 2013, Based in USA

• Stealth Worldwide Shipping

• Free Shipping in USA

[Read Our Review]
• Promotions & Special Offers • 10% Coupon Code:

CNBS

• Subscription Box • Reward Program Read Our ReviewVisit Website

3. Vapor.com

• Best Headshop for Vaporizers

• Since 2005, Based in Florida, USA

• Shipping to U.S, CA, U.K, EU, AU, & NZ

[Read Our Review]
• Promotions & Special Offers • Price Match Guarantee • Reward Program Read Our ReviewVisit Website

4. Hemper

• Best Subscription Box

• Since 2015, Based in NY, USA

• Shipping to Selected Countries

[Read Our Review]
• Sunscription Boxes • Gift Cards • Themed Boxes Read Our ReviewVisit Website

5. Allin1SmokeShop

• Best for Artistic Heady Glass

• Since 2016, Based in Florida, USA

• Stealth Worldwide Shipping

[Read Our Review]
• Promotions & Special Offers • Reward Program Read Our ReviewVisit Website
---
---
Category Pages: