With major strides having been made across the globe towards the decriminalization and legalization of cannabis, an increasing number of conferences, conventions, expositions, trade shows, and festivals have sprung up, providing industry experts, scientists, recreational users, therapeutic supporters, and would-be 'cannapreneurs' with a wealth of networking and educational opportunities.
These events are of great importance to the industry in terms of the dissemination of information, combating harmful stereotypes, dispelling myths, promoting use, and showcasing new innovations in both products and technology. This is all while both federal and local governments around the globe continue to contend with the complexities of regulating the burgeoning cannabis market.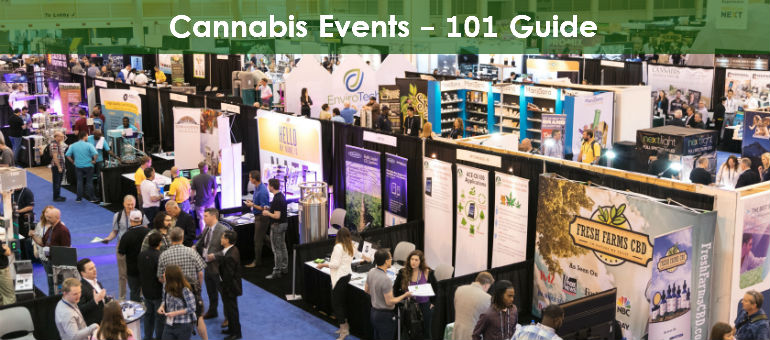 ---
Types of Cannabis Events
While there are differences between a conference, convention, expo, trade show, and festival – event organizers will usually blur the lines between them. They may also refer to an event as one type when in fact it is of another type entirely.
This overview will demystify the various types of cannabis events so that you can choose the appropriate type for your particular needs.
---
Conferences
Cannabis conferences are organized with the intention of bringing together individuals for a common purpose, revolving around cannabis. They provide an opportunity for attendees to expand their cannabis knowledge through presentations from industry leaders, investors, doctors, patients, and those at the forefront of innovation. They also offer insights into legislative developments and shed light on changes anticipated in the future which may impact stakeholders.
An overarching theme tends to predominate at these events. Presentation styles may include speeches featuring new industry developments or case studies, Q&A sessions, and interactive round table discussions which provoke debate and inspire out-of-the-box thinking.
---
Conventions
Cannabis conventions are resource hubs for the rapidly expanding cannabis industry. These are events where businesses, entrepreneurs, investors, educators, patients, advocates, and consumers can all connect, learn, and grow. They are focused on the local market needs of wherever they are held, but also tie those needs into the industry at large.
---
Expositions & Trade Shows
Cannabis expositions and trade shows are public exhibitions that operate as a microcosm of the activities taking place in the cannabis market. They tend to offer an array of activities for a much more engaging experience with the subject matter of the day. They also feature inherent dynamism. This is created by the presence of interactive exhibits, workshops, the showcasing of innovative technology by various vendors, and the wide variety of participants from different industries and walks of life.
---
Festivals
A festival revolving around cannabis has a focus on music, advocacy, education, activism, and having fun. You can expect a jam-packed program of events and entertainment with a focus on consuming cannabis surrounded by positive vibes, and novice, as well as seasoned cannabis enthusiasts.
---
Key Topics at Cannabis Events
Cannabis events tend to focus on disseminating information of educational value, addressing existing challenges, highlighting emerging trends, and revealing new innovations in the industry. The following are a number of topics that are likely to dominate the agenda of cannabis events:
---
CBD
At CBD-focused events, you will find a space for CBD enthusiasts, business owners, and more to test newly-released products, ask burning questions, and discover how CBD can be used to promote a healthier lifestyle.
Given the fact that the regulatory landscape affecting the industry is constantly evolving, CBD events seek to educate the public and garner trust in the health benefits of this non-psychoactive cannabis plant compound. With the increasing legality of CBD around the world, events with CBD as their focus are continually growing in number.

---
Hemp
There are lots of events focused exclusively on hemp and everything related to this non-psychoactive version of the cannabis plant. These events promote the industrial and culinary uses of hemp. They also provide information on legislative developments with regard to the legality of hemp in various jurisdictions. Forecasts on the industry at large, along with more regional outlooks, are discussed and shared with attendees.
---
B2B & Entrepreneurship
Some cannabis events focus on the business side of the cannabis industry. These B2B-focused events gather like-minded professionals, uniting leading pioneers and entrepreneurs with investors and experts in order to discuss the latest industry developments.
B2B events also target would-be entrepreneurs, providing them with the knowledge and resources to get ahead fast and avoid common pitfalls. This is why a conference-style event is usually adopted. There is discussion about current economic opportunities, as well as challenges, in the cannabis market at large. There are also opportunities to network with lots of different players in the cannabis industry, including highly sought-after angel investors.
The area of focus is mostly on how to secure funding in what may seem like a saturated market, understanding new developments within the industry, defining distribution channels, overcoming market barriers to entry, scaling up production for export, and dealing with supply chain issues.
---
Medical Cannabis and Research
These events are usually focused on the opportunities within the use of cannabis for medicinal purposes and its capacity to treat diseases, illnesses, and ailments. At a cannabis event focused on the medicinal use of cannabis, you will find industry professionals from all over the industry in attendance, such as licensed producers, growers, suppliers, dispensary owners and managers, and healthcare professionals.
Events that have medical cannabis and related research as focal points are usually organized as cannabis conferences. They include the dissemination of new insights and conclusions from researchers. In addition, speakers with personal experience of having used (or known someone using) cannabis for medicinal reasons may be present.
The usual program of events encompasses discussion of THC and CBD extraction, cannabinoids, the regulatory environment, products being developed at present and future opportunities, the territories in which medical cannabis is accepted or in the process of being accepted, and educating attendees on the benefits of cannabis for medical purposes.

---
Cannabis Cultivation
Cannabis events revolving around the plants themselves are aimed at those wishing to operate on a commercial scale, providing them with critical information on this integral part of the production process. Cannabis events revolving around cultivation will normally be in the form of a trade show, with vendors exhibiting their nutrients, growing equipment, lighting solutions, and more.
Technological advancements in the cultivation of cannabis are extensively discussed. Agricultural equipment specialists will be on-site and themes such as proper ventilation and air sanitation of the cultivation site may be tackled. There is also discussion of the impact either of these things can have on the quantity, quality, and potency of the crop, as well as a plant's susceptibility to mold.
Attendees can also expect discussions involving cross-breeding, back-crossing, the modification of THC levels, the increase of yield, the alteration of the flavor profile of a strain, and changing the durability of a cannabis plant in various climates. The more scientific aspects of the cultivation process involve panel discussions, where a panel of expert speakers are in attendance, educating attendees on the details and science of cultivation.

---
Project Management Tools
Project management is at the heart of every successful business. There are constantly new tools being released, which enable business operations to be conducted more smoothly and efficiently.
Cannabis events on this subject are frequently styled as panel discussions with various cannabis business owners and managers discussing how they manage their operations, the challenges they face each day, and the systems they use to manage their companies more efficiently.
Attendees can expect to hear about the impact on how failing to properly manage a grow operation effectively can have a significant effect on crop quality or yield. Case studies are often brought up to highlight the importance of this issue. Cannabis events with a focus on product management, as well as on the product life cycle and the adoption of innovative technologies, are highly beneficial for both new and experienced cannabis cultivation business owners, as well as for investors who wish to have a better understanding of the business operating model, so they can accurately measure business risk or technological sophistication.
---
Politics and the Law
Cannabis events also focus on politics and the law. Generally, business-style conventions will have this as a subject of focus. Common topics of interest are the state of the law concerning cannabis production, consumption, and sale in various countries and territories. Conferences which make politics and the law topics of focus are normally targeted at cannabis growers and users, but not only.
---
Environmental Issues
Cannabis events with a focus on environmental issues are great places to exchange ideas on what can be done to reduce the impact that the industry will inevitably have on the environment.
As the question of reducing environmental degradation takes center-stage for governmental policy-makers and citizens worldwide, cannabis conventions have sprung up, arming attendees such as existing and prospective cannabis business owners, with the knowledge that will enable them to build environmentally-sustainable practices into their business model.
---
Safety During Cultivation
Cannabis events dealing with safety during cultivation focus on how to ensure the safety of the cannabis grower. The importance of wearing protective gear, exposure to airborne contaminants, heat illness prevention, point of operation hazards, sanitation and pest control, pressure vessels, repetitive motion injuries, machine hazards, flammable liquids and gases, electrical hazards, and safeguarding employee health will be subjects with emphasis placed on them.
With cannabis now fully legalized in places, official health regulations are applied to the industry. It is now important for all employers in the cannabis industry, including those who cultivate, manufacture, distribute, sell, and test marijuana products, to take steps to protect their employees from all health and safety hazards associated with their work.
Panel-style discussions will tend to be arranged, with an exposition of the latest technology emerging in the cannabis industry when it comes to keeping growers safe.
---
Non-Commercial Cannabis Consumption
Some people simply want to indulge in cannabis. With the number of cannabis enthusiasts growing each day, a large number of cannabis events have appeared with the intention of allowing attendees to enjoy cannabis, usually within the boundaries of the law, although sometimes held as 'protestivals' to make a stand in the form of civil disobedience. This usually takes the form of a festival and may be organized as an indoor or an outdoor event.
At these events, the main focus is smoking, vaping, or partaking in cannabis in some other way. These are fun events that sometimes attract over 100,000 people, such as the famous Hempfest in Seattle, Washington.
---
Final Words – Cannabis Events
The flourishing cannabis industry shows no signs of slowing down at this point. As more countries and states continue to pass laws decriminalizing and legalizing cannabis, a greater number of cannabis events of different types can be expected. There are already a plethora of events centered around this beloved plant.
This comprehensive overview of the wide array of cannabis events has hopefully shed some light on some of the most interesting events taking place around the world, while also offering ideas for cannabis events you may wish to organize yourself.
---
Category Pages: