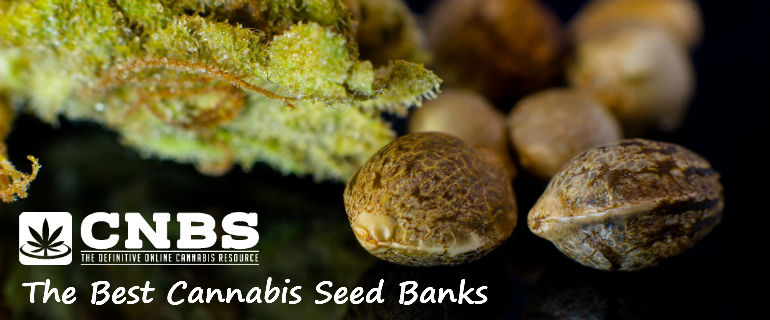 These days, there are more online cannabis seed banks than ever before. Some are excellent, others are complete scams, and of course, the majority of them fall somewhere in the middle. But how can you know what you're getting yourself into before you order? Anyone can build an attractive-looking website, but that doesn't mean that the product you receive will be as good – if you even receive anything at all…
Over the years, amidst the hundreds of online cannabis seed banks, several have emerged as the best and most customer-friendly ones. These are online seed banks where customers consistently get the highest quality seeds, best customer service, and most bang for their buck.
---
The Best Online Cannabis Seed Banks (all ship to the U.S.)
As we have a few experienced cannabis growers on-board, our seed bank reviews are based mostly on our personal experience. We do read external reviews on various platforms, but their credibility is limited.
In order to make it on our list, a seed bank has to:
Pass our tests as secret shoppers (delivery, seeds quality, and customer service).
Be a well-known brand with a sterling record of satisfied customers.
Provide a good selection of high-quality seeds.
Ship to the U.S.
Offer innovative stealth shipping methods and a delivery guarantee.
Have a friendly customer service team that is eager to answer your questions or sort out any problems that you may run into along the way.
The seed shops on our list have them all. As of 2023, these are the best-established and most reputable online cannabis seed banks on the market:
---
1. Herbies Seeds
Herbies Seeds is currently the best place to purchase your seeds online as of 2023. They offer an enormous seed selection, wide and convenient payment options (including a 5% discount on Bitcoin orders), guaranteed stealth shipping, a modern and easy-to-navigate website full of discounts and freebies, and stellar customer service. With all of that, we're not surprised by their excellent online reviews and scores. Also, Herbies has recently launched a new website specifically for customers in the USA, with 1-2 days shipping, expanded payment options, and no customs troubles, making it even easier for American customers to browse and purchase from their wide selection of seeds.
Genetics
Herbies is known for offering a wide range of high-quality strains, including strains from well-known breeders and their successful in-house strains with sky-high THC potency (Up to 33%). Herbies have done a great job selecting the best seed strains from every breeder, and their own genetics are of the highest quality. Some of their best in-house strains include Apple Betty, Grandmommy Purple, and Mimosa Shot. Herbies also sell their seed strains in Mix Packs with great value for a lower price.
Bottom Line
Herbies Seeds is a top choice for those purchasing cannabis seeds online, with an extensive selection of high-quality strains, a wide range of payment and shipping options, a great shopping experience, and excellent customer service. They are currently the most reliable and convenient option for anyone looking to buy cannabis seeds online.
Quick Links – Herbies Seeds:
Read More: Herbies Seeds 2023 Review
---
2. ILGM Seed Bank
ILoveGrowingMarijuana (ILGM) has been known as a wealth of cannabis growing knowledge since 2012, and now, also as a wealth of high-quality cannabis seeds for sale. Their online seed bank is quite popular, and combines massive strain selection, beginner-friendly approach, bundled grow kits and mix packs, great promotions (with up to 50% off and 1+1), and guarantees both for shipping and germination. Constant 10% Bitcoin discount and a VIP (loyalty) program will keep you coming back for more again and again.
What's unique about ILoveGrowingMarijuana seed bank is the strength of their guarantees. Not only do they guarantee delivery of your seeds, but they also have an ironclad germination guarantee. If your seeds don't arrive, or they don't sprout, they will send you replacements – 100% free of charge.
ILGM seed bank ships discreetly to customers in the United States from a facility in California that allows them to bypass the U.S. customs and deliver seeds to Americans much faster (2-10 days, usually around 4 days).
Genetics
ILGM is a cannabis seed brand based in the Netherlands that takes pride in providing quality genetics, whether the strain is an old favorite or a completely new creation. Their most notable strain is the founder's own Berman's Gold Leaf. Other bestsellers include Gorilla Glue, Girl Scout Cookies, White Widow, Gelato, Blueberry Autoflower, Sour Diesel, Super Skunk, and Strawberry Kush.
Their selection is quite massive with around 15 autoflower strains and 70+ feminized strains, as well as more than 30 different mix packs. They also supply fertilizers and protective formulas to keep your plants growing strong and getting exceptional yields – which can also be purchased as part of their grow kit bundles for a much lower price.
Bottom Line
ILGM is one of the very few seed banks that offer a full germination guarantee. While their prices are a bit higher than other seed banks – their guarantees are firm and you can rest assured you will get what you paid for. Also, they are professional cultivators and willing to help with growing related questions, unlike other seed shops.
Overall, they are the best option for beginners who want to be taken care of as VIPs.
Quick Links – ILoveGrowingMarijuana Online Seed Bank:
Read More: ILoveGrowingMarijuana 2023 Review
---
3. MSNL Seed Bank
Despite the "NL" in their name, Marijuana Seeds NL (or MSNL for short) is actually a British seed bank. While being the first of the online seed banks, the MSNL team has worked since 1999 to perfect their online seed-selling platform, and their website is one of the best in the industry. It's incredibly well-organized, informative, and easy to use.
With friendly and responsive customer service, as well as fast, discreet, and guaranteed worldwide shipping (including free shipping for larger orders), MSNL has built a solid reputation as a leading international seed bank. They accept credit/debit cards, cash, and bank transfers. They also accept Bitcoin (and give an additional 15% discount on all Bitcoin orders). For those who plan to buy on a regular basis and want even further discount – MSNL has a loyalty program as well.
Make sure to check MSNL sales and special offers page before placing your order as their promotions are massive (up to 50% off and 1+1 usually). As a bonus, MSNL also gives out free seeds with every order.
Genetics
MSNL has had a lot of time to perfect their strains, and their genetics are just excellent. They offer a massive selection of seeds, including more than 60 feminized strains, around 30 autoflower-feminized variations, 60+ regular ones, and 11 value mix packs.
Some of their best-selling cannabis strains are Girl Scout Cookies, THC Bomb, White LSD, White Widow Max, Blue Dream, NYC Diesel, Blueberry, Blueberry Widow, Big Bud, Golden Nugget, Sour Grape Kush, and Hash Plant.
You can also browse their strains by type, including Medical / High CBD, Kush, Haze, Cup Winners, High Yield, High THC, Beginners, and more.
Bottom Line
MSNL is our favorite seed bank; we have been buying from them for years. They ship to the U.S. (6-12 days usually), they are reputable and reliable, their genetics are top-notch, and their customer service is fantastic.
Quick Links – MSNL Online Seed Bank:
Read More: MSNL Seed Bank 2023 Review
---
4. Crop King Seeds
Crop King Seeds is a reputable Canadian seed bank that sells its wares in physical locations throughout Canada since 2005, but it's also a highly reputable online seed bank for international buyers. They are well-known in the cannabis seed bank industry, a trusted and established brand, and have a good reputation among buyers. They are one of the largest seed banks, and one of the few with an extensive network of retail partners with physical storefronts, which lends them even more credibility.
They offer worldwide stealth shipping with a guaranteed shipping option available for a reasonable price. Their shipment to the U.S. is relatively quick, with an estimated delivery time of 5-7 business days. Customers can pay with Visa, Mastercard, and Bitcoin, and Interac E-Transfers (Canadian customers only). Cash and wire transfers are not accepted.
Unfortunately, promotions and special offers are quite rare. The best way to obtain them is to subscribe to Crop King's newsletter, but it might take a while until their next promotion starts. As for free seeds; they have a non-ending promotion of 10 free seeds for orders above $420.
Genetics
Crop King used to have around 35 strains for years. These strains are still considered as their "core-selection," and you can still find them on their left sidebar when browsing their site.
Recently, they added a massive amount of new strains, making it 460 in total which is just nuts. The 460 strains are combined of 39 regular strains, 274 feminized strains, 92 auto-flower strains, and 44 medical strains.
Some of their most known and popular strains include Durban Poison, Bubba Kush, Dark Angel, Purple Kush, White Cookies, Sour Diesel, Green Crack, Candy Cane, Northern Lights, Amnesia Haze, Train Wreck, and CBDutch Treat. All of them are part of their core-selection, the same one they have been selling for years.
Besides their delivery guarantee, Crop King also offer a guaranteed germination rate of 80 percent. If your seeds are subpar, all you need to do is get in touch with one of their customer service representatives, and they will send new seeds to replace the bad ones.
Bottom Line
Crop King are veterans; we grew their strains several times over the years and got nothing but excellent results. We didn't need to use their germination guarantee even once. Their prices are not the cheapest, and promotions are not very common – but their warranties are strong, and their brand name speaks for itself.
Quick Links – Crop King Seeds Online Seed Shop:
Read More: Crop King Seeds 2023 Review
---
5. WeedSeedsExpress
WeedSeedsExpress may be among the newer set of seed sellers out there, but they're far from inexperienced. Their business revolves around excellent customer service and making sure that every customer experience is a good one. Headquartered right in the heart of the international cannabis scene, just outside of Amsterdam, which is surrounded by a rich cannabis culture and employs plenty of top-level cannabis experts.
They ship to just about every country, including the United States, and offers free shipping (without tracking) on all orders. They provide shipping with tracking at a reasonable rate, and also have a delivery guarantee to ensure that you get the seeds you ordered.
You can pay for your order using just about any payment method you might want to use. WeedSeedsExpress also has excellent sales and rotating promotions, offering deals as good as 50% off. On top of that, you will get +20% free seeds with every order.
Genetics
WeedSeedsExpress has a pretty good selection of seeds with around 100 different strains, including regular, feminized, and autoflower seeds – all of which are meticulously tested for genetic stability. Some of their best-selling seed strains are Granddaddy Purple, Charlotte's Web, ACDC, Blue Dream, Green Crack, Pineapple Express, Sexxpot, and Skywalker OG.
If a customer does happen to have an issue with germination, WeedSeedsExpress customer service is perfectly willing to work with the customer to troubleshoot the problem and find a proper solution. Overall, their customer service is top-notch.
Bottom Line
We met David (one of the owners) in our last visit to Amsterdam and managed to sample a few of their strains, which were just excellent. They also impressed us with their passion and in-depth knowledge – they are true professionals. Since then, we heard only positive things about them and already stacked a few of their strains for future grows.
Very hard to go wrong with these guys – highly recommended. Keep in mind that because of local EU laws, there is currently a limit of 25 seeds per order.
Quick Links – WeedSeedsExpress Online Shop:
Read More: WeedSeedsExpress 2023 Review
---
6. Ministry of Cannabis
Ministry of Cannabis is a superb seed bank headquartered in Barcelona, Spain. They feature booths at many 420-related events across the globe, and it's refreshing to be able to see the real people behind the brand name and talk with them face to face. They take pride in preserving the strong genetics that makes their seeds so high quality since 2007, as well as breeding new innovative hybrids.
Customer service here is absolutely stellar, and you can reach someone any time of the day or night since representatives are based in 3 different countries. Worldwide stealth shipping is available, and orders over €75 ship for free. Delivery is guaranteed, but Americans might have to wait up to 15-20 days for the seeds to arrive to the U.S.
You can pay with Bitcoin, Mastercard, Visa, bank transfer, MoneyGram (for orders of €100 or more), or cash mailed directly to the address provided at checkout. 1 to 5 free seeds will be given with every order, dependent on how much was spent.
Genetics
Ministry of Cannabis carries 12 feminized strains, 10 autoflower-feminized strains, and 5 mixed seed packs. They also offer a germination guarantee, but each case is judged on its own.
Some of their top-selling strains include Zensation, Carnival, and Ultra White. They also added new strains recently, including Mamacita's Cookies, God's Glue, Cannabis Light CBD, and 4 medical / high CBD strains.
As of 2023, they only have 26 unique strains, but that number is bound to grow in the future. Ministry of Cannabis is cautious not to sell any strains that haven't been thoroughly tested by them for quality first, so it takes time for new seeds to work their way into the online shop. One of the things that makes Ministry of Cannabis a top seed bank is its consistency. If you buy seeds from them of a particular strain ten years apart, you're still going to get the same results or better as you had that first time.
Bottom Line
Ministry of Cannabis is a very solid choice. They are one of the few seed banks that actually breed their own strains, instead of having hundreds of replicas. They are like a boutique seed bank. Their prices are relatively low, and you can also buy small packs of 2 seeds, which is quite refreshing. For 10% off – use our coupon code: CNBS10).
We grew a few of their strains several times over the years and couldn't be more satisfied. The results are impressively consistent.
Quick Links – Ministry of Cannabis Online Seed Shop:
Read More: Ministry of Cannabis 2023 Review
---
---
Cannabis Seed Banks 101: Behind the Scenes
When it comes to online cannabis seed banks, a lot is happening behind the scenes.
Most of the online seed shops have a great-looking website and a massive selection of strains to choose from. But who are they? Where are they getting their seeds? And how come there are so many seed banks? Are they all serving the same purpose?
Let's have a more in-depth look.
---
Why Are There so Many Online Seed Banks?
The answer is simple: the entrance barrier is crazy low.
Although the cannabis seeds industry is just huge (expected to grow to USD 34.69 billion by 2027), it is not regulated at all. The main reason is cannabis seeds can be easily shipped around the world, making it almost impossible to regulate. If (and when) one country applies new rules, local seed banks might just start to operate from somewhere else.
As an unregulated market, the main advantage is the selection is just massive. The main disadvantage is anyone can establish a good-looking website, buy some seeds in bulk from a random (and cheap) provider, and start his own seed bank. They can also breed their own strains even if they are complete noobs. After all, those are cannabis seeds we are talking about, not 4K TVs. This is why there are hundreds of them, maybe even thousands, who knows.
The vast majority of these seed banks are anonymous. No one really knows who they are and where they are getting their seeds from. They are not interested in establishing a firm brand name; they are interested in your money. They sell mainly low-quality genetics.
Buying from an unknown seed bank you found on a random Google search just because their images look great, is probably a very bad idea.

---
Cannabis Seed Genetics
Unfortunately (or fortunately), cannabis seed strains are relatively easy to clone and copy. Anyone can buy anything from anywhere, and just breed it with a similar strain again and again until the original strain is 100% cloned.
After very few breeding cycles, the differences will be neglectable. After 5-10 breeding cycles, even an expert won't be able to spot the difference.
The result? No strain is unique enough to be chased after. If it's good and popular enough – it's probably available on the vast majority of the seed banks. The real question is who offers superior quality.
In other words, gone are the days when we had to hunt specific strains from specific seed banks. Nowadays, most of the reputable seed banks carry most of the popular strains, and in top-notch quality. The most important question is where to buy, not what to buy.
Same Strain from Different Seed Banks
Remember we said that the most crucial question is where to buy, and not what to buy? This is mainly because the same strain from different seed brands is technically two different strains. Anyone can breed anything and just call it whatever he wants.
When buying from less-known seed banks, you can't really know what you are going to get. It's a jungle out there. Many of them are using stock images that are not even related to what you are going to get. They also note imaginary characters they never bothered to test, and just ship whatever they currently have in stock once you place your order. Unfortunately, this is a common practice.
When buying from reputable seed banks, you can (and should) assume the same strains will result in at least similar results. Of course, there will still be some differences, but in general, the strain you'll get will be the actual strain you paid for. The product images will be real, and the characters published by the brand will be accurate.
This is a key feature of reputable seed banks, as their reliability is at stake. Having stable genetics is not less important than having high-quality ones.

Cannabis Cup Winners
Cannabis cups are awards given to selected strains in different competitions. The most known one is the HighTimes Cannabis Cup. Other popular cups are The Emerald Cup, The Harvest Cup, Oregon Growers Cup, Toronto Cannabis Cup, Dope Cup, and many others. The list is quite big as there are at least a few dozens of reputable competitions.
Once a new strain is being awarded, it usually starts to gain popularity quite fast. Seed banks see that, seed brands also see that, other seed breeders see that as well. The result? In no more than a month or two, it will start popping all over the industry with initial versions cloned from the origin.
After 3-6 months, these versions will be almost identical to the source, and will be marked as having "award-winning genetics."
Ethical? Probably not. Do we encourage this behavior? Probably not. But this is the reality, and this is how it goes.
Bottom line: Many online cannabis seed banks have a dedicated category for cup winners. Those strains are excellent. Just make sure you are buying from a reputable source to ensure the seeds you are getting are actually bred from "award-winning" genetics, and not from some random cheap replicas.
For award winning genetics, check out Herbies Seeds cannabis cup winners section, with dozens of cup winners to choose from.
---
Types of Marijuana Seed Banks
There are three major types of online cannabis seed banks; seed breeders, seed brands, and seed resellers.
Cannabis Seed Breeders
There are hundreds of cannabis seed breeders. Some of them are known; some are less. Their focus is on the breeding process, which means breeding new strains and polish their existing genetics as much as they can.
They usually distribute their products via 3rd parties like seed resellers. Still, some also sell their products in bulk to seed brands under a white-label agreement.
While most of the seed breeders offer their seeds in bulk-mode only (B2B), some also have online shops for private clients (B2C). These shops are usually quite basic, including local shipping (usually won't ship to the U.S.), few payment options, few promotions, and some basic customer service. This is not because they are bad or not legit, the opposite is true – this is because they expertise in breeding and genetics, not in shop management and B2C distribution.
These guys usually have a strong presence in 420-related events, as they are consistently trying to promote their genetics. They also participate in competitions and festivals like the well-known High-Times Cannabis Cup festival and many others.
Bottom Line
Cannabis seed breeders are like manufacturers; they specialize in bulk B2B distribution. It's best to buy their products from online seed banks that are more experienced with distributing cannabis seeds to private clients (B2C).
Cannabis Seed Brands
Cannabis seed brands are online seed banks that specialize in distributing cannabis seeds to private clients (B2C). They offer customer guarantees, extended shipping range (all ship to the U.S., most of them ship worldwide), massive selection, responsive customer service, and massive promotions. Overall, their focus is on the shopping experience and customer satisfaction.
They buy in bulk from various breeders and sell these seeds under their brand name. Some are buying from a single source; others are purchasing from multiple vendors.
Sounds simple right? Well, it isn't. Sampling strains from new vendors takes time, a lot of it. Believe it or not, when buying in bulk, the vast majority of the seeds are pure crap. Many of them were bred with amateur techniques, their freshness is questionable, and you can never really know their source.
Finding stable and high-quality sources is not a simple task. This is the main reason the vast majority of the seed brands sell low-quality genetics – they just buy in bulk from a single provider without even testing their "own" products.
On the other hand, well-established brands have a brand name to protect. They have to make their picks very carefully and perform a long series of quality-control tests before listing a new strain. If they end up with low-quality strains – their brand name will be damaged.
Some seed brands won't note they are buying in bulk, but also won't claim they are breeding themselves (Crop King Seeds for example). To us, it's quite obvious they are buying in bulk, which is not a bad thing. As long as their genetics are top-notch, it doesn't really matter where they came from.
Bottom Line
Well-established seed brands (like MSNL and ILGM for example) are the best source for buying cannabis seeds online. Their selection is almost endless, their genetics are top-notch, and their customer experience is excellent. They specialize in distributing cannabis seeds to private shoppers.
Cannabis Seed Resellers
Cannabis seed resellers are like huge shopping malls. They stock seeds from various breeders and brands, sometimes more than a hundred of them. We are talking about a massive selection with thousands of strains from different brands, all sold in one place.
They also offer a better shopping experience than cannabis seed breeders, with enhanced shipping range (most of them ship to the U.S.), more payment options, and some basic customer service.
This type of seed bank used to be the most popular until a few years ago, but these days cannabis seed brands are way more popular, and for good reasons.
When buying from a seed reseller, you are actually buying from a middleman. In case something goes wrong, you can rest assure the seed bank will blame the breeders. If you try to contact the breeders, they will blame the seed bank. And the funny thing? Neither of them is wrong.
On top of that, most of the seed resellers won't ship the goods with their original packaging, especially when the shipment is supposed to be a stealth one. This makes it quite impossible to know what you are actually getting.
Another common complaint we hear quite often is from costumers who claim the seeds they got are just not fresh. Seed resellers stock thousands of different strains. It is just impossible for them to compete with the level of freshness you would get from breeders and brands who only stock their own brand.
None of them offer a germination guarantee (for obvious reasons). Only a few of them provide a delivery guarantee.
Bottom Line
Cannabis seeds resellers are like huge shopping malls of cannabis seeds. They stock thousands of strains from hundreds of breeders and brands. They won't take any responsibility for their products as they are just a middleman. Also, as middlemen, they have to earn something – so be prepared to pay a bit more.
It's better to buy cannabis seeds from seed brands and avoid the middleman. When purchasing from seed brands, you can be sure you will actually get the product you paid for. It will be fresh, and in case something goes wrong, you will have someone to talk with. After all, unlike seed resellers, they have a brand name to protect.

---
High-Times Cannabis Seed Banks
We get a lot of inquiries from novice growers who are looking for "High Times Cannabis Seed Bank(s)."
Some of them think there is a seed bank that belongs to the well-known High-Times Magazine, and they just can't find it on Google, asking for directions. Others believe that some seed banks are marked as "High Times Cannabis Seed Banks" and just asking us which ones.
Well, this is a huge misunderstanding. Let's get the facts right:
High-Times is a well-known magazine; it's not a seed bank; they don't sell any seeds.
The High-Times Cup is an event focused on specific strains, not on specific seed banks. There isn't any category for "The Best High Times Cannabis Seed Bank."
Although some websites feature lists of "The Best HighTimes Seed Banks," the seed banks in these lists are not endorsed by HighTimes Magazine in any way. This is nothing more than a shameless marketing scheme. False advertising at its finest.
---
420 Seed Bank
Another common misunderstanding is searching for "420 Seed Bank(s)", thinking you are going to find a seed bank named "420 Seed Bank".
420 is a collective term for anything related to cannabis. "420 Seed Banks" is just another way to say "Cannabis Seed Banks."
While there are some seed banks with "420" in their brand name, they are just trying to ride this wave of confusion. There isn't any "Original 420 Seed Bank."
Related Page: What is 420?
---
Factors to Consider When Choosing an Online Seed Bank
Most of the online cannabis seed banks offer a lot of "mambo-jumbo," making it a bit challenging to separate the wheat from the chaff.
Let's go over the different features and options, starting from the most important to the least.
---
Reputation
As expected, reputation is the most important factor by far. Reputation is mainly related to how familiar and well-established the seed bank is, but also strongly associated with how satisfied its customers are.
Negative Reviews
Luckily, unlike satisfied customers, frustrated customers tend to be quite loud. They usually leave negative reviews anywhere they can, so it's not very hard to spot the worst seed banks.
Seed resellers usually get the highest amount of negative reviews. A few seed resellers that attract a lot of fire are True North, Seedsupreme, Bonza Seeds, and GYO Seed Bank. Even more legit resellers like Seedsman tend to get a lot of negative reviews.
Resellers are just middlemen. When no one is there to take responsibility for anything, it ends with frustrated customers quite frequently. The negative reviews are usually around shipping, but also related to poor genetics.
Some of the seed brands and breeders also get rain of complaints, usually related to their genetics. Just to name a few, although they are both perfectly legit, Nirvana Seeds and Growers Choice Seeds tend to get a lot of negative feed-backs.
Positive Reviews
Positive customer reviews are funny, as most of them are just fake. Think about it; satisfied costumers usually don't leave any feedback.
While we do read positive feed-backs, we tend to focus more on the negative ones.
Genetics
Genetics and reputation go hand in hand. Low-quality genetics will result in a massive amount of negative reviews.
Beside growing them ourselves and making sure they are all top-notch, we also read grower's journals to ensure the seed banks we are recommending on are all reliable and sell stable genetics.
This is a lot of work, but we got you covered.
Customer Service
Another factor that goes hand in hand with reputation is customer service. Responsive and friendly customer service will result in fewer negative feed-backs, if any at all. Reputable seed banks know that and put a lot of effort into customer satisfaction to maintain and protect their positive and reputable brand name.
As mentioned earlier, even when ordering from a reputable seed bank, many things can go wrong. The most common problems are busted shipments and non-germinating seeds, but not only.
Ordering from a reliable and reputable seed bank will ensure you will get what you paid for, even if not on the first try.
Reliable and reputable seed banks have better customer service; they also offer stronger guarantees. They care about their brand name and stand behind their products. In case something goes wrong – you will have someone to talk with.
Seed resellers and less known seed banks have weaker guarantees, if any at all. Their customer service is less responsive, and the most common reply you would get from them is "this is not our responsibility." Assuming you will actually get a reply…
Bottom Line (Reputation)
A seed bank's reputation can be derived from its negative reviews. It's crucial to perform in-depth research, read as many sources as possible, and try to neglect fake reviews as much as possible.
This is not an easy task as many seed banks put a lot of effort and resources into their marketing, making the research task almost impossible for novice growers.

---
Shipment
As explained in the previous sub-topic, the most important factor is reputation. It includes how well-known the seed bank is, the quality of its genetics, its customer service, and how satisfied its customers are in general.
The second most important factor is shipment. Different seed banks offer different shipping terms, including different shipping range, methods, rates, delivery time, and the most important – delivery guarantee. Where the seeds are shipped from is another factor to consider, but probably a less important one.
Just a reminder, the seed banks in our list are all shipping to the U.S., most of them ship worldwide.
Sending Seeds in Their Original Packages
Some seed banks will ship the seeds in their original packaging. Others will ship that way only to countries (and states) where cannabis is legal or when stealth shipping is not needed. But the vast majority won't include the original packaging at all, and for a good reason – shipping seeds with their original packaging will attract more attention and will increase the chances of getting busted or stolen.
When buying from a brand, you can be rest assured the seeds you'll get are exactly the ones you paid for. But when buying from seed resellers, if you really have to, you must insist on getting the seeds in their original package as a proof of their originality. Otherwise, you can't really know what you are getting.
Common Shipping Options and Rates
Let's go over the most common shipping methods and their rates:
Regular Shipping
The most basic option. Some online seed banks offer tracked regular shipping, while some ship without tracking. This method is 100% free in some seed banks and will cost up to $10 in others (when shipping to the U.S.). Small-medium size orders usually get it for free, but not always.
Stealth Shipping
Most of the online seed banks offer stealth shipping. The seeds are removed from their packaging and sent inside random objects. Seed banks get creative with stealth shipping; you might receive your seeds inside an empty ink pen, a CD, a t-shirt, a cheap piece of jewelry, etc. Some seed banks offer this method for free if your order is big enough, others will charge up to $20 for it (when shipping to the U.S.). This method usually comes with tracking.
Guaranteed Stealth Shipping (Insured)
As complaints regarding missing shipments are probably the most common – this is the most recommended method, even for customers in areas where cannabis is legal.
With this method, you get a stealth shipment which is also tracked and insured. In case something goes wrong with the shipment (busted, stolen, lost, etc.) – the seed bank will reship the package for no additional cost.
Keep in mind that different seed banks offer different delivery guarantees. Some will ship only up to X times; others won't offer any guarantee for specific countries. So make sure to check the seed bank's FAQ before placing your order. U.S. customers usually don't have any limits on their guarantees.
This method is usually free-of-charge only for big orders above $100-250. For smaller orders, it usually costs anywhere between $5 and $30.
Delivery Time
Shipping to the United States usually takes around 6-10 days, at least when buying from European seed banks – which are the most popular among American growers. Some seed banks (like ILGM for example) have distribution centers in the U.S., resulting in shorter delivery time for Americans (2-10 days, usually around 2-4 days).
The maximum delivery time to the U.S. is anywhere between 14 and 28 days, dependent on the seed bank you are buying from.
Shipping to EU countries from European seed banks is obviously much faster. In contrast, customers from countries like Australia, New Zealand, and South Africa will have to wait a bit longer.
Shipping to Canada usually takes more or less the same time as shipping to the U.S. (again, when buying from a European seed bank).

---
Price
Before applying any discount and without counting free seeds, high-quality feminized and autoflower-feminized cannabis seeds usually cost between $8 and $15 per seed.
The price is heavily dependent on how reputable the brand is and the strain's quality and uniqueness. But the size of the pack is the most significant factor. Bigger seed packs come with great discounts. More on that below under "Pack Sizes."
Another factor that has a strong effect on the price is germination guarantee. Stronger guarantees will usually result in a higher price. More on that below under "Germination Guarantee."
Regular cannabis seeds are known to be cheaper, but they are not recommended. The small saving is just not worth the potential headache.
There are various ways to get the same product for cheaper, let's go over them:
Pack Sizes
The most common pack sizes are 5 and 10.
Some very few seed banks (like Ministry of Cannabis) offer smaller packs of 1,2 or 3 seeds. These packs are considered to be the most expensive as they are the smallest. The smaller it gets – the more you are going to pay (per seed, of course). In this group, expect to pay around $8.5 up to $15 per seed.
Some seed banks (like MSNL, ILGM and Crop King) offer bigger packs of 20, 25, and 30. These packs sometimes sold for the same price (per seed), but others come with a discount of up to 20%, resulting in around 7$ up to $12 per seed.
Promotions
Some seed banks have a section dedicated to promotions and special offers. These rotating promotions can get quite aggressive with up to 50% off and 1+1 (buy 1 get 1 free). This is by far the best method to reduce the price (per seed), even when buying smaller packs.
Other seed banks, like Crop King Seeds and Ministry of Cannabis, don't have a dedicated section just for running promotions. Instead, they reduce the price of (some of) their strains one in a while, or just add more free seeds for a short period. Coupon codes are also used in special occasions (see below under "Coupon Codes"). The best place to look for these one-time discounts is usually the seed bank's homepage (they are often displayed in banners on the upper part of the website). Many seed banks also announce their promotions via their newsletter and social channels.
Coupon Codes
Coupon codes are not very common; they are usually given personally to costumers who had negative experiences like delayed shipping or any other type of inconvenience. Most of the seed banks aren't using any public coupon codes, and the ones who do – usually give no more than 5-10%. So don't hold your breath with this one. Also, don't waste your time with spammy coupon websites – as they got nothing.
Seed banks with active and public coupon codes won't hide them. The codes are usually published in a noticeable area, like the homepage or the top of each page.
Other seed banks that have a section dedicated to special offers and running promotions, like MSNL and ILGM, usually don't offer any public coupon codes.
Keep in mind that even when coupons are given – they are usually valid only for strains that are not under any promotion. So don't expect to get a massive discount while using coupon codes. Strains sold under regular promotions will usually be much cheaper.
Free Seeds
Many seed banks add free seeds to each and every order. Usually, the amount of free seeds is determined by the size of the order. Obviously, larger orders typically get more free seeds.
While giving extra 5-10% free seeds is quite common, some seed banks like Weedseedsexpress give 20% extra free seeds with each and every order. This is like having a permanent discount of 16.5% off on top of any other discount.
Other seed banks, like Crop King for example, don't give any free seeds. Regardless of how much you choose to spend with them.

Loyalty Programs
Loyalty programs, sometimes called VIP programs, are an excellent way to get some extra savings for those who are going to buy seeds on a regular basis. But only a few seed banks have them.
These programs are straight forward. You get some amount of point for each dollar you spend, and bonus points for other activities like following the seed bank's social channels, referring a friend, or just having a birthday.
You can spend these Loyalty/VIP points with your next order. Different seed banks have different terms, but in general, you should expect to get a purchasing power of around 4-8% of what you spent. Not including the one-time bonuses you can get for different activities.
Bulk Discounts
While most of the online seed banks offer discounts for larger packs, only a few actually have a wholesale platform ready-to-go for bulk buyers. Wholesale, or bulk buyers, are those who are interested in purchasing 100 seeds or more in one go.
MSNL's wholesale platform includes most of their strains, and feature pack sizes of 100, 300, and 500 seeds. These packs are sold with a discount of 30-55%, dependent on their size. On top, you can pay with Bitcoin and get 15% off. And if this is not enough, you will also get loyalty points for your next order, which is like getting a bonus of around 4%. As a grand finale – you will also receive 10 free seeds (given for all large orders above $140). Coupon codes won't work with bulk orders.
Bitcoin Promotions
When it comes to fees, Bitcoin is like cash. From the seed banks' point of view – accepting Bitcoin is way cheaper than taking credit cards or any other type of traditional payment method.
For this reason, some seed banks have a never-ending Bitcoin promotion, with up to 15% off – on top of any other discount.
MSNL is on top with a discount of 15% for Bitcoin payments. ILGM is right after with 10% off.
Bottom line
While cannabis seeds are not cheap, there are various ways to get them for a lower price:
Special offers and rotating promotions are the best, with up to 50% off.
Free seeds and loyalty points are right after.
Coupon codes don't play a significant role.
Some seed banks will give up to 15% off for Bitcoin payments, on top of any other discount.
The best promotions and discounts can be usually found at MSNL, ILGM, and Weedseedsexpress.

---
Selection
Most of the online seed banks stock dozens of strains, over a hundred usually. They all carry feminized and autoflower variations; most of them also stock regular ones.
Gone are the days when you had to buy specific strain from one particular seed bank. Nowadays, most of the reputable online seed banks stock most of the well-known strains.
---
Germination Guarantee
The goal is simple – to make sure the customer will actually end with the number of plants he/she paid for, or more than that. While some seed banks give free seeds for this cause, others offer a germination guarantee. Some very few offer both.
Personally, we prefer to just get free seeds. If you buy from a reputable seed bank and have at least some experience – you should have no problem getting a germination rate of 90-100%. So getting free seeds usually ends with more plants, assuming everything went well. Also, seed banks with a strong germination guarantee tend to be a bit more expensive.
---
Payment Options
The vast majority of the online seed banks accept credit cards and bank transfers. Some of them also accept cash and Bitcoin.
Without going into details, credit card processors don't like the cannabis seeds industry. They often block or cancel merchant accounts without any notice. For this reason, messages like "we are currently not accepting Visa/Mastercard" are quite common.
Luckily, there are many alternatives, so these issues are usually resolved in no more than a few days.
---
Shopping Experience
The shopping experience might not be the most crucial factor. However, it's still a factor, especially when buying from a seed bank that carries hundreds of strains.
Having advanced search filters is very useful when browsing a large number of strains. Without these filters, you will only be able to sort the listings by basic parameters like price and popularity.
Advanced filters allow us to filter all strains by other factors, like growing time, THC level, plant height, yield, and so on.
MSNL, ILGM, and Weedseedsexpress have a great user experience, making it quite easy to find what you are after.
Crop King Seeds and Ministry of Cannabis only have basic filters. For ministry of cannabis it's not really a problem as their selection is not too massive, but for Crop King it's a real problem as they stock hundreds of different strains. There is basically no way to browse them by any factor other than price and popularity.
---
Mix Packs
Mix packs are great for those who want to sample different strains, or just grow different strains instead of the same one again and again.
While they are great and very convenient, don't expect a massive discount. Their price is usually just a bit lower than the usual price.
---
Bottom Line
Finding a trusted seed bank that also ships to the U.S. is a complex task. There are many great-looking websites with horrible seed banks behind them. It's almost impossible for a novice to separate the reputable ones from those who are here just to take your money and disappear.
If this is not enough, there are many marketing schemes and sponsored listings, crowning the worst seed banks as the best, and making it almost impossible to spot fake reviews.
The goal of this guide is to help first-time buyers to choose the best and avoid the rest. We hope you found it useful (as we put enormous efforts into it).
If you have any concerns, comments, questions, positive or negative reviews to share, insights, tips, or anything else – please leave a comment and join the discussion.
Related Pages:
Buy Cannabis Seeds - A highly detailed guide for the American grower. Federal laws, local laws in different states, as well as in-depth guide to choosing the right strain.
---
Category Pages:
Cannabis Seed Banks -

(CURRENT PAGE)

Seed Banks for Feminized Seeds - These top seed banks specialize in feminized seeds, and they're the best at what they do!
Seed Banks for Autoflower Seeds - Want autoflower seeds? You need an autoflower seed bank!
Attitude Seeds - Attitude Seeds review: reputation, seed selection, customer service, and more.
Blimburn Review - At the forefront of marijuana seed sales are just a few online seedbanks. In 2023, Blimburn ranks high on the list of trusted sellers. Finding your perfect strain is all but guaranteed.
Bonza Seeds - Bonza Seed Bank review: seed selection, quality, customer service, and shop promotions.
Crop King Seeds - Crop King review: seed selection and quality, customer service, promotions & more!
Gorilla Seeds - Review of Gorilla Seeds' reputation, strain selection and quality, and special offers.
Growers Choice Seeds - Forums are full of complaints about Growers Choice Seeds genetics, are their seeds worth your money?
GYO Seedbank - This seed bank is no stranger to bad reviews. But are the complaints exaggerated? Unbiased 2023 review.
Herbies Seeds Review - Nearly 100 seedbanks, over 1500 strains, and incredibly low prices make Herbies Seeds the only online seedbank you need to start or continue growing.
ILGM Seed Bank - They may love growing marijuana, but do their customers love them?
Ministry of Cannabis - 2023 review: the shop's reputation, strains, promotions, free seeds & more.
MSNL Seed Bank - Its stellar reputation, seed quality and selection, promotions & free seeds.
Nirvana Seeds - Review of Nirvana shop's reputation, selection and seed quality & customer service.
Paradise Seeds - 2023 Review including seed selection, quality, customers service, promo codes & more.
Royal Queen Seeds - Royal Queen Seeds is a well-known name in the cannabis seed industry, but are they really the top of the line?
Seedsman - Seedsman review: reputation, product quality and selection, promotions & more.
SeedSupreme - Why are there so many negative reviews of SeedSupreme? Unbiased 2023 review.
Sensi Seeds - A detailed review of Sensi Seeds: reputation, quality, selection, shipping & more.
True North Seed Bank - An honest review of True North Seed Bank: reputation, selection, quality & more.
WeedSeedsExpress - WeedSeedsExpress 2023 review - the seed store that's been in the making for 15 years.