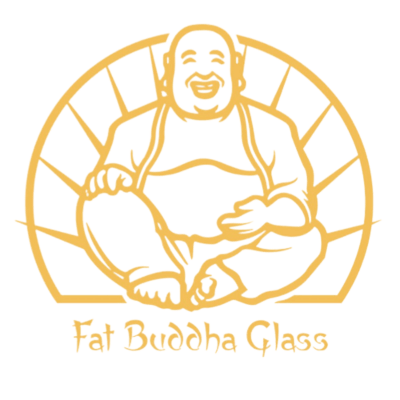 Since 2017, Based in NYC, NY, USA
Shipping to USA and Canada
Credit Card, Gift Cards, USPS Money Orders
---
Cannabis smokers have a lot of different options when it comes to choosing what products to smoke. From flower to concentrates, there are many ways to enjoy cannabis. Fat Buddha Glass has created a new way for smokers to try out different products with their 2023 subscription box. This box is a contender in the smoker's subscription box market, offering high-quality products at an affordable price.
The company also offers great glass products made of high-quality glass. But what you won't find here are vaporizers or any other electronics. This is a brand that focuses on the tradition of smoking, which in turn directs them towards a future that won't see success as large as their top competitors.
Read on for our review of the Fat Buddha Glass 2023 subscription box.
See our recommendations for better alternatives at the bottom of this page!
---
History and Reputation of FatBuddhaGlass.com
Fat Buddha Glass was founded with the premise of affordability in the headshop industry without losing quality. Two friends brought this brand to life, and ever since the site has grown enormously.
Customers Love the Fast Shipping and Product Quality
Customer reviews are tricky. We try not to reference reviews from the official site because we don't know exactly how they're obtained nor how they're controlled. From what we do know, customers are happy with Fat Buddha glass smoking products. The price, the quality, the accessibility—it's all there.
Taken from the single lonely review on Trustpilot, this customer loved their product. On the flip side and taken from the Better Business Bureau, this customer did not have a good experience.
So, what's the overall sentiment? We'd say it's positive. We can't rely on just one positive and one negative review to get the overall picture of an entire company that's been in business for half a decade now. And while we take official site reviews with skepticism, the fact remains that each product does have several 5-star reviews.
"Sturdy and hits smooth"— Classic Beaker Bong
"World's best headshop at your fingertips" — Inside Out Glass Pipe
Above are just a couple examples from the site. After browsing through every category of products, it appears that only 4- and 5-star reviews are listed. Now, we don't disbelieve a company can produce such high quality products; ones that people truly love and stand by. But it's hard to believe that no one has had a bad experience with shipping or receiving a broken glass smoking product upon arrive or even that they just didn't like it.
Skepticism out of the way, this headshop is trustworthy. The lack of complaints on sites like BBB are equally a sign that this brand is good.
---
Review of Fat Buddha Glass Product Offerings
Let's take a look at what FatBuddhaGlass.com has to offer its subscribers and single-product buyers. With a straight-forward menu, they're off to a great start getting visitors to actual products.
You'll mainly find Fat Buddha Glass products on their site, but they do see other brands:
ROOR
Grav
Bodhi
RAW
Empire Glass Works
Juicy Jays
They even have a lowest price guarantee. You likely won't find Fat Buddha products elsewhere, but if you do find a lower price on one of the other brand's, then you can get it matched easily.
Creative Glass Bongs and Pipes Offer a Bit of Whim for Smokers
Have you tried smoking from a rainbow? Or a giraffe? Fat Buddha Glass makes it happen at a great price.
You can find standard glass bongs for the minimalists out there, but this online headshop specializes in whimsical glass smoking products at a range of prices (all reasonably affordable). Bongs shaped like animals or fruits, inspired by famous people, and daily objects—my personal favorite is the Sriracha Bottle Rig—make for a hilarious but ultimately successful shopping experience. There's no way you won't find something that appeals to you.
The creativity is astounding. It actually gets us coming back to this site to see what new designs are in store this month. And FOMO kicks in—when you see a product on sale, does that mean it's the last chance to get it before it's out of stock forever?
Fat Buddha Glass is a headshop not just for smokers, but for collectors. It would be impossible to buy just one here. This is a brand that knows how to create loyalists.
Smart, Attractive Headshop Subscription Box Lineup
If there's just one takeaway from this review, it's the idea of collector loyalism. Fat Buddha Glass isn't just a strong contender in the weed subscription box game, it's a champion.
Here's how it works:
Choose 1 of 3 headshop subscription boxes
Select how often it arrives: 1- or 2-month options
Cancel whenever you want, no penalty
Unlike many other ecommerce subscription companies that charge you to cancel or force you into a year-long commitment, FatBuddhaGlass.com doesn't. There is no penalty for changing your mind.
Actually, let's take that back. The penalty for canceling is losing a 20% discount on the box (I'd say that's fair). When you view the subscription page, you have two options for buying:
Subscribe and receive each box at 20% off
Buy one time and pay full price
Those terms are pretty attractive. If you decide you can't afford the box anymore or grew a collection that's too big for your 60ft2 NYC apartment, you can cancel it no problem.
The Bliss Box
The first and cheapest of the weed subscription boxes is called The Bliss Box.
Perfect for beginners
Basic smoking paraphernalia (wraps, papers, etc.)
4-6 items
Glass pipe guaranteed inside
This box is the perfect subscription for those who use up smoking equipment fast. At just $20, it's pretty hard to beat. A month's worth of wraps easily add up to at least $15 on their own, so for just $5 more you get that plus extra.

The Zen Box
The second is quite the step from Bliss, coming to $50 per box. You get everything inside the Bliss box plus more. It's built for water pipe lovers. Here's what you'll find inside:
Everything in Bliss (even the glass pipe)
Water pipe
6-8 items
Perfect for water rig enthusiasts
Water pipes are significantly more expensive than small glass pipes, so the price point does make sense. You get all the necessities plus experience with a new water pipe that could easily become a favorite. Maybe that's the point of this box: to find your favorite glass water pipe. Once you do, you can swap back down to the Bliss.
The Nirvana Box
Top. Of. The. Line. This $100 smoking subscription box is luxurious.
Perfect for smoker's that always want more
Everything in Bliss
Everything in Zen
8-12 items
Racking up the bill on smoking accessories and rigs and paraphernalia is easily done. That's the goal of Nirvana. It's not cheap, but it will save you some green in your bank if you find yourself buying smoking products over and over and over again.
You Won't Find Electronics Here
No vapes, no CBD, no oils, no e-rigs. This is purely a glass store.
Appealing to the niche community of herb smokers and nothing more can be a great thing. They have an idea and they're running with it. The downside is having a lack of products for a community that's heading in another direction.
Glass products won't disappear, but they are being slowly replaced with the convenience of vapes and other electronics.
---
Sales and Fat Buddha Glass Discount Codes
Everyone loves a sale, and everyone loves getting a discount. It must be in our nature to never want to pay full price.
Fat Buddha Glass makes it easy for you. Discount codes are riddled throughout the site and half their stock is on sale, ready for next month's swap.
Get Products on Sale Before It's Too Late
Some companies put up products for sale to boost slowing sales. We're convinced FatBuddhaGlass.com has sales because they're getting rid of stock—stock that won't return for quite some time.
Let's dive a little deeper:
Bongs on sale: 60 +-
Glass Pipes on sale: 26 +-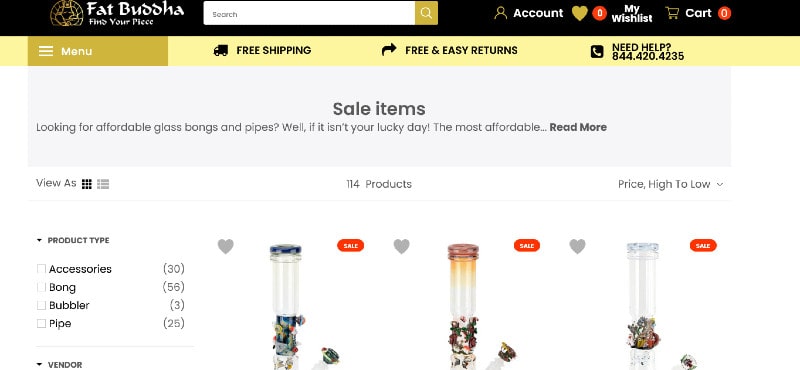 For a company that specializes in quality glass smoking products, there sure are a lot on sale. Stock is in need of change, otherwise next month's offerings won't get the hype necessary to sell.
We're making this brand seem like they're only out for your money. They are (it's a brand that sells products, after all), but they're also after variety. These sales products are a great way to change up the offerings and attract new customers.
Loyalists will pay full price or get in on a subscription box. Newcomers, skeptics, and people strapped for cash will immediately go for the sales department. Fat Buddha Glass excels when it comes to sales for smokers.

Fat Buddha Glass Discount Codes Are Everywhere
Immediately upon visiting the site, you're hit with a big spin wheel game for a discount code. At the bottom of every page lives an email subscription form where you can get an instant 10% off your purchase as well as receive future discount codes in your inbox.
Usually when websites have multiple options for receiving discount codes, it gives us (or just me) a sense that something's not quite right. That the company is desperate for me to spend my money here, and maybe it's a scam.
But in our Fat Buddha Glass review, we found this to be the opposite. Yes, the big spin wheel isn't the most elegant. But it does provide you with what you want: a discount code. And you will use it to buy something here.
Fat Buddha Rewards Program Is Great for Enthusiasts
Discount codes are fast and easy, but what if you spend your money here regularly? Shouldn't you get rewarded for that? Fat Buddha Glass has the answer: Fat Buddha Rewards.
It's easy to earn points in this rewards system:
Sign up
5 points per $1 spent
Share, like, and follow on social media platforms
Birthday points
Redeem your points for cash you can use to pay for products. Maybe you have your eye on a really expensive glass bong, or want to lower the monthly cost of your subscription. Fat Buddha Rewards makes it happen.
---
Payments and Shipping on Fat Buddha Glass Review
A trend we've seen in 2023 is that businesses fail to live up to their shipping promises, namely when it comes to international shipping. Even with payments, many headshops only off the bare minimum.
Fat Buddha glass, as of October 2023, offers multiple ways to pay and a variety of good shipping options.
Credit Cards Are King, Unless You Want BNPL
As we've seen time and time again, credit cards payments are the rulers of the ecommerce world. There's no exception here. Fat Buddha Glass' only way to pay in full is:
Credit/Debit Card
Gift Card
It would be nice to see other payment options like ACH or bitcoin—the cannabis community loves anonymity when it comes to buying products online, and crypto payments offers it. If you don't have a credit card, you're SOL.
If you want to buy now, pay later then there's ViaBill. Select it at checkout and go through the process. It doesn't save you from not using your credit card or debit card, but if you don't have the cash right now or are making a big purchase then it eases the burden.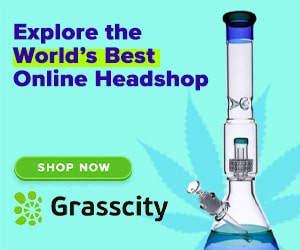 Free Shipping on All Orders Is Hard to Beat
When you come across a company that offers truly free shipping, it really makes an impact. So many businesses have minimum order requirements or don't offer free shipping at all. Fat Buddha Glass is a savior and knows how to entice you to buy.
Free 3–6 days standard shipping
$5 3-4 days USPS Flat Rate Priority shipping
UPS Ground shipping
USPS Priority Mail shipping
That's a lot of options. At checkout, we'd recommend looking at the estimated delivery date if you're in a rush to get something ASAP.
International Shipping Is Go
We've seen in our 2023 reviews that many online headshops removed the option to ship internationally. Thankfully, Fat Buddha Glass provides for their international shoppers, creating a worldwide network of niche glass buyers.
USPS First Class Package International
Options may vary depending on where you live, as well as price and estimated delivery time. It seems to be the typical international shipping option offered by USPS. So you can expect the package to be handed off to your local post office for the final stretch of the delivery.
Where does Fat Buddha Glass ship from?
Everything gets shipped directly from their warehouse near Washington, DC.
Not-So-Discreet Packaging
One thing we know the cannabis community loves is discreet packaging. No labeling, no frills. Just a plain package to keep prying eyes away.
Fat Buddha Glass does bubble-wrap your products for protection, but does not offer discreet packaging. So when you place an order, make sure it's delivered at a time when you're at home.
A Good Return and Refund Policy, If Necessary
Returns are troublesome for both customers and businesses. For a glass smoking products business, there are a lot of sanitary and safety measures to take into account. So, as you might expect, you can only return unused products.
30-day return period
Unused products only
No restocking fee
Refund for the product, not the shipping
Store credit or cash refund
Free return shipping for US orders
We like that Fat Buddha Glass doesn't charge a restocking fee, and there are essentially no unreasonable stipulations for returning a product and receiving a refund.
---
Customer Service Review for Fat Buddha Glass 2023
The phone number is available right at the top of the FatBuddhaGlass.com site, on every page. The problem? No one likes making a call. So what are the other options: just email. Technically, if you were inclined, you could open a chat on Facebook or Instagram with the company. But those aren't promoted as customer service outlets, so receiving a response is hit-or-miss.
No live chat
Email address available on Contact Us page
Contact form on Contact Us page
Phone number on every page
Given the lenience around returns, refunds, and price matching, customer service is still good. We prefer to have multiple ways to get in touch, just like we prefer to have multiple ways to pay. We're not ignoring the contact form, but it leads to email so we can fairly group those together.
Overall, there is just one complaint to speak of on the BBB website. In this case, the lack of reviews is unsettling, but it also means there's a lack of complaints. We'll take that as a good thing.

---
Final Thoughts to Wrap Up Our Fat Buddha Glass 2023 Review
PROs
Whimsical, high-quality glass products
Free shipping
International shipping
Easy return policy
Products always on sale
Great prices
CONs
Only accepts credit cards
Support options can be improved
Lack of 3rd-party reviews is unsettling
No electronic paraphernalia
Overall, we can finalize our Fat Buddha Glass review by saying: if you're looking for creative glass, this is your brand. The products are of high-quality and really well designed. International shipping is always a plus.
One of the downsides—and a big one—is the lack of vapes. A huge part of the cannabis community has shifted over to vaping and using oils instead of burning green.
We're not saying this brand is bad or should be avoided. Quite the contrary: if you enjoy smoking from bongs and pipes, this is a headshop you'll love. But if you're looking for top brands or variety, you won't find it here at Fat Buddha Glass.
This is a headshop for loyalists. Unfortunately, since they only sell their own products on their own site, we don't see the customer base growing at a pace that mirrors the growth of the community. They're a long way away from competing with headshops like GrassCity or Smoke Cartel, and even further from Vapor.com. We're hopeful for their future.
---
Better Alternatives
For a more pleasurable online shopping experience, we highly recommend browsing the following headshops:
Grasscity — Pioneer of the online smoke shop and based in Amsterdam, Grasscity is your international source for any cannabis related. Warehouses exist in Europe and North America, which means you can expect fast and affordable (even free) shipping worldwide. Browse from mid-range to high-end products, pay with virtually any payment method (including Bitcoin), and save with regular sales, discounts, and rewards.
Smoke Cartel — As one of the most popular headshops, Smoke Cartel excels in providing top-quality products. While prices hover around average, you have plenty of discount opportunities via codes and their rewards program. This, exceptional customer service, and fast international shipping make Smoke Cartel one of our top recommendations for all cannabis lovers.
Vapor.com — A comprehensive range of vaporizers and smoking accessories, as well as fast and free delivery, make Vapor.com the go-to shop for all things vape. The shop offers many savings opportunities and a price match guarantee that helps you save on every purchase no matter where in the world you are buying from.
The Best Head Shops of 2023

1. Grasscity

• Overall Best Head Shop

• Oldest Headshop & Best Reputation

• Since 2000, Based in Amsterdam, NL

• Free Stealth Worldwide Shipping

• Bitcoin Accepted!

[Read Our Review]
• Promotions & Special Offers • Pay with

Bitcoin

• Reward Program Read Our ReviewVisit Website

2. Smoke Cartel

• Best Shopping Experience

• Since 2013, Based in USA

• Stealth Worldwide Shipping

• Free Shipping in USA

[Read Our Review]
• Promotions & Special Offers • 10% Coupon Code:

CNBS

• Subscription Box • Reward Program Read Our ReviewVisit Website

3. Vapor.com

• Best Headshop for Vaporizers

• Since 2005, Based in Florida, USA

• Shipping to U.S, CA, U.K, EU, AU, & NZ

[Read Our Review]
• Promotions & Special Offers • Price Match Guarantee • Reward Program Read Our ReviewVisit Website

4. Hemper

• Best Subscription Box

• Since 2015, Based in NY, USA

• Shipping to Selected Countries

[Read Our Review]
• Sunscription Boxes • Gift Cards • Themed Boxes Read Our ReviewVisit Website

5. Allin1SmokeShop

• Best for Artistic Heady Glass

• Since 2016, Based in Florida, USA

• Stealth Worldwide Shipping

[Read Our Review]
• Promotions & Special Offers • Reward Program Read Our ReviewVisit Website
---
---
Category Pages: