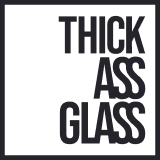 Since 2017, Based in NYC, NY, USA
Shipping to USA and Canada
Credit Card, Gift Cards, USPS Money Orders
---
If you're in the market for a new bong, Thick Ass Glass is worth checking out. They hand-blow all of their water pipes and offer some pretty thick pieces that customers love, even with the high price tag.
If you're in the market for a new, sturdy water pipe, TAG might be the brand for you—if you're willing to pay. Read on for our full review of Thick Ass Glass.
See our recommendations for better alternatives at the bottom of this page!
---
Brand History and Reputation
Who is Thick Ass Glass, where do they operate, and what do people think of their in-house products? Let's find out.
Philadelphia-based Glass Blowing
Based out of Philly, TAG hand-blows all of their own glass paraphernalia to ensure quality and stability. TAG is dedicated to perfecting their trade, making it a point to target typically weak areas around joints and bends.
While we don't know exactly how many people they employ or their journey up to this point, we can say with confidence that their team is made of craftsmen. They saw a problem in the industry—glass that breaks too easily—and created their own solution. With TAG glass water pipes, your smoke session won't have a single hiccup.
People Love the Smoking Experience TAG Provides
"Smoother experience"
"This pipe is amazing!"
"The best I've ever seen"
The scales are tipped overwhelmingly in favor of those who enjoy Thick Ass Glass than those who don't. With nearly 8000 5-star reviews and just 18 1-star, people are clearly in favor of this glassblowing manufacturer.
Of those negative reviews, a surprising number of customers complain about the option to buy insurance for their purchase. To their credit, offering insurance can imply a level of insecurity that the product isn't made to last.
Other complaints revolve around manufacturing defects, which are understandable (but not forgivable) when products are handmade.
---
Products and Services at Thick Ass Glass
A review of TAG's inventory, services, and prices to prepare you for your next water pipe purchase.
Hand-Blown Products Are Boringly Out of This World
Sometimes literally—they sell a few UFOs. The quality of the glass is amazing. Where this brand lags is with design. All their products are just too boring and too similar. Once you know the shape you're looking for and the size, it really doesn't matter which one you choose. You might as well go for the cheapest option.
High-quality glass
Uninspired designs
Nice colors
Inconsistent branding
Actually, let's backtrack slightly. Some of the designs are really interesting only if you select a specific color. By default, all of these products are clear. But if you click on it and browse through the photos (sometimes there are too many, none of which have great clarity) then you might find one that speaks to you.
For example, browsing 8″ dab rigs and clicking on one led to a product page full of colorful, inspiring design elements that only appeared once the glass was colored.
The last gripe is about the branding on each and every one of these pieces. Yes, it should be expected that a brand has a label on their products (personally, I prefer branding on the bottom). But the TAG logo is ugly. Secondly, it doesn't match the logo on their site or the design language they currently utilize. This inconsistency is odd, given that each piece is handmade. It shouldn't be a problem to make the necessary changes.
Few Other Brands Are Sold Here
As a supplier and glass maker, Thick Ass Glass is not interested in selling other brands' products. This is an online headshop specifically focused on TAG and collaborations.
We would have loved to see some variety here, even if it's experimental from other local glass makers.
Thick Ass Glass is a do-it-all type of retailer. They can't risk competition if they don't sell it.
Insurance Options Are a Nice Touch
These pieces are expensive. Insuring your purchase not from accidental damage during shipping or manufacturer defects, but if you accidentally break it is a great idea. You insure your phone, your house, your car. Why not your bong?
Insurance is also reasonably priced. It's not mandatory, it's just a nice option to consider especially if you're clumsy.
Prices Are STEEP
One beaker can cost nearly $700! You'll definitely want insurance for that. Contrarily, you can get a beaker for as low as $80. Sizes and features make part of the difference. But it seems you're paying for colored glass, mostly. So if you want a smoky black glass bong, you better be prepared to shell out for it.

---
Sales, Discounts, and the TAG Loyalty Program
Thick Ass Glass has a great loyalty program available to customers who are dedicated to the brand, as well as really good discount codes available year-round.
High-Quality Glass on Clearance Is Welcome
TAG now makes a lot of made-to-order products, which is also why prices are so high. Each piece is specifically made for that one customer. But they also stock some products, mainly in clear glass, for immediate purchase.
These are the products you'll see on clearance.
As much as $100 off
Not a wide selection, but a quality selection
Ships out quickly
There are also many other glass products on sale (not clearance), but they're harder to find. There's no way to see a sales section. You can organize results by price and navigate through it that way, but in general sales, products are tougher to sort on this headshop.
Prices for sales products are just as good as those on clearance, so browse through for a good deal.

Discount Codes Are Provided Often
When you visit the site for the first time, you're greeted with a pop-up for 30% off your order. That's a steep discount! Given the cost of these products, it's very much welcome, albeit concerning that TAG is so willing to cut their pricing by that much. It does make us question the markup.
If you sign up for emails or text notifications, you'll get even more discount code opportunities. We're not sure how often customers would buy from this store, given that if the products last so long then why would they need another one? Especially at those prices…
There are also seasonal discounts available to all who visit the site, not just subscribers. As of this review, there's a "save 25%" ticker at the top of the page and a discount code to use at checkout next to it.
Funnily enough, there's actually a dedicated Discount Code page you can find in the footer of the website that changes the code from time to time. Yet another way to save!
Loyalty Points Add Up Fast for Great Perks
Loyalty programs are a great addition to any e-commerce store. Customers deserve to be rewarded for supporting a brand. Ways to earn include:
Signing up
5 points per $1
Referrals
We know the only way to earn is to spend, there really aren't any other methods. But you'll make a load of points with just one purchase, seeing as you'll likely spend more than $100 on a single order.
We do find it strange that 350 points give $5, but 500 points—just 150 more—give $25. We're not complaining, but this makes it difficult to see how valuable a single point is.

---
Payments, Shipping, and Returns
All three areas desperately need improvement, as simply selecting a piece to buy is confusing.
When browsing products, you can hover over an item and click "Quick Add" to add it to the cart. Easy enough. But when viewing a product page, the variation selection takes up so much of the screen and overflows with so much text that it's difficult to see what you've selected or how to add it to the cart.
2 Ways to Pay: Credit or Sezzle
Typical of most small online headshops, payment options are limited. Credit cards are a mandatory option—we can't imagine shopping anywhere that doesn't provide this as an option. Sezzle as a buy now, pay later options is a nice touch. With expensive products, customers need a way to minimize the burn to their bank account.
We would prefer to see alternative methods like 1-click ordering and bitcoin payments. Crypto is a popular way to pay in this community, anonymizing the purchase experience.
Always Paid Domestic and International Shipping
There are so many options here: 10 paid shipping options domestically, and 4 paid options internationally. Who needs 10 options?
Never free shipping, unless you redeem your loyalty points
Too many options
Shipping insurance option
All reputable retailers provide free shipping to shoppers in some way. Generally, that's achieved with a minimum purchase amount. On Thick Ass Glass there are no free options. So on top of your $100 purchase, you also have to pay at least $10 for shipping. And then, if you want, another $5 to insure that delivery.
The shipping insurance is telling of their treatment for complaints due to damaged goods. If you didn't pay for protection, then that's on you.
International shipping is great, though. With high-quality glass that's handblown and made-to-order, international smokers can enjoy TAG just as much as the locals.

Very Strict Return Policy
You have just 48 hours to relay that a product is damaged in order to receive a refund or an exchange. Another blow is that only full-priced items can be refunded. So if you purchased something on clearance or sale, you can kiss your money goodbye.
In these cases, you'll probably be able to exchange the product for something of lesser value. We haven't seen many complaints about this, so it's safe to assume that broken products are rare. But be prepared if it happens. And maybe get that delivery protection.
---
Thick Ass Glass Customer Service
There is just one way of contacting Thick Ass Glass: email.
Easy to Contact, Slow to Resolve
Contacting via email is easy, and there are multiple ways of doing it:
Visit the Contact Us page and fill out the form
Click the "Help" button at the bottom right of every page and fill out the form
Email them directly from your email client

On your part, getting in touch is easy. The problem is that email is slow, which means getting a response is also slow. It can take a while to go through the motions of getting a refund or requesting a product or getting answers to your questions.
Given the quality of their thick glass bongs and rigs, the company does well with mitigating issues. No reviews are found with folks complaining about ignored emails or un-refunded products.
---
Final Thoughts on Thick Ass Glass
PROs
International shipping
product insurance
loyalty program
discount codes
thick, long-lasting glass
CONs
too expensive
strict refund policy
no alternative payment options
lack of customer support options
expensive shipping
uninspired designs
Overall, Thick Ass Glass is a quality headshop that offers durable glass bongs, rigs, and pipes. Their products are expensive compared to other shops, but they do offer international shipping as well as many ways to reduce the cost of your order. While their designs may not be the most inspired, their thick glass pieces are sure to last you for years.
---
Better Alternatives
For a more pleasurable online shopping experience, we highly recommend browsing the following headshops:
Grasscity — Pioneer of the online smoke shop and based in Amsterdam, Grasscity is your international source for any cannabis related. Warehouses exist in Europe and North America, which means you can expect fast and affordable (even free) shipping worldwide. Browse from mid-range to high-end products, pay with virtually any payment method (including Bitcoin), and save with regular sales, discounts, and rewards.
Smoke Cartel — As one of the most popular headshops, Smoke Cartel excels in providing top-quality products. While prices hover around average, you have plenty of discount opportunities via codes and their rewards program. This, exceptional customer service, and fast international shipping make Smoke Cartel one of our top recommendations for all cannabis lovers.
Vapor.com — A comprehensive range of vaporizers and smoking accessories, as well as fast and free delivery, make Vapor.com the go-to shop for all things vape. The shop offers many savings opportunities and a price match guarantee that helps you save on every purchase no matter where in the world you are buying from.
The Best Head Shops of 2023

1. Grasscity

• Overall Best Head Shop

• Oldest Headshop & Best Reputation

• Since 2000, Based in Amsterdam, NL

• Free Stealth Worldwide Shipping

• Bitcoin Accepted!

[Read Our Review]
• Promotions & Special Offers • Pay with

Bitcoin

• Reward Program Read Our ReviewVisit Website

2. Smoke Cartel

• Best Shopping Experience

• Since 2013, Based in USA

• Stealth Worldwide Shipping

• Free Shipping in USA

[Read Our Review]
• Promotions & Special Offers • 10% Coupon Code:

CNBS

• Subscription Box • Reward Program Read Our ReviewVisit Website

3. Vapor.com

• Best Headshop for Vaporizers

• Since 2005, Based in Florida, USA

• Shipping to U.S, CA, U.K, EU, AU, & NZ

[Read Our Review]
• Promotions & Special Offers • Price Match Guarantee • Reward Program Read Our ReviewVisit Website

4. Hemper

• Best Subscription Box

• Since 2015, Based in NY, USA

• Shipping to Selected Countries

[Read Our Review]
• Sunscription Boxes • Gift Cards • Themed Boxes Read Our ReviewVisit Website

5. Allin1SmokeShop

• Best for Artistic Heady Glass

• Since 2016, Based in Florida, USA

• Stealth Worldwide Shipping

[Read Our Review]
• Promotions & Special Offers • Reward Program Read Our ReviewVisit Website
---
---
Category Pages: