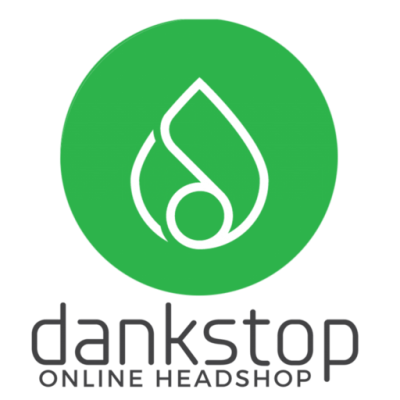 Since 2017, Based in NYC, NY, USA
Shipping to USA and Canada
Credit Card, Gift Cards, USPS Money Orders
---
DankStop is an online headshop that promises a wide selection of products for smokers of all kinds. But does their product range make up for the lack in quality customer service? In this honest review, we take a closer look at DankStop to find out.
When entering DankStop.com, you're greeted with a clean, modern e-commerce store with options for all types of smokers. And over the years, DankStop has managed to make their way into both the subscription game and the manufacturing game. This do-it-all headshop has a lot of potential. Let's find out if it's worth your coin.
See our recommendations for better alternatives at the bottom of this page!
---
Background Info and Reputation for Dankstop
Find out about how DankStop got started, how they got to where they are now, and how customers feels about their service.
Owned and Operated in NJ for Nearly a Decade
DankStop was founded in 2014 by two people in New Jersey. Currently, that's where DankStop still operates. Since then, the company has grown exponentially. DankStop is now one of the leading online headshops with a catalog of hundreds, if not into the thousands.
It wasn't a smooth ride to get to this point for the company, and they are certainly breaking the mould with their business practices. Now, you can find:
Subscription box
Fully-stocked product listings
Dropshipping supplier
3rd-party sales
They're really covering all the bases. Not only are the shelves stocked (in their NJ warehouse), but they also allow other headshops to dip into that stock via dropshipping. Meaning, other shops can use DankStop as a glass bong supplier. But it doesn't end there, DankStop also let's 3rd-party manufacturers—glassblowers, accessory makers, etc.—to sell directly on DankStop.com.
Almost like the Amazon of headshops…but with a long road ahead. The shop isn't perfect as it stand. There's room for improvement, namely in the customer service department.
Over 100K Customers Are (Mostly) Happy
The sheer number speaks for itself, but it's apparent that there are several issues with quality control.
Packages don't show up
Items in orders are missing
Glass feels cheap
Strains don't match description on site
Incorrect THC percentages
Terrible tastes
The list goes on and on. We do applaud DankStop for publishing even the negative remarks about the products they sell, their business practices, and the lack of quality. Having these is quite harmful for a business, but honesty is something to admire.
Having said that, there are tens of thousands of reviews on their website, and then a few hundred elsewhere on other business review sites.
108,000 5-star reviews
85,000 4-star
3,200 3-star
1,200 2-star
2,300 1-star
We're bringing this to your attention because if you look around searching for things like "is DankStop legit" or "DankStop scam", you will be greeted with several results. But check the dates and check the numbers. We're more than willing to trust over 100k people on their positive experiences that DankStop is a smoke shop you can trust.

---
DankStop Glass Products, Accessories, and Services
DankStop offers it all: in-house glasswhere, name-brand bongs and vaporizers, accessories, monthly boxes, and (surprisingly) more. Have they gone too far?
Handblown Glass Bongs, Pipes, and Rigs
This was a journey for DankStop. They dabbled into taking stock directly from wholesale sites and claiming it as their own. Then white-labeling (which they probably still do). But now they're in the handblown bong arena—to success.
Only one of the DankStop glass bongs is rated poorly, the rest (of the ones with ratings) approach 5. It seems they've found their footing with glassware that's durable, if not experimental.
Glassblowing—I'm willing to bet—is a new-found passion of theirs. They don't stray too far into the realm of whimsical, over-the-top pieces. Rather, they're all just slightly askew. It's quite pleasant to look at.
Other big brands in the glassware department include:
Thick Ass Glass
MJ Arsenal
Higher Standards
GRAV
Studenglass
That's nothing to scoff at. Selling big brands is great for business, as long as DankStop can deliver. Because of this, up-and-coming brands who sell on this site as a marketplace gain exposure. It's a win-win.

Tons of Vapes and Accessories To Choose From
Because the glass pieces are so well featured, we were under the impression that the vaporizer department would lack. Instead, it too is stocked wall-to-wall with high-quality vapes. Nothing hand-made (would love to see DankStop try it, though) but there are lesser-known brands here who will likely gain exposure.
Here are the top brands you'll see in the Vaporizer section:
PAX
PuffCo
Pulsar
Firefly
DaVinci
Arizer
It's a great offering of devices, which of course are backed with a manufacturer warranty.
We're not sure what's going on with this trend, but headshops who tend to sell vaporizers and/or glass bongs do not sell herbs or oils to use with those devices. It only makes sense to sell both in one place, no?
The point is that there are no CBD products, even if there is an entire dedicated section for it. That's incredibly disappointing. Why should a customer come here to buy a rig but have nothing to use with it?
As for accessories, you'll find the typical can't-go-wrong items: RAW rolling papers, grinders, and some humorous plates/bowls/etc.
Subscription and Mystery Boxes Keep Things Interesting
The subscription box is nothing too special. It provides essentials for smokers, like rolling papers, lighters, and wicks. At just $5/month, it's a pretty good deal for what you get.
Mystery and theme boxes are fun and keep things interesting. The mystery box is…a mystery. You have 3 options: $25, $50, or $100. Each are filled with hand-picked items and can value up to $400.
The mystery box works so well because you have no hint at what's coming. You pay want you want, so sure you can expect more or higher-end products in the more expensive boxes. But you aren't promised a glass pipe or anything specific. So when it arrives, there's little room for disappointment.
Fair Pricing, But on the Higher End
There's nothing outstanding about how DankStop prices their inventory. It is admittedly on the more expensive side of the spectrum, but there aren't any real complaints. You will likely find the same product elsewhere for cheaper.

---
Sales, Deals, and Discounts for DankStop
A dedicated sales section, discount codes, and a loyalty program all help DankStop rise up in the ranks of solid online headshops.
Whopping To Lackluster Products on Sale
There's a total rollercoaster of an experience when browsing this section. You see an $80 bong rated 5-stars on sale for $30—that's incredible! Then you see a grinder "on sale" for just $2 less than original price. A sale is a sale; prepare yourself for sifting through several pages of uninteresting products.
The filters on the side (which are apparent on all category pages) are quite helpful. You can focus down to something specific and use this feature to monitor if a brand you follow has a product on sale.

The Best Discount Is Through Dank Rewards
Discount codes come often and they provide quite the deal. Your first order is 15% off. You're given DankStop coupon codes via email and on special days. There's no complaints here.
The real deal is with Dank Rewards. We've seen rewards programs before on online headshops that work similarly. Sign up and spend to gather points, then redeem those points for more products.
The ways to earn include:
Signing up
Referrals
Placing orders
Birthdays
Product reviews
It makes sense now why there are so many reviews on this website—they're all collecting points. That's just speculation, but don't doubt it.
It's great to see a headshop work their way into being more of a service as opposed to just a store with shelves. Loyalty programs get customers to spend money on their store continuously, we aren't ignoring that. But they also allow regular smokers who trust DankStop to be rewarded.
---
Payments, Shipping, and Returns at DankStop
All three points get a stamp of approval from us. From payment methods to sending products back, DankStop supports you.
Payments Options You'll Love
This is typically the section where we find disappointment. But not at DankStop. Payment options include:
Credit cards/debit cards
Bitcoin (bitpay)
Buy now, pay later (ViaBill)
We love seeing online headshops offer Bitcoin as a payment method, and DankStop delivers on this front. They, of course, offer credit card payments. And the BNPL option is a nice touch. We're still in recession-mode and budgets are tight, so lightening the load is a friendly touch to the checkout experience.

Buy From Anywhere in the World
DankStop.com also offers FREE international shipping for orders over $300 via USPS, which means it will be handed off to your local courier if you live outside of the United States. In the US, every order has free shipping, packages are discreet, and they even ship to PO boxes.
Free US shipping
Standard international shipping
Expedited international shipping
Shipments are sent from New Jersey, so you can assume the timeline from there. East coast deliveries are fastest. West Coast can take around 4 days. International, it's hit-and-miss.
A Good Return Policy With Drawbacks
If your item arrives broken, DankStop will replace it for free if you can notify them within 72 hours of delivery. That's a pretty good deal, and not one we see often with online smoke shops.
That leniency allows us to forgive the short 2-week time frame for regular returns. We prefer 30 days.
What we don't forgive, though, is the 15% restocking fee. If you decide to get store credit, then the amount is fully refunded. DankStop just wants to ensure that they make something from you, even if you make a return.
---
DankStop Customer Service Review
This area needs some improvement before we feel comfortable recommending DankStop to the masses.
Poor Fulfillment and Resolution Practices
There are pages of current reviews (within just the past couple months) of customers complaining about unfulfilled orders, missing items, and poor quality products.
We don't take negative reviews lightly, especially when they reflect against the business and not just the product being sold. Product mishaps are forgivable to an extent. When a company fails to send a delivery or lies in their product descriptions about the quality or appearance, that's something we can't look past.
"Site says 29% THC when purchased it's only 25.8%."
"I have emailed them.no response. I tried calling customer service an it is a joke."
"Overall appearance looked like 2 different products in container"
"I wish I would have checked the reviews"

Lack of Support Response Is Worrying
When contacting support, it's not uncommon to receive a very delayed or no reply at all. We do like the live chat feature on the website as well as all of the social media options, but if no one is on the other end then they're purposeless.
live chat
email
phone
social media
Based on customer experiences, it seems like if you don't have a good purchase then you're SOL. If you do, then great.
---
Final Thoughts
PROs
Bitcoin payments
wide variety of glass and vapes
mystery boxes are fun
free US shipping
international shipping available
rewards program
big brands and up-and-coming brands
CONs
very bad customer support
average to high prices
no oils or CBD products
So, is DankStop worth your time and money? We think there's potential. But only if you're willing to take the risk with their customer service. If you're looking for a one-stop-shop that has it all – DankStop covers it. But if you're looking for a less risky way to stock up for your next smoke sesh, take a look below at our better alternatives.
---
Better Alternatives
For a more pleasurable online shopping experience, we highly recommend browsing the following headshops:
Grasscity — Pioneer of the online smoke shop and based in Amsterdam, Grasscity is your international source for any cannabis related. Warehouses exist in Europe and North America, which means you can expect fast and affordable (even free) shipping worldwide. Browse from mid-range to high-end products, pay with virtually any payment method (including Bitcoin), and save with regular sales, discounts, and rewards.
Smoke Cartel — As one of the most popular headshops, Smoke Cartel excels in providing top-quality products. While prices hover around average, you have plenty of discount opportunities via codes and their rewards program. This, exceptional customer service, and fast international shipping make Smoke Cartel one of our top recommendations for all cannabis lovers.
Vapor.com — A comprehensive range of vaporizers and smoking accessories, as well as fast and free delivery, make Vapor.com the go-to shop for all things vape. The shop offers many savings opportunities and a price match guarantee that helps you save on every purchase no matter where in the world you are buying from.
The Best Head Shops of 2023

1. Grasscity

• Overall Best Head Shop

• Oldest Headshop & Best Reputation

• Since 2000, Based in Amsterdam, NL

• Free Stealth Worldwide Shipping

• Bitcoin Accepted!

[Read Our Review]
• Promotions & Special Offers • Pay with

Bitcoin

• Reward Program Read Our ReviewVisit Website

2. Smoke Cartel

• Best Shopping Experience

• Since 2013, Based in USA

• Stealth Worldwide Shipping

• Free Shipping in USA

[Read Our Review]
• Promotions & Special Offers • 10% Coupon Code:

CNBS

• Subscription Box • Reward Program Read Our ReviewVisit Website

3. Vapor.com

• Best Headshop for Vaporizers

• Since 2005, Based in Florida, USA

• Shipping to U.S, CA, U.K, EU, AU, & NZ

[Read Our Review]
• Promotions & Special Offers • Price Match Guarantee • Reward Program Read Our ReviewVisit Website

4. Hemper

• Best Subscription Box

• Since 2015, Based in NY, USA

• Shipping to Selected Countries

[Read Our Review]
• Sunscription Boxes • Gift Cards • Themed Boxes Read Our ReviewVisit Website

5. Allin1SmokeShop

• Best for Artistic Heady Glass

• Since 2016, Based in Florida, USA

• Stealth Worldwide Shipping

[Read Our Review]
• Promotions & Special Offers • Reward Program Read Our ReviewVisit Website
---
---
Category Pages: