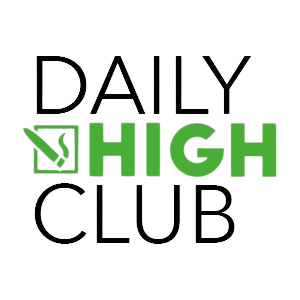 Since 2021, Based in NYC, NY, USA
Shipping to USA and Canada
Credit Card, Gift Cards, USPS Money Orders
---
Daily High Club is both an online headshop and a monthly subscription service that sends you glass paraphernalia, vaporizers, and other smoking accessories.
Whether you're a seasoned smoker or just starting out, Daily High Club offers an easy way to get everything you need to enjoy your smoke session. Is that worth the price, and does Daily High Club's products offer value outside of the subscription box? Find answers to all your questions in our full review below.
See our recommendations for better alternatives at the bottom of this page!
---
Background Info on Daily High Club
Beginning in 2021, Daily High Club was founded under the premise of bringing the ease of ecommerce to headshops. Its parent company is High Tide USA.
It's been just one year since the headshop's inception. Still, the company has grown exponentially. It's one that's made for the new decade—and the new generation of smokers.
The brand has already partnered with the likes of Chanel West Coast and Snoop Dogg, among other celebrities who are happy to endorse Daily High Club. They also claim to have over 15k weed subscription box members, which is an incredible feat for a one-year-old company.
15,000 Subscribers…?
There can't be 15k subscribers without love for the brand. Based solely on this number, Daily High Club must be a brand you can trust. They must be doing something right.
Except they aren't. And I, for one, wouldn't trust any brand that claims anything without the social proof to back it up. On their own site, every product and every box has at least a 4-star review. But that's just impossible—not a single person has received a defective device, or just didn't like the piece once it arrived? You'll either see 4-star, 5-star, or no reviews. That seems fishy and is a telltale sign that reviews are being altered or unused.
Thankfully, we can look at two trustworthy sites for real customer sentiment: Trustpilot and Better Business Bureau. There are also a few reviews on Yelp, which could be a mix of web and brick-and-mortar sales.
"DON'T USE THIS SITE"
"Horrible customer service"
"This website is so disappointing"
"…took the money and never delivered…"
If customers are willing to take the time, going out of there, to publish these reviews as warnings, then can there really be 15k marijuana subscription box subscribers?
Disparity within the Community
We do believe there are happy customers. Maybe even most are happy. But we can't ignore these claims, nor can we ignore the clear divergence between business review sentiment, customer review sentiment, and promotional sentiment. Let us clarify:
Businesses, blogs, and online cannabis review companies generally praise Daily High Club's subscription box and headshop.
Customers (not on dailyhighclub.com) are severely disappointed in all aspects of the brand.
Customers on dailyhighclub.com have raving reviews.
We already know the smoke shop is no enemy to collaborations, which leads us to believe the positive reviews from other blogs and headshop reviewers must promote this company. That, or they didn't take the time to look beyond a single URL. Know this: you can trust CNBS to deliver the truth.
---
DHC Products, Subscriptions, and Shopping Experience Review
There are A LOT of products on dailyhighclub.com, which makes sense—if the customer base is one that smokes daily, then they probably love trying out different products.
Aside from their focus on glass products, they also have a steal of a subscription box that may or may not be worth your money.
Top brands you'll find include:
Daily High Club
MJ Arsenal
Grav
Raw
Fun Glass Products, But Don't Expect High Quality
You'll see the phrase "high-quality glass" thrown around the DHC headshop, but there's very little to back that up. Customer reviews rarely highlight the quality of piece, instead focusing more on the aesthetics.
Having said that, you can expect fun, whimsical, and downright interesting glass bongs, rigs, and pipes. Sometimes, design can override quality. These pieces are certainly usable and enjoyable! But we get a strong impression that they are more of a collector's item. Smokers use it for a month until they get the next glass rig that catches their eye. And that's perfectly fine.
Products to browse include:
Glass bongs
Glass rigs
Glass pipes
Within these categories, you can find glass tips and other parts to retrofit into your current rig.
3 Weed Subscription Boxes at Great Prices
$100 value for just $30? That's a steal. But are the items inside worth your continuous payment? That depends on your loyalty and experience with DHC.
The major issue we see with these subscription boxes is that they don't show up. Customers have complained about placing a 3-month order without receiving a single item. Or getting a box in the middle of the following month (if DHC decides to ship it).
RAWsentials Subscription Box
If you love RAW rolling papers, cones, and other products, this is a pretty good deal. This box has products that you'll burn up quickly. Having it on subscription means your personal stock is always in check at a really good price.
Inside, there are:
RAW papers
RAW filter tips
RAW lighters
stickers
This box is made for those who love rolling up, and we approve the cost-to-quantity value. At just $10/month, it's a steal.
Connoisseur V2 Subscription Box
This one is mixed. We suggest this one if you're not interested in adding to your collection of glass smoking pieces but want to try out a few new things each month.
At $20/month, it's more expensive than the RAW box, but it does come with more variety (including RAW products).
Rolling papers
Lighters
Cleaning products
Gadgets
It's difficult to say exactly what comes in this one, each month is different. But you are guaranteed 7-9 products. It's a way to test out products you'd otherwise avoid spending money on. Who knows, maybe you'll find your next favorite wrap.
We can recommend this box, but only if you're really into trying new products. If you've got a routine, skip it.

El Primo Subscription Box
This is their holy grail. A monthly themed weed box that's packed with goodies, including a glass bong or pipe.
Daily High Club glass bong
Cleaning products
Lighters
Hemp wraps
Bangers
Rolling kit
Catcher
Other accessories
This is what's in the October 2022 El Primo, so don't expect this same list to appear in future months.
This box is valued at over $100, which we can confirm. If you want to try out some fun new glass, this is well worth it at just $30/month. They're also themed quite well, too. This month is a Halloween theme. Something we really praise DHC for doing is allowing you to purchase previous months' box sets (as long as they're in stock). Of course, it's a way for Daily High Club to clear inventory, but that's not a bad thing if a particular box speaks to you.
El Primo has great potential and can easily become a favorite marijuana subscription box for any smoker. You can prepay up to a full year's worth of El Primo boxes, too. But the inconsistent delivery practices are concerning.
Expect Above-Average Pricing for Individual Pieces
DHC really wants you to subscribe. The items in each box, especially El Primo, are a great value considering the steep discount you receive on the glass in particular. Bongs easily sell for around $100 each on this site. Getting one (and other stuff) for $30 looks like an incredible deal, no? But we think that speaks to the quality of the glass and the markup.
If you're shopping on DailyHighClub.com, you'll want to check out their sales or the boxes. Buying at full price just isn't worth it.
---
Sales and Promos at DHC Online Headshop
A dedicated Sales tab is great to see, as well as the "win this megabox" popup upon visiting the site. There are items always on sale, promos you can find if you sign up for emails, and discount codes available.
Just a Few Good Products on Sale
The dedicated sales section is great, but it's not filled with anything you'll likely want to buy. There are a few good glass bongs or things like female dabbing straws and other parts. The majority of the products are bland; boring and branded products from collaborations that likely didn't sell so well. That's the nature of business (I guess).
The good news is that sales happen often, so if you return to this tab on DailyHighClub.com often enough, you might find something worthwhile.
Promos Are Dope
Heck yeah, I want to win that megabox.
DHC knows when to go all out and give visitors and loyal customers the chance to "win big". Besides the objectively good deal on bong subscription boxes, these other promotions will make you want to subscribe to their newsletter and social media accounts.

Daily High Club Discount Codes Happen, Sometimes
It's not often, but you can get one. Like when you sign up for emails or register your account. DHC isn't too concerned about providing discount codes because they have products on sale all the time and their subscription boxes are the best type of "discount" available here.
It would be nice to see a code more often, but then we don't fully trust this site to deliver on their promises so maybe it's best to avoid that temptation.
---
DHC Shipping, Returns, and Payment Methods Review
Shipping is the #1 complaint from customers and has turned some loyalists into loathers.
Daily High Club relies on monthly deliveries at your doorstep to make a profit. You'd think their greatest achieve on the fulfillment side of things would be 2-day deliveries, free deliveries, and discreet packaging. Unfortunately, this brand doesn't live up to their potential here.
Packages Remain in Limbo
Many customers complain about prepaying for several months of a subscription box, but never receiving it. That's unacceptable, in our opinion.
No emails, no shipping updates, late responses—or no responses—from customer service. The price might be great, but the risk of never receiving it is just too high.
Just Okay Shipping Rates—But There's International!
For those living in the US, shipping is free for all US orders, which lives up to their big e-commerce ambitions.
As for the rest of the world? It's not so great:
Free US Shipping
Paid Canada Shipping
Paid International Shipping
International shipping is more than what you'd pay if you lived in Canada, but that makes sense. Maybe we're biased but seeing that orders can easily be shipped internationally helps us ignore the cost of doing so. We love seeing online headshops serve smokers globally, and DHC delivers.
Return and Refund Policies Are Satisfactory, If a Bit Strict
You have 14 days after the package is marked as delivered to make a return. Generally, we like to see a month. 14 days is half that and given all the issues regarding delivery it seems like that's an easy way to ignore customer troubles.
Having said that, they do make it simple:
Email them about the return
Unused, unopened products only
Photograph any broken pieces
Pay for return shipment
So, they won't cover the return shipping, nor will they refund you any shipping costs, but they will accept your products. And they'll even allow you to trade in a piece you don't like for something else (you still need to pay for shipping).

Credit Cards and BNPL Options Are Acceptable
Credit cards are an essential payment type to accept. Debit cards, too. Daily High Club headshop accepts all credit card types, and even some foreign cards for international buyers.
Then, they offer Sezzle as a Buy Now, Pay Later option. We like seeing this alternative payment method, as it allows customers to reduce some of the burden of spending (especially during a recession).
We would prefer if DHC accepted, at the very minimum, crypto payments. Bitcoin is a popular payment method for smokers. If this headshop wants to continue serving the community, then they need to add this on the gateway.
---
Daily High Club Customer Service
DHC is incredibly active on social media platforms—all of them. So that's a good place to start if you need to get in touch with them. Otherwise, there's email and snail mail.
As for the quality of customer service, we see more negative than positive comments about this.
Missing/severely delayed orders
Missing/broken items
No replies
Delayed responses
These sum up the most common complaints, and the customer service team doesn't seem too interested in remedying any of these concerns.
---
Final Thoughts on Daily High Club
PROs
Wide variety of glass products
Subscriptions are a great value
In-house and big-brand items
International shipping
CONs
Poor customer service
Poor delivery practices
Tough return policy
No crypto payment options
Overpriced individual products
Daily High Club seems to have a lot of potential but falls short in several areas. The biggest issue is the poor customer service and delivery practices. Until they address these concerns, we cannot recommend them as a reputable source for smoking accessories and products. But if you're willing to take the risk, the subscription boxes are priced well, and the creative glass products are good collectibles.
---
Better Alternatives
For a more pleasurable online shopping experience, we highly recommend browsing the following headshops:
Grasscity — Pioneer of the online smoke shop and based in Amsterdam, Grasscity is your international source for any cannabis related. Warehouses exist in Europe and North America, which means you can expect fast and affordable (even free) shipping worldwide. Browse from mid-range to high-end products, pay with virtually any payment method (including Bitcoin), and save with regular sales, discounts, and rewards.
Smoke Cartel — As one of the most popular headshops, Smoke Cartel excels in providing top-quality products. While prices hover around average, you have plenty of discount opportunities via codes and their rewards program. This, exceptional customer service, and fast international shipping make Smoke Cartel one of our top recommendations for all cannabis lovers.
Vapor.com — A comprehensive range of vaporizers and smoking accessories, as well as fast and free delivery, make Vapor.com the go-to shop for all things vape. The shop offers many savings opportunities and a price match guarantee that helps you save on every purchase no matter where in the world you are buying from.
The Best Head Shops of 2023

1. Grasscity

• Overall Best Head Shop

• Oldest Headshop & Best Reputation

• Since 2000, Based in Amsterdam, NL

• Free Stealth Worldwide Shipping

• Bitcoin Accepted!

[Read Our Review]
• Promotions & Special Offers • Pay with

Bitcoin

• Reward Program Read Our ReviewVisit Website

2. Smoke Cartel

• Best Shopping Experience

• Since 2013, Based in USA

• Stealth Worldwide Shipping

• Free Shipping in USA

[Read Our Review]
• Promotions & Special Offers • 10% Coupon Code:

CNBS

• Subscription Box • Reward Program Read Our ReviewVisit Website

3. Vapor.com

• Best Headshop for Vaporizers

• Since 2005, Based in Florida, USA

• Shipping to U.S, CA, U.K, EU, AU, & NZ

[Read Our Review]
• Promotions & Special Offers • Price Match Guarantee • Reward Program Read Our ReviewVisit Website

4. Hemper

• Best Subscription Box

• Since 2015, Based in NY, USA

• Shipping to Selected Countries

[Read Our Review]
• Sunscription Boxes • Gift Cards • Themed Boxes Read Our ReviewVisit Website

5. Allin1SmokeShop

• Best for Artistic Heady Glass

• Since 2016, Based in Florida, USA

• Stealth Worldwide Shipping

[Read Our Review]
• Promotions & Special Offers • Reward Program Read Our ReviewVisit Website
---
---
Category Pages: