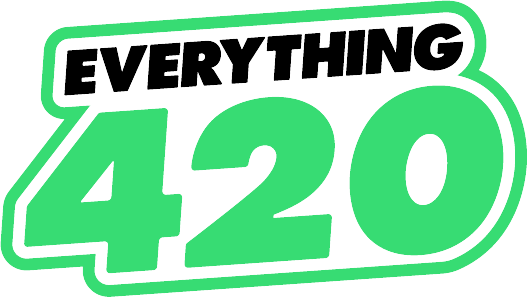 Since 2017, Based in NYC, NY, USA
Shipping to USA and Canada
Credit Card, Gift Cards, USPS Money Orders
---
EverythingFor420 knows exactly who they are and who they cater to—cannabis lovers, unite! With sweepstakes, regular deals, and a dedicated app, this online smoke shop seems to get it.
But Everything420 isn't just a smoke shop, or a headshop. It's also a wholesaler, and a seed bank, and a subscription provider (but not mystery/themed boxes). So, the question now is: does EverythingFor420.com do any of this right?
Read our full review below to find out.
See our recommendations for better alternatives at the bottom of this page!
---
History and Reputation of EverythingFor420.com
Does anybody else get the high school pothead vibe with this brand name? The days where it was okay to be desperate for skunk weed? We get the feeling this is the crowd EverythingFor420 targets—which isn't bad in any sense of the word. But later when we look at the subscription and other aspects of the site, we think you'll be convinced too.
A Mission To Provide Affordably Priced Quality Essentials.
The brand was launched in 2017 with one goal in mind: affordability and accessibility. You already know exactly how they planned to do that: $4.20 pricing and 420-focused products.
Of course, not everything can be $4.20, that would mean a huge loss when selling water pipes that typically go for over $100. But the mission is all the same. EverythingFor420 is focused on weed, pricing, and getting their products in the hands of those who smoke.
This is one headshop that's willing to take risks to grow, all masked by the promise of "it's better for you!" That's true in many scenarios, but when any company states they're making a change to because it's better for customers it's either an apology or a front.
Thousands of Positive Reviews, Both "Verified" and 3rd-party.
Looking at reviews only from 2022, it's safe to say EF420 has done their job upping the ante when it comes to customer service. Nothing but happy customers, here.
The key takeaways from positive reviews are:
Fast shipping
Fast customer support responses
Quality resolutions
Good products for sale
When viewing the headshop, plastered all around are stickers of "24,739 verified reviews", which are obviously a marketing stunt that works. But these can't really be trusted for a few reasons:
Who is verifying these buyers
Which reviews are thrown out
Only product reviews, no service reviews
While nearly 25k 4- and 5-star reviews are really incredible—especially considering these are 25 thousand customers that they have AND are willing to post a review—there are too many variables left unchecked.
Besides, reviewing the product is one thing. But EverythingFor420 doesn't make their own products, they sell products designed and manufactured from other brands.
Negative Reviews Are Few and Far Between.
Negative reviews are more specific, regarding possible faults in inventory management and inactive seller programs.
In our research, we couldn't find anything about an affiliate program. It's likely that this was one money-making opportunity the brand sent to the graveyard because it just wasn't lucrative enough. It sucks to be on the other end of it and not receiving your payout, though.
It's also suspicious that there are no products with less than 4-star ratings. Maybe they remove poor-performing pieces, or maybe they screen the reviews and weed out all the bad ones. Who's to say, but it is fishy.
---
Products Review for EF420
The EF420 headshop does try to cover all the bases. Mostly, they're successful but a few areas are lacking, which leads us to wonder if it would be better to focus on just a few categories rather than actively trying to be the one-stop shop for everything 420.
Lots of Categories To Choose From, Though It's Mostly a Lack of Organization.
We'd love to believe EverythingFor420.com has warehouses and shelves stocked to the brim with cannabis products. But we won't let the menu fool us. Just like perusing a restaurant menu, sometimes you can spot the fillers. The headshop menu is as follows:
New Arrivals
Bongs
Dab Rigs
Delta THC
Cannabis Seeds
$4.20 Store
Brands
Dabbing
Vapes
Grinders
Pink 420
Pipes
Rolling
Why are there two sections for dabbing? Does "Brands" need to live there"? We're not site designers, but when you're looking for a product or a broad range of products, organization plays a part. So now if someone tries to find bangers and nails, where would they look: Dab Rigs or Dabbing? And would/should those products live in both categories?
Do you see now about the high school smoker vibe? Anything this headshop can get their hands on, they'll try. It's shrouded in a cloud of desperation.
Two Amazingly Curated Sections for Die-hard Niche Smokers.
Delta-8 THC is growing in popularity, but not everywhere can sell it (and not every customer can buy it). EF420 is one of the few, and their selection looks pretty appealing. It ranges from cartridges to pre-rolls to flowers to rocks to edibles. Pick your high and EverythingFor420 will provide.
The other dedicated, curated category is surprising: Pink 420. At first, I thought this was related to Victoria's Secret and the lingerie brand somehow made its way over to the cannabis community, no less onto this one small (albeit not too small) headshop. But I was wrong.
Pink 420 is quite literal. Everything in this category is pink. There's also not very much to choose from here, but it's an interesting start. It does feel a bit purposeless at the moment. And for there to be a dedicated menu bar button for it is surprising, to say the least.
No Sales Page, but a $4.20 Section Instead.
And some great discounts, which we'll get into later. This section makes complete sense. Why have we not come across this before?
The big caveat is that all these $4.20 products are exactly what you expect them to be: cheap accessories with a few standouts. What you'll find include:
Rolling papers
Cones
Tips
Lighters
Rolling trays
One hitters
Bowls
Hand pipes
Bangers
Caps
Please don't spend $4.20 on a lighter. Otherwise, you would expect a lot of products here to be bits and pieces. It's not surprising, but it is still disappointing. Customers coming to this section looking for a steal won't find one.
However, there are two bongs: one is 4 inches and the other is 5. That sounds like a great stocking stuffer at a great price.

Cannabis Seeds for Sale Are Hit-and-Miss.
We're under the impression that this is a test run for E420, otherwise it's a complete fail and we'd like to give them the benefit of the doubt.
There are just 3 seeds to purchase here, all feminized. Obviously, that's great for getting THC and CBD. But just 3? That's hardly seed bank status. It's possible that seeds come in on a rolling basis, so there are few that last year-round.
EverythingFor420 selling seeds is a play at trying to reel in beginner growers, not seasoned enthusiasts. Again, it comes back to that high school pothead idea. Everyone wanted to grow their own so they can veg out without having to get bud from someone or somewhere else. Now EF420 is making that possible.
Very Few Standout Brands To Choose From.
That's not to say the EverythingFor420 headshop in 2022 has nothing sell. They do, in fact, but most likely from manufacturers you've never heard of.
Raw
G Pen
Pax
Marley
Puffco
It's actually quite confusing. You can easily scroll for several minutes browsing the glass smoking products without ever seeing a brand name. EF420 is a wholesaler, written clearly in their footer. So, it's likely that the bongs they get are unbranded because they buy them wholesale (e.g., from a site like Alibaba).
This doesn't mean products are poor quality. On the contrary, many reviews speak to the quality and appearance of these unbranded products. And EverythingFor420 does good for not claiming to be the manufacturer or white labeling these products. It's very transparent.
It also makes sense as to why there are no negative reviews on the headshop—why allow customers to bash poor products when it's easier to select a different model from the supplier?
---
Sales, Deals, Steals, and Promos on EverythingFor420.com
EF420 has a lot to work with when it comes to discount codes and chances to save! In fact, it's plastered on every corner of the site.
Very top of the page has "Save 15% with code" scrolling by
Pop-up with "Save 15% with email signup" as you enter the site
Bottom right corner has "Save 15% with app" button and QR code
Hero section of home page has "Save 15% with code" image
Promo Codes Are Everywhere.
Get a code in your email or on the app or from the homepage or on a product page—codes are everywhere.
We love a headshop that's not afraid to provide its valued customers a good deal. These codes appear often and change depending on the season and the month.
And while there is no sales page, there is the $4.20 section where shoppers can get something of a deal of smoking accessories.

Cash Prize Sweepstakes? I'm Down!
Who doesn't love winning real cash? Sticking to the 420 theme, the grand prize is $4200 (though we would have guessed $420, too).
For every $4.20, you automatically get a ticket entry into the sweepstakes. Every product has the number of entry tickets that come with the purchase. For example, if you buy a $90 glass bong, you'll get 22 tickets.
At the time of this review, EverythingFor420 is on their 10th sweepstakes, so if you miss this one then you know another is coming right up.
Not every sweepstakes is the same, too. This one has just one winner for all $4200, selected by a 3rd-party operator. Previous ones had different prizes (like a PS5 or an iPhone) and more than one winner.
You'll be called, texted, and emailed if you win. It's a great incentive to spend a little extra and stock up your own shelves with 420 goods.
$10 per Month Gets You $14.20 Worth of Products.
We're not sure how this membership is profitable, but if you're dedicated to this one headshop you can subscribe for just $10/month and get an allowance of $14.20 with freebies.
Back again to the high school feeling, spending an allowance on weed. A just like back then, the money rolls over to the next month. So, in theory, you could wait a few months and get a pretty expensive bong for about $20 off.
EverythingFor420 tries something new each year. In 2022, it's a membership. Last year, it was mystery subscription boxes. What will 2023 bring? Time will tell.

---
EverythingFor420 Payments, Shipping, and Returns Review
A few surprises while paying make for an unsecure checkout experience that's sure to deter new customers.
Possible International Shipping Depending on the Product.
We haven't been able to find a product that can be shipped internationally, even if you are able to enter an international address. The product will simply be removed from the cart, and you will be notified that it's not possible to ship that item to the provided address.
Honestly, it would be better if they turned off the international options if they aren't possible now. Or provide a notice on the products that says where they can be shipped. It's a big disappointment.
Fast, Discreet, and Free Shipping for Us Customers.
Shipping within the US (the warehouse for EF420 is in Dallas, TX) is free once you reach—you guessed it—$42.00. You will never escape the 420 theme on this headshop, even if you try.
Other Options Include:
$4.20 paid flat rate shipping
$14.20 expedited shipping
$24.20 1-day shipping
It's a pretty simple setup. Paying a flat fee of $4.20 (if you don't qualify for free shipping) isn't bad at all. Having said that, it also doesn't invoke the need to meet that free shipping minimum, which ultimately means spending less on the smoke shop.
You can also select "Rush Order Processing" and "Shipping Protection" (which was already selected for me and I had to deselect it). This is how EverythingFor420 nickels and dimes you. They reel you in with good deals and try to get you in the end when you're rushing through checkout.
Only Credit Cards Are Accepted, but You Can Leave a Tip!
This is the first time I've seen a tip section on a headshop. It solidifies the previous statement that EF420 wants to squeeze every penny out of you.
There are no alternative payment methods like PayPal, crypto, or buy now pay later options. Just credit cards.
Visa
Mastercard
American Express
Discover
Diner's Club
A 21-Day Return Window Gives You Time To Relax.
Though you probably want to take care of the problem ASAP, you at least have 3 weeks to fit it in your schedule. This is one of the most lenient return policies for online headshops in 2022.
Only unused products are accepted and there is no restocking fee, but you will have to pay for the return shipping.
EverythingFor420 seems to take care of their customers' concerns quite well. While we'd like them to pay for the shipping, their 3-week window is the redeeming quality.
---
EverythingFor420 Customer Service Review
From the previous sections, you should already know that EF420 really nails it when it comes to customer service. Over the past year, they've quadrupled their customer support team to better service current and potential customers.
Live Chat Is There, but Only on the Contact Us Page.
Makes sense to have a contact feature on the contact page, but when it's live chat it would do well to cover the entire site. When navigating away from the page, you lose the chat and must either open a new window/tab to keep the chat active or start over again from the beginning.

Email and Phone Are Your Other Options.
Email is a given. If a business doesn't provide a support email address to you, run. EF420 gives both their email and phone number for you to get in touch with them.
Calling is obviously the most immediate solution, but the company isn't quite ready for a boatload of incoming calls. Email is better—and efficient! Customers claim to receive a response within just 2 hours.
---
Final Thoughts
PROs
Variety of products to choose from
Deals happen often, plus the $4.20 section
Great customer support
Delta THC seller
Stellar membership deal for just $10/month
CONs
Above average pricing (at times, outrageous)
Not great in any one category, but sells products from all categories
False international shipping
No alternative payment methods
Cannabis seed section needs to be improved
EverythingFor420 was once named one of the top online headshops. But since then, they've slipped through the cracks. The brand doesn't know where they're headed or what they're offering, and that's evident in the lack of fleshed out product offerings.
With exceptional customer service and many ways to save, EF420 could truly be the one-stop shop for 420 products. But they just don't do anything right enough to claim that status—especially with their higher-than-average prices and lack of top brands.
---
Better Alternatives
For a more pleasurable online shopping experience, we highly recommend browsing the following headshops:
Grasscity — Pioneer of the online smoke shop and based in Amsterdam, Grasscity is your international source for any cannabis related. Warehouses exist in Europe and North America, which means you can expect fast and affordable (even free) shipping worldwide. Browse from mid-range to high-end products, pay with virtually any payment method (including Bitcoin), and save with regular sales, discounts, and rewards.
Smoke Cartel — As one of the most popular headshops, Smoke Cartel excels in providing top-quality products. While prices hover around average, you have plenty of discount opportunities via codes and their rewards program. This, exceptional customer service, and fast international shipping make Smoke Cartel one of our top recommendations for all cannabis lovers.
Vapor.com — A comprehensive range of vaporizers and smoking accessories, as well as fast and free delivery, make Vapor.com the go-to shop for all things vape. The shop offers many savings opportunities and a price match guarantee that helps you save on every purchase no matter where in the world you are buying from.
The Best Head Shops of 2023

1. Grasscity

• Overall Best Head Shop

• Oldest Headshop & Best Reputation

• Since 2000, Based in Amsterdam, NL

• Free Stealth Worldwide Shipping

• Bitcoin Accepted!

[Read Our Review]
• Promotions & Special Offers • Pay with

Bitcoin

• Reward Program Read Our ReviewVisit Website

2. Smoke Cartel

• Best Shopping Experience

• Since 2013, Based in USA

• Stealth Worldwide Shipping

• Free Shipping in USA

[Read Our Review]
• Promotions & Special Offers • 10% Coupon Code:

CNBS

• Subscription Box • Reward Program Read Our ReviewVisit Website

3. Vapor.com

• Best Headshop for Vaporizers

• Since 2005, Based in Florida, USA

• Shipping to U.S, CA, U.K, EU, AU, & NZ

[Read Our Review]
• Promotions & Special Offers • Price Match Guarantee • Reward Program Read Our ReviewVisit Website

4. Hemper

• Best Subscription Box

• Since 2015, Based in NY, USA

• Shipping to Selected Countries

[Read Our Review]
• Sunscription Boxes • Gift Cards • Themed Boxes Read Our ReviewVisit Website

5. Allin1SmokeShop

• Best for Artistic Heady Glass

• Since 2016, Based in Florida, USA

• Stealth Worldwide Shipping

[Read Our Review]
• Promotions & Special Offers • Reward Program Read Our ReviewVisit Website
---
---
Category Pages: