Since 2017, Based in NYC, NY, USA
Shipping to USA and Canada
Credit Card, Gift Cards, USPS Money Orders
---
Higher Standards is known for its high-quality glass products. From bongs to pipes, this company provides top of the line glass for the cannabis community.
But does the website live up to the brand's reputation of quality? Discover if Higher Standard is a trustworthy retailer or if it serves the wrong vibes to dedicated smokers. Our in-depth review covers all the detail you need to shop securely.
See our recommendations for better alternatives at the bottom of this page!
---
Higher Standards Background and History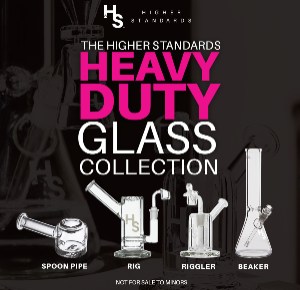 Higher Standards was founded in 2017 in NYC. The company started with the mission to create a safe and enjoyable smoking experience for all cannabis consumers.
Today, Higher Standards is one of the most popular brands in the cannabis community. Besides providing some of the best glass products for cannabis smokers, the company has also made strides into becoming more of a lifestyle brand rather than just a glass product retailer.
You can find collaborations with non-cannabis-related brands like Malin + Goetz or Jonathan Adler. These collaborations speak to not just the quality of HS glass products but also the value of the brand, itself.

---
Reputation for Higher Standards in 2023
What do people think of this brand in 2023? There's a clear separation between the sentiment regarding the website and the products, as if there are two brands in one: a retailer and a supplier. Let us explain further.
What Customers Think of Higher Standard Glass Products
Customers love HS glass products. The brand is one of the most popular and well-reviewed cannabis smoking accessory lines on the market. Glass bongs, pipes, and rigs are all met with a sentiment of expectant surprise at the sheer quality and care put into each piece.
Many customers say that Higher Standard products are some of the best they've ever used and that the quality is unmatched in today's industry. You can find these raving reviews on virtually any online marketplace.
The Higherstandards.com Headshop Is Severely Lacking in Trusted Reviews
There's…nothing. Not a single Trustpilot review. Not a single review on the Better Business Bureau. Nothing on Glassdoor.
This lack of data is what speaks volumes.
Even on their own website, there's very little in the way of reviews. You can find some product reviews, but for a company that's ranked so highly in quality and customer satisfaction, it's quite astonishing that their own website is unusable and unused.
Maybe this, in part, reflects their commitment to creating partnerships. You can find Higher Standards glass products on most cannabis shops.
Or maybe they're deflecting focus from their online store because they want people to come into one of their physical locations:
NYC Chelsea Market
LA The Pottery
LA Canary West
Santa Ana Bud & Bloom
This is speculation, but it does leave one to wonder how in 2023 a brand can lag behind.
The Confusing Purchasing Experience on HigherStandards.com
Limited product range, or woefully unorganized? That's what we keep asking ourselves with every click on the higherstandard.com website.
This brand drips luxury. It's sleek, modern, simple, minimal—all of the adjectives you can think of for a high-end brand in 2023. So why does the website fail to reflect any of that simplistic luxury?
It's just too simple; there's no flare, no personality, no sense of organization. Is it a store? Is it a portfolio? Is it a placeholder? Is it a "contact us" site? It seems that, for a company with such a strong sense of identity, this site has no identity.
---
HS Product Reviews
Customers love what this brand creates, and so do we. The sheer quality of each glass piece can be felt in every session.

Hand-Crafted HS Glass Is Incredibly High Quality
We'll ignore the lifestyle brand products for now and focus just on the glass.
Summing it up into one (compound) word: top-notch. Higher Standards makes the best glass bongs on the market. The design is simple and effective. After all, practicality, should be a priority when it comes to product design. Reviews for these products are astounding
"The quality is amazing for the price!"
"Seriously my favorite product ever."
"The pipe is amazing, hits really good and thick glass. Already ordered more items."
As you can see, customers love these products. Nearly every review talks about the quality of the product, the thickness of the glass, the sturdiness, the price. It's instant love. And that's how we feel, too.
Is Higher Standards glass made in the USA?
Higher Standard hand crafts their glass products in the USA, yes.
Aerospaced Grinders Provide an Incredible User Experience
HS named it Aerospaced for a reason. They're crafted with aircraft-grade aluminum inside and out. The diamond-shaped teeth take your raw goods and grind them down to a fine, evenly ground herb. It provides an unbelievable smoking experience, and one you should not wait another second to discover for yourself.
Prices range between $18 and $37, depending in size and style. You can certainly find grinders for much cheaper, but nothing that matches this quality. In fact, they go head-to-head against some of the biggest names in the grinder manufacturing industry like Santa Cruz Shredders and Marley Natural.
Luckily, you can find these Aerospaced grinders on most online headshops so you don't have to buy them from the HigherStandards.com site.
Other HS Cannabis Products
What Higher Standards excels in is quality glass products. It's interesting that the company has dived so deeply into collaborating with clothing brands, skin and hair brands, and others.
In 2023, the unspoken rule for any brand is to become a lifestyle brand. That's what Higher Standards is doing. You can buy:
Candles
T-shirts
Hats
Bags
Pins
Plates
We won't fail to mention that many of these collabs involve branded pipes and other cannabis accessories. Basically, it's the same HS glass product but with a tint to the glass and a different logo. Or a fun ash tray.
These glass collaborations are all just as high quality as the standard HS products. It offers some variety to an otherwise luxuriously simple design.
---
Where to Buy HS Products Online
While we don't recommend buying from higherstandards.com, we whole-heartedly do recommend buying their products on other online headshops. These products are truly top quality and are worth every penny.
Our recommendation is to buy from:
Grasscity — this is one of our favorite online smoke shops. It doesn't carry every HS product, but you can get The Beaker (as of October 2023, it's discounted by $40) and the industry-leading Aerospaced grinder among a few other products.
Smoke Cartel — another favorite of ours. This headshop carries nearly (if not all) HS products; from glass to apparel. You'll find the HS Rig, Jonathan Adler collab line, and cleaning kits, just to name a few.
Both sites provide a much better purchasing experience with more customer benefits, trust, and overall satisfaction.
---
How Higher Standard Prices Stacks Up to the Competition
The thing is, Higher Standards doesn't have much competition when it comes to quality.
Yes, there are other luxury bong brands out there. But Higher Standards has such a monopoly on the market that their prices don't really reflect true luxury—they're just what you have to pay if you want a top of the line bong.
In comparison to other glass beaker and glass bong manufacturers, Higher Standards is above average.
As you can see, the prices aren't terrible. They're just about what you expect from a piece of equipment that was crafted with such care (and such thick glass).
---
Sales & Higher Standards Discount Codes
These products rarely go on sale, which does make sense (even if it's a bit of a bummer). You see, the brand only makes about 6 products aside from collaborations and accessories. They don't variate those products, there are no seasonal changes, there's nothing that replaces what they currently offer. That's what you get with a minimal, luxury cannabis glass bong brand.
So if you've been waiting for a sale to snag one of these incredible glass beakers, you're out of luck.
Discount Codes
But you are in luck when it comes to receiving discount codes. The brand isn't known for sending out discount codes very often, but you will receive 10% off when you sign up for emails.
That 10% discount does take the price down to a more competitive rate, and you shouldn't be needing a new Higher Standards bong anytime soon after that initial purchase.
Freebies
Maybe of the products, upon adding to cart, come with a free product. For example, adding the Higher Standard beaker also adds a 2″ grinder completely free. Who doesn't like getting free stuff—especially useful stuff.
Continuing with this example, If you were to purchase the grinder, it would cost $27. That's a pretty good deal if you need or want a new weed grinder.
These types of freebies are also a welcome addition to a brand that rarely has items on sale. It eases some of the cost and brings pleasure to the checkout experience. Or even the unboxing experience, if you were unaware that a free gift was included.
---
Social Justice Causes at Higher Standards
Higher Standards impressed us with their commitment to social justice causes.
As we all know — cannabis has been demonized for decades. As such, millions of individuals (specifically people of color) have been incarcerated because of simple marijuana possession.
Thus, it's heartening to see The Last Prisoner Project x Higher Standards. The collaboration's goal is to work towards freeing 40,000 cannabis prisoners in the United States through judicial means.
To raise funds, The Last Prisoner Project x Higher Standards collaborated to make a Heavy-Duty Spoon Pipe and the HS x LPP Shirt. All proceeds from the sales of each product are fully donated to the cause.
We believe that social justice in regard to cannabis is one of the most important causes. Therefore, we're delighted to see Higher Standards working with other notable groups to fundraise money for the common good.
Ultimately, it's not often that we see online smoke shops donate a significant amount of money to social justice projects.
---
Payments & Shipping Review for Higherstandards.com
When shopping for the best bongs online (or other cannabis paraphernalia), there are three things you want: payment options, fast and discreet shipping, and a solid return policy.
Higher Standards gets this partially right.
Debit and Credit Only
Another reason to shop for Higher Standards glass elsewhere is the lack of payment options on their own website. The accepted forms of payment include:
Credit Cards
Debit Cards
Money Orders (if paying over the phone)
That's it. Credit cards are the most common way to pay for most consumers, but the cannabis community isn't "most consumers". A business running in a niche industry should pay attention to the expectations of those niche customers.
In this case, Bitcoin payments would have been the appropriate addition. Cryptocurrency is growing in popularity in this niche, so accepting it as a form of payment would only make sense.
Discreet, Fast Shipping
Where HigherStandards.com wins is with their shipping policy.
Discreet Shipping
FedEx, FedEx Express, and USPS
Free Shipping
Paid Priority Shipping
Every package that arrives at your doorstep is wrapped discreetly. This company values your privacy and understands the importance of discretion when it comes to shipping glass bongs—especially coming from such a high-profile company.
Resale value is high which means thievery is a shadowy possibility. The best way to avoid that is to send unmarked, unlabeled packages that don't give any prying eyes info as to what's inside or where it's come from.
Free shipping takes about a week to be delivered, which is acceptable, and applies to all orders over $50 (easy to achieve). Priority takes as little as 3 days. For $20 more, though, that priority doesn't seem entirely worth it if it only saves you a day or two.
Higher Standards has warehouses in:
Florida
New York
California
Canada
One issue in 2023 is the lack of international shipping (even to Canada). At checkout, the only option available is United States. For a worldwide industry, Higher Standards is only serving a fragment of the community.
However, you can find their products on many retail websites that do ship internationally, if that's a concern for you.
Standard Refund Policy
It's not the most lenient or accommodating policy, but HS's refund and return policy is quite standard.
30 Day Return Period
Unopened, Sealed
New Condition
As we see among many bong retailers and cannabis accessory sellers, you cannot return a product if it's been opened. That leaves room for just a few reasons why you'd return it: you changed your mind about the order, or it arrived broken/defective.
---
Customer Service and Support at Higher Standards Review
This company is quite easy to get in touch with. They're not hiding behind pages and pages of links, making customers jump through hoops. Instead, all the important informations right in the footer.
Live Chat
Email
Phone Number
Social Media
Live chat appears to be the fastest way to get in touch, or at least get an issue resolved. It connects you immediately to an agent in the company's support team who will either answer questions right away or open a support ticket to handle your issues if escalation is needed.
When the live web chat isn't available, as it's only open between 10am and 6pm EST, your questions will be sent as an email to the support team who will answer during those hours.
Within some product reviews of the higherstandards.com site, many customers state how great the customer service is. That's something we expect from a high-quality brand like this, and we're happy it lives up to that higher standard (pun intended).
Lack of Reviews for Customer Service
We would be remiss if we did not reiterate the sheer lack of information on globally used, secure company review sites. On one hand, since there are no reviews and most people are inclined to write negative reviews on sites like Trustpilot or BBB, then this can be seen as a good. Similar to "no news is good news."
In that same vein, it doesn't provide much confidence in the legitimacy of the business. We know the business is real. Many customers have seen these products across the web and trust in their authenticity. But trust in the manufacturer's own site? That's yet to be seen.
---
Final Thoughts on Higher Standards 2023 Review
PROs
High-quality products
Collaborations make product line more interesting
Free, discreet shipping on most orders
Freebies included at checkout
CONs
Only accepts credit/debit cards
Above average pricing
No international shipping
Terrible, borderline untrustworthy, website
Do the pros outweigh the cons for higherstandards.com? Our answer is no.
While the brand creates beautiful, high quality products, it's a shame to see it displayed so poorly on their own website. We would rather have HS redirect customers to other retailers where the buying and browsing experience is more pleasant and straightforward.
As of 2023, buying on higherstandards.com is a messy, unorganized processes. Which is a shame considering the quality of the products and the value this brand carries. We highly recommend these products. Between glass beakers and rigs to pipes and bowls, the medical-grade borosilicate glass will last a lifetime if treated with care.

---
Better Alternatives
For a more pleasurable online shopping experience, we highly recommend browsing the following headshops:
Grasscity — Pioneer of the online smoke shop and based in Amsterdam, Grasscity is your international source for any cannabis related. Warehouses exist in Europe and North America, which means you can expect fast and affordable (even free) shipping worldwide. Browse from mid-range to high-end products, pay with virtually any payment method (including Bitcoin), and save with regular sales, discounts, and rewards.
Smoke Cartel — As one of the most popular headshops, Smoke Cartel excels in providing top-quality products. While prices hover around average, you have plenty of discount opportunities via codes and their rewards program. This, exceptional customer service, and fast international shipping make Smoke Cartel one of our top recommendations for all cannabis lovers.
Vapor.com — A comprehensive range of vaporizers and smoking accessories, as well as fast and free delivery, make Vapor.com the go-to shop for all things vape. The shop offers many savings opportunities and a price match guarantee that helps you save on every purchase no matter where in the world you are buying from.
The Best Head Shops of 2023

1. Grasscity

• Overall Best Head Shop

• Oldest Headshop & Best Reputation

• Since 2000, Based in Amsterdam, NL

• Free Stealth Worldwide Shipping

• Bitcoin Accepted!

[Read Our Review]
• Promotions & Special Offers • Pay with

Bitcoin

• Reward Program Read Our ReviewVisit Website

2. Smoke Cartel

• Best Shopping Experience

• Since 2013, Based in USA

• Stealth Worldwide Shipping

• Free Shipping in USA

[Read Our Review]
• Promotions & Special Offers • 10% Coupon Code:

CNBS

• Subscription Box • Reward Program Read Our ReviewVisit Website

3. Vapor.com

• Best Headshop for Vaporizers

• Since 2005, Based in Florida, USA

• Shipping to U.S, CA, U.K, EU, AU, & NZ

[Read Our Review]
• Promotions & Special Offers • Price Match Guarantee • Reward Program Read Our ReviewVisit Website

4. Hemper

• Best Subscription Box

• Since 2015, Based in NY, USA

• Shipping to Selected Countries

[Read Our Review]
• Sunscription Boxes • Gift Cards • Themed Boxes Read Our ReviewVisit Website

5. Allin1SmokeShop

• Best for Artistic Heady Glass

• Since 2016, Based in Florida, USA

• Stealth Worldwide Shipping

[Read Our Review]
• Promotions & Special Offers • Reward Program Read Our ReviewVisit Website
---
---
Category Pages: