Cannabis clinics and doctors are at the forefront of the medical marijuana industry, providing the services and expertise needed for patients whose symptoms can be managed through the consumption of this medicinal plant.
Many countries have decriminalized medical cannabis, allowing cannabis clinics and therapies to assist in pain management and certain medical conditions. Increasing evidence of its therapeutic benefits has prompted a consistent evolution of marijuana policies and politics around the world. As such, clinics and specialist marijuana doctors are providing an ever-expanding range of services. This is aided specially by increase in education, health solutions, guidance, and support, all firmly planting cannabis clinics as a newly-integral part of the social healthcare system.
In July 2019, more than 3 million medical card/license holders had registered across the U.S. In Canada, there are more than 360,000 registered medical marijuana patients (as of June, 2019). These numbers continue to rise with loosened cannabis regulations, boosting the economy of the medical marijuana industry. Patients who are struggling with traditional medicines or seeking complimentary therapies can now access an alternative resource to aid recovery and help manage terminal and debilitating medical conditions.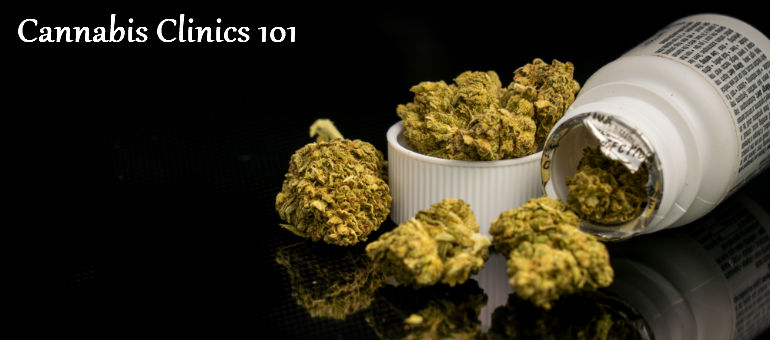 ---
The Basics
The main resources for medical cannabis treatment are clinics and doctors specializing in medical marijuana. They can issue medical marijuana cards, offer one-to-one, group, and online consultations/services, evaluate your condition, and implement and manage your prescription. While cannabis doctors often operate independently to diagnose and prescribe, clinics focus on education and applying the right treatment plan for each patient. They offer a plethora of services and information, but navigating this niche and the many resources available can be overwhelming – especially for those turning to medical marijuana for the first time.
The specific services offered vary across countries and states, depending on geography and local and federal regulations. Cannabis doctors tend to practice independently, whereas some medical marijuana clinics offer an all-encompassing experience. All should provide professional care and improve quality of life.
Industry Overview
Global changes in regulation are increasing dependence on the services provided by medical marijuana clinics and doctors. Like a domino effect, this has resulted in a huge boom in the economy of the medical marijuana industry as a whole. The U.S. medical marijuana industry is predicted to grow to $12.5 billion (USD) by 2025, while Canada's medical marijuana industry is predicted to grow to $2.5 billion (CAD) by the same year. As the industry expands, governments and societies will reap both the economic and health benefits from its decriminalization. The burgeoning medical cannabis market increasingly offers professional care and improved quality of life by offering patients treatment and education.
Cannabis Clinics vs Cannabis Doctors
Cannabis doctors and clinics generally play separate roles. The services each provides can vastly differ depending on the geography of the patient and their needs.
While some countries permit self-referral, patients are generally referred through a GP; a certified cannabis doctor will likely be involved as the first point-of-contact. However, as the industry develops, many cannabis clinics now have doctors on staff as part of a comprehensive and complete service.
Below is a list of the current types of services clinics and doctors may provide patients. Please note that some services aren't available in certain jurisdictions, states, counties, and countries; it's advisable for patients to research applicable regulations in their local area.
Cannabis Clinics:
Provide specialized marijuana healthcare, offering guidance and education to patients who have been granted cards/prescriptions through procurement, ongoing access, and treatment.
Ongoing patient assessment and evaluation.
Specialist healthcare professionals and medical marijuana experts.
Access to your medication.
Introduction to licensed cannabis providers.
One-on-one consultations.
Medical cannabis education on strains, effects, dosages, authorized amounts, consumables, laws, by-laws, local communities, history, medical conditions, benefits, and more.
Treatment and therapy plans.
Continuity of care (follow-up appointments, group workshops, online face-to-face sessions, home visits, consultations with patients' families and physicians).
Advice and assistance with renewal of medical card/prescriptions.
Delivery services.
Comprehensive online medical marijuana services such as educational portals, daily blogs, law guides, community/global news, links, articles, group forums, personal online accounts, and more.
Legal advice.
Most cannabis clinics have an online presence offering the same or similar benefits as their physical spaces, while some clinics may exclusively operate online.
Cannabis Doctors:
Assess the patients' condition and advise whether cannabis may serve as a beneficial treatment plan. They have the authority to approve and renew the recommendation of patients' medical marijuana cards/prescriptions.
Assessment and evaluation for license/prescription approval and renewal.
Signing and issuing of appropriate government paperwork for prescription procurement.
Specialist cannabis doctors with specific expertise in different patient conditions.
Online services (assessment, evaluation, issuing/renewing medical marijuana licenses, and more).
Medical cannabis educational resources.
Home visits.
Not authorized to sell/provide medical marijuana.
Cannabis doctors will not refer patients to clinics, as they are usually bound by local laws.
Medical Marijuana, Clinics, And The Law
Medical marijuana clinics and doctors are more widely available than ever, but still, the ways in which medical cannabis clinics can be used and accessed are entirely dependent on local regulations. Patients should seek out the particular laws relating to what types of medical care and services are available in their area. Despite contradicting federal law, medical marijuana has been decriminalized across America (although state regulations may vary), however, it's still possible for patients to get prosecuted for possession in some jurisdictions.
Tip: Local marijuana organizations and communities usually offer the best resources for patients to learn their rights, both local and federal.
---
Patient Assessment and Evaluation Services
Generally, initial patient assessment and evaluation is carried out by specialized cannabis doctors preceding referral to medical marijuana clinics for procurement and ongoing treatment. While some clinics also offer assessment and evaluation for new patients, they are generally located in areas where medicinal consumption is fully legalized and licensed. Primarily, marijuana clinics will only treat patients who have been referred for further treatment following their initial assessment.
Initial Assessment And Evaluation
Typically provided by marijuana doctors, this service includes:
An examination of the medical condition.
Diagnosis in some cases, but patient may be advised to visit an appropriate medical professional for official diagnosis before consideration.
US medical marijuana doctors give recommendations. In the UK, prescription and procurement occurs through the NHS and private cannabis clinics.
For renewal, patients will need to be assessed at least once a year.
Ongoing Assessment Services
Once patients are approved, medical cannabis clinics will then conduct further evaluation of their individual needs and conditions. This dictates what strain and dosage is best for the patient, the best method of administering, and what level of education and support is required. They may also offer group services or connections to local community organizations.
Medical marijuana clinic professionals are able to gauge the most effective therapy through a patient's diagnosis, current medications, and history. They will create a treatment plan and organize one-on-one visits to ensure the its effectiveness. The particular services and ongoing assessments for patients depend upon many factors, from local laws to their particular condition(s) and tolerance levels.
---
Obtaining/Renewing a Medical Marijuana Card/Prescription
The procedure for obtaining and renewing a card or prescription varies across countries. However, patients generally need to be referred by a GP or other medical professional. Following, their need will be assessed and approved by a specialized marijuana doctor. Most medical cannabis doctors and clinics operate on a referral basis, excluding countries like Canada where laws allow patients to self-refer if they're over the age of 25.
Referral
Speak with a GP or other medical professional or contact a referral service or local organization. They can advise and help organize the requisite assessments and evaluations. If advocated by a cannabis doctor, the patient will be approved for a medical card or license, and will then be able to procure the services of medical cannabis clinics, pharmacies, and recreational dispensaries (dependent on local law) for a twelve month period.
Renewal
In the US, patients should renew a medical card or license at least 30 days before expiry. Exact terms are defined by state laws and regulatory bodies, but the license must be renewed if patients are still in need of ongoing medical marijuana treatment. Another assessment is required prior to renewal. Patients are advised to return to the same cannabis doctor, so they can easily retain records of previous consultations and medical history. Renewal isn't guaranteed, dependent on the individual patient's conditions and response to treatment. Medical marijuana clinics play an integral role in a patient's ongoing assessment and treatment.
For more information about MMJ cards, read our manual: How to Apply for a Medical Marijuana Card in the US.
---
Advanced Consultation and Treatment Services
Integrating new regimens into a patient's life may involve specialized services. Most medical marijuana clinics offer dedicated services for patients who have a particular illness or little-to-no experience with cannabis therapies. They provide education to patients, advice to industry professionals, accredited practitioners specializing in specific medical fields/conditions, and law specialists that hone patients' and communities' experiences.
One-on-one and group services
As part of a patient's ongoing treatment with medical marijuana, clinics offer (and may require) regular one-on-one visits to assess the patient's progress. Group events and forums offer access to a multitude of experiences, insights, and resources. Ongoing interaction strengthens patient confidence and brings communities together, ensuring patients receive the highest quality of care.
Identifying the right strain and dosage
Choosing the correct strain and proper dosage is imperative for successful treatment. Marijuana clinics provide much-needed guidance for harnessing the most beneficial effects. Effects and side effects differ greatly depending on the strain. In addition, patient response to treatment depends on their condition, experience, and cannabis clinic consultations.
Serving patients with mobility issues
Patients with access and mobility issues may be provided with home visits by cannabis doctors or other medical professionals from local or national clinics. Patients can also benefit from the rise of extensive online services, offering total care packages, step-by-step guidance, delivery services, access, and education.
Consultation services for business
Globally-changing laws for both patients and recreational users have led to overhauls in mainstream industry regulations, drug-testing policies, educational programs, federal banking laws, and more. Marijuana clinics play an important role in educating local, national, and global businesses on integrating policy changes and patient needs.
---
Choosing the Right Cannabis Clinic
Which cannabis clinic is best for a given patient depends on many factors. There are a multitude of services and options to choose from, while a patient's locality, condition, and tolerance will denote the types of services available. States like California (the first state to legalize medical marijuana in 1996) have increased options for patients over others that have decriminalized more recently.
How to choose a clinic
Choosing a marijuana clinic doesn't have to be an overwhelming experience. Many patients are referred by a GP, while others can self-refer. The most important factor is that the clinic is licensed with qualified professionals on staff, and offer the specific services required for the patient's condition and lifestyle. Local organizations and online communities are a great source for patients to gauge what is available and how to access their chosen cannabis clinics.
Cost of procuring medical marijuana services
In some places, medical marijuana clinics serve as one-stop shops for any and all medical marijuana needs, while others provide far more limited services. The cost of authorization from medical cannabis clinics or doctors varies greatly by location; in the UK, an initial cannabis doctor consultation is typically around $400, with ongoing assessments from about $150. In the US, the cost of approval is around $60-$100, and many ongoing services carry no extra fees. However, prescriptions pose an additional cost. The cost for a patient depends on the amount of cannabis they can legally possess for medical reasons. The price also varies by clinic, so education is key for patients. There are countries/states that allow patients to grow their own marijuana, reducing treatment costs, while others have strict laws on how and where patients can access cannabis clinics and fill their prescriptions.
How to find certified medical cannabis clinics and doctors
There are many online information resources, government reports, and affiliate sites relating to laws, clinics, doctors, patient rates, number of licensed medical marijuana clinics/doctors, and much more.
Most clinics and doctors have some sort of online presence; although if they don't, this doesn't mean they're not legitimate. Check their qualifications and licenses, which should be valid, up-to-date, and readily available for your review. Testimonies and independent reviews offer valuable insight into a provider's reputation (Google reviews for example). If you are referred directly through a GP or medical service program, rest assured that the marijuana clinic and cannabis doctor they provide will be legitimate and government-regulated.
---
Cannabis Clinics and the Future
Public opinion and regulations surrounding this once-deemed 'gateway drug' have changed drastically in recent years. The need for medical marijuana clinics, experts, consultants, and doctors is ubiquitous; people from all walks of life benefit from this holistic treatment.
While governments and local authorities benefit from economic gains, patients are receiving fairer and improved access to marijuana clinics and therapies. While some countries and states already enjoy booming industries with robust regulations and abundant resources, others have yet to decriminalize medical marijuana use. Ultimately, the opportunity to access medical marijuana clinics and doctors and the quality of service depends on where the patient resides.
Watch: Cannabis Clinics After Legalization
Watch: Private Cannabis Clinics – BBC News
---
Category Pages: