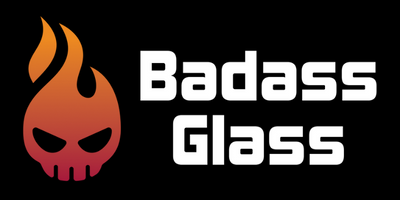 Since 2013, Based in NYC, NY, USA
Shipping to USA and Canada
Credit Card, Gift Cards, USPS Money Orders
---
Badass Glass offers everything a smoker could want to add style and function to their experience.
From intricate designs and bold colors to smoke-enhancing accessories, Badass Glass has it all. Whether you're looking for something unique and eye-catching, or simply a great way to enjoy your favorite herb, Badass Glass headshop is the perfect place to find exactly what you need.
And with their wide range of prices, you can be sure that you're getting the best bang for your buck no matter how much you're willing to spend.
After spending some time reworking their shop, Badass Glass should be one on your radar.
---
Badass Glass Background Info and Customer Ratings
Every headshop has an origin story. Badass Glass' stems from a true love for glass and glassblowing. While many online headshops stock their shelves with whatever they get their hands one, Badass Glass headshop takes it to another level by hand-selecting and inspecting each piece that goes on sale.
2013 is When it All Began.
Well, maybe a bit before. March of 2013 is when the brand became official, but the driving force behind the business—the passion for bongs, rigs, and pipes—started long before.
Badass Glass was founded by two brothers who promoted local glassblowers and glass products while in university. The online headshop stemmed from that, and here we are today.
Just as when it started a decade ago, Badass Glass is based out of Buena Park, CA.
16K Reviews and Counting.
On the official Badass Glass website, there are over 16,000 reviews, all of which are 5 stars. We are more than a bit skeptical about the lack of screening for customer reviews. But that doesn't mean these reviews aren't honest or from happy customers, it just means the site likely isn't displaying reviews from customers with negative experiences.
What we can take from this is that there have been over 16 thousand experiences on this site, which means thousands of active smokers shop here.
Heading over to Trustpilot, we can see a score of 2.4/5 stars based on 6 reviews. Clearly, Trustpilot is not a go-to source for customer reviews or remarks on satisfaction. But as we can see from these examples, there is a love-it-or-hate-it attitude towards the brand.
There's no excuse for a lack of communication when it comes to e-commerce. Customers do need to know what is going on with their order, i.e., whether it's being shipped, processed, canceled, or something else.
But we can also understand that this is an online headshop run by a small group of people. The takeaway is that there is room for improvement on the communications side of things, but the lack of negative reviews or customer experiences does speak to the quality of the brand.
---
Badass Glass Product Reviews and Shopping Experience
What we like about Badass Glass is that they're keeping it simple and sticking to what they know: solid, quality glass. No frills, no expansions, just glass.
Hand-selection of 300 Glass Bongs, Rigs, and Pipes.
Keeping to their word, the Badass Glass headshop does appear to be selective in what they sell. 300 is no small number, but it's small in comparison to many other top online headshops that sell well over 1000 products.
You'll find glass from big brands likes:
MAV Glass
Empire Glassworks
Boss Glass
The featured products are from smaller, local glassblowers. And that's kind of the point, isn't it? Badass Glass started out with two guys promoting works from local counterculture glassblowers. Why wouldn't that continue today?

Sophisticated To Outright Quirky Designs.
Badass Glass knows there's no one-size-fits all when it comes to bongs, rigs, and pipes. Some folks like it weird and wonderful, others like it smooth and simple. This headshop provides a bit of both.
Here are a few examples of some of the more interesting shapes we've come across:
Teddy Bear Pipe
Octopus Bong
Sriracha hot Sauce Dab Rig
And then we have a few simple ones that still prove interesting:
Baseball Bat Steamroller
Water Bottle Bong
Bougie Glass Orb Dab Rig
We really like the range of expressions you'll find here, none of which look cheap in quality or design.
Smoking Accessories Focus on Glass, Too.
Typically in the accessories department, we see a lot of branding—ashtrays, hoodies, bags, lighters. Yes, of course you're going to find lighters and rolling trays here. But none of them are branded. You won't find the Badass Glass logo obnoxiously posted on every possible tool. It's refreshing.
Instead, accessories here are mostly glass-related:
Ash catchers
Joint adapters
Converters
Dab nails
Carb caps
Quartz bangers
You'll find way more glass than you will anything else. Though you will find rolling papers and the like from top brands like RAW and OCB if you like.
Badass Glass is proving to keep their focus on their craft at every turn.
Well-organized Shopping Experience.
You won't have any trouble finding what you need here; the Badass Glass headshop is well-organized in every category.
There are no filters when browsing products, but you won't need them anyway. Each category is broken down into respective sub-categories based on price, utility, style, shape—you name it.
While we've seen better outlines that allow for an easier browsing experience, we can't complain about Badass Glass's UX.
The only real downer is the lack of a dedicated sales tab on the menu bar, but that doesn't mean it's difficult finding cheap products or those on sale.
A Low-to-Mid Range of Pricing Options, for Extra-cheap to Incredibly Expensive.
Prices probably won't shock you, no matter which direction you're looking.
Bongs as low as $23 but as high as $430. Dab rigs ranging from $32 to $340. $9 to $150 pipes. There's nothing here that will make your eyes bulge (unless it's one of the humorous designs).
Smokers who want to start a collection should look here. There are some great products that would do well on a collector's shelf—all without breaking the bank.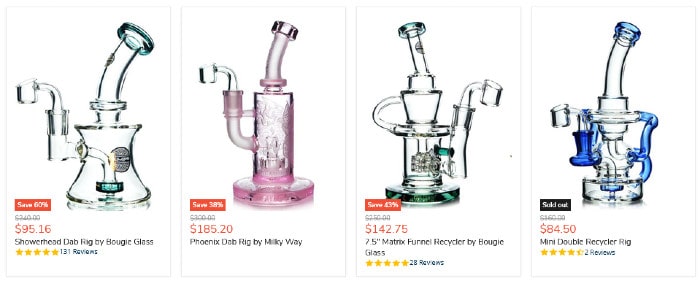 ---
Sales, Deals, and Badass Glass Discounts
With no dedicated sales tab, you might think finding a good deal is tough. While that would make it a lot easier when navigating from within the site, it's actually quite easy to find the sales products you want.
Seasonal Sales Categories on the Homepage.
At the time of writing this Badass Glass review, there were 3 whole sales sections to browse directly from the homeage:
Bong Deals
Dab Rig Deals
Stocking Stuffers
Can't complain about that! Who wouldn't want a flower pot pipe in their holiday (or after-holiday) stocking?
No Deals Filter Within a Category.
Let's say you're in the Cyclone Bongs section of BadassGlass headshop and you want to see which ones are on sale. The only way to do that is to browse through each page and look for the red markdown signage on each one.
Granted, there's generally only about 3 pages per category, so you won't have to sort through very much, but it is still an easily remedied hassle.
Products on Sale Are More Than Just Clearing Inventory.
Let's face it, most sales items throughout the year are for the purpose of clearing stock. We won't complain about anything going on sale, but we can still face the facts.
Here, however, things take a turn. Products on sale are actually good. How do we know? The easy answer is because most of the sales products at the time of this review have multiple reviews.
If you're waiting for quality glass to go on sale, keep an eye on BadassGlass.com. They might just have what you're looking for.
Badass Glass Promo Codes at the Top of the Screen.
Look up! It might just save you 15% or (no, this isn't a Geico ad).
Banners are put to good use on this headshop, potentially giving you quite the discount. What makes it even better is that this promo banner follows you across every page on the site. We've seen many headshops only display promos on the homepage. Here, you get it no matter what page you're on.
Otherwise, don't expect too many promo codes coming your way. With prices like these, though, you really won't need a coupon to save big.
In-house Rewards Program Lets You Save Easily.
We love when a headshop has a rewards program. It really makes the experience that much more…well, rewarding. Not only do you get a good bong or pipe, but you get points on the side? Count us in!
Here's how to earn:
Sign up
Like on Facebook
Follow on Instagram
Place an order
Every 100 points equals $1 that you can use on your next order. So while you might not always have a promo code on hand, you can still get a mini discount just by being a loyal customer.
---
Shipping, Returns, and Payments on BadassGlass.com Review
It's 2023 which means the world has certain expectations when it comes to shipping products, accepting payments, and making returns. BadassGlass mostly lives up to the standard, but there's room for improvement.
Shipping Only in North America.
We hope you like in either the USA or Canada because BadassGlass does not ship anywhere else.
The company is based out of California, so it makes sense that they serve North America well. But leaving Europe and Asia out of the equation skips entire markets—ones in which the cannabis community would benefit from the prices and uniqueness of products on BadassGlass.com.
Shipping prices are as follows:
Free (as a holiday promotion or for orders above $20)
10$ 2-3 days from USPS
$15 2-5 days from UPS or FedEx
$45 2nd day from UPS or FedEx
$120 next day from UPS
Very Lenient Return Policy.
You have 30 full days to return items if you so wish. That's an entire month! We're usually happy to see two weeks, but Badass Glass has gone above and beyond—literally.
The policy is only valid for unused items and items that arrive broken or damaged. You MUST take pictures of the product if it arrives broken, otherwise you risk not receiving the refund.
Return labels are pre-paid, so all you have to do is package it back up and hand it over to the psot office! You should receive the refund within 1 day of Badass Glass receiving the package.
Credit Cards or BNPL, Your Choice.
We appreciate a good alternative payment method, and partnering up with Sezzle to offer Buy Now Pay Later service is a great setup. In total, you'll find the following payment methods:
Credit card (Visa, Mastercard, Amex, Discover)
Buy now pay later
No crypto, no PayPal. For 2023, we would like to see cryptocurrency payment options available later in the year. For now, we just have the standard credit card method.
---
Customer Service Review for BadassGlass.com
Customer service makes or breaks a brand. With plenty of customer service outlets at the ready, there's no way you can't get in touch with Badass Glass—and no reason for them not to respond.
Phone, Live Chat, Email—Take Your Pick.
Badass Glass isn't hiding from you or your potential issues. In fact, they encourage you to communicate with them through one of their many active customer service platforms:
Floating live chat
Facebook chat
Instagram messages
Email
Phone number
Contact form
Really, you have no excuse not to get in touch with them if you need to.
Many Comments on Responsiveness and Delivery.
Looking through reviews, you'll find more often than not many people claiming to have received their deliveries quickly in highly protective packaging.
This helps avoid returns and refunds for both the business and the customer. But I think I speak for us all when I say there's nothing like opening a box to find it perfectly packaged. Badass Glass knows what they're doing when it comes to packaging glass.
There are also several mentions on both the responsiveness and lack thereof.
Now that the pandemic no longer has such a stronghold on delivery issues, there should be no problems placing orders and receiving products on time. While some folks still experience a lack of communication regarding their orders, we expect that to be a focus for change on BadassGlass.com.
---
Final Thoughts on Badass Glass
PROs
Free shipping is easy to get
Low to mid-range pricing
Quality deals
Rewards program
Interesting, quality products
CONs
Lack of alternative payment options
Order communication needs improvement
No international shipping
This is one headshop you don't want to skip out on. While it's not perfect (and we're a bit skeptical of the "largest online headshop" claim), we see great value in the products they stock.
There's no doubt Badass Glass cares for the glass they stock. We recommend keeping tabs on this one for great sales and interesting products they have in store for 2023.
---
Better Alternatives
For a more pleasurable online shopping experience, we highly recommend browsing the following headshops:
Grasscity — Pioneer of the online smoke shop and based in Amsterdam, Grasscity is your international source for any cannabis related. Warehouses exist in Europe and North America, which means you can expect fast and affordable (even free) shipping worldwide. Browse from mid-range to high-end products, pay with virtually any payment method (including Bitcoin), and save with regular sales, discounts, and rewards.
Smoke Cartel — As one of the most popular headshops, Smoke Cartel excels in providing top-quality products. While prices hover around average, you have plenty of discount opportunities via codes and their rewards program. This, exceptional customer service, and fast international shipping make Smoke Cartel one of our top recommendations for all cannabis lovers.
Vapor.com — A comprehensive range of vaporizers and smoking accessories, as well as fast and free delivery, make Vapor.com the go-to shop for all things vape. The shop offers many savings opportunities and a price match guarantee that helps you save on every purchase no matter where in the world you are buying from.
The Best Head Shops of 2023

1. Grasscity

• Overall Best Head Shop

• Oldest Headshop & Best Reputation

• Since 2000, Based in Amsterdam, NL

• Free Stealth Worldwide Shipping

• Bitcoin Accepted!

[Read Our Review]
• Promotions & Special Offers • Pay with

Bitcoin

• Reward Program Read Our ReviewVisit Website

2. Smoke Cartel

• Best Shopping Experience

• Since 2013, Based in USA

• Stealth Worldwide Shipping

• Free Shipping in USA

[Read Our Review]
• Promotions & Special Offers • 10% Coupon Code:

CNBS

• Subscription Box • Reward Program Read Our ReviewVisit Website

3. Vapor.com

• Best Headshop for Vaporizers

• Since 2005, Based in Florida, USA

• Shipping to U.S, CA, U.K, EU, AU, & NZ

[Read Our Review]
• Promotions & Special Offers • Price Match Guarantee • Reward Program Read Our ReviewVisit Website

4. Hemper

• Best Subscription Box

• Since 2015, Based in NY, USA

• Shipping to Selected Countries

[Read Our Review]
• Sunscription Boxes • Gift Cards • Themed Boxes Read Our ReviewVisit Website

5. Allin1SmokeShop

• Best for Artistic Heady Glass

• Since 2016, Based in Florida, USA

• Stealth Worldwide Shipping

[Read Our Review]
• Promotions & Special Offers • Reward Program Read Our ReviewVisit Website
---
---
Category Pages: