---
Hemper.co
is leading the way when it comes to headshop subscription box. But are the contents worthwhile, the price affordable, and—possibly most important—are these boxes saving customers money?
These are the questions we sought to find answers for. Hemper.co is not just a cannabis subscription box provider. The company has an overwhelming amount of products to choose from for individual purchase. And while an expansive stock can be attractive, it's also a double-edged sword.
Quick Links – Hemper Online Head Shop:
---
Hemper History and Background
Hemper.co was founded by three men: Bryan Gerber, Ravjot Bhasin, and Henry Kochnar in 2015. These founders saw the need for convenience, desire, and need for cannabis products with a twist—a subscription basis.
There are many online headshops from which to shop, so creating Hemper as simply another online cannabis-related store would only position itself as a yet another fish in a small pond in a niche industry. But as a subscription? That was new.
Where is Hemper located?
Hemper is based out of Hauppauge, New York where it was founded.
What do consumers say about Hemper?
We believe this can be broken down into halves: pre-COVID and post-COVID, because sentiment about this online headshop and subscription business has changed dramatically over these past couple years.
Post-COVID Hemper Reputation
Today, reputation is mixed. When looking at reviews from reputable sites like Trustpilot, we can see that most complains stem from customer service and shipping. On their own website, reviews are raving (as expected).
We don't know how they vet reviews on their site or if they intentionally remove negative ones, so it isn't fair to include these 23,000 5-star reviews at face value. However, what we can take from that is:
Out of the number of Hemper.co customers, 23,000 of them were willing to publish a positive review.
These reviews are specifically for products sold on Hemper. While they may include some details about the customer experience, the purpose is to review the product and not the business.
The products for sale on Hemper.co headshop are of good quality.
Pre-COVID Hemper Reputation
Great! If we needed to sum it up in one word, that's what we would say. Pre-COVID, Hemper.co shipped worldwide (except a select few countries like Australia). People were on board with the idea of having a subscription box for their smoke sessions, and they could trust that those packages would arrive on time and in discreet packaging.
Reputation Summary
We believe Hemper.co is a trustworthy business and website. Just like with any company today, product acquisition and shipping remains affected. In 2023, while we feel like the pandemic is over, it isn't really. The effects on shipping companies like FedEx and USPS are still felt when making purchases online.
---
Hemper.co Overall Product Review
So much to choose from…we hope you came to this site with something specific in mind. Otherwise, you might be clicking around for the next few hours.
For a company that promotes itself as a curated experience, there sure are a lot of products to choose from. A solid selection to choose from is perfect, but when you start mudding up the offerings with too many variations, the experience becomes negative in a jiffy.
BUT—and it's a big but—if you have the time and want to put in the effort, the products they offer are more-often-than-not rated by customers, and those ratings are on the higher end. We'll get into some details and examples below.
Too Much to Choose From…or Curated Overflow?
Let's take a deep dive into one of the sections for a moment just to give you an idea of what we mean: Bongs.
There are 9 pages of bongs. Each page has 20 products, which means Hemper offers 180 bongs for sale. If we told you that from the get-go, would you think this site is an Amazon competitor or a curator of cannabis goods? We're betting on the former.
But seriously go to that page and take a quick look. The products are fun. They're interesting. Silly, at times, but 100% unique. Almost as if they're selling to collectors, not just smokers. And that's because Hemper produces their own products and sells them alongside other big names.
You can find other top brands in the site's other categories, too, like RAW, DaVinci, and OCB.
You'll also find a wide variety of CBD products that you can use with the plethora of concentrate vaporizers, vape pens, and desktop vaporizers. Hemper.co is not an authorized retailer of PAX.
Hemper Brand Glass Products Review
As its own brand, we feel it's necessary to give our review of the quality and pricing of the products they offer.
Quality – Build quality on glass pipes, dab rings, and bongs are excellent. There are no concerns of heightened fragility, poor structure, or poor airflow.
Style – Again, these products seem to be geared towards collectors. Anyone can purchase, of course (I would personally love to have this rubber ducky bong). They're creative and artistic; there's a model for any personality.
Price – Prices are competitive, to say the least. We don't believe any one piece is overpriced, even when they reach the pricier end of the spectrum.
Weed Subscription Box 2023 Review
That's a bit misleading, as they don't actually sell weed (that would be illegal with current federal regulation). Instead, they sell headshop paraphernalia essentials. Things like:
Rolling Papers
Bongs
One-hitters
Lighters
Bowls
It's honestly impressive what they fit into a single subscription box—and for the price. The most expensive box costs $150 (plus shipping) but comes with over $300 worth of high-quality products.
The cheapest box is just $10 and comes with the essentials—no flare, no fuss.
No matter which box you buy, you'll find use for the products within. None of the subscriptions they offer have filler products or undesirable paraphernalia. For one thing, you can see what comes in each box. If it doesn't appeal to you then don't buy it.
Second, reviews for each provide insight into how customers feel. We can safely assume if there is negative sentiment around any of these boxes, it would be published either on their own site, Trustpilot, or BBB. The results are resounding positivity. Hemper has a really good thing going for it with these subscriptions.
Final notes:
Subscriptions occur monthly, bimonthly, or trimonthly.
Discounts are applied if multiple months are purchases at one time.
---
Sales and Hemper.co Discounts
We all love a good discount, and Hemper doesn't disappoint.
As mentioned, there are several subscription boxes available to buy at varying price points. The Cleaning Subscription Box is available as a one-time purchase as well as a subscription. We mention this one, specifically because it's the only one that outright tells you that you can purchase it just this once. The Hemper Core and The Hemper Pack can also be purchased once, but you have to choose "0 Months" as the frequency. Strange.
At any rate, every box contains a series of products that will absolutely save the customer money IF they are interested in 75% of the products within the box.
Hemper also has other discounts available, though the headshop Subscription Boxes are the best deals you'll find here.
Hemper Subscriptions (Not Boxes)
Confusingly, but also convenient, you can subscribe to various products on the Hemper smoke shop.
It's reminiscent of the Amazon version of subscription products, and it's useful if you need a refill of these items often. Things like cleaning products, rolling papers, filter tips, etc. That's what you'll find in this section (i.e., you're not getting a "refill" on a pineapple bong).
What's more impressive is that not only are Hemper's own products on this list, but other brands as well.
We point this out because it's not just Hemper wanting to promote and sell their own brand. They're willing to give you a subscription rate on other brands you likely buy from.
Subscriptions can be sent every 1, 2, or 3 months.
Other Hemper Sales
It seems like Hemper wants you to go all on in the subscription box model. We say this because, yes it's a good deal and yes there are products on sale, but those products are fairly difficult to get to. It seems like the company would rather have you give in and purchase a box instead of find a single item for sale.
Speaking of boxes, yet again, there are Theme Boxes that offer X dollars off the collection. The other difference between these theme boxes and the others is that you can't subscribe.
While most sites will have a "Sales & Deals" section, Hemper chooses to hide their sales items within a few menus. It's not a deal breaker, but it is an annoyance.

---
Acceptable Payments, Shipping, and Returns
The payments arena is a big fail on Hemper.co. We know sites that sell cannabis paraphernalia aren't given the same treatment as other industries, meaning services like PayPal are a bit leery. But there's got to be more here.
Only Credit Cards Are Accepted on Hemper.co
The only way to pay on this site is with a credit/debit card. That's quite surprising given the ease of being able to accept ACH transfers or even Buy Now Pay Later services. But no, Hemper is keeping it simple: just cards, please.
The good news is that they accept cards on every network:
Visa
Mastercard
American Express
Discover
JCB
That last one is a bit…obscure, but great for shoppers in Japan! Oh wait…they don't ship to Japan.
Not even Bitcoin payments are accepted here. Cryptocurrency is an increasingly popular choice among customers of sites like Hemper, and they're not as difficult to offer as other payment services to be approved for.
---
Worldwide Shipping…to Limited Countries
Technically, Hemper does ship internationally. Maybe that's where they get the concept of "worldwide shipping" they proudly display on their homepage, but in reality, they only ship to a select few countries—which is better than one.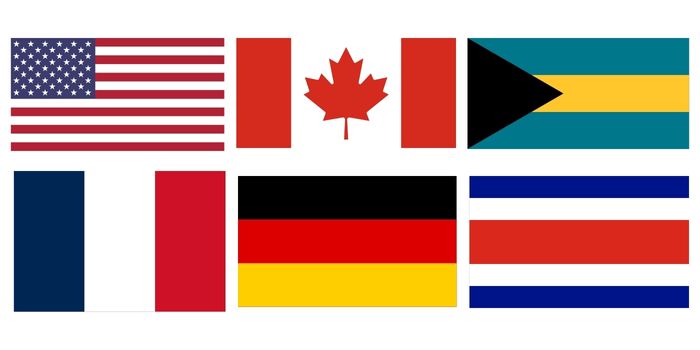 United States (including Hawaii and Alaska)
Canada
Bahamas
France
Germany
Costa Rica
It's not a bad selection at all. But not worth of worldwide status just yet.
There are some other nuggets of information we believe you should know regarding their shipping policy (not related to refunds):
Subscription boxes can take up to 15 days to ship out or receive tracking info.
Standard orders can take up to 5 days to receive tracking info.
Shipping isn't free.
Discreet packaging is present for every purchase.
The only distribution center for Hemper headshop is located in Nevada.
Hemper.co Returns and Refunds
The terms regarding refunds are particularly strict for Hemper. We're not sure if it's a health and safety measure or because they simply don't want to give you your money back. Speculation aside, the refund process is abysmal.
Returns MUST be made within 7 days of receiving the delivery.
Missing order items MUST be reported within 2 days.
Vapes, cleaning products, and rolling papers cannot be returned.
A 50% restocking fee can (re: will) be applied
Refunds are issued as store credit ONLY
You must provide your own return label
You cannot drop off the product at their office/distribution center
That's a lot of reason to NOT return a product, and it's pretty deterring from even making the initial purchase. It sounds like punishment, even when Hemper is the one at fault.
---
2023 Customer Service Review for Hemper
Right off the bat, it looks like Hemper doesn't want you to contact them. In the footer of the site, there are links to every social network and email. Easy enough. But how many people look there for contact info? Especially considering the big "Support" button in the header.
Not the sound like we're overanalyzing the website design, but if a company wants to offer customer support, then they make it known. Hemper doesn't do that.
In fact, clicking support leads to a self-service page of FAQ-style sections and links. Most people want self-service, but sometimes you need to actually get in touch. Refunds, payment questions, product information, other queries. How do they happen?
The point is that adding these extra layers in front of customer support access only angers the customer more, resulting in failed purchases and public complaints. We can see that clearing on BBB, Trustpilot, and SiteJabber.
Also, customer support is very willing to respond in a matter of hours when the questions and information are positive. Negative information, like delays and not being able to issue a refund, can take days—if at all.
---
Final Thoughts on Hemper.co
PROs
Clever and creative selection of glass paraphernalia that's updated regularly.
Subscription boxes are filled with products you'll actually want.
Discreet shipping on all orders.
Internationally available (even if it is limited).
Competitive prices along with various discounts.
CONs
No free shipping.
Long processing/shipping times.
Terrible refund/return policies.
No payment method other than credit cards.
Potentially overwhelming selection of goods.
Hemper.co is unapologetically for weed lovers. The products found are useful and whimsical, the subscription offerings are an outstanding foray into the online cannabis industry, and pricing is positively competitive.
Poor customer service, abysmal return/refund policies, and charged shipping could shatter the bridge between potential customers and lifelong brand loyalists.
Quick Links – Hemper Online Head Shop:
The Best Head Shops of 2023

1. Grasscity

• Overall Best Head Shop

• Oldest Headshop & Best Reputation

• Since 2000, Based in Amsterdam, NL

• Free Stealth Worldwide Shipping

• Bitcoin Accepted!

[Read Our Review]
• Promotions & Special Offers • Pay with

Bitcoin

• Reward Program Read Our ReviewVisit Website

2. Smoke Cartel

• Best Shopping Experience

• Since 2013, Based in USA

• Stealth Worldwide Shipping

• Free Shipping in USA

[Read Our Review]
• Promotions & Special Offers • 10% Coupon Code:

CNBS

• Subscription Box • Reward Program Read Our ReviewVisit Website

3. Vapor.com

• Best Headshop for Vaporizers

• Since 2005, Based in Florida, USA

• Shipping to U.S, CA, U.K, EU, AU, & NZ

[Read Our Review]
• Promotions & Special Offers • Price Match Guarantee • Reward Program Read Our ReviewVisit Website

4. Hemper

• Best Subscription Box

• Since 2015, Based in NY, USA

• Shipping to Selected Countries

[Read Our Review]
• Sunscription Boxes • Gift Cards • Themed Boxes Read Our ReviewVisit Website

5. Allin1SmokeShop

• Best for Artistic Heady Glass

• Since 2016, Based in Florida, USA

• Stealth Worldwide Shipping

[Read Our Review]
• Promotions & Special Offers • Reward Program Read Our ReviewVisit Website
---
---
Category Pages: