Wedding Cake, also known as "Pink Cookies", is the perfect addition to any noteworthy garden. Seeds are easy to grow, require a reasonable amount of space, and give you an incredible yield. This indica-dominant strain is crossbred between Cherry Pie and Girl Scout Cookies, easy to grow, and grows well both indoor and outdoor.
The Wedding Cake strain is a medicinal warrior that gives you complete relaxation with a hint of euphoria. Users experience powerful THC content paired with hybrid personality. The best part? Snow-capped frosted trichomes that provide an oh-so-sugary smoke.
The whereabouts of this decadent strain have been shrouded in secret, but the secret is out with Wedding Cake recently snatching multiple Cannabis Cup Awards. Now growers can buy Wedding Cake seeds from plenty of reputable sources all over the internet.
Fall in love with cannabis all over again, cake is served, come get a slice!
---
The Best Wedding Cake Seeds to Buy Online
---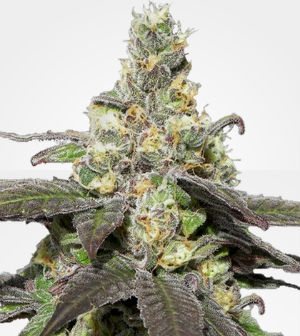 Feminized Seeds, 22-25% THC
Indica Dominant, Easy to Grow
500-600g/m², Flowering in 8-10 Weeks
Cup Winner, Strong Vanilla Flavor
Balanced Uplifting High, Full Body Buzz
Suitable for Indoor and Outdoor
MSNL Wedding Cake seeds, also known as "Pink Cookies" or "Birthday Cake" are a cross between Girl Scout Cookies and Cherry Pie.
This Wedding Cake version features a staggering THC content of 22-25%. The flavor profile is outrageous in character with smoke that benefits from hints of vanilla and an earthy exhale that leaves consumers in awe.
You can expect a roller coaster of effects starting with an uplifted and euphoric feel followed by extraordinary relaxation and medical alleviation.
These seeds can be grown indoors or outdoors and take 8-10 weeks to flower. Outdoor growers (and experienced indoor growers) can expect a bountiful harvest in late September giving a yield up to 500-600g/m², while most indoor growers will probably hit closer to 450g/m².
MSNL feminized wedding cake plants are medium sized, ranging from 100cm to 150cm usually, but some phenos might reach higher and stretch like a sativa strain if given enough light (and space).
Buy Online: MSNL Wedding Cake Feminized Seeds – Shipping Worldwide.

---
Growing Wedding Cake Seeds
Wedding Cake seeds are great for beginner to intermediate growers. Thanks to their indica dominance, they require a moderate amount of space to grow and produce thick and bushy buds. Being indica heavy, they're also resistant to pests and diseases. This saves growers times by cutting back on overall plant maintenance. The high yield and wonderful benefits of this bud makes it a must-grow for anybody looking to enhance their inventory (or simply to enjoy for personal use).
Where to Grow
Wedding Cake can be grown indoors or outdoors. Best growing conditions suggest using soil as a medium. If you choose soil, you should use sterile, loose, non-peat based potting mix. Trials and studies suggest these plants prefer indoor growth because you can regulate fan and exhaust systems to provide semi-humid conditions. However, if taking these plants outside, organize a warm and sunlit area with a touch of humidity for best results.
How to Grow
This strain can be manipulated by employing specific growing techniques. For example, Screen of Green (SCROG) has been tested and provides great results for Wedding Cake seeds. This allows equidistant sun exposure amongst the canopy and supports the heavy dense buds these seeds can produce. Try this and other low-stress techniques for impressive results and maximum yield.
Yield and Time
This strain is popular due to its gargantuan yield which has been recorded up to 600g/m² and even higher, but varies depending on technique, seed quality, and conditions. Most Wedding Cake versions bloom in 8-10 weeks and growers set their sights on harvest around the month of October for optimal results.
---
Wedding Cake Strain 101
This frosted beauty is jam-packed with high THC content. The tantalizing appearance, indica overhaul, and sugary aftertaste make Wedding Cake a smash hit, especially for medicinal purposes. These buds have gained notoriety because their recent availability to the public.
History
Born in Southern California, Wedding Cake was the love child of an exciting blend crossing Cherry Pie and Girl Scout Cookies (GSC). This bud features hues of pink, frosted tips, and creamy aftertaste. Because of these features, smokers nicknamed this strain "Pink Cookies". Some respected members in the bud community believe Wedding Cake to be a descendant from Animal Mints and Triangle Kush, this is true in some cases. However, the original Cherry Pie and GSC hybrid was brought to the Rocky Mountains in Colorado by a breeder named "Kind Love".
Popularity and Awards
Wedding Cake is taking off like a rocket in different competitions around the world. Featured as one of the 20 top trending strains in High Times magazine for 2019, being crossbred with new and exciting strains by reputable growers and passing every test on an international stage.
Wedding Cake has won the following awards:
1st place Best Hybrid 2018 Cannabis Cup Amsterdam
1st place Best Hybrid 2019 Cannabis Cup Southern California
2nd place Best Vape Cartridge 2019 Cannabis Cup Oklahoma City
3rd place Best Vape Cartridge 2019 Cannabis Cup Central Valley
Wedding Cake Look, Taste, and Smell
Wedding Cake strain trichomes drip with white coloring on each of their densely packed super buds. Carefully woven, bright orange hairs span the surface. They're supplemented by earthy green and brown leaves.
The sticky texture is promising and promotes the powerful aromas that leap from nugs to nostrils. Herbal skunk with a citrus weave is what you can expect with each glorious sniff. When broken apart, Wedding Cake promotes a spice-forward smell laced with oak and sandalwood.
Upon inhale, you'll wonder why this is called Wedding Cake. The sour, citrus, and tangy trio catches smokers off-guard with intensity and robust flavors. Reassurance is an exhale away because of the cream and sugar finish that lingers on your taste buds.
Wedding Cake Effects
The potency of this strain is top of its class. Wedding cake provides an intense high promoting stony headspace and overall body buzz that works as a relaxing sedative. Smokers can hope to see in "high definition" with its cerebral stimulation properties that aid the user's focus. After these initial effects occur, the high is likely to "couchlock" consumers by providing progressive overall heaviness of the body.
Medical Benefits
Wedding Cake is farmed heavily for its medical benefits. There's a reason stressed spells desserts backwards, here are some issues that can be relieved by this delicious treat:
Pain Relief – From minimal aches to chronic pain Wedding Cake acts as a potent painkiller providing subtle waves of physical relaxation. Its known for treating hundreds of different issues including musculoskeletal pain such as arthritis, sciatic, and fibromyalgia.
Depression and Stress – The high THC content works as a mood stabilizer by helping the user feel more "in the moment". The hybrid nature also gives consumers a touch of euphoria combating compromised feelings of self-worth.
Appetite Stimulant – Wedding Cake helps those who suffer from loss of hunger due to chemotherapy, disease, or medications by providing a classic case of the munchies.
Insomnia – Patients can benefit greatly by toking Wedding Cake for better nightly rest. Comprehensive relaxation is a product of smoking this strain in high doses. It's powerful and can lull just about anybody to sleep.
---
Final thoughts on Growing Wedding Cake seeds in 2023
Wedding Cake seeds are perfect for growers who want great yields, easy growing, and medically potent bud. When farming, sunny conditions and studied grow techniques make Wedding Cake the centerpiece of your garden.
These superbly decorated, densely frosted, power-packed nuggets send consumers on a journey of total relaxation with mind-altering capabilities. Whether you need a nice hybrid to chill out and focus on a project or are suffering from a condition that could use relief, Wedding Cake has it all.
Where there is cake, there is hope.
And there is always cake when you can grow it.
---
Category Pages: