Purple Urkle has procured a cult following over the past 30 years and remains a staple in the cannabis community.
Everything you love about indica dominant seeds are showcased in this classic example. The seeds produce medium height, thick bushy plants, come equipped with large colas. Additionally, they feature high resistance to mold and pests, and there's tons of data on how to grow this strain efficiently.
Purple Urkle seeds grow into a timeless product, but require intermediate gardening techniques, lots of feeding, and proper climate conditions. However, with patience and great technique, you can enjoy this purple delight that has sweet and skunky grape flavor matched with couchlock potential.
Purple Urkle takes beginner growers to the next level by testing their mettle growing one of the most timeless strains on the market today.
---
The Best Purple Urkle Seeds to Buy Online
---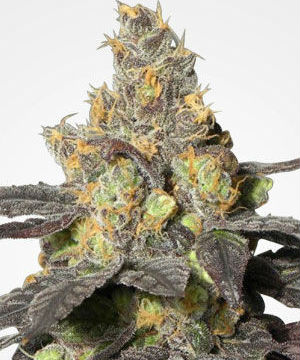 Feminized Seeds, 15-18%+ THC
Mostly Indica, Cannabis Cup Winner
400-500g/m², Flowering in 10-12 Weeks
Skunky Aroma, Berries/Grapes Flavor
Relaxing Body Stone, Narcotic High
Great for Pain Relief / Insomnia
Suitable for Indoor and Outdoor
Moderate Growing Difficulty
MSNL Purple Urkle is almost pure indica, providing consumers with extreme couchlock and bountiful medicinal benefits that are second to none. Derived from a phenotype of Mendocino Purps, these dense power-packed buds feature deep violet and indigo coloration that turns darker during flowering.
On the nose, expect skunky aromas. These aromas give consumers a sneak peak at its potency and lineage. But when smoked? Powerful grape and berry fruit flavor that explodes on your palette.
Growers have plenty of room for these medium height (100-180cm) beauties that form a large central cola that can be up to 40cm in length. Whether indoors or outdoors, expect a yield quite large for this strain with up to 400-500g/m2. Flowering occurs between 10 to 12 weeks and outdoor harvest is in early October.
The effects of Purple Urkle surpass expectations. Users experience a deep trance-like headspace paired with a calming body buzz. The body stone builds throughout the high and becomes almost narcotic, making it a smash hit for chronic pain and insomnia.
MSNL's Purple Urkle seeds are a perfect representation of this long-standing strain that continues to dominate the cannabis communities' attention.
Buy Online: MSNL Purple Urkle Feminized Seeds – Shipping Worldwide.
---
Growing Purple Urkle Seeds
Here are some of the best practices and bits of wisdom when you decide to grow some of your very own Purple Urkle Seeds:
Location and Set-Up
Purple Urkle can be grown indoors or outdoors, but master budsmen recommend an indoor environment because of the shorter flowering time. When growing indoors, you can manipulate conditions and lighting to benefit this relatively sensitive strain.
Recommended grow set-ups involving Purple Urkle include the use of hydroponics systems (drip, ebb/flow, water culture, etc.). Using these in combination with pruning techniques like the SCROG method are ideal because they provide proper nutrients, even canopies, and promote overall plant wellness.
Nutrients
Nutrient Selection can be tricky because the needs of Purple Urkle change depending on climate and humidity levels. Whether you're utilizing hydroponics systems or growing in pots, it's important to keep your nitrogen content high and maintain a hearty feeding regiment. This feeding regiment should increase during the flowering stage for optimal results.
Environment
This strain requires long spurts of warm weather, especially when flowering. Best conditions include temperatures that rest between 72 to 80 degrees Fahrenheit. Additionally, you should set-up proper ventilation to reduce pesky pests and provide optimal CO2 for big growth.
Yield and Time
You can expect low to medium yields but can rake in a significantly higher yield from an indoor grow. Yield has been recorded up to 500g/m2, but most grows (especially first timers) are closer to 350-400g/m2 due to the complexity of this strain.
When growing indoors, expect 8-12 weeks for flowering. If outdoors, plan around harvesting in October.
---
Purple Urkle Strain 101
A strong history and indica dominance make this the perfect bud to grow and smoke. Purple Urkle is highly coveted for relaxation, medical relief, and overall smokability.
History
Purple Urkle is a northern Californian strain that's almost 40 years old. Even with age, it's still one of the most popular strains on the market. The parent, Mendocino Purps, was born out of the famous Emerald triangle region in California.
It's no wonder why Purple Urkle has remained top of its class over four decades and has created prominent crossbreeds like Granddaddy Purps.
Appearance
Imagine velvety purple coloring, rust-orange hairs, and dark spots of forest green covering the surface of each nug. During the flowering stages, the purple coloring becomes more intense making this one of the most colorful strains you can enjoy.
Flavor Profile
While visually appetizing, the look doesn't hold a candle to the gold standard grape flavor. Fresh grapes and citrus berry create a skunky sweet combination that leaves an impression on your palette. On the exhale, a hint of woodsy pine goodness pays homage to its predecessor, Mendocino Purps.
Smell
A compilation of sweetness, citrus, fresh berries, and grape soda. All these smells are simultaneously masked in a skunky aroma that tells the story of this powerful indica strain.
Recreational Effects
Recreational consumers can expect a gradual onslaught of lethargy after smoking Purple Urkle. The body affects are subtle but begin to take over and pull you into the couch. Mental prowess is abandoned as users can enjoy a calming high that lulls you into a trance.
Medical Benefits
Much like other indica strains, Purple Urkle is a medical powerhouse with a plethora of benefits such as the following:
Anxiety – The sedative effects of this strain are enough to ease any bout of anxiety by creating comprehensive inner peace between body and mind.
Insomnia – This strain sings lullabies with only a few hits, gradually pulling you into a deep sleep.
Pain – After medicating with this strain consumers are greeted by waves of physical relaxation that numb persistent pain.
Appetite – Whether you have trouble eating due to illness, chemotherapy, or general lack of appetite. Purple Urkle provides a boost, helping you eat more and keep food down longer, even in the most extreme cases.
Depression – Purple Urkle creates a relaxing mental and physical high that is sprinkled with a touch of euphoria. Furthermore, it helps you break mental spells and create new thoughts by getting outside of your mental routine.
---
Final Thoughts on Purple Urkle Seeds
If you follow a solid feeding program and pay attention to your plants' needs, you'll have great success growing Purple Urkle seeds. There's a reason this strain has been around since the 80s and still has a foothold on cannabis culture all over the world.
With recent legalization smokers are starting to unlock the medical benefits indica has to offer. Herb is the healing of a nation, and it starts with bud like Purple Urkle.
Where there is demand, there must be supply. Growers can capitalize on beautiful buds that bring back nostalgia from your very first bag of "purple weed". Additionally, this strain catches consumers off-guard with its sweet grape flavor and skunky aromas.
Purple Urkle is anything but nerdy. Grab some seeds today and create your masterpiece.
---
Category Pages: