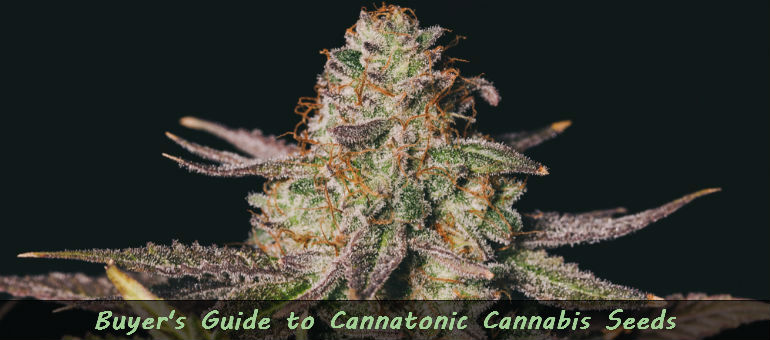 Cannatonic seeds are growing in popularity as they provide a beautiful crop of potent medical marijuana that is packed with health benefits. Instead of supplying a psychoactive headspace, these buds focus on relieving physical and mental stressors. Because of this, people are buying Cannatonic seeds by the boatload, even with THC heavy flowers leading the charge in the cannabis community.
These seeds can grow both indoors and outdoors and are resistant to pests. Thankfully, they're not super tall and don't take up a ton of space. Pair this with a pretty solid yield – and Cannatonic seeds are an absolute treat to grow. The only downside is they can fall victim to mildew and mold. However, most growers will have no problems with proper environmental conditions.
A combination of royal lineage lends itself to abundant character, taste, and health benefits. This bud is typically a close hybrid between sativa and indica but gives thanks to its high CBD percentages for unique effects.
Want to add diversity to your garden? Grow some cannabis that is sure to impress those who haven't enjoyed the wonders of a potent CBD heavy flower.
---
The Best Cannatonic Seeds to Buy Online
There are plenty of reputable companies selling different variations of this strain. Here are a few that have a great quality product:
---
Feminized Seeds, Cannabis Cup Winner
8% THC, 8%+ CBD – Won't Get You High
Medical Strain, Relaxation Effect
Suitable for Stress, Anxiety, and PTSD
Indica Dominant, Large Fluffy Buds
300-400g/m², Flowering in 8-10 Weeks
Moderate Growing Difficulty
Suitable for Indoor and Outdoor
Bred from award-winning genetics, MSNL's Cannatonic feminized seeds are a medical phenomenon. This version boast of having 8% THC and 8%+ CBD, making it more balanced than most. The indica dominance of this hybrid variation helps growers achieve success much easier. These buds are great for waxes or cannabutter, allowing users to create their own medicine and method of intake.
This plant can grow around 150-180cm tall and responds well to SOG and SCROG setups. Growers can expect flowering around 8-10 weeks with yields ranging from 300 up to 400 grams per m2. Outdoor grows are also possible with these seeds – expect similar results with harvest landing in early October.
When it comes to appearance, large fluffy buds are painted with a variation of terpenes that gives them a nice white coating. After first look, the smells of sweet herbal and skunky tones creep into your nostrils to tell a story. Finally, this variation features a lovely smooth and balanced flavor profile that consists of an earthy taste with undertones of skunk and pine.
The effects are really the showstoppers here and the reason why people buy this helpful cannabis. Users report feeling ultimately relaxed which relieves a multitude of problems. Due to its 1:1 THC/CBD ratio, most people don't feel the psychoactive effects of Cannatonic, which is beneficial for those who need to be productive and get things done. This can be especially helpful when treating physical aches and pains throughout the day.
Buy Online: MSNL Cannatonic Feminized Seeds – Shipping Worldwide.
---
How to Grow Cannatonic Seeds
Growing Cannatonic seeds is easy with a few tweaks in your set up. This strain prefers to grow indoors, but outdoor grows are quite possible. Here's some information that will make your grow successful:
Where to Grow
For optimal results, one should grow Cannatonic plants in a dry climate (like Nevada for example). If you don't have the luxury of growing outdoors in optimal conditions you can always replicate that environment inside. In fact, Cannatonic prefers indoor growth. This strain can be subject to mold and mildew so it's nice to have complete control over your environment.
Grow Conditions to Regulate
Grow conditions vary depending on the type of strain, conditions, and grow operation you're running, here are a few tips to help you grow the best Cannatonic seeds:
Humidity – Because of mold and mildew, best practices include regulating humidity levels. During your plants' vegetative state, aim for 55-60% RH. Once flowering, the levels should be around 50%. Finally, once you're about to harvest, drop the humidity below 40% or lower.
Temperature – Growers should maintain an average temperature of 72-80 degrees Fahrenheit. The moderate fluctuation of these temperatures is okay but try to keep them as normal as possible.
Grow medium – Both soil and hydroponic systems that feature different grow mediums work well for Cannatonic seeds. Soil has the benefit of being a bit more forgiving when it comes to feeding and nutrient levels, but there's more flexibility with hydroponics systems. This strain isn't particularly hard to grow, but you should figure out what works best for you.
Lighting – Shoot for 18 hours of light in the first week and 12 for each week following. Finally, give it 10 hours of light during the final week of the flowering stage.
Feeding – Plant nutrients depend highly on the grow medium you've selected. Research and regulate NPK ratios accordingly. Cannatonic plants respond well to a light feeding regimen that ramps up a few weeks into the vegetative stage. Otherwise, it should be business as usual when choosing a feeding regimen.
Cannatonic Preventative Maintenance
Growing this strain is just fine for beginner to intermediate growers, but every grow presents its own set of problems. Here are a few tips to get the best Cannatonic harvest:
Throughout your grow, you should be monitoring humidity and ensuring there is plenty of ventilation. Especially during flowering, you must continuously check for Botrytis, molds, and fungus. Infected flowers must be removed immediately from the growing area before they spread to your other Cannatonic plants.
While this strain has good resistance to pests, it's not invulnerable. Use a magnifier and check each plant every day for pesky pests.
Cannatonic grows to medium heights and responds well to LST and Supercropping methods. Additionally, trimming and pruning particularly bushy areas early on will improve ventilation and stop extended growth of mold or mildew.
During initial flowering stages, you should keep the grow room temperature around the same levels during light and darkness. If your temperature drops too much when it gets dark you can stress your Cannatonic plants out, making their yield less significant.
Harvest Time and Yield of Cannatonic Plants
Flowering lasts around 8-10 weeks. If you're growing outdoors, you can expect harvest to occur around late October. Yields for both indoor and outdoor operations are typically medium-sized quantities.
---
Cannatonic Strain 101
This wonderful strain is a perfect hybrid between sativa and indica, and features a rare 1:1 CBD to THC ratio. Pair this combination with a sensory explosion, a rich history, and countless medical benefits, and the result is a product that is a must-have for anybody looking to add character to their garden. Here's the rundown on Cannatonic:
History
Cannatonic is known as the CBD Queen of cannabis. It's a hybrid from Spain's Resin Seeds, which started their first dispensary in Barcelona with this bud being its centerpiece. While Spain isn't a heavy hitter in the cannabis community, this is one of its gems. This strain burst onto the scene around 2008 and broke ground in a new way by introducing one of the first high-CBD cannabis strains ever. The cross between MK Ultra and G13 Haze is to thank for this award-winning variety.
Popularity and Awards
Resin Seeds believes in the medicinal properties of marijuana and wants to showcase them in most of their strains. The world agrees, with this strain winning tons of awards. Cannatonic or a close variation of it has placed in THIRTEEN different competitions around the world. Ten of those finishes happened to be first place, making this one of the most successful medical variations of cannabis on the planet.
Cannatonic Look, Taste, and Smell
Look – The visuals aren't talked about often, but the buds are big and fluffy. They come dressed in lime green nuggets and are absolutely caked with terpenes. Lacking in density, Cannatonic buds are usually quite soft and leafy.
Smell – What you smell is what you get. These nugs are coated in a slight earthy odor that mimics the smell of tall healthy pine trees and freshly cracked pepper. Undertones of citrus fruit are present on the nose.
Taste – The flavor profile is muted, subtle, and quite tasty. A sweet herbal cocktail mixed with the aforementioned pine, pepper, and citrus.
Cannatonic Medical Benefits
This strain truly unlocks the best medical benefits cannabis has to offer. How does Cannatonic accomplish this? By providing relieving power without the user falling victim to psychoactive dramatics. THC heavy plants can send the user into a trance at times. However, this strain features a 1:1 CBD to THC ratio. This provides a deep body buzz that lulls patients into a state of relaxed euphoria.
As you can imagine, this is the perfect strain for those suffering from anxiety or depression. Because of the chilled headspace, Cannatonic is ideal for many sorts of mental ailments. This includes the likes of epilepsy, PTSD, and insomnia.
Cannatonic has a wide variety of terpenes that contribute to the "entourage effect". This is where natural ingredients work together to enhance potency. The Cannatonic high, or nature's ibuprofen, help those suffering from chronic pain who still need to function. Additionally, the active terpene B-Caryophyllene works as an anti-inflammatory, analgesic, cancer inhibitor, and surprisingly reduces cravings for alcohol in addicts.
---
Final Thoughts on Growing Cannatonic Seeds in 2023
We now have a solid idea on how to grow this medicinal powerhouse, what it provides to its patients, and why it's so popular in 2023. If you have a controlled indoor environment, you should have no problem growing Cannatonic seeds. And with so many seed banks offering their version of this strain, buying Cannatonic seeds is easier now than ever before.
Marijuana started out as a healing herb and was turned into a recreational flower, and now is resurging for those who need treatment or recovery for a multitude of problems. Cannatonic is one of the best strains you can grow if you'd like to have superbly beneficial buds for your customers or even for yourself. Many strains of marijuana has the power to soothe its users, but only a few can provide treatment like Cannatonic.
---
Category Pages: