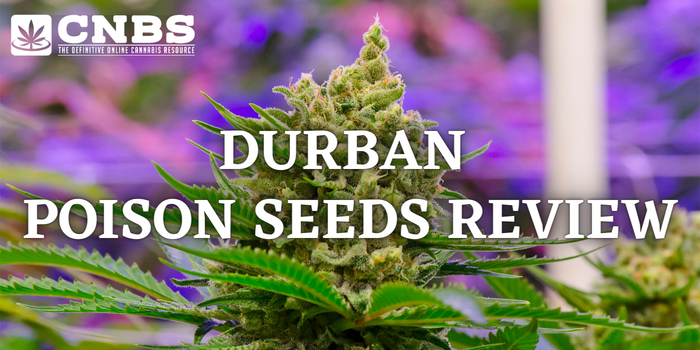 Are you ready to embark on a green journey like no other? Buckle up, because Durban Poison is about to take you…on a calm, tame ride.
With high yields, deliciously spiced and earthy flavors, and a high that takes care of even the most painful migraines, Durban Poison is a dream. And it doesn't stop there—this is a hardy strain that can survive cooler, humid temperatures.
There's really no catch when it comes to growing Durban Poison, so find out where to order, how to grow, grab your gloves, and lets' go.
---
Where to Buy Durban Poison Seeds Online
It may originate from the South African city of Durban, but you can you get your hands on Durban Poison without taking the long-haul flight. Here are the three best online seedbanks to buy Durban Poison.
---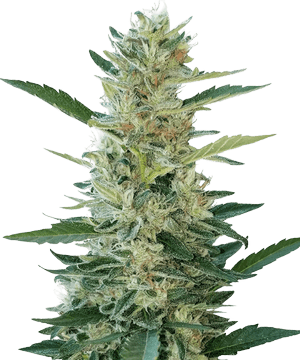 THC: 16 – 22 %
Yield: 300 – 500 g/m²
Height: 200 – 300 cm
Day to Flower: 56 – 63 days
One of the world's leading seedbanks due in no small part to its incredible prices, shipping rates, and freebies, Herbies is a top pick for buying Durban Poison seeds. Sourced from this landrace strain's second home, The Netherlands, you can trust these seeds will give you the harvest the year.
This sativa-dominant strain from Herbies has up to 22% THC with a flowering time of 8-10 weeks. Outdoors, it finishes flowering in September, which is earlier than most strains.
With enough seeds, you'll soon have a forest of Durban Poison as each plant grows between 2 – 3m outdoors. You can get over 500 gr/m2. The best part? The hardiness of this strain means you can reach a heavy harvest without too much effort.
Herbies offers one of the lowest prices per seed, making this one of our absolute top picks to buy from.
---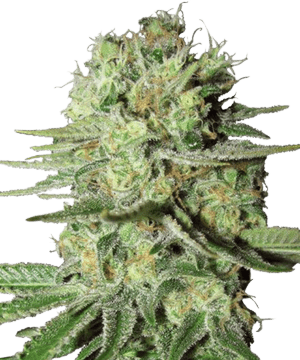 THC: 20% – 24%
Yield: 500 – 600gr/m²
Day to Flower: 8-10 Weeks
Medical: Depression, Stress, Pain
If MSNL isn't on your list of go-to seedbanks yet, it should be. Not only because of their standard for incredible quality, but because it's based in the Netherlands. And you know what else calls the Netherlands home? Durban Poison.
It may have originated in the city of Durban, but it was bred to withstand the northern European cold in NL.
With a flowering time of 8 – 10 weeks and a THC content between 20% and 24%, this strain will hit all the right spots. That's not the only thing impressive about Durban Poison—it can also grow up to 2.2m in height.
The MSNL variant has a harvest time in mid-October that yields around 500 – 600 gr/m2. Since it can withstand the cold so well, it's one of the easier strains to grow outdoors.
---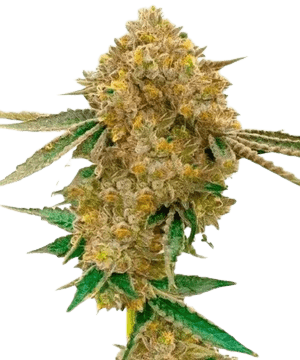 THC: 13% – 16%
Yield: 450 – 500 gr/m²
Day to Flower: 8 – 10 weeks
Serving the entire globe of cannabis growers, Blimburn never fails to outdo itself. Its Durban Poison seeds are no exception.
What makes the Blimburn variant of Durban Poison different from most other seedbanks is…well, a few things.
First, it has a lower THC range between 13 – 16% but a much higher CBD range at 2%, so you're getting a much more balanced high.
The best attributes of Durban Poison stick around in this variation, like its hardiness and yield. After 8 – 10 weeks of flowering, you can harvest up to 500 gr/m2 from these giant 2m plants that grow easily outdoors.
---
Growing Durban Poison Seeds
While you wait for those seeds to get delivered, why not spend some time prepping to grow them? We have all the details you need to grow those spicy-sweet Durban Poison seeds all the way to their peak 2.2m.
Where to Grow
Durban Poison strain seeds are outdoor kings. They thrive in chilly air and can last through harsher temperatures than their sensitive sister strains. And that's perfect, because at over 2m in height, you'll want to grow these babies outside.
These plants are huge, with dense buds on its long branches. All of that is to say that this strain needs SPACE. Outdoors is preferable not only for its need for space but also because it's a strain that does well in the cold.
It was bred to survive the harsher northern European climate, so you can basically grow it anywhere as long as it gets plenty of water and nutrients.
Growing Durban Poison seeds is also possible indoors, albeit challenging. Depending on the source, these plants can get as high as 3 meters—that's just not possible inside for most people. However, if you're keen on doing it indoors, then keep the temperature between 21° and 26°C and humidity quite high around 50%.
This strain was bred in the Netherlands, which means it likes cooler, wetter environments.
Best Grow Method
Screen of Green (ScrOG) is your best bet for growing indoors.
When using this method to grow Durban Poison seeds, the plants are trained to grow through a screen or mesh, which helps to create a flat canopy of buds. This maximizes the amount of light that reaches the lower buds, resulting in a more even and productive yield.
To set up a ScrOG grow for Durban Poison, you will need to create a sturdy frame to support the mesh or screen. The frame should be large enough to accommodate the plants as they grow and should be placed at a height that allows for easy access to the plants. Once the frame is in place, the young Durban Poison plants are carefully trained to grow through the mesh or screen.
To train the plants, you'll need to tie down or weave the branches through the mesh, which encourages them to grow horizontally. The idea is to have all the buds at the same distance from the light source, so they all get the same amount of light and grow at the same rate.
The Durban Poison plants will grow taller and bushier and will need more space than a traditional grow, but this method will help to maximize the yield and quality of the buds.
Using this method, you'll aim to keep plants shorter and wider rather than taller.
Height
The height of Durban Poison can be generalized around 2m, but the real height depends on the source.
Some sources claim a lows around 1.8m and highs up to 3m. That's quite a wide range, but the takeaway is these are tall plants. No matter what, a plant that's at least 1.8m will require a lot of space.
Flowering Time
One of the characteristics of this strain is its relatively short flowering time, which makes it a popular choice among growers.
When grown indoors, Durban Poison typically flowers for around 9-10 weeks. This is considered to be a relatively short flowering time compared to other strains, which can take up to 12 weeks or more to flower.
When grown outdoors, Durban Poison is usually ready for harvest around October. Outdoor plants can get taller than indoor plants, but the flowering time is usually the same. The plants are ready to be harvested when the buds are fully formed, and the trichomes are mostly cloudy with some amber.
Yield
Durban Poison is a high-yielding strain, known for its large buds and heavy harvests.
When grown indoors, Durban Poison can yield up to 600g/m². This makes it a great option for growers who are looking to maximize their yields and get the most out of their grow space.
When grown outdoors, Durban Poison can yield up to 1000g/plant.
The yield is affected not only by the environment but also by where the seeds originated, so choosing the right seedbank really makes a difference.
Pests and Mold Resistance
As a landrace strain, Durban Poison is highly resistant to mold and pests. Some are even cross bred with other strains, like Skunk, to increase its natural resistance.
---
Durban Poison 101
Discover what to expect with this highly resilient strain, from its origins to its flavors and everything in between.
History
Durban Poison is an iconic and beloved Sativa strain of marijuana. It was originally cultivated near Durban, South Africa, hence the name. In the 1970s, it was brought to Holland where it was bred to resist the colder, wetter climate. And that's what led to the strain we know and grow today!
Genetically, you can find it as its original landrace strain. Some breeders have it crossed with Skunk or other similar strains not necessarily to change the flavor, but to make it easier to grow.
Though it has generally high THC levels, what makes this strain so popular is how easy it is to grow in harsher climates. It's one of the best for those who don't live in warm, dry, salty climates (which is most people in the world).
Aroma, Flavor, and Appearance
Durban Poison is a real treat for the senses. It's known for its unique and delicious aroma; a perfect blend of spicy and earthy notes. As the buds mature, the aroma becomes more complex and intense.
Imagine walking into a room filled with the sweet smell of anise, pine, and a hint of licorice, with a subtle touch of earthy musk. Like a culinary adventure for your nose.
Its flavor is a perfect complement to its aroma: sweet, spicy, and earthy.
When you inhale, you're greeted with the sweet and spicy tingling on your taste buds. As you exhale, the earthy notes come through. Some users even taste a hint of lemon and a subtle hint of pine.
As for appearance, Durban Poison is a looker. With long branches and large, dense buds covered in a thick layer of sticky trichomes. They look like they have a permanent layer of frost complemented by thin orange and red hairs.
Buds can have a variety of shapes, too. Some are elongated cones and others are nearly spherical. All have a medium-dark green hue and a frosty semitranslucent layer of trichomes.
Effects
Durban Poison is the ultimate pick-me-up strain. Whether you're feeling sluggish or just need a little extra boost, Durban Poison will have you feeling like you're on top of the world.
This sativa-dominant strain is known for its energizing and uplifting effects that will make you ready to conquer the day.
Imagine feeling a surge of creativity and energy coursing through your body, like a shot of espresso for your mind. You'll also feel a sense of euphoria, which is perfect for creative folks or those looking for the right type of push to start a daunting project.
Medical Effects
This strain is particularly useful for those who suffer from conditions such as depression, anxiety, and stress. Durban Poison's uplifting effects can help to boost mood and improve overall well-being, helping smokers to feel more positive and motivated.
One of the most common uses for Durban Poison is for migraines. Its ability to provide an energizing head high can help to alleviate the pain and discomfort associated with migraines. Additionally, its anti-inflammatory properties can help to reduce inflammation and tension in the head, providing even more relief from migraine symptoms.
For those suffering from depression, Durban Poison can help to improve mood, reduce feelings of hopelessness, and increase motivation. It's known to be a mood-booster that can help to lift you out of a funk and give you a more positive outlook on life.
And it can't go without saying that Durban Poison can help against overall anxiety and stress, giving your mind and body the relaxation it needs to focus on other things around you.
---
Final Thoughts
Look no further for a strain that can survive through harsh elements, requires relatively little care, and gives you a potent amount of THC with a strong harvest.
The only potential downside to growing Durban Poison is its height, but outdoor growers should have no problem and using the ScrOG method indoors works wonders.
With its resilient nature and relatively fast flowering time, it's no wonder this strain has been loved by growers for decades.
---
Category Pages: