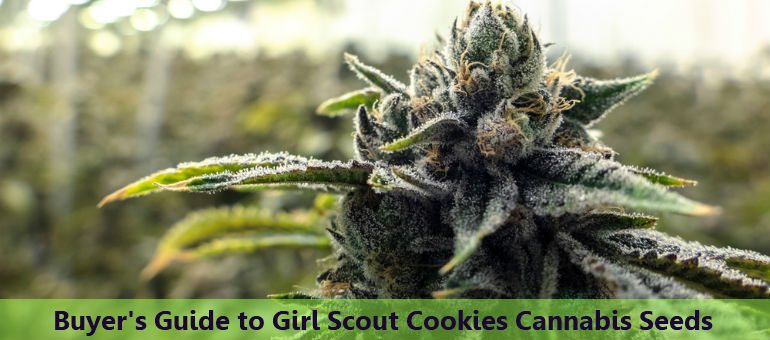 A legendary strain emerged when Girl Scout Cookies was forged right outside San Francisco, California. Also known as "GSC", this strain has received plenty of acclaim due to its incredible potency, delicious flavor profile, and striking appearance. These assets paired with an all-star lineage gives us an idea of why this strain from the "Cookies Fam" is such a delight.
When it comes to growing, sprouting your very own GSC seeds is more of an intermediate task. However, with the right direction, beginners are welcome to take on the challenge. By employing a mix of techniques, feeding, lighting, and environmental stability, growers can get a pretty nice yield when it's all said and done.
Smokers are in for a seriously one of a kind high when they toke this hybrid heavy hitter that leans towards indica dominance. Because of the THC content, the high is something special. So special that it's been endorsed by famous rappers and won multiple awards all over the world.
While you're probably enticed by the nostalgia of buying Thin Mints or Samoa cookies from your neighborhood girl scouts, it's about time you made a change. One of the most notorious hybrid strains the west coast has to offer is waiting. Get a dose of this northern California powerhouse and start growing your very own Girl Scout Cookies seeds today!
---
The Best Girl Scout Cookies Seeds to Buy Online
With multiple companies winning awards with this strain there are tons of variations of GSC seeds. Here are a few of our favorites:
---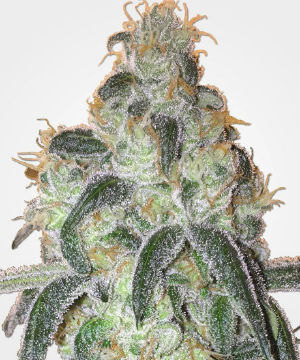 Feminized Seeds, 22%+ THC
Indica Dominant, Award Winning Genetics
400-500g/m², Flowering in 8-10 Weeks
Very Popular Strain, Incredible Flavor
Balanced Body Buzz, Medical Strain
Suitable for Indoor and Outdoor
Moderate Growing Difficulty
Girl Scout Cookies Feminized Seeds are an indica dominant hybrid mix of some OG lines and the legendary Durban Poison, brought directly from Northern California by MSNL breeders. They took this once clone-only legend and made it a stable productive strain in seed form.
This strain can be grown either indoors or outdoors and reaches a medium height of 100-180cm. The flowering time is 8-10 weeks and outdoor grows can expect a late September harvest. The best part about this variation is the yield which is better than most GSC, with around 400-500g per square meter.
This version has an incredibly high THC content. The lab testing showed the average strength sitting around 22%, but some individual examples have been tested and shown over 24% THC content. The high is very telling of the potency, making smokers experience an intensely cerebral effect that comes on fast. Afterward, a well-rounded body buzz takes over that causes a major case of the munchies.
Good news for beginners, this variation isn't difficult to grow. If you feed your crop a medium to high-level nutrient program and keep the environment stable, you're in luck. For better results, you can give Girl Scout Cookies a slightly longer vegetation period.
Even better is the appearance, flavor profile, and stone of this delightful strain. This variation of Girl Scout Cookies is visually striking and will impress before you've even had a chance to harvest your crop. The flavor is comparable to freshly baked cookies, sweet and savory with a hint of baking spice. And once smoked, you'll get the best of both worlds with its legendary hybrid lineage.
Buy Online: MSNL Girl Scout Cookies Feminized Seeds – Shipping Worldwide.
---
Growing Girl Scout Cookies Seeds
The Cookie Fam stated that growing Girl Scout Cookies is like dating a professional model. The stalks are tall and slender and require a little more attention than normal. Here's what to give her the care she needs when growing this strain:
Where to Grow
Girl Scout Cookies seeds are quite sturdy, making them perfect for indoor or outdoor growth. The resistance to climate change is a nice bonus, especially when the lights go out and the temperature tends to drop. Ideal conditions are a warm and dry Mediterranean climate that rests between 68 and 80 degrees Fahrenheit.
Humidity, on the other hand, can be your worst enemy. The dangers of mold and mildew or stalled plant growth occur on both ends of the humidity spectrum. It's best to keep levels around 50-60%RH during the vegetative state and drop the rate by 5%RH each week until it gets to 30%RH. Use a dehumidifier and keep airflow consistent to get the most out of your crops.
Plant Medium and Feeding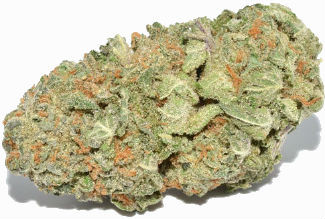 Girl Scout Cookies can grow well in many different mediums and the choice boils down to experience, preference, and set up. The originators of this lovely strain use 3' x 6' Geopots that are basically fabric beds. These beds allow the roots to mingle amongst a soilless Coco Coir blend, organic fertilizers, and a "special sauce" mixture of nutrient tea and microbials.
Any proficient soil or hydroponics setup should do just fine if the plants are getting enough nutrients. Best results come from a great feeding regimen that includes extra magnesium and calcium. When flowering, cut back on nitrogen levels and give them plenty of potassium and phosphorus. This will make your plants structure much stronger and produce thick, aromatic, and resinous flowers. If you want to supercharge your grow, introduce potassium silicate into your feeding program. This will help Girl Scout Cookies by increasing resistances, growth rate, and stem strength.
Techniques for Growing Girl Scout Cookies Seeds
Remember how your "models" grow tall and slender? The trick is to ensure that these plants spread out and don't just grow one main cola. This can be achieved using different techniques, which ones you choose (if any) are totally dependent on your experience level and resources.
The overall idea is to change your plants' chemical balance, and with some methods even change the direction of growth. This can help your crop's canopy become level and quite dense. The end goal is to increase light distribution and produce more bud sites. These practices, if followed closely, can lead to much bigger yields!
This can be done effectively by bending branches, topping your plants, and even containing your entire canopy under netting to control its growth patterns. The creators of Girl Scout Cookies mention use of the SOG method and have had great success using it.
Yield and Time
Girl Scout Cookies seeds will flower in around 8 to 10 weeks. If you planted outside, harvest comes around late September to October. The yield on this strain isn't the biggest, but can be stretched with the aforementioned techniques and premium grow conditions. Additionally, the THC potency is so vast that a little bit of GSC goes a long way!
---
Girl Scout Cookies 101
Girl Scout Cookies has become one of the most coveted buds on the west coast, and dare we say the entire world! This 60% indica 40% sativa hybrid has features that are impressive enough to make anyone fall in love.
Here's everything you need to know about GSC:
History
The Cookie Family, based a few hours outside of San Francisco, created the Girl Scout Cookie strain in secret.  The mixture of Durban Poison and a variety they refer to as "F1" or their "secret sauce" was the first step. Second, they bred this new variation with the outrageously famous OG Kush to create the Girl Scout Cookies we know and love today.
Awards
Many variations and compilations of Girl Scout Cookies have won awards. This includes Tahoe Wellness' beautiful rendition of this strain that took 2nd in the 2013 Amsterdam Cannabis Cup. In addition, Life is Good had a variation that won them 1st place in the LA Cannabis Cup in 2013. Even more impressive is the list of notable descendants of this strain including Wedding Cake, Sunset Sherbet, Animal Cookies, and Gelato.
Girl Scout Cookies Look, Taste, and Smell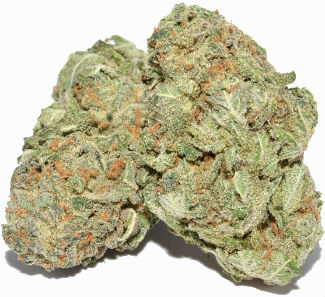 The Look – With so many variations out there, the look of GSC can vary. Most can expect bright green calyxes that twist and turn, bundled with spots of deep purple leaves, popping with neon orange hairs that curl and twist aggressively. The nugs are brightly colored and look a bit like frosted flakes with the amount of trichomes that are peppered on the surface. Each nugget comes equipped with enough trichomes to give powdered sugar drenched diner pancakes a run for their money.
The Smell – A supreme menthol aroma bleeds from each bud. The overtones are extensively skunky, sweet and come equipped with notes of pine and earth. When growing this strain be cautious, the funk is so loud you might need to double up on filtering.
The Taste – They aren't Girl Scout Cookies for no reason at all. This is dessert marijuana and you'll see why with a single toke.  The flavor resembles sugar cookies mixed with cool menthol. The elements of earthy spices are ever-present throughout every hit and some swear by notes of baked cinnamon.
Girl Scout Cookies Effects
Girl Scout Cookies is a wonderful balance between indica and sativa based effects. The high is comprehensive and starts out with a solid cerebral stone that promotes feelings of creativity and euphoria. After the initial head stone, GSC relaxes with a powerful body buzz that eases bud lovers with gentle waves of relaxation.
Girl Scout Cookies Medical Benefits
There are plenty of medical uses when you ingest Girl Scout Cookies. Here are some different conditions that GSC can help relieve:
Depression – GSC can boost feelings of euphoria and stimulate creative energies. This is especially helpful when you're in a slump.
Appetite Loss – Prepare to get the munchies. This strain is particularly effective when you're unable to eat.
Chronic Pain – Natures ibuprofen, Girl Scout Cookies helps temporarily relieve aches and pains.
Headaches and Migraines – The indica effects can put your mind at ease, relax your body, and help melt intense headaches.
Stress – Get your mind in a different place, get sucked into your couch, and let GSC ease stressful thoughts and feelings.
---
Final Words on Growing GSC Seeds
The Girl Scouts of America might not like the name, but cannaisseurs worldwide are delighted by this sugar cookie cannabis that is taking over by storm.
Girl Scout Cookies was destined for greatness with its legendary genetics, stellar profile, and massive THC content. The expert breeders in the Cookie Fam struck gold when crossing the genetics that made this killer bud.
Whether you're new to growing or an expert of your craft, Girl Scout Cookies seeds are the perfect addition to your garden. Just remember to give it a little extra care, check for signs of deficiencies, and employ different training techniques to get the most out of your seeds!
Get ready for some of the most aromatic, delicious, and comprehensive buds straight from Northern California. As they say, "A balanced diet is a cookie in each hand". Get your box Girl Scout Cookies today.
---
Category Pages: