Sunset Sherbet is not your typical indica strain. Just like the word "Sherbet" looks different than it sounds. These seeds are breaking ground in form of berry citrus smells, mind-bending highs, and sweet earthy delivery. Did we mention this strain is a cinch to grow?
Beginners can get their feet wet by loving on this (relatively) easy but rewarding treat by testing a grow set up with confidence. Advanced growers can add this to their garden and focus their time elsewhere knowing that this beauty requires minimal maintenance. Overall, Sunset Sherbet is a wonderful addition to any garden and gives consumers a different take on indica heavy hybrids.
The best of both worlds collide in this Girl Scout Cookies (GSC) x Pink Panties crossbreed that is just as scandalous as its predecessors. Looking like a snack, these frosty nugs pay homage to their name by displaying beautiful sun-kissed pistils, sugar-coated buds, and yellow to neon green hues.
Sunset Sherbet defies indica logic by giving you creative injections with the same top of its class growability that comes with purchasing these seeds. Get your feet wet, sit back, and enjoy the sunset with this unique and powerful strain.
---
The Best Sunset Sherbet Seeds to Buy Online
---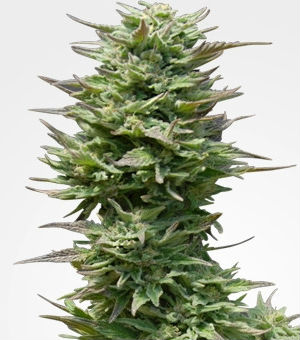 Feminized Seeds, up to 25% THC
Indica Dominant, Award Winning Genetics
500-600g/m², Flowering in 8-10 Weeks
Sweet Flavor with Fruity/Citrus Notes
Moderate Growing Difficulty
Suitable for Indoor and Outdoor
Premium MSNL Feminized Sunset Sherbet seeds hail from an impressive lineage of Durban Poison, OG Kush and Cherry Pie. Combine those with Pink Panties and you have Sunset Sherbet. This version boasts a solid 25% THC content, which is much higher than the average of 15-19%.
The citrus and berry medley take over your taste buds while providing a quick creative onslaught. The indica effects are felt shortly after and work in a gradual motion until the user is fully submerged.
Sunset Sherbet is fond of both indoor and outdoor setups. This strain will grow reasonably tall, around 120-180cm. Additionally, the plant will be quite bushy. The branches stretch out and will have multiple nicely sized colas attached.
If you top and manipulate your plant to allow light penetration, expect a quicker grow. Some begin flowering within 7-8 weeks. Otherwise, it can take 8-10 weeks to flower. Harvest for outdoor grows comes late in September. When harvesting, Sunset Sherbet yields are large and range from 500 up to 600g/m2.
Buy Online: MSNL Sunset Sherbet Feminized Seeds – Shipping Worldwide.
---
Growing Sunset Sherbet Seeds
Sunset Sherbet, which is relatively easy to grow – but probably not the easiest, has that famous indica attitude that makes it resistant to common molds and mildew throughout the growing process. Bud rot is a thing of the past and even beginners can get quality yield with minimal maintenance.
However, that doesn't mean you get "set and forget" your garden and think that things will work out perfectly. With any strain, specific conditions will promote overall plant health and gracious yields.
The hardest part about growing this strain is finding quality Sunset Sherbet genetics. But the recent surge of popularity has dispensaries and online stores selling top-notch seeds.
Where to Grow Sunset Sherbet
Both indoor and outdoor conditions work well for this strain. A central California climate ensures proper growth, shoot for 75 to 80 degrees Fahrenheit. Growers should provide warmth without too much contact with direct sunlight. Try setting up in shaded areas if outdoors, possible around the edges of your garden. Having a dehumidifier is always great to control the humidity levels in a grow room. For this specific strain, optimal levels of relative humidity should sit at 50-60% during the vegetative state and 40-50% during the beginning of the flowering stages.
How to Grow Sunset Sherbet
A soil-based medium will provide the best results. However, we've seen hydroponics setups work as well. Your plants will grow to be quite bushy, a common trait of indica dominance. Because of this, Sunset Sherbet responds well to topping and training techniques. When you can create more bud sites and spread out the light and nutrient distribution, you'll see better yields. Combine these techniques with a heavy feeding regimen in the vegetative state for the best results.
Time and Yield
Some versions of Sunset Sherbet seeds flower around 8-10 weeks. If growing outdoors, growers can expect a harvest in the late September to early October range. Yield expectations are average in size for most variations of this strain. Yield can stretch upwards to 600g/m2 in the best of conditions with the highest quality genetics.
---
Sunset Sherbet Strain 101
Explore the beautiful complexities of this 85% indica 15% sativa hybrid. Sunset Sherbet comes equipped with a moderate THC content and the surprising ability to get the creative juices flowing. Additionally, this strain is perfect for social events and crushing projects with laser-focus.
History
Sunset Sherbet is a highly decorated strain that is becoming a worldwide phenomenon. This strain was accidentally produced in San Francisco by crossing two popular breeds. Mr. Sherbinski introduced Girl Scout Cookies with Pink Panties to produce a tantalizing hybrid.
Dark Heart Nursery in Northern California was one of the original sellers of Sunset Sherbet, but it spread like wildfire after a recent jolt in popularity over the past few years. You can find this product just about everywhere now across the United States.
Its accolades are nothing short of incredible. Sherbet recently reeled in 1st place at the High Times 2016 Medical Cannabis Cup. Also, it placed third for best coffeeshop flower in Amsterdam's 2017 Cannabis Cup.
Appearance
She's quite lovely this one, Sunset Sherbet is a gorgeous strain. Rust-orange pistils pop from the surface that is caked in snowcapped hills. These hills give promise to brightly colored green leaves. In contrast, deep purple lurks amongst the flowers in certain variations. Overall, this is a visually striking bud quick to get your mojo working.
Smell
Imagine zesting a fresh orange just picked from the garden. Pair that with a sensational peach yogurt smoothie that barks for attention. When buds are broken apart or smoked it reeks of honey-dipped skunk. That's not all, wait until you taste this strain.
Taste
A complex flavor profile takes over taste buds the moment you take a draw of Sunset Sherbet. At first, skunky citrus is detected with notes of sweet berries. Some consumers taste a hint of bubblegum flavoring that finishes much like slurping on a delicious fruit smoothie. Overall, this strain is very sweet and smooth from start to finish.
Sunset Sherbet Effects
Recreational
One-sided genetics don't tell the complete story for this strain. An 85% indica and 15% sativa balance end up combining for a psychoactive journey that is filled with creativity, motivation, enlightenment, and imagination. The indica mounts slowly over time to provide a couch-lock sensation that is full of sativa-like energy. It's great for social gatherings, especially if it's a smaller get-together with close friends due to its combination of relaxation paired with a euphoric headspace.
Medical
Relieve stress, anxiety, and depression with a small dose of Sunset Sherbet. This strain inspires patients, lifting them out of negative psychological spells.
Expect frequent waves of physical relaxation, especially in higher doses. These waves work as an agent to numb chronic pain, nausea, and rheumatic conditions.
---
Final Thoughts of Growing Sunset Sherbet Seeds
This indica dominant hybrid helps people relax, get creative, and reduce pain simultaneously. With its award-winning flavor profile, appearance and smell it's bound to turn heads. Growers can benefit from its resistant nature, which lower maintenance time dramatically. With nutrient-rich soil, great conditions, and topping techniques you can grow this one with ease.
Nowadays, you can purchase this coveted strain's seeds online, making dreams of sweet citrus berry and creamy yogurt a thing of the past.
---
Category Pages: