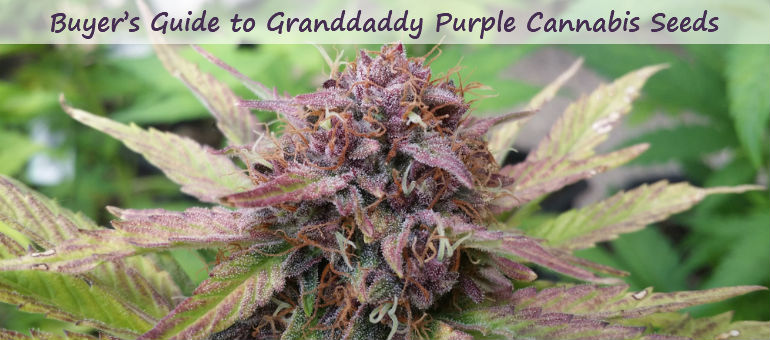 Granddaddy Purple, also known as Grand Daddy Purps or GDP in short, is the quintessential purple weed for bud lovers all over the world. A rich heritage, beautiful violet hues, and bountiful indica dominance make GDP a treat for all who indulge. This "old head" strain of marijuana has been a staple in Northern California for almost 20 years with its popularity only increasing in 2023.
Notoriety aside, Granddaddy Purple is extremely functional for those who rely on its benefits. The medical uses for this strain are plentiful due to its hybrid mentality and high THC content. Additionally, the flavor profile is top-notch, as this is one of the tastiest strains on the planet.
Granddaddy Purple seeds are making waves throughout the cannabis community while growing this strain is more popular than ever, mainly because of its big-time yields, sweet grape flavor profile, and its ability to produce a very high yield both indoors and outdoors. When growing this strain indoors, experimenting with low stress and high-stress techniques will significantly boost its final production.
Want big yields, powerful medical benefits, deep purple buds, and award-winning genetics? It's time to head on down to the nursing home and pay Granddaddy Purple a visit.
---
The Best Granddaddy Purple Seeds to Buy Online
With this strain becoming a timeless novelty, many variations have popped up all over the world. Here are some of our favorites:
---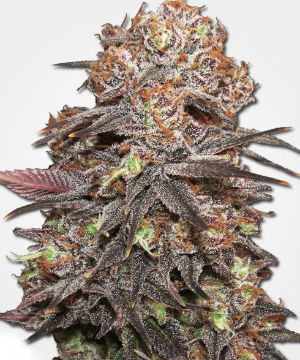 Feminized Seeds, 19-22%+ THC
Indica Dominant, Award Winning Genetics
400-500g/m², Flowering in 10-12 Weeks
Easy to Grow, Very Popular Strain
Strong Indica Effect, Medical Strain
Incredible Sweet/Grape Flavor
Suitable for Indoor and Outdoor
A Granddaddy Purple feminized seed that's high yielding and extremely potent, originally bred by Ken Estes at the Grandaddy Purp company.
This award winning variation produces plants that range from 100 to 180cm in height and are quite bushy, making it perfect for any sort of grow set-up. The THC content of the finished product lands around 19-22%. Flowering time is 10-12 weeks while outdoor growers will harvest their plants around early October. Patience is a virtue, as most grow operations produce a large yield of around 400-500g/m2.
This strain is excellent for beginners as it's forgiving to mistakes due to indica heritage. During flowering, dense and heavy buds form that are peppered with an abundance of THC crystals. The finished product is the beloved purple buds that give off a sweet aroma. This aroma is also laced with pine and sandalwood undertones that overtake your nostrils and provide foreshadowing of the delight that is to come.
When smoking, flavors of sweet grape and skunky citrus are quite pronounced. They lead you into a euphoric headspace followed by a strong indica stone. The potency is to thank for this as couchlock will likely ensue depending on tolerance and amount ingested. This heavy-duty medical strain might get you a bit sleepy, and is great for relieving pain, depression, anxiety, and of course – insomnia.
Buy Online: MSNL Granddaddy Purple Feminized Seeds – Shipping Worldwide.
---
Growing Granddaddy Purple Seeds
Granddaddy Purple has been around for almost 20 years now. Therefore, previous data can be used to optimize the health and yield of plants. Growing your very own GDP seeds is suited for any level of experience. However, you must create an environment as close to perfect as possible to get the most out of your plants.
Here are some tips to get a grow on the right track:
Medium and Nutrients
GDP grows well in soil and hydroponics setups. The choice is ultimately the growers' and won't impact the health of the plants provided the nutrient requirements are met.
Speaking of nutrients, you must maintain proper nitrogen, phosphorus, and potassium levels throughout your grow, changing the levels depending on what stage your plants are in. Additionally, secondary nutrients like boron, sulfur, manganese, copper, and iron are essential for healthy Granddaddy Purple.
Location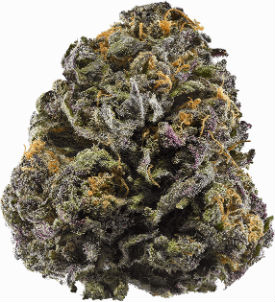 Finding a location to grow your Granddaddy Purple seeds isn't difficult if you're growing in a state like California or you have systems in place to grow successfully indoors. Granddaddy Purple was born in Northern California, meaning that it loves a dry climate. If you keep it dry, warm, and ensure there aren't any massive temperature drops you'll find success.
Temperature
During most stages, the temperature of your Granddaddy Purple should be around 65-75 degrees Fahrenheit. Once flowering, you should drop your temperature down to 55-65 degrees Fahrenheit. This strain is used to growing in the mountains where colder environments are normal.
The drop in temperature during the flowering cycle is what gives it the most intense purple hues.
Humidity
Dry environments work best to protect your plants from bud rot and mildew. It's advised to use a hygrometer and dehumidifier to regulate and monitor humidity. This strain is affected by mold and mildew occasionally so do your best throughout different stages of your grow to maintain the humidity levels.
Here's a quick reference guide to grow the strongest Granddaddy Purple plants:
Seedling stage – Between 65 to 70%RH
Vegetative stage – Between 50 to 70%RH
Flowering stage – Between 40 to 50%RH
Late flowering (around 1-2 weeks before harvest) – Between 30 to 40%RH
Techniques and Tips for Enhanced Results
Although they can be risky, high-stress techniques like super cropping or topping your plants help control growth patterns and build more bud sites. Granddaddy Purple loves super cropping and can produce a much bigger yield when trained correctly.
Low-stress techniques like screen of green also work well. The screen provides a support system for Granddaddy Purple's developing bud sites that are quite large and dense. Additionally, the canopy becomes level which aids light distribution, and by that – creates lots of bud sites that produce large colas.
With the use of any of these techniques, you should also be pruning your plants. The optimal time to do this is throughout the vegetative stage and in the first week or two of flowering. This is where you remove bottom branches, small bottom most bud sites, and yellowing leaves to allocate nutrients more effectively and create airflow. This is especially important for this strain due to its thick and bushy nature.
Time and Yield
Granddaddy Purple's flowering time sits around 8-11 weeks. If growing outdoors, harvest comes around mid-October to mid-November. The actual buds don't start getting very purple until the last few weeks of the flowering process, so don't worry if your plants aren't showcasing their lovely purple heritage.
The yield on these is quite high, especially for their indica dominant bloodline. With so many versions of this strain, exact numbers are hard to pinpoint, but some variations see yields up to 500g/m2.
---
Granddaddy Purple 101
GDP has won a plethora of awards since it was showcased in the early 2000s and it's easy to see why. The immaculate flavor profile, killer appearance, and a whirlwind of magical sedation are enough to turn any cannabis lover into a die-hard fan.
Here's the rundown on the strain's highlights and history:
History
The legendary Ken Estes was the original breeder of Granddaddy Purple in 2003. Propagated in Northern California, this cross between Purple Urkle and Big Bud hit the scene and changed the way we looked at purple weed forever.
After his finest creation, Ken went on to become an activist when he was paralyzed from the waist down due to a motorcycle accident. He claimed the therapeutic effects of this magical strain have been extremely helpful in pain management amongst other things. He now has his own hip-hop compilation album named "Medicine Man" that features many star-studded rappers. Each track is about his legendary strain and some even tell the DEA to "leave Ken alone".
Awards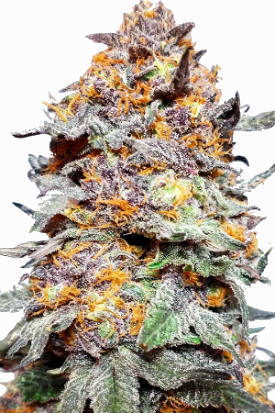 Where do we start? Granddaddy Purple has been winning awards for decades. Here are some of the notable competitions this strain has placed in:
1st place 2015 Denver High Times Cannabis Cup
1st place 2004 Medical Cup
1st place 2004,2005, and 2006 Green Cup
Granddaddy Purple Look, Smell, and Taste
The Look – GDP has long held the crown for best looking purple weed on the planet. The violent hues of purple are exotic and pronounced. On the surface, significant trichome dusting and therefore snow-capped greatness covers the dense heavy mountains of bud. The colas are massive, some variations compare their final measurements to 2-liter soda bottles.
The Smell – The overall aroma is quite subtle when compared to other strains, but delicious regardless. Expect notes of citrus, sweet grape, and juicy fruit gum with an underlying dose of musk that lingers through each inhale.
The Taste – Yum, the experience begins with an intense tangy grape sensation. The flavor sits on your taste buds for what seems like hours, imagine sucking on a grape Now-And-Later candy. This is complemented by other sweet berries, skunk, and a touch of citrus.
Granddaddy Purple Effects
GDP is perfect for nighttime use due to its ability to lull the user into a potent sleep paralysis over time. The hybrid mentality of this strain, which is sometimes upwards of 80 percent indica, lets smokers feel a touch of euphoria before a powerful buzz soothes the body and pulls most people into the couch. Once in the couch, subtle waves of relaxation wash over the mind and body providing the ultimate feeling of comfort. Toke wisely, the THC content is medium to high dosage so the overall effects can be quite powerful with only a hit or two.
Granddaddy Purple Medical Benefits
GDP packs a punch when it comes to relieving a variety of symptoms. Here are a few conditions and how this strain can help:
Pain management – The relaxing indica effects and high THC content are significantly powerful when dealing with joint pain, migraines, muscle aches, and other conditions that require pain management.
Depression – The slight euphoria and overall mindfulness of this strain help patients dealing with depression.
Insomnia – This strain has plenty of soporific effects that help people sleep.
Appetite loss – A classic case of the munchies ensues when smoking GDP.
Stress and anxiety – The subtle waves of relaxation help wash away daily stress or fits of anxiety. The THC content is rather high though, so take it slow for maximum relief.
---
Buying and Growing GDP Seeds – Final Words
One thing is for sure, Granddaddy Purple seeds are one of the best and most popular purple marijuana strains to grow in 2023. The fantastic appearance, sweet grape flavoring, yield, potency, ease of grow, and satisfying effects make it a staple for any cannabis enthusiast who's looking to add something special to their garden.
For when gardens can be dreary and colorless, a purple one is always in bloom – so load up on some Granddaddy Purple seeds, start your crop, and experience this truly satisfying hybrid.
---
Category Pages: