Fruity Pebbles, also known as Fruity Pebbles OG (FPOG for short), is a limited release hybrid that is derived from a combination of Granddaddy Purple, Tahoe OG, Alien Kush, and Green Ribbon. Growers love Fruity Pebbles seeds for their high yield, easy growing conditions, and the ability to grow indoors and outdoors.
These frost-tipped beauties, originally from Alien Genetics, explode with beautiful red, orange, and purple buds. Fruity Pebbles provides a tasty smoke that gives us a euphoric and creative high. This hybrid promotes a relaxing balance that favors indica but works well as an afternoon pick-me-up. The smell of citrus and berries dominates your palate and gives off a hint of nostalgia from a bowl of delicious fruity pebbles.
Growers and smokers can both enjoy Fruity Pebbles with its easy-growing nature combined with both medicinal and recreational uses. Now with high-quality seeds being affordable and easy to find Fruity Pebbles cannabis has quickly become a household name.
---
The Best Fruity Pebbles Seeds to Buy Online
---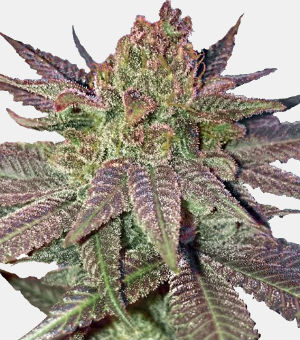 Feminized Seeds, 18-22%+ THC
Indica Dominant, Highly Prized Clone
400-500g/m², Flowering in 8-10 Weeks
Strong Tropical Fruity Taste, Big Buds
Euphoric and Energizing Effect
Relatively Easy to Grow
Suitable for Indoor and Outdoor
MSNL Fruity Pebbles is developed from a highly prized clone of the original Alien Genetics strain. Its been masterfully crossed between the usual suspects which include Green Ribbon, Grandaddy Purple, and Tahoe Alien. The pedigree of this strain is second to none.
Expect more sweet super fruit laced with cherry aromas. These buds are complemented by a wave of tropical fruit that attacks your palate. On exhale, smokers enjoy a hint of sweet-lemon and orange flavoring.
These feminized seeds will grow well both indoor and outdoor, and will produce a hefty yield ranging from 400 to 500 grams per square meter. Most growers harvest around late September if growing outdoors. This strain is probably not the easiest to grow – but still relatively easy and definitely suitable for novice growers.
The THC content is reported anywhere between 18 to 22% which is a few percentage points higher than most Fruity Pebbles versions.
The height of these plants reaches anywhere between 1.8 to 2.2 meters tall and flowering occurs within 8 to 10 weeks. The buds are relatively big and full of bright orange hairs, covered by a think layer of trichomes.
Buy Online: MSNL Fruity Pebbles Feminized Seeds – Shipping Worldwide.
---
Growing Fruity Pebbles Seeds
Fruity Pebbles isn't exactly a beginner's bud but it can be grown with relative ease. The cultivation process is a breeze due to the plant's resistance to mold and mildew. This allows Fruity Pebbles to be grown with minimal maintenance and in varied conditions.
Where to Grow
Fruity Pebbles is perfect for indoor or outdoor growing. The potent and pungent scent of this strain are intoxicating. Therefore, it's a great idea to set up a proper ventilation system. Growers should also make sure they have plenty of space as to not attract unwanted attention.
Fruity Pebbles seeds need plenty of space with some plants growing over two meters tall! You can ensure a healthy yield with proper trimming and maintenance to your plants. It's a great idea to trim the top of your plants to allow sunlight to penetrate the lower leaves. Additionally, plants can droop throughout the growing process. You can prevent this by tying the stocks and flowers, this will help each plant grow to its maximum capacity.
Optimal Nutrition and Environment
Growers should utilize potting soils that have an adjusted PH. These give your plants the maximum nutrient uptake. The fungi in some weed-specific potting soils can dramatically expand the root development; giving you stronger and healthier plants.
When growing both indoors and outdoors best conditions include a warm and dry environment; think southern California. If you're growing Fruity Pebbles outdoors you should place each plant where they'll be exposed to indirect sunlight, maybe on the outskirts of your garden. Find yourself a steady temperate climate to produce the healthiest and highest quality of plants.
If you decide to grow indoors you should have plenty of ventilation. For best results, use a dehumidifier, especially for Fruity Pebbles seeds. It can increase your yield and solve any potential "bud rot" problems.
Time and Yield
Most versions of Fruity Pebbles seeds bloom in 8 to 10 weeks and produce a bouquet of terpenes that is synonymous with your favorite breakfast cereal! Growers can expect a bountiful harvest ranging from September to October. The yield on this strain is quite prolific. Most outdoor growers find more success with higher yields.
---
The Fruity Pebbles Strain
History
Fruity Pebbles hit the market in 2006. In California dispensaries, there are multiple varieties in circulation, but the most notable was created by Alien Genetics. This indica dominant hybrid (about 55% indica) was branded as "Fruity Pebbles OG" or "FPOG" in 2012. It was a cross between a crossbreed. Green Ribbon + Granddaddy purple x Tahoe OG + Alien Kush. When Alien Genetics released this limited edition, packs of ten seeds were going for $1,500 each. This is what created the Fruity Pebbles that we enjoy today.
Popularity and Awards
Lately, Fruity Pebbles has been massively popular thanks to cannabis competitions around the United States. These buds placed in the following competitions:
1st Best Smell – 2017 Dope Cup Awards Seattle, Washington
1st Hybrid Concentrate – 2019 Cannabis Cup Oklahoma City, Oklahoma
19th Overall Best Strain – 2018 Alaskan Cannabis Classic Anchorage, Alaska
This paired with plenty of Pinterest ideas for Fruity Pebbles Weed-Krispies have made this bud quite famous.
Fruity Pebbles Look, Taste, and Smell
Fruity Pebbles lives up to its name in a heroic fashion. The color palette features streaks of yellow, orange, blue, and purple buds that contrast each other perfectly amidst frosted trichomes, green leaves, and compact buds.
The smell is a sweet tropical elixir that takes citrus and berries to a whole new level. However, upon breaking open the buds a spicy sweet hash emerges and engulfs the user's nostrils.
We've all wished at one point we had a bigger bowl for our cereal, the same can be said about our Fruity Pebbles buds. The flavor profile is smooth when drawn through a pipe or a joint. This one holds up to its name with a long sugary aftertaste with subtle hints of berries and fruit.
Fruity Pebbles Effects
This strain is a hybrid leaning towards the indica dominant side of the mix. You can expect a nice stony headspace paired with a rocking' body high. The influence of sativa is present giving you feelings of euphoria and creativity. Even with the background effects of this weed, the euphoria aspect works well as an afternoon pick-me-up or a creative burst right before heading to bed.
Medicinal Uses of Fruity Pebbles
While Fruity Pebbles is not solely used for medicinal purposes, it promotes a wide variety of healing effects. The following ailments can be treated by this strain:
Anxiety – The calming effects of this indica dominant hybrid helps to prevent anxiety without putting you inside your couch.
Depression – Reviews from multiple users state its dramatic ability to prevent mood swings.
Pain – THC content ranges from 12 to 20% making it great for headaches and body pain. The great aftertaste makes it easy to enjoy relief without compromise.
Nausea – With the brain being the culprit of most nausea the moderate levels of THC in this fruity bud help ease upset stomachs, and those going through chemotherapy by altering their brain chemistry.
Loss of Appetite – Fruity Pebbles marijuana can help smokers attract an appetite.
---
Last Words – Buying and Growing Fruity Pebbles Seeds in 2023
This strain appeals to just about everybody who wants to grow and enjoy their own delicious buds. Fruity Pebbles is an easy-growing and easy-going hybrid. The sheer appearance of these flowers is beautiful, and the smell gives you a perfect picture of the taste that follows.
Growers can capitalize on a high yield with the right lighting, ventilation, and spacing for plants. Seeds can be purchased for this award-winning strain relatively cheap online. Smokers can rejoice in the wonderful balance between wholesome medical benefits, chillaxed body buzz, and euphoric episodes that lend themselves to adventure.
Go out there, get some seeds, grow some buds, and enjoy a bowl of Fruity Pebbles!
---
Category Pages: