Nothing compares to the flavor and effects of smoking Gushers weed. Whether you're looking for a smooth, easy ride of relaxation and relief or an uplifting buzz exciting, Gushers will get you there.
Discover everything you need to know from flavor and effects to the best methods for growing Gushers seeds to expected yield right here.
---
The Best Gushers Seeds to Buy Online
The sweet, fruity flavor of Gushers is irresistible, we know. This indica-dominant hybrid offers uplifting euphoria with intense full-body relaxation. But where should you buy the best Gushers seeds? We have our favorite seedbanks for you below.
---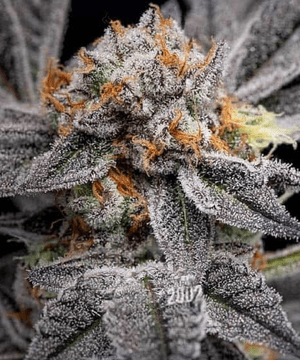 THC: 22% – 25%
Height: 4.92 ft | 1.5 m
Flavor: Caramel, Earthy, Sweet
Day to Flower: 9 weeks
Yield: 400 – 450gr/m²
Effects: Happy, Relaxed, Uplifted
Blimburn is known for not just their wide selection of seeds, but the quality of strain they sell. If Blimburn sells it, you can trust it'll be top quality which is exactly why we recommend growers to buy Gushers seeds here.
Gushers from Blimburn is a beginner-friendly strain that provides exceptionally high THC levels of up to 25%. While you are likely buying Gushers for its THC, don't discredit its comparatively high CBD level, at 0.5%. You'll get the euphoric high you're after with a bit of muscle relaxation on the side.
The Blimburn variation grows up to 1.5m and produces up to 450g/m2 indoors or up to 550g/plant outdoors. It may not be the largest harvest, but for its ease coupled with a fairly short flowering time between 8 – 10 weeks, it's worth every sweet gram.
Smoking Gushers is like eating Halloween candy: it's fruity, it's sweet, it's caramel-y, and of course the underlying earthy tones. Take your taste buds to candy heaven with every inhale.
---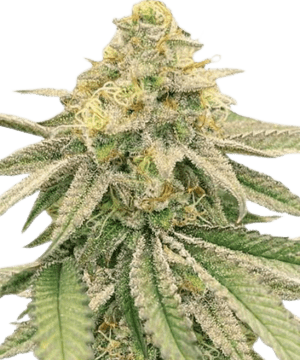 THC: 20% – 24%
Height: 100cm – 180cm
Day to Flower: 8 – 10 Weeks
Yield: 400 – 500gr/m²
Medical: Pain, Nausea, Insomnia
Effects: Dreamy, uplifting, satisfying
Experience the flavor and effects of childhood nostalgia with Gushers from MSNL. This mostly indica hybrid offers a well-balanced high, boasting THC levels up to 24%. Take a trip down memory lane with Gushers.
What we all remember most about Gushers, the candy, is the burst of flavor each little piece created. Every bite was a surprise. You can relive that with MSNL Gusher seeds. Tropical fruit that turns into cookies and finally an earthy grape flavor. Truly a desert you can indulge in daily.
With up to 24% THC and less than 1% CBD, get ready to feel a rush of psychedelic bliss that can take away stress. You'll also want to prep some snacks because munchies will set in hard after a few hits.
The MSNL variation of Gushers grows up to 1.8m and produces a medium yield of about 500gr/m2. It's relatively short flowering time between 8 – 10 weeks and an outdoor harvest in early October makes indulging that much easier. Because who wants to bear the pain of waiting? Gushers from MSNL helps relieve that angst.
---
Growing Gushers Seeds
Beginner-friendly, Gushers is one of the ultimate weed strains that, when grown properly, results in a good yield with delicious flavors and strong psychedelic effects. All you need to know about growing your own seeds is right here.
Where to Grow
Gushers marijuana is an almost equal hybrid sativa-indica strain with origins in none other than California. The genetics of Gushers are a combination of Gelato #41, Triangle Kush, and Animal Cookies, which should give you some good insight into the flavors it provides—a true mix of the three.
Gushers can be grown indoors or outdoors, it's your preference. Both have their pros and cons.
Let's start with outdoor growing. Gushers requires a specific environment in which to thrive. Luckily for those of you living in southern Cali, you've got the perfect climate. That's also true for anyone with a dry, Mediterranean-like climate. Not too hot, never too cold, and always on the dry side.
For outdoor growers, you can expect a larger yield and a plant that grows to about 1.8m in height. Harvest starts early October.
Indoors growing can get tricky. You want to mimic the conditions of outdoor growing, so a dry climate that's warm. But if you can get the soil right and provide a consistent temp in your green house with low humidity, you'll see a harvest that's comparable to outdoors.
Best Grow Method
The Low Stress Training (LST) method is a great way to get the most out of your Gushers seeds when growing outdoors.
With LST, you can gently bend and tie down branches to create an even canopy that maximizes light exposure and increases yields. When using this method, be sure to use soft ties such as clothesline or green twine, which won't damage the plant.
Start early – tying down branches should ideally be done when plants are still in the vegetative stage. This will help ensure more even growth and less stress on the plants when it's time for flowering.
The lollipopping method is a great way to get the most out of your Gusher plants, too. The technique involves removing lower branches and leaves, as well as any diseased foliage to increase airflow around the plant.
This can help reduce the chances of diseases taking hold and spreading through the dense foliage. Removing lower leaves also allows more light exposure in the canopy and helps create an even canopy for increased yields.
Additionally, it's important to keep an eye on the plant for signs of disease outbreaks, as sometimes infections can be difficult to spot due to the bushier growth habit of Gushers.
Height
Gushers can reach varying heights depending on its growing environment. When grown indoors, Gushers typically reach a height of 1m. Outdoor plants, however, can grow up to 1.8m tall given enough time and nutrients.
The size of the plant also depends on the grow conditions such as light levels, temperature, humidity, and nutrient availability. If conditions are optimal and the environment is well-maintained, outdoor plants will reach their maximum potential size.
Flowering Time
The flowering time of Gushers is 8-10 weeks, making them an ideal choice for growers looking for a relatively quick harvest. Outdoor harvest is in early October.
Growers should keep an eye out for signs that the flowers are ready to be cut, such as a change in color or a significant decrease in leaf size.
The leaves of Gushers are large, broad, and dark green in color. The buds produced by Gushers are dense and hard, with a spade-like shape, and are covered in bright orange hairs and sticky resin. The overall appearance of the flowers is unique, as they mix shades of purple, red and yellow together to create a vibrant display.
Once harvested, Gusher buds can be cured and dried before consumption. As with any plant, proper care during the flowering period can help ensure a successful harvest and quality buds.
Yield
Gushers has a medium yield, with up to 500 grams per plant when grown outdoors and a little more than 400 grams per meter squared when grown indoors. This makes it an excellent strain for growers who are looking for large yields in a short amount of time.
Mold and Pest Resistance
Gushers is a highly resilient strain and can easily withstand bouts of humidity and dampness, but not for too long.
It is resistant to most common pests and molds, making it ideal for beginners or those who want to cultivate in somewhat challenging conditions. Its strong stems also help to keep plants upright, allowing for more light to reach the lower parts of the plant and preventing bud rot.
However, powdery mildew and pests love the dark interior Gushers creates, which is why it's a good idea to use the lollipopping method of pruning.
---
Gushers 101
This California native strain is one you don't want to skim over. Solid yields, not-too-difficult growing measures, and a taste that will send you right back to the height of the new millennium make it one for the books.
History
Gushers was developed in California as a cross between Gelato and Triangle Kush. It carries its parents' genetics of heavy indica-dominance with sweet, fruity terpenes that give off a mouth-watering aroma. Due to its potency and robust growing ability, it has quickly become one of the most popular strains on the West Coast.
Awards
Gushers has been racking up awards since its release, winning several prizes in the cannabis industry.
As a winner of the High Times Cannabis Cup, Gushers' stellar reputation for flavor, aroma, and potency are second to none.
Appearance, Scent, and Flavor
Gushers is an eye-catching strain that has many features that make it stand out. Its buds are large and dense, with beautiful hues of purple and orange throughout its body. It is covered in trichomes, giving it a frosty look and feel. It's a colorful beast that calls right back to the origins of its name.
Gushers has an intense, pleasing aroma that is often characterized as sweet and earthy. Its terpenes consist of fruity tones, notes akin to cookies, and earthy undertones.
These complex aromas give off a powerful yet pleasant smell that lingers in the air for some time after it's smoked. And you better believe its flavor is just as varied and delicious as its scent, leaving you wanting another taste.
Effects
The effects of the Gushers strain are known to last for several hours and provide an overall feeling of relaxation.
Smokers report an uplifting cerebral experience that is accompanied by a cheerful and calming sensation throughout the body. Additionally, users often experience a buzzy energy that can be helpful for staying focused on tasks or simply enjoying life's pleasures.
This mellow high continues until it gradually fades away, letting all your heavy thoughts and worries drift away for hours on end.
Medical Benefits
Smoking Gushers is a popular strain due to its multitude of medical benefits.
It has been known to reduce the symptoms of chronic conditions such as fibromyalgia and chronic headaches. It can also be helpful in alleviating stress, pain, insomnia, and anxiety, which means it can help users feel more relaxed during their day-to-day life.
Users have reported feeling more refreshed after smoking Gushers, as well as an improved capacity for sleeping better at night.
Additionally, it has been known to reduce muscle spasms and ease nausea. With all these benefits combined, it's no wonder why so many people are turning to growing Gushers.
---
Final Thoughts
Everything about Gushers is a joy: the look, the feel, the taste, the scent. What's not to love?
It's a true Californian native marijuana strain, thriving in the dry heat. Use the growing methods we outline and you'll get a yield that's flavorful and long-lasting. We can't recommend Gushers seeds enough.
---
Category Pages: