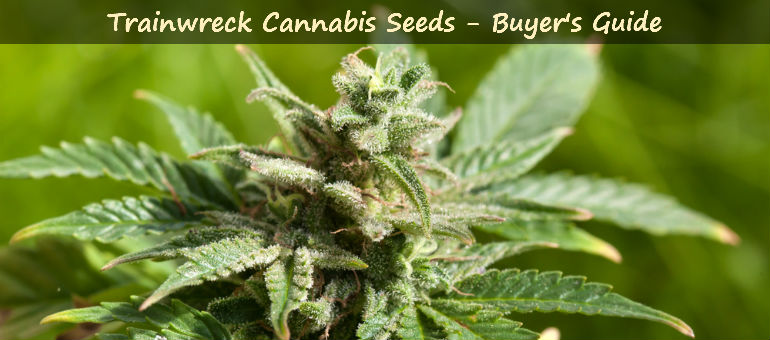 Trainwreck seeds are perfect for anyone who wants to add some seriously potent plants to their garden. While there are multiple stories on how this strain got its name, people who take a puff will understand immediately. Trainwreck is notorious for its ability to provide a euphoric roller-coaster ride. Additionally, the taste and smell are difficult to beat, with lemon, pepper, and citrus grooving their way inside of nostrils and onto taste buds.
When it comes to growing, Trainwreck seeds aren't too difficult. Even complete beginners have found success without losing patience throughout the process. This is because Trainwreck allows more environmental flexibility than a lot of sativa dominant hybrids. However, be mindful that these plants can grow quite tall and need ample space to reach their full potential. Those that can find the space or employ LST techniques are blessed with a monster yield in relatively short time.
Trainwreck is a popular and well known strain, it has been around for decades, and has taken home multiple awards from prestigious events. Sativa lovers are buying the best seeds online and starting to grow Trainwreck all over the globe. Here's everything you need to know about this wonderful strain so you can get started.
---
Best Trainwreck Seeds to Buy Online
With 30 years of success, Trainwreck has turned itself into a household name. There are so many places to buy Trainwreck seeds online. Here are some of our favorites:
---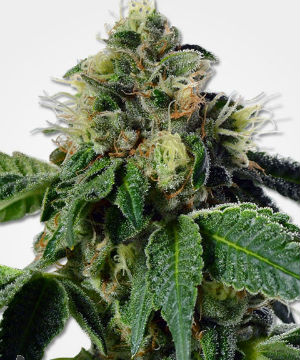 Feminized Seeds, 15-18%+ THC
Sativa Dominant, Californian Genetics
400-500g/m², Flowering in 8-10 Weeks
Popular Strain, Fruity/Sweet Flavor
Euphoric / Body Stone Effect
Suitable for Indoor and Outdoor
Easy/Moderate Growing Difficulty
This version was developed from the original Northern Californian clone-only genetics, using the most potent and highest yielding phenotypes. It features a lovely 15-18% THC content and an impressive yield of up to 400-500g/m2.
MSNL Trainwreck Feminized is a sativa dominant hybrid. While it will grow relatively tall (around 180-220cm) thanks to its sativa genetics, its flowering time is relatively short (around 8-10 weeks) thanks to its indica genetics. This is great for outdoor growers who want huge plants in short time, but also for indoor growers who have relatively high growing space or just want to take advantage of their growing space with plant training techniques and don't want to wait the usual 10-14 weeks other sativa strains take to flower. When growing outdoor – harvest comes around late September.
The buds are quite dense, at least for a sativa. This is mainly because the Afghani genetics of this strain. Expect vivid greens and masses of orange hairs throughout the bud site, while the smell is intoxicating, with aromas of sweet pine taking over your nostrils. The taste is some of the same with pronounced sweet and citrus flavoring wrapped with a piney finish.
These Trainwreck seeds are relatively easy to grow, probably not the easiest – but definitely not the hardest. Suitable for novice growers who are willing to learn few tricks, like basic plant training techniques.
Buy Online: MSNL Trainwreck Feminized Seeds – Shipping Worldwide.
---
Growing Trainwreck Seeds
It's not too difficult to grow Trainwreck seeds, but every strain comes with a set of conditions to get the most out of your crop. Here's the rundown on how to get the best yield from your Trainwreck seeds:
Where to Grow
You can grow this strain indoors or outdoors. We recommend having plenty of space either way as Trainwreck can grow quite tall and needs ample space to shoot upwards.
Nutrients and Feeding
Preference, budget, and set-up play a big role when choosing a medium. For great results use nutrient-rich soil to get started with your Trainwreck plants. You can fill the nutrient gaps by giving it extra calcium, magnesium, and nitrogen. Amending your soil is also a good idea, especially during flowering stages. Use bat guano and worm castings for the best results. You can flush early if you'd like as these plants can finish sooner than expected.
Climate and Humidity
Climate conditions should be warm and dry for Trainwreck, think Northern California. The generic 65-85 degrees Fahrenheit works well, but best to stick in the middle of that range. When it's dark, ensure there isn't a massive temperature drop, anything over a 15-degree drop will hurt the health of the plants.
Humidity should never reach levels over 70%RH, this can cause the growth of mold and mildew on your plants. Growers should stick around 60%RH during the vegetative state and drop it down 5%RH every week once forced into flowering, hoping to land at about 40%RH when it's all said and done.
Techniques for a Successful Grow
For best results employ trimming techniques when your plants start to develop a bushy shape. Early in the vegetative stage, you should be removing the lower branches and leaves which will allow your plant to utilize nutrients more wisely. This will make your branches taller and more productive throughout the grow, which increases your final yield amounts.
A SCROG set up for these plants works wonders as it helps light distribution and manages the growth of Trainwreck. Best practices when utilizing SCROG would be to trim leaves underneath the screen to provide better airflow for your plants and maximize nutrient distribution to the canopy. With this strain's massive upward growth, SCROG will force it to grow horizontally and produce more bud sites. This can be intensive and take a bit more time than a regular grow, but the added yield will be worth the effort.
Harvest Time and Yield
Expect harvest to come around November when growing outdoors, but each variation is a bit different. Flowering times vary, but you can expect somewhere between 7 to 10 weeks.
If you maintain great living conditions, stop problems early, and feed your plant the proper nutrients you can expect a whopping yield from Trainwreck plants. Some harvests have the potential to produce up to 700g/m2.
---
Trainwreck 101
Trainwreck is a fan favorite that's surging in popularity on a global level. Why is it becoming so popular again? Maybe because of the citrus pepper flavor profile and overall magical appearance. Or maybe because you can get out, socialize, and crush goals simultaneously after a few hits.
This strain is special and has something for everyone involved, here's the rundown on why:
History
Nobody really knows the true origins of this strain, but there's been heavy speculation throughout the years. Born in northern California around the early 80s, Trainwreck plants were sprawled across a hillside in Humboldt county. That year a devastating train wreck forced the creators to harvest early as to avoid detection. Once harvested, they were amazed by the totally cerebral high that hit them like a train. Therefore, the strain was aptly named Trainwreck.
Awards
A crowd favorite in Vermont, this strain has won plenty of awards with over 30 years of service. When specific strains stick around for the test of time it's usually for a reason. Placing twice in the Karma Cup and on countless "best sativa of all-time lists" this flower is notoriously potent. It even made the "7 naughty strains for Valentines' Day", which totally makes sense with the energetic rush and increased libido people can experience from this plant.
Trainwreck Look, Smell, and Taste
The Look – Each nug's surface is painted a healthy but pale leaf green color. The vine-like heavy sativa structure is prominent with minimal leaf counts and large calyxes. The sunset-colored pistils curl and twist slightly while resting atop a bed of frosted white leaves. At times you'd think Trainwreck is gray with the vast amount of trichomes that pay homage to fresh snowfall.
The Smell – Trainwreck starts out with refreshing menthol and tart sour notes. Afterward, citrus knocks on the door and is followed by an earthy pine aroma that is absolutely wonderful.
The Taste – The nose is quite telling of this tasty treat but doesn't give you the full story on how these flavors groove together to make magic. The mint works in perfect harmony with pine trees to deliver a soothing blow before the strong and bright lemon citrus makes a lasting appearance. The impression is felt in form of a tasty symphony that turns masterpiece with every exhale.
Effects of Trainwreck
This strain is a powerful mind-bending sativa that launches its smokers into a world of energetic creativity and euphoria. Trainwreck is used as the perfect afternoon pick-me-up that charges people with overwhelming feelings of general happiness.
Additionally, some feel their body is coated with a warm numbing sensation when they first experience Trainwreck. People forget that this flower is a hybrid, meaning that most can experience some indica effects while enjoying this strain.
Medical Uses for Trainwreck
There are lots of medical benefits for those wanting relief. Here are a few worth mentioning:
Chronic pain
Migraines
Lack of appetite
Muscle spasms
Lack of libido
Depression
The upbeat euphoric intensity of this strain helps with depression and distracts those from what might be hurting them. Trainwreck is a very creative strain helping people break through slumps and reach new highs. However, those with anxiety should be careful with this strain, as it can make anxiety a bit worse.
---
Growing Trainwreck Seeds in 2023: Bottom Line
There's so much to love with Trainwreck as it's truly one of the best sativa strains on the market today. The worldwide availability and plethora of reputable stores selling Trainwreck seeds make it easy to get your hands on some.
The easy growing mentality of this sativa makes Trainwreck seeds a perfect choice for those who are just getting started. However, veterans enjoy it as well because of the tall plants, large yields, high potency, and nostalgia that comes with growing this strain.
Overall, the pale green, frosty white buds smell and taste like Christmas morning with notes of sweet pine and citrus making it a must-have for any bud connoisseur. Not to mention, the delightful psychoactive journey that smokers embark on once Trainwreck is sparked.
This train is leaving the station, best to hop on and see what adventures await you!
---
Category Pages: