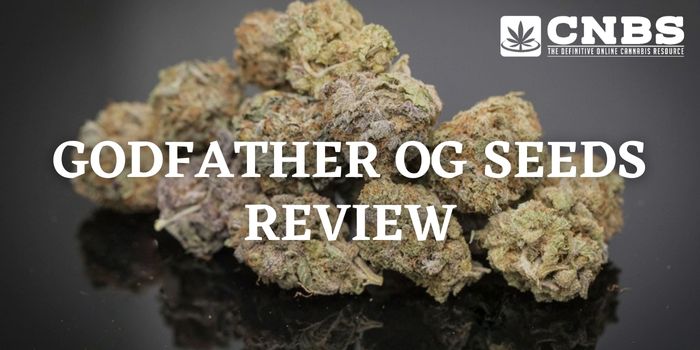 There's a reason this strain is called Godfather. Just as it prompts the award-winning film of the same name, Godfather OG seeds are potent, powerful, grandiose, and world-renown.
It is derived from crossing Alpha OG and OG Kush, which lead to a strain that truly provides fruit from labor—or lack thereof. Godfather OG is one of the easiest to grow, yet one of the most rewarding strains to date.
Smokers of any experience will love the output Godfather OG seed provides: 500-600grams, both indoor and outdoor, and one of the highest THC levels legally possible. That's a yield and a high worth getting excited over, even for the most seasoned growers out there.
Grown across the world, in any country, in (nearly) any climate, this is one seed strain you won't want to pass up on. Find out all there is to know in our Godfather OG strain review below and get the seeds that will make your work as effortless as it is fruitful.
---
The Best Godfather OG Seeds to Buy Online
As one of the most popular strains in the world, Godfather OG can be found on nearly every seedbank. But not all seedbanks are the same, and not all breeders provide quality Godfather OG seeds. Below are our top pics for buying Godfather OG online.
---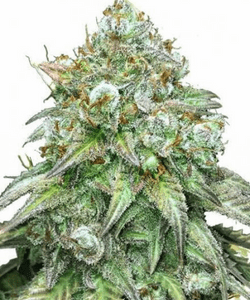 THC: Over 25%
Phenotype: Indica Dominant
Height: 100cm-180cm
Flavor:  Fruity, Sweet, Woody
Day to Flower: 8-10 Weeks
Medical Use: Stress Anxiety Insomnia
The indica-dominant Godfather OG strain from MSNL should be in your crosshair if it's not already. This variation gives you a blockbuster of a high and a yield worthy of space in any grower's setup.
MSNL's Godfather OG grows up to 1.8m in height with an outdoor harvest at the end of September yielding up to 600g/m2—that's quite the haul. You can expect between 8 and 10 weeks of flowering with Godfather OG in a temperate climate.
MSNL promises over 25% THC with less than 1% CBD. For growers looking for the ultimate THC to CBD ratio, this might be the winning variation. As with any strain recognized for its grandiosity, buds are bold and coated with refractive trichomes. Expect earthy, pungent, sweet scents, and flavors that start of sweet and grape-y with final notes of spice and pine. This is a full-bodied strain that delivers an experience worth holding in that puff an extra second or two.
Godfather OG seeds from MSNL are aimed at relieving stress, anxiety, and insomnia. This strain remains on the highest pedestal, the don of cannabis seeds, able to give smokers just what they're looking for: relief.
---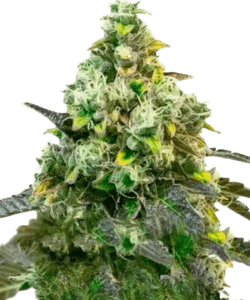 THC: 26-30 %
Phenotype: Mostly Indica
Height:  4.92 ft | 1.5 m
For Beginners: Yes
Flavor:  Fruity, Sweet, Woody
Day to Flower: 49 – 63 days
Yield Outdoor: 15 oz/plant | 450 gr/plant
Effects: Euphoric, Happy, Relaxed
Blimburn is one of the world's best breeders, having started as a seed supplier twenty years ago and strengthening their practices ever since. With their Godfather OG strain, Blimburn certainly doesn't fail us.
Godfather OG can be grown year-round, in any season and from any skill level. It's one of the best strains for beginners to test the waters with but will also be a staple of even the most seasoned grower's lineup.
You can expect the feminized Godfather OG indica strain from Blimburn Seeds to grow up to 1.5m in height, flower between 8 and 10 weeks, producing around 600 gr/m2 for indoor grow houses and 450 gr/plant for outdoor.
Being a staple of experts and beginners, alike, there's no surprise at the extremely high THC level this version of Godfather OG produces. Up to 30% THC levels along with 2% CBD, which any grower knows is quite the feat.
Consuming a product with such high THC levels, you can expect feelings of euphoria, relaxation, and happiness. That's what makes this strain so good for smokers and growers of any skill level. And the taste is exactly what you'd expect from a strain as potent as this, with a mixture of woodsy, skunky, and sweet flavors racking your tastebuds.
We cannot praise this variation enough. Not just for its potency, but also for its ease.
---
Growing Godfather OG Seeds
Big yield, little effort. Godfather OG seeds are so easy to grow, there's no reason you shouldn't have at least one big bushy plant in the back.
Everything you need to know about growing Godfather OG indica seeds is right here.
Growing Locations and Conditions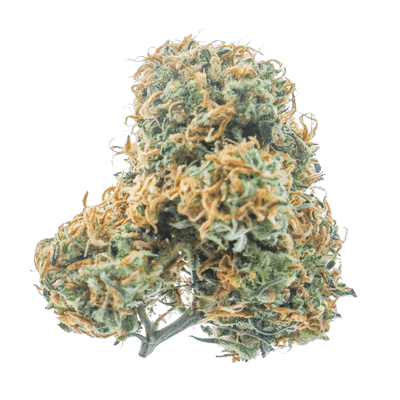 Godfather OG weed grows wherever you want it. Indoor, outdoor, rooftop, garage, garden—pick a spot and the Godfather OG strain will sprout. It's as laidback with growing as it makes you feel when smoking.
These seeds can grow successfully virtually anywhere in the world. Indoors, it tends towards a more Mediterranean climate. Outdoors, it prefers wide vertical spaces that are evenly spaced. The SCROG method works wonders with this strain.
Keep in mind, these are growing measures to reach ultimate yield potential. No matter what your setup is, you can expect Godfather OG seeds to grow and flower at the beginning of fall.
There's Room for Error
Nothing harms the Don. Mold, pests, and disease won't do a lick of damage. The only thing that might do it in is too much humidity. Even Mediterranean areas get humid during certain seasons, but never year-round.
Just like any plant, too much water or sun or heat will harm it. This is a hardy strain, so don't expect it to outright die if you leave the lights on for too long, but also don't expect it to flower as much as it could.
You also don't want to shock it. For example, don't let the soil dry out and then water it too much all at once. Or don't leave it in the dark for a week straight and then leave the lights on too long to make up for it. You won't kill the plant, but you also won't get a good harvest.
Best Growing Technique for Godfather OG Seeds
Bred to be cultivated easily indoors, outdoors, and in greenhouses, Godfather OG is one of the easiest strains.
Outdoors, this strain prefers a more mild climate with a healthy amount of natural light and space. Think Mediterranean. Not too hot, not too cold, prefers the warmth, and never gets drowned in water.
The most important takeaway is consistency. Keep the climate constant; don't change things too dramatically or you won't see the yield you're looking for.
If you're growing multiple strains, keep the height in mind. The Godfather OG strain seeds can grow to around 1.8m. If you have taller plants, make sure the OG stays on the outside of your lineup so it doesn't get too shaded. And vice versa if you're growing shorter plants.
Scrogging Is Best
The ScrOG (Screen of Green) method is best here.
The goal of scrogging is to create a uniform canopy of green. Plants are evenly spaced, giving each bud the perfect amount of space and light to reach its potential. This method allows each bud to avoid being shaded by leaves and buds above, giving each nugget the proper care and attention they all deserve.
This method is also not very time consuming, nor will it take up too much space. You simply need to make a grid, usually from rope, and ensure each plant doesn't overlap. You can read more about the ins and outs of scrogging to get a better grasp of the concept, but rest assured it is simple.
Expected Yield and Timeframe
Don't let the ease of growing this plant fool you, yields are sky high. You can harvest up to 500g per square meter if growing indoors and 600 outdoors. All within 55 days of flowering.
To sum up, all flowering starts at the beginning of Autumn. Buds are ready to be harvested 8 weeks later. A 1.8m plant grown outdoors can produce up to 600g/m2.
---
Godfather OG 101
Newcomers, novices, amateurs, and experts can all agree: Godfather OG will always be a staple in their soil. No matter the extremities, this strain survives it all with a healthy harvest that will tide you over until next season.
History
A pure cross between OG Kush and Alpha OG, two of the most powerful and long-standing strains enjoyed by cannabis smokers worldwide. It's a 60/40 strain favoring indica with very few growing requirements while providing enormous returns.
All this easily makes it one of the most popular strains in the world, grown in virtually any climate.
Awards
Not unexpected, Godfather OG weed has won awards in multiple competitions. The most notable awards include:
Best Indica, 2013 High Times Cannabis Cup
Highest THC Indica 2017 High Times Cannabis Cup
If it weren't already a popular choice, it certainly gained rightful recognition after winning these two awards—especially true regarding it's nearly 30% THC rate.
Appearance, Scent, and Flavor
Growing up to 1.8m in height, the Godfather OG strain doesn't require much individual space. But when given proper care and light, the buds it produces are a big, glistening bulbs with purple hairs. As with most indica strains, leaves come in deep green with tinges of purple and blue.
This strain is recognizable by its pungent, skunky/sweet scent that invigorates the senses. You will find hints of floral and earthy scents mixed with spices that bite and fruits that sooth.
The flavor array is similar, but much more orderly. Starting notes include sweet grape, and as you exhale they transform to something much zestier. Woodsy pine and a mix of spices give each puff a life of its own.
Effects
This strain is sure to make you relax, veg out, and live in the moment. That's what we all want from THC, after all. There are few other strains that come this close to what Godfather OG has perfected: relaxation with every inhale.
Designed to help smokers sleep, destress, and find a bit of Zen, smoking Godfather OG relaxes the entire body and mind. It's the ideal kind of high we all seek when we want to forget the world around us, zone out, and just live in a bubble of happiness and peace.
Medical Benefits
It's reported that many smokers who previously suffered from insomnia and muscle aches received continuous relief after smoking Godfather OG. This applies for mood disorders, as well. Those who are chronically anxious, stressed, and suffer from PTSD will gain from this strain.
PTSD
Chronic Anxiety
Muscle Aches
Insomnia
Stress
Fatigue
---
Final Words on Growing Godfather OG Seeds
The don of cannabis strains isn't stepping down anytime soon. Godfather OG is a strain that's been around for decades and will last for centuries as a staple for all growers.
With a flavor profile out of this world, THC percentage second to none, and cultivating so easy even a black thumb novice could do it, Godfather OG is the perfect strain to keep in your grow house.
Prep your senses for an experience only the Godfather can bring and get growing today.
---
Category Pages: