Have you heard of WeedSeedsExpress? If not, don't feel too bad. They're a relatively new seed breeder, but they're already making waves. They're very much trending at the moment and gaining in popularity, so don't be surprised if you suddenly start seeing them mentioned all over the place.
The brand may be newer, but the founders' passion for growing marijuana and developing their own strains started way back in 2005. The company is based out of Haarlem, an area of the Netherlands that is located right next to Amsterdam, with an equally rich cannabis culture and history.
They pride themselves not only on their amazing genetics, but also the incredible level of support and service that they offer their customers. It's clear that the founders wanted to create not only a convenient place to buy some stable and high quality cannabis seeds online, but also a place you could go to get support and advice for every aspect of your grow, from start to finish.
WeedSeedsExpress is a breath of fresh air in the online cannabis seed industry. Is that enough to earn your business? Read the full review to find out!
Quick Links – WeedSeedsExpress Online Shop:
---
Is WeedSeedsExpress Legit?
The first thing a lot of people want to know whenever they hear about a new online seed bank is whether or not it's legit.
Luckily, WeedSeedsExpress is legit. They may not have the pages and pages of endless reviews online that some seed brands that have been around for years have, but the reviews that are out there are all very positive.
It's understandable to be wary when hearing about a brand for the first time, but from the information gathered during the course of making this in-depth review, it's clear that WeedSeedsExpress is legit.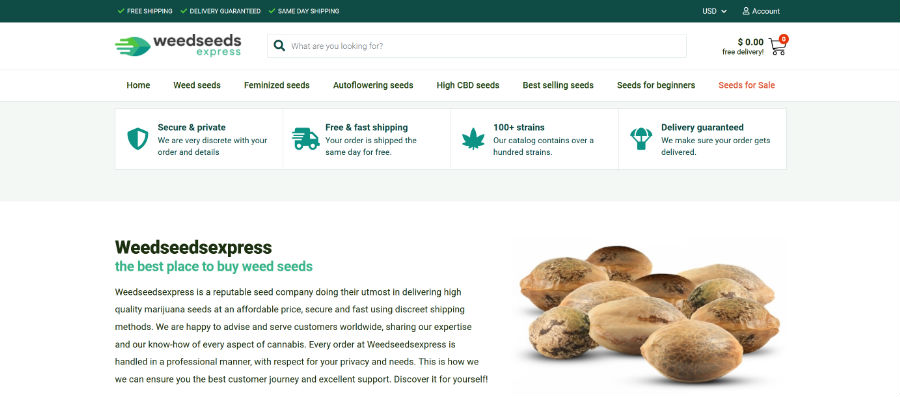 History
WeedSeedsExpress has a limited history as a business, but since the idea for the business came from the three founders' experiences with growing weed themselves and experimenting with breeding their own strains to impress their friends, the brand already had 15 years of experience and history behind it before it ever even came into existence!
It will certainly be interesting to see what WeedSeedsExpress does in its next 15 years. Its first months in business have already been such a whirlwind of growth and new innovations that it's hard to imagine where they'll be that far into the future!
Reputation
WeedSeedsExpress is a brand whose reputation is growing quickly at the moment. They're currently gaining a lot of new customers as more and more people hear about them and the incredible level of customer service they strive to provide. They're very much a trending seed shop right now, so it's the perfect time to get in near the ground level and check them out.
One of the things that makes them so appealing is the core value that their business is founded on. As growers themselves, the founders of WeedSeedsExpress have had both good and bad experiences with ordering cannabis seeds online. Part of their mission in starting their own company is to ensure that every customer who buys from them is 100% satisfied.
That's right, they strive for all the experiences customers have when ordering from them to be good. That's a tall order, but they're doing their best to live up to it thanks in no small part to their amazing team of customer service representatives.
At WeedSeedsExpress, everyone is very aware of the fact that trust is something that takes years to build, seconds to break, and forever to build back up again. To that end, they do their best to ensure that trust is never broken with their customers once it's established. This means that the WeedSeedsExpress customer service department does just about everything they can to ensure that every customer has a great experience, gets any issues resolved, and walks away satisfied.
A Word From the Owners of Weedseedsexpress
" Weedseedsexpress is the result of a decade of knowledge and experience in the field of genetics and cannabis cultivation. Located in the Netherlands, we share our top notch genetics and knowledge to enthusiastic growers all over the world.
We understand the great importance of high-end customer service, delivery and germination guarantees, clear policies, a user friendly webshop, and of course – top notch genetics. No matter what, at Weedseedsexpress you will end up as a satisfied customer, as we will hunt you down, target any issue, solve any problem, and put a big smile on your face.
Ready for the best experience? We are more than happy to welcome you at Weedseedsexpress.com. Contact us at info@weedseedsexpress.com or give us a call (+31 23 30 20 309) if you wanna have a chat first. We are always happy to help!
Kind regards, Frank, Roger and David! "
Seed Selection at WeedSeedsExpress
The selection of seeds available at WeedSeedsExpress is nothing to sneeze at. At the moment, they have just under 100 different seed strains to choose from. This is a number that will undoubtedly be increasing as they become more established and grow their business!
WeedSeedsExpress is well stocked with old favorites and innovative new strains alike. Some of their bestselling seed strains include:
Sexxpot, which is reported to increase sex drive as one of its more potent effects, is also a big seller.
There is a good mix of different types of seeds available as well, including the usual feminized, autoflowering, and regular as well as different categories like:
You can also browse their strains by types, including:  Blueberry seeds, Cheese seeds, Haze seeds, Kush seeds, Skunk seeds, Sour seeds, and more.
The one major thing that they don't offer yet is mixed packs or pick and mix seeds, though a determined customer can always make their own by ordering a variety or splitting an order with friends.
Product Quality
Product quality is a huge focus over at WeedSeedsExpress. They pride themselves on providing high grade, fresh, and organic cannabis seeds that are also affordable. All of the strains that they sell are rigorously tested for quality and genetic stability.
If a customer does happen to have any issues germinating their seeds, WeedSeedsExpress is more than willing to work with them and figure out what's gone wrong. If there turns out to be a problem with the seeds, rest assured that they'll make it right!
In fact, they would love to take things even further and offer a successful growth and harvest guarantee, but unfortunately, there are just too many variables in any individual grow to offer that kind of end to end guarantee.
Customer Service at WeedSeedsExpress
Customer service is the number 1 strongest side of WeedSeedsExpress. And that's not because the product quality or seed selection is lacking at all, but rather because the customer service is so phenomenal.
Again, WeedSeedsExpress was founded to be the company that all online seed banks should be. The founders got fed up with dealing with scammy online "businesses," poor customer service, and terrible genetics. Instead of just sucking it up and dealing with it, they decided to do something about it. That origin story is what every customer service representative has in mind when they're dealing with issues that customers have. It's what makes them strive for 100% customer satisfaction.
This amazing customer service may also contribute to the lack of WeedSeedsExpress reviews online. It's common knowledge that unhappy customers are much more likely to leave negative reviews online than satisfied customers are to leave positive ones. So, since WeedSeedsExpress works so hard to keep their customers happy, it makes sense that there aren't too many reviews out there yet and that the vast majority of the WeedSeedsExpress are positive, outlining their great experiences as well as grow reports on the various strains bought from there.
WeedSeedsExpress will never let their customers down – in fact, that's kind of their unofficial company motto!
The WeedSeedsExpress Shopping Experience and Website
WeedSeedsExpress.com is a fairly user-friendly website, which gives a good shopping experience for its visitors. The seed selection is not overwhelmingly large, but it's well organized into sensible categories that represent what people are actually looking for. For example, things like Best selling seeds, High CBD seeds, and Beginner seeds are all easily accessible from the main menu.
Inside each of the categories, there's even more customization as well. The interface allows visitors to sort all the results by name, by CBD content, THC content, yield, price, or height, from highest to lowest or lowest to highest.
The sidebar also contains additional filters that will show seeds with a THC level of low, medium or high, a CBD level of low or high, a low, medium, or high yield, and a low medium or high height. Of course, all of these filter options can be mixed and matched as well, offering a huge amount of customization and control in finding the exact, perfect seed strain for anyone's needs.
As far as the design of the site, it's quite simple and understated. There are definitely no flashing neon signs or obnoxious pop-ups to navigate around here. The focus is on the strains, so the product listings are front and center, as they should be. The website overall has a ton of features that make the shopping experience easier and more enjoyable for the customer, which fits into WeedSeedsExpress's overarching goal of keeping all of their customers happy.
Promotions, Discount and Free Seeds at WeedSeedsExpress
Promotions and sales are a regular occurrence at WeedSeedsExpress, as is giving away free seeds. It's all part of their mission to make every customer a happy customer. Check out the subsections below for more info on the best deals available at WeedSeedsExpress:
Promotions and sales
There are rotating sales and promotions on offer just about all the time over at WeedSeedsExpress. They're not just for show either, really great deals can be had in their seeds for sale section. 50% off sales or 10+10 offers are not unheard of!
The offers available in the sale section change on a weekly basis, so make sure to check back often to snag the best ones before they're all gone.
Discount Codes
Discount codes for WeedSeedsExpress are a bit harder to come by than sales and promotions. These are usually given out by customer service representatives as a way of smoothing over any issues with an order, but they may also appear in newsletters and promotional emails. You'll want to sign up for those for the best chance of getting a nice discount code, but there is also a page dedicated for public coupon codes.
Free Seeds
Free seeds are always on the menu when shopping at the WeedSeedsExpress seed bank. In fact, they make it a point to add 20% more seeds to each order just as a way of thanking each customer!
This is a great system that can be rewarding no matter how many seeds are in each order, unlike most free seed offers from other seed banks that give away a certain number of seeds based on the value of each order.
Shipping, Returns, and Payment
As one would expect from a seed shop that is all about providing a positive customer experience, the shipping options, return policy, and payment methods available at WeedSeedsExpress seed bank are all very user-friendly and customer-centric. Here's an in-depth look at each of them:
Shipping
WeedSeedsExpress ships essentially worldwide, though there are a few countries that even they can't make it to, like those with international trade embargoes and other restrictions. This shouldn't apply to too many people who are otherwise able to order from their site.
All shipments are sent via regular post rather than courier, which offers the greatest chance of uninterrupted delivery. It also means that orders can be sent to PO boxes.
Packages sent within Europe are mailed in a simple, discreet envelope. Parcels traveling outside of Europe are sent discreetly with extra stealth packaging standard at no additional charge.
The stealth shipping method they use at WeedSeedsExpress is highly effective, and that's what enables them to offer their amazing delivery guarantee on all orders. The guarantee says that if any order is not received within 21 business days of the time it was sent, WeedSeedsExpress will send out a one-time free reshipment of the entire order, with no cost to the customer. 99 times out of 100, this second shipment will be received without issue, which is why the guarantee only expressly covers one reshipment. However, if the replacement also doesn't arrive, contact customer service- they won't let you down!
Shipping Costs
As far as shipping costs, free shipping is available on most orders, but it won't include tracking. Free shipping with tracking is available on orders over 100 Euro. For deliveries to some countries, tracking is mandatory since it greatly increases the chances of successful delivery. This tracking costs about 7.50 Euro, so it won't break the bank.
Tracked shipments are available for all countries except Canada and Australia, due to the limitations of their mail systems. Customers who live in either of those countries and still want to be able to track their shipments are encouraged to contact customer service for a potential solution.
Shipping Times
All orders are shipped out from WeedSeedsExpress within a speedy 8 hours of receiving payment. From there, most orders should arrive within 5 to 18 business days, though orders going to South Africa could take up to 35 business days. Of course, these timeframes can also be delayed because of holidays or inclement weather, etc.
For more information:
Payment Methods
WeedSeedsExpress makes it easy for customers to pay for their orders, which is not only customer-friendly but just good business, really. Customers can pay with credit cards, cash, a bank wire transfer, and any cryptocurrency. Rest assured that the description of the charge that may appear on any bank statement will be discreet, without any mention of cannabis whatsoever.
For more information:
Return Policy
Orders can be returned easily within 14 days of delivery. To initiate a return, just contact customer service and they'll send a form with all the necessary information and a shipping address to send the seeds to. Once they've received the shipment at WeedSeedsExpress, a refund will be issued for the price of the merchandise and the shipping costs within 2 business days.
If an order arrives damaged or incorrect, you won't need to go through all of that. Just contact customer service and describe the issue, maybe provide a picture or two, and they'll have a replacement on its way out to you in no time!
For more information: WeedSeedsExpress Return Policy Page
Final Review of WeedSeedsExpress
WeedSeedsExpress is a breath of fresh air in an industry that is too often disappointing for its customers. Though they are still relatively new, the lack of negative reviews on them has to be encouraging, especially since there are plenty of genuine positive experiences and reviews, and people are generally much more likely to post a review about a negative experience than a positive one.
For those who are wary of random reviews online and in forums, hopefully this comprehensive review was helpful. For anyone still wondering, WeedSeedsExpress is definitely legit and worth ordering from.
If there's one thing that WeedSeedsExpress really knows how to do, it's treating their customers right. It's encouraging to see the lengths that they've gone to in order to design a business that's extremely customer-centric and user-friendly. From the many guarantees they offer on each order, to the 20% extra seeds they pack into every package, they are really going above and beyond. Their unofficial motto of "we won't let you down" really fits!
Quick Links – WeedSeedsExpress Online Shop:
Parent Page: The Best Marijuana Seed Banks
---
Category Pages: