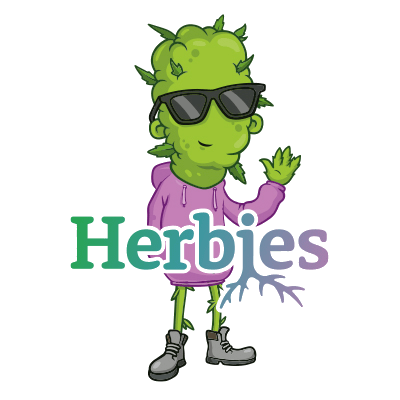 Herbies takes the online marijuana seed bank and dials it to 1000. Whether you're a newbie grower or a veteran cultivator, you will no doubt have heard of Herbies seeds.
With an ever-growing community of pot growers, the only gripe with Herbies is they have yet to open a community forum. But if that's the only drawback to buying from this online weed seed bank, we'll take the tradeoff.
With 9 payment methods, a brand-new US-based shop, ultra-fast shipping, and zero customs issues, Herbies is taking the seed bank industry by storm.
Find out why we praise Herbies so much in our full review below, and garner your own opinion based on fellow seed buyer sentiment.
Quick Links – Herbies Seeds Online Seed Bank:
---
History, Location, and Customer Reviews for Herbies Seeds
Herbies is one of the largest resellers of weed seeds in the world, with connections to thousands of growers—including their own.
Is Herbies Seeds Legit?
Yes! The most legit source of marijuana seeds in Europe and the US. If you have any doubts about buying from Herbies, rest assured their website will provide you with all the details you need to buy securely.
This is one thing that makes Herbies seed bank stand out. Over 500 blog posts, a useful FAQ, and other pages that detail where the business ships, what's legal, what's not, and so on. Clearly, Herbies has put in more than enough effort—and continues to do so—to assuage any uneasiness a buyer may have regarding growing their own seeds.

Where Herbies Seeds is Located?
Herbies is a Spanish business, so they serve the EU quite well. But now they have just opened a brand-new branch specifically for North American growers, Herbies USA Express, serving the US and Canada.
Herbies Seeds Began as Just a Simple Headshop.
In the beginning, this business started as Herbies Headshop in the UK. But as popularity rose and needs changed, Herbies Headshop transformed into what we know it as now: Herbies Seeds.
In 2019, after the rebrand to Herbies Seeds, the company moved across the channel from the UK to Spain where it could better ship and serve its international and EU customers. Just two years after, they came out with their own seed brand named—you guessed it—Herbies Seeds.
4.4 Stars From Over 2.5K Customers.
Generally, we gravitate toward Trustpilot for our 3rd-party reviews source. However, the platform unexpectedly (in an infamous moment they have yet to resolve) deleted Herbies Seeds' stellar rating, leaving just a few bad reviews behind. Which of course we will not ignore.
In the wake of this incident, Herbies has migrated to using Reviews.io as its platform of choice.
Customers mention how discreet the packaging is and how the customer support team goes above and beyond.
The main complaint customers have involves customs issues, which is often out of Herbies' control. Yet, the business is still support and ready to revise the order. As legal requirements change around seeds, weed, and consumable products, there is not always a clear answer about what may happen with your shipment.
For example, products coming from Herbies Seeds will likely get checked at customs because of the nature of the brand (even in discreet packaging). Herbies is doing its part to stay compliant and is always willing to rectify any mishaps along the shipment journey.
Serving the international community of smokers and growers, Herbies does well to provide excellent service with efficiency and understanding. There's no wonder why this online seed bank rates so highly.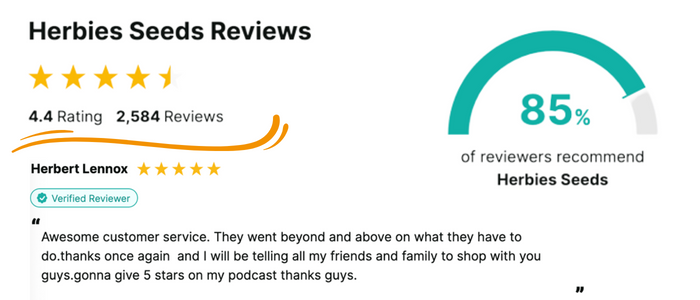 ---
Herbies Seeds Quality of Products
Herbies Seeds sells seeds from sources around the world as well as their own. There's no match for what they offer here, even as selections change or go out of stock. You will always find the highest quality marijuana seeds for sale.
Plus, the site design makes it easy to find exactly what you're looking for. Between feminized seeds and autoflower ones to specific seedbanks and sales, navigating Herbies is a sinch.
Thousands of Seeds From 99 Seedbanks.
This is your go-to shop for all things seeds. Seeds (aside from Herbies Seeds' own brand) stem from various parts of the world. As a seed grower, yourself, you must be somewhat aware of the environment marijuana seeds thrive in. So, choosing a seedbank with a climate similar to your own means you have an even greater chance of success.
Or try out something else! Options are limitless, and seeds are inexpensive. For as little as €4, you can start your own grow operation. Needless to say, that's not much financial risk!
Photos of Each Strain Make Shopping That Much Easier.
You never have to take a risk with Herbies, as each minute detail of their marijuana strains for sale is available on their site.
Characteristics are highlighted and detailed on each strain product page as well as ideal growing conditions. Growers won't have to question their process with Herbies providing all the information they need.
Highest THC Percentage on the Market!
Herbies Seeds has an entire collection (that's regularly updated) containing strains with THC levels of at least 25% and up to 33%. Herbies Seeds' own line contains some of the highest on their store, though you'll find some from other brands including:
Seedstockers
Barney's Farm
BlimBurn Seeds
Original Sensible Seeds
And these seeds are cheap! €10 per seed, roughly, with packs that stack up the savings. In the United States, these seeds are a bit pricier at around $20 per seed, but the THC percentage is worth the extra buck.
The US Shop Is Slightly Different Than the Standard Shop.
US customers can buy strains and seeds from the international Herbies shop, so why is there a dedicated US seedbank?
The dedicated shop offers zero customs trouble and faster, cheaper shipping. International shipping is always an expense, so having a local shop means products can be packed and shipped even faster—with delivery in just 1 day (in some cases).
As stated previously, the main complaint customers have is customs issues. But US seed buyers can relax knowing their purchase doesn't even have to touch a customs agent's fingers.
There are also far less strains to choose from on the US shop, which on the surface sounds like a true bummer. But peeling back the curtain, we can see why. The US has many laws around growing, smoking, and selling weed (and seeds). By limiting the product selection to only those that 100% abide by US law, customers don't run the risk of getting their products confiscated.

The "Out of Stock" Problem.
There are, at the time of this review, 157 pages of seeds. However, only 66 of those pages have seeds for sale. The rest are all out of stock.
We do understand that keeping out of stock products listed does allow buyers to sign up for email notifications when that product goes back in stock. But nearly 100 pages is overkill.
---
Pricing, Sales, and Discounts for Herbies
We're amazed at the pricing on Herbies Seeds, especially for the international store. Seed packs in the US start around $17 whereas internationally they start just under €4. That's a steal!
In the entire FAQ section, I'm shocked that no one bothered to ask how they can sell at such low prices. Even for the strains high in TCH levels, pricing in euros is quite low. There is no barrier to entry for new growers; with a plethora of affordable strains, anyone can start growing their own.
Free Seeds With Every Order (International Store).
At least every order than contains the free seed checkmark. It's quite easy to see which strains come with free seeds.
You can check the promos page for more info on free seeds, but it's pointless. Every single order comes with free seeds.
1 free seed with every order
1 free seed with every €21.31 spent
Simple as that!
For the US store, free seeds are available but not for every order. You will be able to see which strains come with free seeds because the quantity will say "3+3" or something similar. So, if you're looking for a bargain, look for that plus sign.
Using the Bonus Calendar Helps You See What Extras You'll Get.
This is definitely a way for Herbies to make more money, but it works. On the Promos page there exists a Bonus Calendar. Put in your country and the amount you expect to spend, and a list of goodies will appear underneath. The more you spent, the more you get!
Every single order, no matter what you spend, comes with:
A tube container
Rolling papers
Sticker bomb set
A €60 order grants you all that plus a grinder and an airtight bag. €80 gets you pruning shears and a stash holder, €100 gets you filter tips book and keychain capsule, and €120 gets you a glass pipe.
Even More Promos per Seedbank.
Again, on the promos page, there is yet another section detailing which brands/seedbanks have a promotion attached.
Rarely are there sales in the sense that prices are marked down. Instead, these promotions are more of a BOGO (buy one get one). In some cases it's buy 3, get 1 or buy 10, get 3. Either way, if you are a follower of a few specific seedbanks, keep an eye out for promos. They're bound to show up here.
---
Payments, Shipping, and Returns for Herbies Seeds
This part of the review is where many businesses falter. Returns are generally a sore when it comes to cannabis-related sales, and shipping can get tricky when serving the entire world. Yet Herbies delivers, figuratively and literally.
A Serious Consideration for Stealth.
Herbies ups the game when it comes to discreet, stealthy deliveries. While it sucks for residents of some countries (US, Australia, Pakistan, and NZ, Germany, Bulgaria, and Estonia) because they won't receive a couple freebies, we love to see Herbies' commitment to discretion.
As confirmed in customer reviews, Herbies Seeds delivers discreet, unmarked packages and does consider customs issues.
Taking it a step further, Herbies repackages all seeds into crush-proof packaging. Meaning, your seeds should never arrive damaged and customs should have no problem (although we know at times they do).
To set your expectations correct, you won't receive original packaging from the seedbank or brand. Instead, you will just receive the seeds unmarked.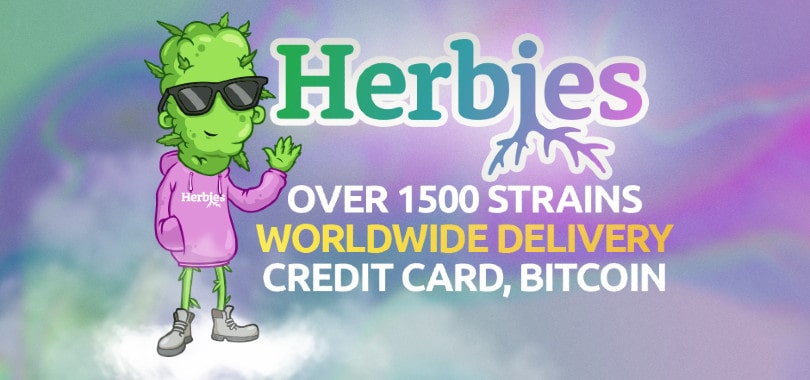 Shipping Is Never Free.
This is possibly the only downside to shopping at Herbies. No matter where you're getting seeds shipped to, you will have to pay.
For the international store, prices vary depending on distance. There's a handy shipping calculator located on the Shipping page in the footer of the site. The minimum price seen was around €7.
For US store shoppers, it appears to be flat-rate shipping at $15.
There Are a Whopping 10 Ways To Pay.
10! Most e-commerce stores have 2 or 3, but never 10.
Bitcoin – this option has a 5% discount
Bank/ACH transfer
Credit cards and debit cards
Zelle (US)
Cash App (US)
Pay by Mail (US)
Venmo (US)
Popmoney (US)
PayPal (US)
Cash on Delivery (with a fee)
We often argue that cryptocurrency is the preferred method of payment for the cannabis community. But seeing all these alternative options (including cash payment) is truly remarkable.
---
Herbies Seeds Customer Service Review
The customer service team is exceptional here. There is nothing they can't handle, and that's proven with the countless customer reviews posted about how quickly issues get resolved.
Herbies knows that issues arise when shipping products like marijuana seeds internationally. They've set up a team ready to resolve your issues without question, as well as update their packaging and delivery service to better pass customs inspections.
Email, Live Chat, Contact Form, Phone Number — Pick Your Poison.
Basically, Herbies offers every possible way to get in touch with them. Choose the platform you prefer and send them a message. They'll reply quickly (typically within a couple of hours) and get your questions sorted.
Another sign that a brand is willing to interact with customers who have issues is by providing several contact methods. Herbies goes above and beyond on this front.
---
Final Thoughts
PROs
Multiple alternative ways to pay
Super stealthy shipping
Incredible customer service
Wide variety of strains and banks
Cheap pricing (international store)
Freebies and bonuses with every order (international store)
Dedicated USA store
CONs
No free shipping
Most products are out of stock
Expensive USA store
Overall, Herbies Seeds is the best online weed seedbank there is. While there are a few drawbacks worth mentioning, none are so detrimental to the buying experience that you would be deterred from making a purchase.
Their dedication to discretion, avoiding customs issues, and rewarding customers with gifts is something to applaud. Herbies is by far the best seedbank, no matter where in the world you live.
---
Quick Links – Herbies Seeds Online Seed Bank:
---
---
Category Pages: