If you've been around the marijuana scene for very long at all, you've no doubt heard of the name ILoveGrowingMarijuana (or ILGM for short.)
There's a good reason for that. Not only are they a legit online cannabis company, which is something that can seem hard to find when you don't know what to look for, but they actually go beyond just legit into good or even great. Their products and policies are both above average, and their customer service is outstanding.
Still, if you search around online, you're bound to find some negative reviews of ILGM. So which is it?
Well, the truth is that every business is bound to have a few negative reviews posted about it online, but if you listen to them all, you'll miss out on some great companies.
Put those emotional, over-the-top reviews out of your mind for a moment and read this detailed, thorough, and rational 2023 review of ILoveGrowingMarijuana before you make your final decision.
Quick Links – ILoveGrowingMarijuana Online Seed Bank:
---
Is ILGM Seed Bank Legit?
Yes, ILGM is definitely legit! In fact, they are known as a veteran in the online cannabis seed industry. They're based in the Netherlands, which automatically gives them a certain level of excellence in some people's minds. But regardless of location, they are generally well respected and trusted by their customers, though that's not to say that they haven't had their fair share of negative reviews.
But that's exactly what it is – their fair share. No more, and no less. Every online cannabis company, and to a lesser extent, every online company, is bound to come across issues and negative reviews sometime or another. What matters most is how they respond when things go wrong, because there are always going to be things that go wrong.
This will be covered in more detail in the "ILGM Customer Service" section, but here's a sneak peek: ILGM puts more than enough effort into righting wrongs for their customers. That's why their reputation continues to be so good and they continue to get more and more orders from first-time buyers and repeat customers alike.
The History of I Love Growing Marijuana
I Love Growing Marijuana first started out in business in 2012 – not as a seed bank but actually as a cannabis grower's portal. Essentially, it was a place online where marijuana growers from all over the world could come and talk about their grows, get advice for grow problems they were having, and swap tips and tricks to make their next grow cycle even bigger and better. It was also a place where Robert Bergman, the founder of the company, could share the vast knowledge he had accumulated over 20 years of growing marijuana in variously sized enterprises.
ILGM put out its own detailed growing guide on this portal that was free for anyone to download. That served as an invaluable resource for beginners just getting started without a clue of what to do, while the forum itself provided individualized advice for posters with more advanced or nuanced issues.
To this day, the educational aspect is a big part of ILoveGrowingMarijuana.com. Their blog covers a wide and growing variety of topics helpful to growers at all levels of experience, they've added more growing guides on different topics, and the active forum that was at the heart of their original website is still very much alive and well. You could spend whole weeks or months just reading through all of the educational content on the ILGM site, soaking up the knowledge and learning all you need to know to completely ace your first grow.
It's only recently that they've added their own shop, which stocks both seeds and growing equipment. They even offer bundles that give you everything you need to get started or grow a specific strain in one handy package.
Are ILGM seeds worth the money, or should they have just stuck to offering information and education? It all comes down to the seed selection and product quality they're offering.
ILGM Seed Selection & Quality
I Love Growing Marijuana has a curated selection of only the best and most popular strains out there, bred with their own proprietary genetics, of course. The selection is quite wide and should be more than enough for a any grower, including 15+ autoflower strains, 70+ feminized strains, 30+ mix packs, and 5+ grow kit bundles.
Of course, there's always the possibility that ILGM will add even more strains to its repertoire in the future, which is fairly likely to happen as they are relatively new.
Guaranteed Quality
Because they don't have an absolutely insane number of strains available, ILoveGrowingMarijuana seed experts are able to focus more of their attention on each one. During the breeding process, they can devote all the time and energy necessary to ensure that they've got top-notch genetics – something that's very important to them because of their germination guarantee.
If you're new to the cannabis growing world you may not realize this, but germination guarantees are becoming increasingly rare out there. Some brands won't even talk to you about germination rates or help you troubleshoot germination problems at all because they're technically selling their goods "for preservation purposes only."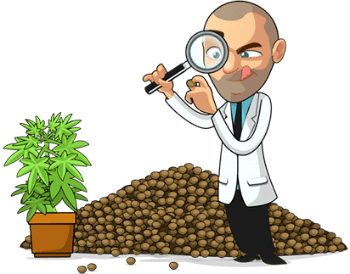 For many brands, it's just too difficult to guarantee that you'll get a good germination rate since it depends both on your seeds and your skills. Since ILGM offer great quality seeds and even better guides, they're willing to offer this little-seen guarantee.
The fact that they cater specifically to beginner growers just makes their germination guarantee even more impressive. It just goes to show how confident they are both in their seed genetics and in the quality of their educational materials – they have full confidence that anyone can get results! And not only are they confident, but they're staking money on it. That's the kind of confidence that transfers over to buyers, giving them full confidence in making a purchase.
Simply put, if the company is willing to go way out on a limb and offer a money-back germination guarantee, their products must be good. If they weren't, they'd quickly start losing money and soon enough go under entirely.
ILGM Bestselling Seeds
Quality is good across the board, but if you want to be sure you're picking a winner, here are some of ILGM's bestselling seeds, in your choice of feminized or autoflower-feminized:
Their mix packs and grow kits are also popular products due to the convenience and great value they provide. The Autoflower Mixpack, Beginner Mixpack, Marijuana Grow Kit – Beginners, Marijuana Grow Kit – White Widow, and Dutch Classics Mixpack are particular favorites – more on this below.
A Note On Bergman's Gold Leaf
If you saw a name you didn't recognize in that bestsellers list, it was probably Bergman's Gold Leaf. This strain is actually a totally unique one that was cultivated by ILGM's founder himself, Robert Bergman. He bred it so that it would be easy to grow and deliver massive yields. It's a 60% indica, 40% sativa hybrid strain that gives a euphoric, uplifted, creative and relaxing high.
There is the possibility of paranoia when taken in large doses, though, as well as possible dry mouth or dry eyes. ILGM also states that this strain can be used to soothe ADD, anxiety, ADHD, insomnia, pain, appetite issues, and stress.
A word of caution – don't take this strain's indica dominance as a clue for how it will grow. Bergman's Gold Leaf can be grown indoors, but it grows pretty tall (over 7 feet) and you'll get the best yields from growing it outdoors in a sunny environment. If you need to grow it indoors, you will have to stay on top of cropping and pruning. If you're not sure how to do that, of course ILGM has a guide for you!
Flowering time is 9 weeks and you can expect to get 16 to 23 oz per square meter. The THC present in this strain can be up to 21 percent. This strain is an ILGM exclusive, so add it to your next order if you're interested – you won't find it anywhere else.
Mix Packs
While ILGM promotions provide excellent value for the money with up to 50% off (more on this below), ILGM mix seed packs provide better flexibility as well as great value for the money – ranging from 20 to 50% off the original price (also depends on the amount purchased). Paying with Bitcoin will grant you with extra 10% off (covered below under "Buy with Bitcoin").
There are more than 30 different combos to choose from which is quite impressing. Each mix pack include 3 strains, and avaliable in packs of 15 (3×5) or 30 (3×10) seeds.
Some of their best selling and most interesting seed packs are:
Grow Kit Bundles
Each of the ILGM's growing kit bundles contain the same core components – 20 cannabis seeds, Bergman's plant food (for 5-10 plants), and Bergman's plant protector (for 20 plants). The thing that differs is the type of seeds that are included with each growing kit.
The options are:
The kits are a great way to get everything you need all at once and save a little money while you're doing it (around 20-35% of the regular price), so if you're planning to get all of the fertilizers, you may as well spring for a kit with seeds included as long as you can find one featuring a strain you like.
Keep in mind nutrients and seeds will be shipped separately.
Sales, Discounts, and Promotions
The seeds at I Love Growing Marijuana are a bit on the expensive side when purchased individually, so you may want to be strategic about how you buy them. Now, "being strategic" doesn't mean scouring the web for hours looking for coupon codes for ILoveGrowingMarijuana.com. You won't find any, so that will just be a waste of your time. The only time ILGM really gives out coupons or promo codes is to remedy problems with orders, not as a public promotion.
What you can do is wait for sales. They usually have great rotating promotions that can provide a lot of bang for your buck, even if you don't want to spend too much. Keep a special eye out for their "Buy 10, Get 10 Free" promotion which is essentially a 50% off sale.
If you can't wait for a sale, though, there are still some options available to you. Buying grow kits and specially mix packs is a great way to knock down the price of each individual seed. Mix packs offer the single greatest value in terms of price per seed, so definitely go for those if you're concerned about cost. The discount on mix packs over single seeds can work out to be more than 50% off at times, which is certainly nothing to sneeze at. They're also just a great way to try some new seeds alongside your old favorites, which can be a ton of fun.
Buy With Bitcoin
Another way to get a good discount on ILGM seed bank is to make your purchase with Bitcoin. That's right, all orders that are placed using Bitcoin as the payment method get an automatic 10% discount. It's pretty rare to find a shop that not only accepts Bitcoin but actually incentivizes customers to use it, so that's pretty cool to see. If you're a Bitcoin connoisseur, you can score an easy discount on any ILGM just by using it to pay.
The even more amazing thing about this Bitcoin discount is that it can be used in combination with other promotions. So, for example, you would be able to get a further 10% off the price on a Buy 10, Get 10 Free deal which is already 50% off, getting you a grand total of 55% off in total!
And if you're a bit new to Bitcoin or just aren't sure how exactly to place your order, don't worry, of course they've got a guide for that too.
Loyalty Program
If you're a repeat customer, or even if you just make a single large order, you can get some good discounts through their VIP (loyalty) program. It works like pretty much any other loyalty program, although these are more rarely seen in the online cannabis seed industry than in other mainstream shops. Basically, you get 1 point for every dollar you spend purchasing seeds, 10 points when you first make your account, and you can also get 100 points for each friend you refer into the program.
Once you've racked up enough points, you can redeem them for discounts. 100 points will earn you a $5 voucher, 200 points will get you a $10 voucher, and 300 points will only be worth a $15 voucher, puzzlingly. Still, it's essentially free money just for shopping like you normally would, so you can't complain too much.
ILGM Customer Service
ILoveGrowingMarijuana's customer service is really dedicated to helping their customers, like any good customer service department should be! On top of that, they really know their stuff when it comes to growing marijuana – it's clear that they love it.
They have gone out of their way in the past to seek out negative reviews on forums or in other places to try and remedy any unfortunate situations. Most of the complaints have been about the typical stuff – slow delivery, delivery without seeds, or never receiving a delivery. With ILGM's delivery guarantee, that's a pretty simple fix once they know about the problem. This has been largely well-received, and they haven't had to do it as much lately because the negative reviews have pretty much dropped off in recent years. Perhaps they faced a few "growing pains" in the beginning but have now ironed out their system for satisfying customers.
If you have any issue with your order or your grow, customer service is available through the usual avenues, or you can interact with them on the ILGM forum, along with other experienced growers and customers. More often than not, someone will be able to troubleshoot the problem you're having or direct you to an informative guide or blog post within hours.
Germination Guarantee
Once again, the germination guarantee that ILoveGrowingMarijuana.com offers is amazing. They give you specific instructions to follow to get your seeds to sprout, and if you've done all that and any of them still haven't germinated, they'll replace the duds. Many reviewers have commented on having one or two seeds that wouldn't sprout and being sent 5 as replacements, so they're definitely not stingy with this policy either.
Before you make use of ILGM's germination guarantee, you'll need to make sure you've followed these 6 steps to a T:
Soak your seeds in clean, room temperature water for 24 to 72 hours, until all have sprouted a tail.
Plant your seeds in small pots, in holes about ½ inch deep. Gently cover with soil.
Place your pots 2 inches below a 36 watt CFL tube light.
Keep your plants moistened by spraying the soil twice a day.
When you see roots growing out of the bottom, after about 2 or 3 weeks, transplant your seedlings into bigger pots.
When your seedlings grow between 8 and 12 inches tall, they're ready to move outside. If they're staying inside, place them under HPS or LED lights.

If you've been following these steps but haven't to advance past a certain one, say that one seed never sprouted a tail after 3 days of soaking, feel free to contact customer service and tell them what happened. They'll have a replacement sent out for you.
For more details: ILGM Germination Guide.
Don't throw the non-germinated seeds as you might be asked to send them back to ILGM for investigation / analysis.
Shipping, Payment Options, and Return Policy
Free stealth shipping is available to all parts of the United States and Western European countries, including the UK. For Australia and New Zealand, a $25 shipping fee will be required if your order total is less than $150, so just stock up and you should be able to avoid delivery fees altogether.
Seeds will typically be shipped within 2 business days of receiving your order and payment, and orders take an average of 4 days to reach US addresses. Not bad at all! For other countries, delivery may take a bit longer. Also, some items like fertilizers and CBD oil need to ship separately via ground and may take about 10 business days to arrive.
The free shipping option does not include tracking, but you can add that service on by paying for registered shipping during checkout.
ILoveGrowingMarijuana are based in the Netherlands, but they also have a shipping facility in California, so orders coming into the US won't need to pass through customs. That's a huge time and stress saver, though you should never really feel stressed about your seeds getting to you as ILGM seeds offers a delivery guarantee.
For more information: ILGM Shipping Information Page (FAQ).
Delivery Guarantee
If your order has not arrived within 25 business days, ILGM will reship your seeds to you for free. You'll need to contact them within 90 days of placing your order to get the ball rolling on your replacement. The second shipment will contain exactly the same seeds as you ordered the first time, but you may ship it to a different address if you want. However, seeds can't be reshipped due to a mistake in entering your address during checkout.
ILGM will print your address exactly as you enter it and send it there, so if you mess that one up, that's on you. But if that's the case, they'll still give you a discount on your next order to soothe your pain, which is generous of them, frankly.
They'll also send a replacement if your seeds get crushed during transit, just be sure to save it and take a picture of the crushed seed still inside the packaging to verify with customer service.
Non-Seed Product Selection
ILGM is likely to attract first-time growers due to its wealth of available information and educational materials. To better cater to beginner buyers, they also carry few other types of growing related products in addition to their seeds.
For new growers who have nothing, this is a great thing because it allows them to treat ILGM like their own personal one-stop marijuana shop and grab everything that they're going to need for their grow in one big order.
Since ILGM also has a customer rewards program (keep reading to find out more about that) they'll also be racking up some nice rewards points doing this that they can cash in on more seeds down the line.
Nutrients/Fertilizers
If you've never grown with them before, the right nutrients or fertilizers can take your grow to the next level. You may not believe the yields you can get using these. ILGM sells different fertilizers with different blends of nutrients that are designed for specific points in your plant's life cycle. Here are the kinds you can choose from, though chances are good that you'll want to get them all to be used throughout your grow:
Bergman's Seedling Fertilizer – This fertilizer is, of course, designed to be used at the beginning of your grow, when you're just germinating your seedlings. It's high in phosphorus and potassium, giving young plants exactly what they need to develop strong and healthy roots. It can be used in any grow medium, from soil to hydroponic, but if you're using it in soil, you'll want to be sure to plant when the ground is moist and cold either in early spring or late fall. The balance of nutrients in the seedling fertilizer is N = 11 P = 40 K = 13.
Bergman's Growtime Fertilizer – This fertilizer is meant to be used during your plants' vegetative state. It improves soil tilth and helps your plants to grow stronger and be more hardy. This will also result in bigger yields! Plants given this fertilizer are better able to retain and distribute their nutrients and also show increased microbial activity. It can be used in any grow medium. The balance of nutrients in the seedling fertilizer is N = 19 P = 5 K = 20.
Bergman's Plant Booster – This is a great fertilizer to use right before or during your plants' flowering phase. It can help induce early flowering and give your plants more time to develop some extra dank buds. It can be used in any grow medium. The balance of nutrients in the seedling fertilizer is N = 0 P = 27 K = 27.
Bergman's Flowertime Fertilizer – This is the best fertilizer to use during the flowering period. The high levels of potassium stimulate the growth of many large and potent buds while nitrogen encourages healthy foliage growth. As soon as your plants start to flower, you should apply some of this stuff every 7 days. It can be used in any grow medium. The balance of nutrients in the seedling fertilizer is N = 15 P = 6 K = 30.
You can buy each of these fertilizers individually as you need them, but it's more economical to buy them in a set. These are a good buy. You may be able to find the individual pieces elsewhere, but there's something to be said for the convenience of having them all bundled together for you and clearly labeled as to what you need to use when.
Bergman's Plant Protector
This set of three 20ml bottles provides multifaceted protection for up to 20 plants in any grow medium. If you're growing outdoors, you're definitely going to want to get your hands on some of this stuff. The three together protect your plants from bugs and other pests, root rot, and mold – some of the most common issues people come across when growing cannabis outdoors.
Bergman's Plant Protector will help to protect your plants, not to mention your investment, and ensure that you actually get to enjoy the monster yields you've been working so hard for.
ILoveGrowingMarijuana Review: Final Words
ILoveGrowingMarijuana is a great place to learn about growing cannabis and a good place to buy seeds and growing supplies as well. Beginners will especially appreciate the ability to get everything they need from one place in a handy kit. Experienced growers may enjoy the frequent sales and promotions they offer, as well as the constant 10% discount for paying with Bitcoin.
The delivery and germination guarantees ILGM offers give customers complete peace of mind. Knowing that your package will be delivered and your seeds will sprout takes a huge part of the uncertainty out of buying cannabis seeds online. With those guarantees in place and verified by many buyers, there's really no reason not to place an order!
Quick Links – ILoveGrowingMarijuana Online Seed Bank:
Parent Page: The Best Marijuana Seed Banks