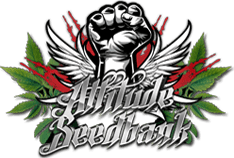 Attitude Seeds bills itself as "the world's largest cannabis seeds superstore", and although it's impossible to access the exact numbers to confirm it, the Attitude seed bank does seem to offer an incredibly large variety of merchandise.
One quick look at their website confirms it – Attitude Seeds stocks seeds from almost every major breeder as well as apparel and accessories. One thing that they don't seem to sell is growing materials and equipment (read on for the legal reason behind that), so you'll have to look elsewhere for those things. This massive seed reseller based in the United Kingdom sources seeds from all over the world and ships them that far, too.
See our recommendations at the bottom of this page!
---
Attitude Seed Company History
Unfortunately, very little information is available regarding the history and origin of Attitude Seeds. Many seed banks have a page dedicated to telling the story of how they came to be in this business, but this one doesn't seem to. For now it will remain a mystery!
Attitude Seeds Reputation
Attitude Seeds is a mixed bag when it comes to reputation. There are some customers who swear by them and others who have had one too many bad experiences and swear them off completely. When you search online, you'll find someone praising the company in one Attitude seeds review and another customer warning others away in a different review, so who can you trust? Why is there such a sharp divide in opinion?
Well, a lot of the variation in customer satisfaction is likely due to the varying quality of the products that they stock at the Attitude Seed Bank. Since they sell just about everything, there are bound to be some bad products in the bunch. If you don't do your research first and find out which strains are worth your while and which are total duds, it can be hard to know what exactly you're getting when you buy from Attitude Seeds. This likely accounts for the wild variances in Attitude Seed Bank reviews.
Attitude Seed Selection
As of 2023, Attitude Seed Bank offers literally thousands of different strains from a huge variety of breeders, including quite a few Cannabis Cup winners. They do sell all types of seeds – those from reputable breeders and those from relatively-unknown brands. It's not that all of the lesser-known brands offer bad products, but you do need to be careful when buying from seed breeders without an established good reputation.
Here's a list of just some of the brands that Attitude Seed Bank stocks: Ace Seeds, Barney's Farm, Big Buddha, DNA Genetics, Dinafem, Dutch Passion, Nirvana Seeds, Paradise Seeds, Royal Queen Seeds, Sensi Seeds, Serious Seeds, G13 Labs, Delicious Seeds, CBD Crew, And so many more! The complete list is quite extensive and rest assured, you could spend days just browsing through all the strains that are available on this website.
Product Quality
With so many different strains available from all different breeders, it's impossible to judge overall quality. This will vary wildly from brand to brand. If you have a trusted breeder that you love, you should find that buying their seeds through Attitude Seed Bank gives you the quality of product that you're used to.
However, Attitude Seeds seems to have the attitude that more seeds is always better, so they don't really curate their selection with any type of quality-control standards. Rather than sorting the wheat from the chaff and offering only the best, most high-quality seeds in their shop, Attitude sells anything that they can get their hands on and leaves it to the buyers to sort out which seeds are high quality and which will be disappointing. They sell everything from top-of-the-line luxury seeds to bottom-of -the-barrel bargain bin beans. Because of this, it's not recommended to buy from Attitude Seeds without a clear knowledge of what you're getting. Sure, it may be fun at first to browse their pages upon pages of different strains and add random things to your basket, but if you don't know anything about the brands that you're buying from, you may wind up with a lot of duds.
You can find great stuff at Attitude Seeds if you know where to look, but if you're just going in blind, you're going to be overwhelmed and likely buy some bad seeds. It's a good idea to always go in with a shopping list of strains from brands you trust and search specifically for those brands. If you're not sure which brands are good, check out our reviews of the best seed banks, all of which have been updated for 2023.
Customer Service
Customer service at the Attitude Seed Bank can be reached in a variety of ways. You can call them up at 01473 724 698 for UK customers, or use either of their two international phone lines at 0044 1473 724 698 or 011 44 1473 724 698. You can also send them an email at INFO@THEATTITUDESEEDBANK.COM or SALES@THEATTITUDESEEDBANK.COM, depending on your reason for contact. Or, instead of direct email, you could fill out the contact form on their Contact Us page with your name, your email address, and a description of the issue that you are experiencing. If none of those options work for you, you can even send them snail mail to their physical address (available on their contact page).
All times above are listed in BST. This is also when you can expect them to respond to your email or contact form submission. They aim to respond to all queries promptly within 24 business hours. The customer service team is generally friendly and helpful, though when it comes to certain issues with seed quality and germination issues, there is not much that they can do to help you. They will pretty much only be able to assist with issues like these if your seeds were damaged in transit and you can prove as much with photos. If you have an issue like low germination rates or bad genetics, they will more than likely tell you that it's a problem for the seed breeder and they won't be able to do anything for you. This is why customers are warned to be careful about which breeders they buy from in the Attitude Seeds shop! Attitude Seed Bank takes very little responsibility for the quality of the products they stock, so buyer beware.
One other thing is that Attitude Seed Bank officially sells cannabis seeds only as souvenirs in 2023 and fully expects customers who buy their products to keep them in storage in their ungerminated state in case of law changes in the future. Because of this, refuse to been seen as promoting germination in any way (such as by listing germination rates on their product pages or by selling additional growing supplies). This also means that they can't answer your questions about germination issues directly. If you contact customer service asking for germination or cultivation advice, you may find that the email or phone call goes unanswered or totally ignored.
Attitude Seeds Shopping Experience
The shopping experience at Attitude Seed Bank can be quite overwhelming. As of 2023, they have over 2,000 different strains in stock from tons of different breeders. This is no place for a beginner who wants to do a bit of casual seed-browsing. When you shop at Attitude Seed Bank, it's best to have a very clear idea of what you're looking for before you dive in – or at least know which breeders you want to buy from.
The sheer selection isn't the only thing that makes the website shopping experience feel a bit overwhelming, however. As soon as you arrive on the homepage, you're greeted by an onslaught of bright colors, scrolling information bars, flashing promotional boxes, pictures, countdowns, and other doodads that strain both your eyes and your computer's processing power. There is a lot going on on the Attitude Seed Bank landing page, to say the least.
Even once you get past the homepage, though, the sensory overload doesn't let up. There are several scrolling informational banners that follow you wherever you go on the site, and on each product page there are more pictures and colored tags with complicated fonts. Not to mention the fact that at the bottom of every single page is a huge box with a lengthy list of each breeder they stock at Attitude Seed Bank.
Every page is extremely cluttered and feels like it's stuffed way too full of information and images. Browsing around this website casually seems like a real nightmare. It's recommended for new customers to simply stick to the search bar.
Attitude Seeds Promotions, Discount Codes, and Free Seeds
The Attitude Seed Bank does offer promotions and free seeds, which definitely sets it apart from many of its competitors. However, as mentioned above, its website is so overcrowded that it may take a moment (and a deep breath) to collect yourself and find the promotions in order to take advantage of them.
Once your eyes settle down from the visual overload, you'll note that there is a Promotions section at the top of the website. There, you'll find various seed promotions depending on what brands you throw in your cart. In addition to this, Attitude Seeds gives away free seeds with each order.
For promotions on an easy-to-navigate massive selection of seeds that ship worldwide, most savvy cannabis consumers prefer MSNL's Special Offers and Promotions page.
Shipping, Returns and Payment Methods
Attitude Seed Bank offers worldwide shipping with a number of different delivery options. When placing an order, customers will see a number of different shipping methods to choose from, including removing the original breeder's packaging, adding in an additional stealth item such as a T-shirt, wallet, mug, or other merchandise item, and even adding crush-proof packaging to protect the seeds while in transit.
When you add on an additional stealth item, you are upgraded to Guaranteed Shipping, meaning that Attitude Seed Bank will reship your order free of charge in the event that it is intercepted at any point along its journey. The guarantee is non-refundable.
There are some exceptions to this guarantee, however, and they are as follows:
If your package is marked as delivered by the mail service, but you haven't received it, there isn't a way for Attitude Seeds to confirm whether the package has been delivered or not, so you will need to take this issue up with your local mail service or mail carrier to find out where it may have been delivered or left on your property, etc.
If you enter an incorrect delivery address during checkout, there's also nothing that Attitude Seed Bank can do for you. This includes the name that you use. In the unlikely event that your package will need to be picked up at your local mail service center, you may need to show proof of identity, so it's important to list your correct name that matches the name on your mailbox. Because of this, it is very important to always double-check that the information you input during the checkout phase is complete, correct, and consistent. If you do notice a mistake before your order is dispatched, contact customer service, although they may not be able to fix it in time, they will try their best to remedy the situation.
Addresses in Mexico or Iran are not eligible for the guaranteed shipping offer. Orders can be packaged discreetly, but packages will only be shipped to these countries if the customer agrees to accept full responsibility for them and understands that they may not be delivered safely and such an event is not the fault of Attitude Seed Bank.
All packages will be sent in plain packaging, with only the recipient's address and a return address printed on the outside of the parcel. Attitude Seeds can provide you with a tracking number once your parcel is dispatched so that you can track it during every stage of the delivery process. If you order online, you should receive a confirmation email immediately after your order is placed as well as an email notifying you of its shipment once it's been dispatched. The tracking number will be in the second email sent at the time of shipment. If you don't see it, be sure to check your junk mail folders and spam filter. If you order by phone, you can request the tracking number on completion of payment.
Packages are sometimes sent signature-required to both Airsure and non-Airsure countries. As of 2023, Attitude Seeds can no longer send signature-required packages to P.O. boxes. The list of countries below are the only places where Attitude Seed Bank seeds can still be sent to a P.O. box. If your country is not on the list, please do not input a P.O. box as your delivery address or it will cause your order to be delayed due to the need to obtain a change of address.
All orders should be processed within 3 working days of receipt of payment. This is when your order will be shipped out. After that, it usually takes about 1 to 4 working days for packages to be delivered within the UK mainland, and 7 to 10 working days for international orders. If you have not received your package within 15 days for UK delivery or within 21 days for international delivery, contact Attitude Seeds customer service and they will attempt to track down your package for you and find out what's causing the delay. If they can't determine what the problem is, they accept no responsibility and advise you to take it up with the postal service yourself. This is also the point at which the guaranteed shipping would kick in if you opted for it when you placed your order. It's highly recommended to spring for the guaranteed shipment option whenever it's available!
Returns are available for products that are completely unopened and in their original packaging. Damaged or faulty products can be replaced within 3 months of receipt if sent back in their original condition. Buyers will be responsible for the cost of the return shipping. Please send all returns by recorded delivery so that you will have proof of returning. You can contact customer service to see if your shipment is eligible and to begin your return for refund or replacement. Refunds are not available for pick-and-mix seed products.
Attitude Seed Bank accepts the following types of payment for orders placed within the United Kingdom: debit cards, credit cards, and postal or money orders. Personal checks can be accepted from UK customers, but will be subject to a two-week holding period. International customers can pay with prepaid Visa cards, cash, Bitcoin and other cryptocurrencies, or internationally-registered prepaid gift cards. Multiple gift cards can be used to purchase one order by emailing customer service with the card details. Attitude Seeds uses SagePay to process credit and debit card payments. PayPal and Mastercard are not accepted by Attitude Seeds as of 2023. While you can view prices in many different currencies on the website, you will be charged in GBP upon checkout.
The Attitude Seed Bank Final Review
In summary, the kind of experience you're going to get buying from Attitude Seed Bank depends on what you buy from them. Different breeders are going to have different quality products, and it can be hard to tell the good from the bad in the Attitude Seeds shop. We think that their customer experience is too hit-or-miss for us to be able to recommend them wholeheartedly.
You can definitely find great products being sold at the Attitude Seed company, and if you pair that with one of their high-value promotional discounts, you could walk away getting great products at a great price. At other times, though, you may end up with a bunch of low-quality seeds that you won't be able to return once they've come out of their original packaging. For an experienced grower who knows what they want, checking the sales page at Attitude can be a great way to get a good price on seeds you know will be high quality, but it's probably best not to buy seeds that you're not familiar with from this seed bank.
They do have good stealth shipping options and ship worldwide with quick delivery, as well as accepting many different payment methods and even offline orders. Those are all points in their favor. The online shopping experience leaves a lot to be desired, in our opinion, and the pages are extremely busy and overloaded. Customer service is generally adequate and responds in a prompt manner – except to questions regarding germination. The return policy leaves a lot to be desired, as products will only be accepted for return if they are completely unopened and buyers are responsible for the full cost of the return shipping, even when they have been sent damaged items. That just doesn't seem right.
All that being said, if you are looking for somewhere to be your one-stop shop to order seeds from just about every brand and breeder under the sun, this could be the place! They have an undeniably huge selection of seeds from breeders around the world – you could literally get lost in all the listings and product pages on the Attitude Seeds website. If you're on the lookout for something rare or hard to find, check at Attitude Seeds. You never know; they might just have it in stock, waiting for you to purchase!
Better Alternatives
If you're looking for more upscale, extremely high-quality seeds, there are a few places you can go to buy directly from the breeders for a high-end product. When you buy directly from the breeder, you get a fresher product for a lower price, and each breeder takes pride in their reputation and maintains strict quality controls on their products, meaning you can expect a more consistent level of quality from independent seed breeders over seed bank emporium-type distributors such as Attitude Seeds.
The following seed breeders are shipping worldwide and highly recommended:
Marijuana-Seeds.NL (MSNL) – This British seed bank is a well-known and high-quality seed breeder with a massive variety of cannabis strains. They have an excellent customer service team, offer worldwide stealth shipping, awesome promotions, and free cannabis seeds with every purchase. Payment options are credit cards, bank transfer, cash, money orders, and Bitcoin. Bitcoin and bank transfer orders automatically receives a 15% discount on top of any sales prices.
Ministry of Cannabis – This Spanish seed bank is highly-recommended for seed buyers on a budget. Ministry of Cannabis may be inexpensive, but their seeds definitely aren't cheap. They offer a great value for your money and ship worldwide with stealth packaging. Payment options are Bitcoin, Mastercard, Visa, bank transfer, moneygram (for orders of 100 Euros or more), or cash. Their customer service is responsive and friendly.
Crop King Seeds – Based in Canada, Crop King doesn't have wide variety like MSNL, but the products they do have are high quality. They have an impressive germination guarantee that gives new buyers peace of mind. They also have a friendly customer service team and worldwide stealth shipping. Payment options are Visa, Mastercard, Bitcoin, and Interac E-Transfers (Canadian customers only).
Related Pages:
Buy Cannabis Seeds - A highly detailed guide for the American grower. Federal laws, local laws in different states, as well as in-depth guide to choosing the right strain.
---
Category Pages: