Cannabis extracts like shatter, wax, budder, and THC oil requires concentrated heat in a controlled environment, making the quality of your dab rig's primary material extremely important. Silicone dab rigs are one of the most efficient and practical ways to enjoy various concentrates as long as you can choose a premium product.
While glass is the most popular choice among experienced dab smokers, silicone is highly durable and cost-effective. The material is perfect if you are looking for a travel option, want to save money, or are susceptible to breaking expensive glass wear.
Our silicone dab rig buyers guide is the best resource online for choosing a high-quality, durable rig that isn't primarily made of glass. We'll explore everything you need to know about silicone oil rigs, including:
Advantages of choosing silicone
Various types of rubber silicone dab rigs
Critical parts
General maintenance
How to take a dab
How to choose a premium rig online
After reading, you will have all the information needed to purchase silicone dab rigs online confidently!

---
The Best Silicone Dab Rigs in 2023 – Summary
---
What is a Silicone Dab Rig?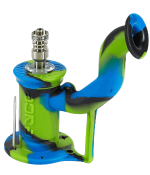 Dab rigs are a relatively new phenomenon in the cannabis community compared to traditional forms of smoking like joints, bongs, and pipes. Over the past two decades, extraction methods have advanced dramatically, calling for new ways to consume highly potent cannabis concentrates.
The first popular iteration of the dab rig was made of metal. It featured the functionality of a water bong while accommodating the heat requirements to combust extracts. As the dab became more popular, metal rigs were primarily phased out due to poor taste and their difficulty to clean. Glass and silicone rose as the two optimal materials to handle the new form of cannabis consumption.
Most silicone rigs consist of the crucial aspects of a dab rig, including a banger, downstem, chamber, neck, and mouthpiece. While silicone limits a manufacturer's ability to create advanced filtration systems like additional percolators and recycler and incycler systems, the best silicone dab rigs will get the job done. In addition, silicone offers many clear advantages over other materials that should be considered when purchasing a new rig.
---
Advantages of Silicone Rigs
There are two primary benefits of choosing silicone. First, the material is highly durable. Typically, if your rig is bumped off a table or fumbled on a pass, it's a catastrophic event. However, the offense is merely a minor party foul if you are dealing with silicone.
Second, silicone is far more cost-effective than glass. So if you are looking for a budget rig, you may be off choosing one of the best silicone dab rigs rather than a cheap glass option.

---
Types of Silicone Dab Rigs
Silicone dab rigs come in a variety of different styles, including:
Various types of bangers (quartz, titanium)
Hybrid dab rigs combining silicone with glass
Mini silicone dab
Silicone nectar collectors
---
The Best Silicone Dab Rigs Online
Now we'll look at some of the best silicone options on the internet. Every selection is judged on quality, design, durability, and affordability. In addition, we picked various types of silicone dab rigs to help you choose the right style to fit your needs.
---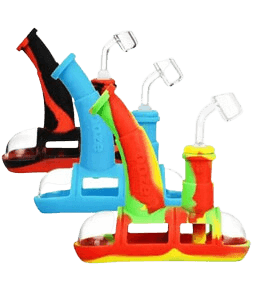 Our first selection is the Ooze Steamboat; its premium quality, contemporary design, and durable structure make it one of the best silicone rigs we've used. The piece is made by Ooze, a respected name in the smoking industry known for combining the best aspects of glass and silicone into unique smoke-wear designs.
The rig stands 7 inches high with a 14.5mm male quartz banger (glass herb bowl also included). While the height is average for a dab rig, its narrow design allows you to easily hold it in one hand, making it highly portable.
Taking rips from the Steamboat is one of the most effortless dabbing experiences we've encountered. The rig is highly portable, making it your perfect portable or travel option. We love the angle of the neck and soft silicone mouthpiece.
Even if you already have a primary dab rig, we recommend adding the Steamboat to your collection.

---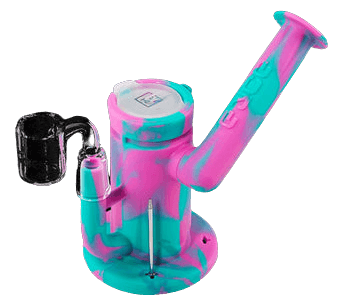 If you are looking for an advanced filtration system and the durability of silicone, look no further than EYCE's Sidecar. The rig is the perfect combination of practicality, functionality, and quality that only silicone can bring.
Most silicone dab rigs don't feature additional percolators other than the downstem. However, the Sidecar is equipped with honeycomb filtration to break up smoke particles keeping even the biggest rips manageable.
We love the idea of combining different high-quality materials to create the best overall smoking experience possible. The EYCE silicone dab rig is designed with platinum-cured silicone, ensuring high heat resistance and durability backed up by a lifetime warranty. While silicone makes up most of the piece, you still get the quality only glass on glass can offer with the quartz banger and glass downstem.
Ripping the sidecar rivals most all glass pieces on the market. If you haven't given silicone a chance because you value taste over durability, you may want to give the EYCE Sidecar a shot.

---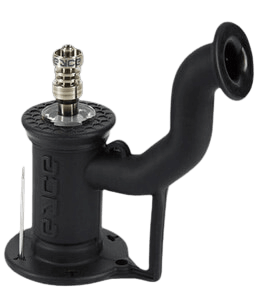 Our favorite portable option is the EYCE Rig II. The piece is a virtually indestructible silicone dab rig with a titanium nail, 90-degree joint, and glass collar.
One of the issues you may run into when searching for a silicone dab rig to use on the go is that most come with a quartz banger. While they deliver premium taste, quartz is still highly fragile, and you'll have to be careful when transporting your rig.
The titanium nail is far less common in today's market, but EYCE combines reinforced silicone with a metal banger for maximum durability. EYCE's Rig II is genuinely portable, with a built-in concentrate container and even a poker holder.
Besides durability, our favorite aspect of EYCE's Rig II is the perfect amount of airflow. While there's a very short distance from the chamber to the mouthpiece, smoke spends enough time in the chamber to cool off and deliver manageable hits. So, if you want to take dabs on the go while enjoying the taste and never worry about any part of your piece breaking, EYCE's Rig II is a no-brainer.

---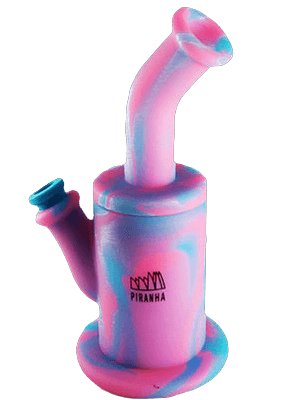 In the past, a cost-effective option would usually mean you'd have to settle for cheap silicone dab rigs. However, the silicone used today is more advanced, enabling high temperatures without dramatically harming the taste.
One of the best examples of cost-effective silicone that still delivers quality dab hits is the Fat Can Dab Rig from Piranha. The rig is made from durable, platinum-cured, medical grade non-stick silicone and stands 9 inches tall. It's a perfect travel option or even for your primary dab rig if you are susceptible to dropping expensive glassware (an unfortunate trait that plagues the cannabis community).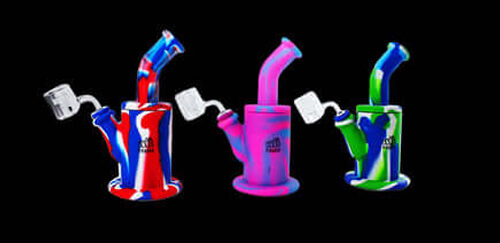 We are always surprised at the quality of the Fat Can. Hits are smooth, and it fits perfectly in your hand. Not worrying about dropping a rig increases your ease of use and peace of mind. If you are looking for a durable, cost-effective dab rig to throw in your camping back or trunk, the Fat Can is more than a suitable choice.

---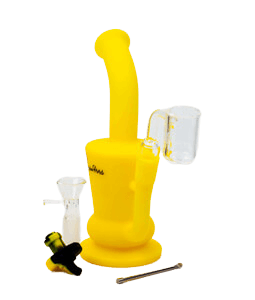 While all silicone dab rigs are far more equipped for travel than their glass counterparts, the Honeybee Herb Hybrid Dab Rig Travel Pack is designed to accommodate the smoker on the go.
Everything you need to enjoy concentrates is conveniently provided in the same package, including the silicone rig, quartz banger, carb cap, and poker tool. In addition, the kit comes with a glass bowl so you can switch between herbs and extracts without skipping a beat. The compact size is ideal for taking it to parties, festivals, camping trips, or on the beach.
Honeybee takes advantage of silicone's durability to offer the perfect travel dab rig kit. While it doesn't have any additional features or filtration, the rig does precisely what you need, deliver tasty rips in the easiest way possible. For the price, size, durability, and additional dry herb bowl, Honeybee's Herb Hybrid Dab Rig is an excellent purchase as your secondary or travel option.
---
How to Choose the Best Silicone Dab Rig
The downside of choosing silicone for your next dab rig is that you'll want to find a quality product, or you risk dramatically downgrading your smoking experience. Cheap silicone makes for a poor dabbing experience due to the intense heat required to decarboxylate cannabis concentrates.
Thankfully, there are many high-quality options online; you just need to know what to look for and where to find them.
The Rise of Premium Silicone Dab Rigs
As extracts rose in popularity, there was a demand for ways to optimize how smokers could enjoy concentrates beyond knife hits, hash under glass, and topping off bowls. Metal was the original dab rig design, but it did not stand the test of time. The material holds heat but stays hot for too long. In addition, metal provides a subpar taste, and resin builds up almost immediately.
In the past, silicone has been looked down on as not accommodating enough for concentrates packed with tasty terpenes. However, the silicone wasn't as high-quality as the options available today. So while the taste isn't on par with glass, it's far better than a metal dab rig.
Glass Vs. Silicon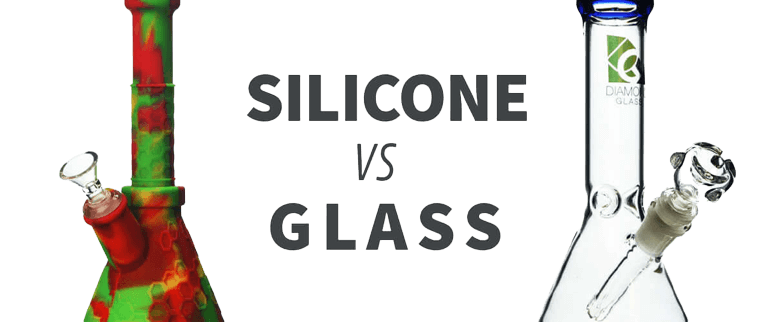 Today, most dab rigs are made from glass or silicone.
If you choose a high-quality medical-grade, platinum-core polysiloxane polymer, you won't be making the same sacrifice in taste as you would have in the past. However, silicon still provides the level of flavor as glass; there are plenty of reasons to buy a silicone dab rig.
Most experienced dabbers choose silicone for their secondary or travel rig. The durability offered by the material makes for an optimal portable option. Cost is another reason silicone has remained one of the two most common materials used in dab rigs. Silicone is much cheaper than glass to produce, making for a cost-effective rig that still provides a quality taste.
Critical Silicone Dab Rig Parts
Most silicone dab rigs are relatively basic, offering just the bare essentials to provide a durable, cost-effective option. Below are the essential parts of a silicone dab rig: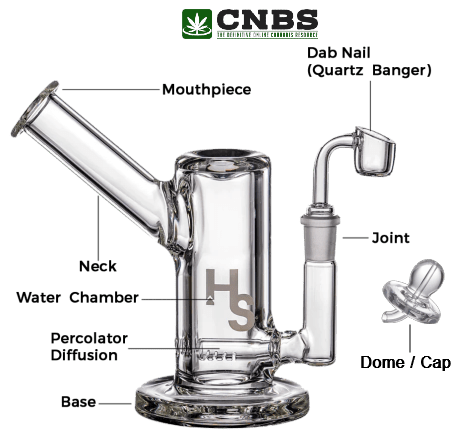 Banger – Quartz male or female bowl explicitly designed for concentrates.
Joint – Male or female opening that houses the banger.
Downstem – Vertical tube that connects the banger and joint to the chamber. The downstem also functions as a percolator when utilizing water.
Chamber – The chamber contains water and functions as a vessel to collect smoke. While smoke is in the chamber, it is cooled before being delivered to your lungs.
Neck – The neck connects the chamber with the mouthpiece and provides you with the ideal angle to take pulls.
Mouthpiece – Smoke is inhaled from the mouthpiece.
How to Use a Silicone Dab Rig
Smoking out of a silicone rig is extremely easy, and if you have experience dabbing, you'll have no trouble taking rips from a silicone piece.
First, heat the banger.
Different concentrates require various temperatures because of their cannabinoid and terpene content. The best approach is the 30/30 method. You heat the banger for 30 seconds, let it cool for 30 seconds, and drop in your concentrate. This allows you to experiment with low heat and wait less time to raise the temperature on your dabs if needed. You can also use a heat gun if you already know the ideal combustion temperature.
Once the extract is exuding smoke, inhale. Some smokers prefer to control the smoke with a banger cap, but this is optional. After you've filled the chamber with your desired amount of smoke, it's time to clear the rig.
Pull the banger to send air into the downstem while continuing to inhale. Many smokers increase the velocity of their inhale once the banger has been pulled, but this is also optional.
After clearing the chamber of smoke, you can exhale and place the banger back in the joint.
Best Places to Buy Silicone Rigs for Dabs
Cheap silicone dab rigs are prevalent online. If you aren't shopping from a reputable smoke shop, you'll risk purchasing a subpar product.
We highly recommend shopping at a premium online smoke shop to gain a complete perspective of all available options. In addition, online smoke shops like Grasscity and Smoke Cartel provide filtering options so you can shop by price, size, functionality, and other parameters.

What You Should Expect to Pay
One of the most significant advantages of choosing silicone is the price. For relatively cheap, you can buy a high-quality dab rig that handles heat and won't shatter. Most silicone dab rigs with a quartz banger fall between $40 and $80. Even the most premium options in the market are under $100.
What to Look For in a Rig
When shopping for a silicone dab rig, you want to make sure you understand critical quality indicators. The most significant aspect of a superior rig is the type of silicone used.
Ensure you find a product with medical grade or platinum-cured silicone. This type of polymer is produced to handle high temperatures. If you low quality silicone, not only will the taste be noticeably degraded, but it can also be dangerous.
---
Choose Silicone for Cost and Durability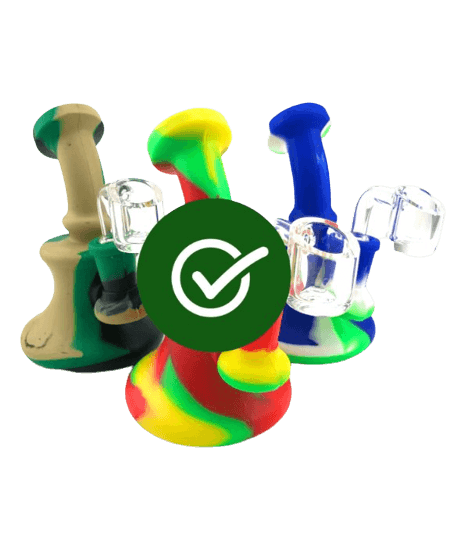 Silicone dab rigs are no longer simply the compromise option. High-quality materials and advanced designs have elevated silicone into the second most popular dab rig choice. All silicone rigs provide the most durable and cost-effective dab rig on the market. In addition, hybrid rigs with a combination of glass and silicone offer the best of both worlds, delivering unique products with additional functionality.
If you are looking for a durable option that is affordable, you may want to consider an all-silicone or silicone glass hybrid for your next dab rig.
---
Category Pages: