Dab rigs are a pillar in the cannabis community because they are, by far, the best way to enjoy wax, oil, shatter, budder, and other types of concentrates. The wax rig is an elegant solution that handles burning temperatures of up to 700°F, diffuses and cools the smoke, and delivers tasty hits of pure cannabis compounds. Unfortunately, top-of-the-line dab rigs aren't economically viable for many members of the community. As a result, we've compiled a cheap dab rig buyer's guide to help those looking for affordable alternatives (or just don't want to drop $300 on a dab rig that could shatter after one session).
---
---
What Do We Mean by Cheap Dab Rigs?
We don't promote buying low-quality, cheap products for any reason. When we say cheap dab rigs, we mean affordable pieces that will last and deliver an enjoyable concentrate experience. Buying a cut-rate dab rig made from defective materials isn't the cost-effective solution to dabbing; your rig will break, clog, melt, or not even work, leaving you needing to make another purchase.
Instead, our cheap dab rigs guide will show you how to identify high-quality, affordable options. Every product we feature is made from materials built to withstand high temperatures and designed to deliver cool, tasty vapor to your lungs.
---
How Much Does a Dab Rig Cost?
Dab rigs vary significantly in cost. You can find a one-of-one heady rig for thousands of dollars and one for under $15 in just a few minutes of shopping online. However, most rigs fall between $50 and $200. Finding a quality oil rig for $150 is easy; most options at that price will be made from quality materials and designed to have perfect airflow for enjoying dabs. However, finding a low-cost dab rig to compliment your concentrates for under $100 is much more challenging.
You can buy a cheap dab rig online for $10, but we don't recommend doing so. Instead, we suggest paying at least $15 to ensure you are getting a dab rig that will function properly.

---
Best Cheap Dab Rigs of 2023

We've picked 6 dab rigs made with high-quality materials and efficient designs that are affordable. Choosing any of these options will save you money, but you won't have to sacrifice the dabbing experience for the sake of being financially practical.
---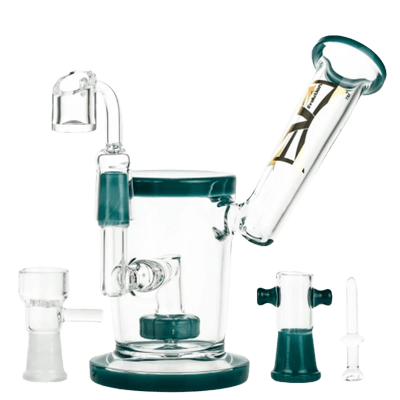 The Dust Devil Sidecar Hybrid Dab Rig by Evolution is the perfect example of a rig that intersects affordability and quality. Evolution is one of the top glass wear manufacturers known for delivering premium choices at accessible prices.
You won't surrender quality for a cost-effective choice with the Dust Devil Hybrid. The rig is made from borosilicate glass, comes with a quartz banger, and has a classic sidecar design. At 7 inches tall with a 14mm male joint, the Dust Devil is the perfect size for your everyday use rig. You can even switch seamlessly between concentrates and dry herbs with the hybrid adapter.
Our favorite feature of the Dust Devil is the showerhead perc. When you take a pull, the tiny slits in the percolator fill the water chamber with thousands of bubbles breaking up and cooling the vapor. The hits are manageable and taste amazing coming through the extra wide sidecar mouthpiece.
---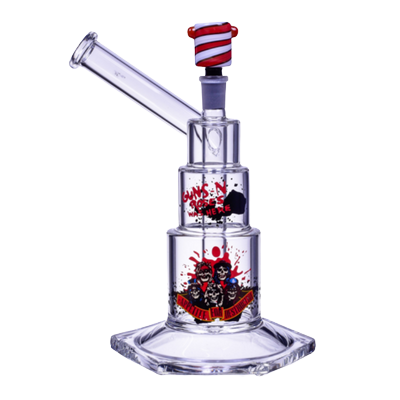 Legendary rock band Guns N' Roses has a line of smoking accessories, including pipes, bongs, and dab rigs. In many cases, novelty smoke wear is low-quality and gimmicky, but the "Appetite for Destruction" Dab Rig is a premium piece and a steal at under $50.
At first glance, you can't help but notice the unique design of the "Appetite for Destruction." The 10-inch rig is constructed in a pyramid, with a strong, hexagon-shaped base that gets progressively narrower up to a 14.5mm male joint and a sidecar mouthpiece. In addition, the solid build is constructed with sturdy borosilicate glass.
We've never seen a dab rig quite like the "Appetite for Destruction," but what else can you expect from Guns N' Roses? While taking pulls with the banger at the top of the rig takes some getting used to, it is actually quite practical. Smoke travels from the banger down to the Matrix perc, where it's diffused and then back up to the mouthpiece for a smooth, tasty hit.
---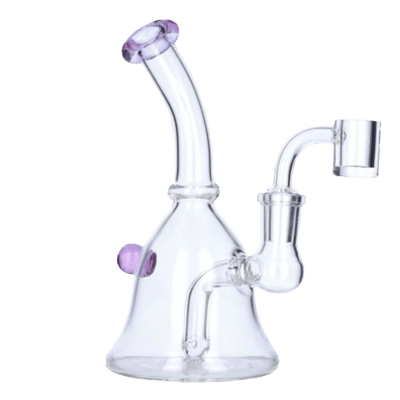 Our next affordable dab rig comes from one of our favorite online smoke shops, Grasscity. The retailer has a line of smoke wear and accessories called GC Generic; this is a great place to look if you are searching for reliable products at affordable prices, and their Glass Mini Beaker Dab Rig is no exception.
The rig has an elegant, minimalistic beaker design with a pearl diffuser. Standing at only 5.5 inches in height, the rig is excellent for on-the-go use and is easy to clean. So, if you're looking for a no-frills option that still will produce tasty vapor, this rig from GC Generic may be your best option.
Taking rips from the Glass Mini Beaker Dab Rig was a bit of a surprise. At such a low price point and small build, our expectations weren't very high, but the piece surprised us with dense clouds of incredibly flavorful smoke vapor. This rig is a solid pickup for anyone looking to save but not sacrifice taste.
---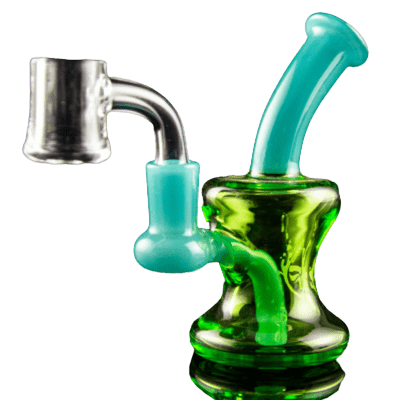 While the Colorful Travel Sized Mini Rig is on the high end of our cost-effective picks, it's still affordable, coming in well under $100. Pulsar is well-known throughout the industry for producing premium-quality products; you simply can't go wrong with choosing a rig from the respectable brand.
The American-made mini rig is constructed from high-quality borosilicate glass, so it can handle intense heat and still delivery tasty hits. At just 4 inches tall, it is genuinely a mini rig and a perfect travel companion. The design is simple and efficient, with excellent airflow allowing for a consistent pull.
You'll be shocked at how small the Colorful Travel Sized Mini Rig actually is when you see it in person. It fits easily in your hand, making it a no-brainer for your portable option. At under $100, it's a highly economical choice, especially considering it's from one of the market's most popular glass wear manufacturers.
---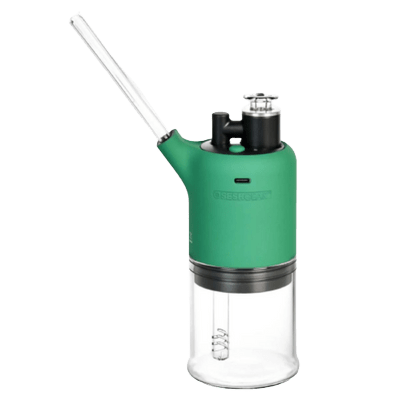 Just because you want to save doesn't mean you must miss out on the complete dabbing experience! E-rigs are a phenomenon that combines taking bong hits with desktop vaping so you can enjoy your cannabis concentrates with optimal temperature control. The technological advancement is available for a fraction of the cost thanks to the Dabtron Electric Dab Rig from SeshGear.
The Dabrton is the best way to experience precisely heated dabs without spending $200-$400 on an electric dab rig. Ditch the blow torch and take advantage of the cool features made possible with electricity, including one-touch controls, 20-second heating times, and 4 temperature settings.
Many electric dab rigs have a steep learning curve, but we were able to get the Dabtron rolling as soon as it came out of the box. The heating mechanism is effortless and even has a no-touch setting perfect for smoke sessions. So, if you didn't think buying a cheap electric dab rig was possible, you'll be as surprised as we were after trying the SeshGear Dabtron.
---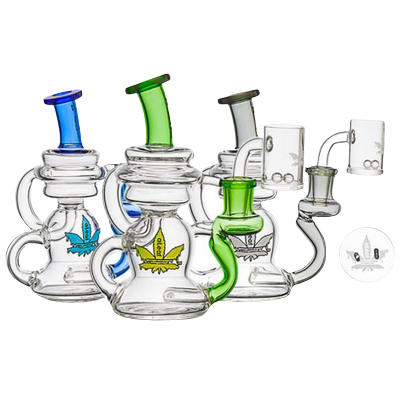 Our final selection is an affordable dab rig kit from aLeaf. The Recycler Rig Spinner Kit comes with a mini dab rig, a 14.5mm quartz banger, a removable downstem diffuser, a spinner carb cap, and 2 terp beads. You receive not only everything you need to start dabbing right out of the box but the components to take the taste of your dabs to the next level.
The Recycler Rig Spinner is a premium dab rig with an advanced recycler filtration system. In addition, the rig is made from highly durable borosilicate glass, making it the ideal choice for a travel rig. At 6 inches tall, it's a litter bit bigger than the mini rig from Grasscity Generic but still compact enough to easily conceal in a backpack or small bag.
Once you hold the Recycler Rig Spinner in your hand, you'll be surprised at its weight. For such a small rig, it has a solid construction and is actually pretty heavy. We were also taken aback by the pillows of tasty clouds the mini rig could pump out. If you are looking for an affordable wax rig with maximum filtration and made from premium glass, aLeaf's Recycler Rig Spinner Kit is a great option.
---
How to Find Discount Dab Rigs in 2023? 
When shopping for cost-effective dab rigs online, you inherently expose yourself to a plethora low-quality pieces. That's why understanding the foundational components that make a reliable dab rig is more important when looking at cheap dab rigs online.
Our buyer's guide below teaches you the language to look out for shopping for cost-effective options. In addition, we provide our favorite online sources for where to buy a cheap dab rig and brands known for delivering quality rigs at affordable prices.
Benchmarks of Quality When Shopping for Dab Rigs
While shopping for cheap dab rigs online doesn't allow you to touch the products, you can learn everything you need to know about the rig in the description (assuming you are shopping from a reputable smoke shop). If you know what to look for, the advantages of shopping online outweigh visiting a brick-and-mortar smoke shop tenfold.
Finding dab rigs with these 3 benchmarks will ensure your cost-effective dab rig stands the test of time.
Quality Materials
The majority of dab rigs are made from glass because the material delivers significantly better-tasting dabs. When shopping for a cheap glass dab rig, you must ensure you get a rig made from quality glass. Look for borosilicate, medical-grade, or scientific glass when browsing products online. If you don't get a high-quality glass, your rig may not make it past the first session.
Silicone is the second most popular dab rig material. If you choose this route, ensure your rig is made from platinum-cured or food-grade silicone.
Reliable Heating Environment
Your banger or nail is one of the most critical parts of your rig because it houses your dab and withstands the most direct heat. Quartz is the industry-standard for regardless of what type of material you choose. If your dab rig doesn't come with a quartz banger, adding one to your order will dramatically improve your dabbing experience.
Practical Design
When going for a cost-effective dab rig, we recommend sticking to a simple, proven design. Excessive features create breakpoints on your rig. In addition, it's tough for manufacturers to deliver a complex rig with high-quality materials for under $100.

Where to Buy Cheap Dab Rigs?
Due to the overwhelming amount of low-quality, cheap dab rigs available online, we highly suggest shopping with a reputable smoke shop. Below are the advantages of buying dab rigs and other smoking accessories from a trusted online retailer:
Massive selection – Shopping at an online head shop gives you numerous options from multiple manufacturers.
Filtered search results – You can filter your results by price, brand, features, size, and other metrics to make shopping easier.
Real customer reviews – The online cannabis community is highly active and in comment sections because they are passionate about their products. Hearing from a verified seller rather than a retailer is a huge advantage when shopping.
3rd party perspective – Smoke shops curate their selections based on what they think will sell. That means they have already weeded out the low-quality products for you.
Compare products side-by-side – You can compare similar products made by different manufacturers to ensure you find the best product for the most reasonable price.
Sales – Online headshops are constantly offering deals. You can even score a massive discount on a premium piece if you buy it at the right time.
Two of our favorite online head shops are Grasscity and Smoke Cartel. Each has a reputation for offering a massive selection of dab rigs of every shape, size, and price point imaginable.
Best Cost-Effective Dab Rig Brands
Shopping from a trusted dab rig manufacturer is another strategy to ensure you make a quality purchase. Below are some of our favorite brands known for producing high-quality rigs at reasonable prices.
Dopezilla
Pulsar
Diamond Glass
Evolution
LA Pipes
EYCE
GC Generic
---
Save on Your Rig, Spend on Concentrates
Buying a cheap dab rig doesn't mean you need to sacrifice quality or taste. The dabbing process is straightforward; you need a well-built rig made from quality materials to handle the heating and cooling process.
There are plenty of opportunities online to find a premium dab rig that is in your price range. However, you need to ensure your materials are exceptional, the design isn't over-complicated, and you have a banger that can handle high temperatures. Shopping from a reputable online retailer or brand is the best way to narrow down your options to those that will last and are affordable.
Find yourself a cheap dab rig today, so you can spend your savings on more cannabis concentrates.
---
Category Pages: