Our electric dab rig guide covers how e rigs work, reviews products from popular brands, and shows you how to find the most innovative smoking device online.
While the dab rig is an impressive evolution of cannabis consumption, the e rig takes smoking concentrates to another level. Incorporating temperature-controlled combustion allows you to truly implement a scientific approach to maximize the cannabis experience.
Our electric dab rig buyer's guide gives you everything you need to know about the revolutionary administration method. We'll cover how the technology works, different variations, review some of the best products online, and break down how the components contribute to optimizing each dab. In addition, we provide the knowledge required to find the best electric dab rigs online and where to find them.
Whether you are an experienced dabber looking to upgrade to an e rig or want to jump in feet first with the most advanced rig on the market, we are here to point you in the right direction.
---
The Best Electric Dab Rigs in 2023 – Summary
---
What is an Electric Dab Rig?
An electric dab rig or e rig is a device used to consume cannabis concentrates through an electronic heating mechanism. Extracts like wax, oil, shatter, and budder have various burn points. With an e rig, you can optimize the heating environment to complement the best burning temperature for your concentrate of choice.
Adding a controlled heating source adds to the efficiency of the traditional dab rig. The community has embraced dabbing since extraction methods have become more accessible; the e rig exemplifies how cannabis use has become more advanced.
How do E Rigs Work?
Taking a hit from an electronic dab rig is essentially the same process as a traditional rig with one major exception, no butane torch is needed! Removing the torch makes the experience safer and allows you to choose what temperature you want your dabs to combust.
Cannabis is a complex plant with over 200 active compounds called cannabinoids. Extraction methods have progressed to incorporate more cannabinoids other than THC to curate various experiences. In addition, the cannabis plant has an abundance of aromatic oils called terpenes. These compounds also burn at multiple temperatures and dramatically influence the taste and effects of dabs.
While electronic dab rigs utilize the highly advanced technology to deliver dab rips, the process is pretty simple. E rigs work by setting the heat to your desired temperature. Different models have various settings but usually allow you to pick from a range of 2-4 options. Then, the dab is added to the electronically heated banger (dab bowl) and inhaled.
How the banger is heated is what separates high-quality e rigs from the cheapest electric dab rig alternatives.
E Rig Vs. Desktop Vaporizer
While a desktop vaporizer uses a controlled environment to decarboxylate cannabis extracts, there are several key differences from an e rig. First, electronic dab rigs use water to filter the smoke vapor before it hits the lungs. In addition, an e rig is a one-hitter, while desktop vaporizers are designed to burn enough for multiple hits before cashing out the chamber.
---
The Best E Rigs of 2023
There is an assortment of various types and styles of e rigs available online. Below we've featured some of our favorite products from the different variations of the innovative smoking method. After checking out the products, you'll have a better idea of how features best fit your desired smoking experience.
---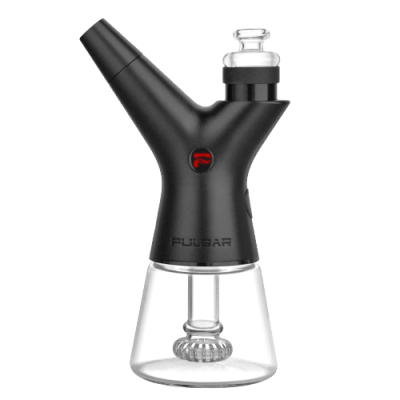 Pulsar is one of the premier electric dab rig brands in the industry. The USA-based company has grown in notoriety for delivering highly advanced smoking technology at accessible price points; that's why we picked the RoK Electric Dab Rig as our best overall e rig.
With the RoK, you can experience the magic of taking a perfectly heated dab without spending a fortune. The coil-less quartz cup banger uses 3 heating settings to vaporize cannabinoids and terpenes. In addition, you can use the 30-second' RoK Mode' to keep the piece heated and ready to pass.
The RoK comes with everything you need out of the box to start dabbing, including:
1x RoK All-Metal Electric Dab Rig Base
1x Quartz Coil
1x Dry Herb Coil
1x Silicone Collar
2x Airpath Tubes
1x Glass Downstem
1x Concentrate Carb Cap
1x Herb Carb Cap
1x Mouthpiece
1x Glass Beaker Base
4x Pre-Loaded Alcohol Cotton Swabs
1x USB Charger
2x Cleaning Brushes
1x Metal Dabber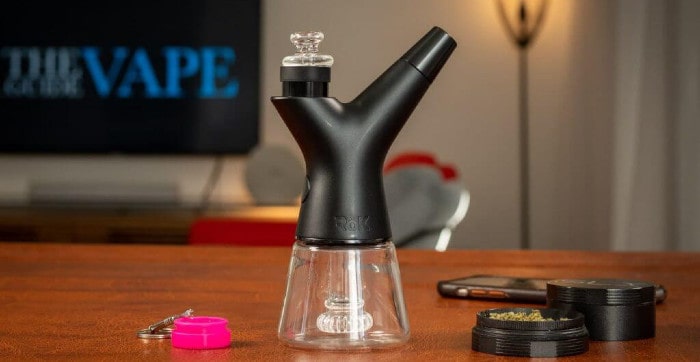 Using the Pulsar RoK is an amazing smoking experience that allows you seamlessly switch from taking smooth, tasty hits to blowing pillows of thick smoke with the touch of a button. The modular size is highly portable; we could see the RoK holding an excellent argument for the best portable electric dab rig as well.
Pulsar RoK Electric Dab Rig: 200$ @ Smoke Cartel
10% Coupon Code: CNBS
---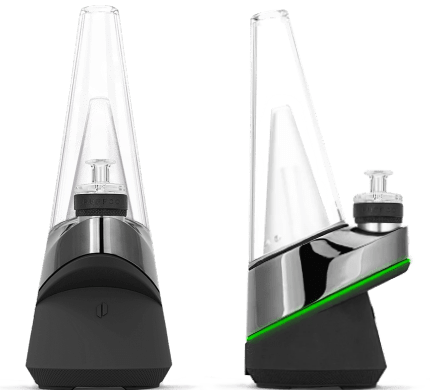 If you are looking to buy an e rig, why not get the most technologically advanced right? While it's a sizable investment, and you may wonder is the Puffco Peak worth it, we're here to tell you that it is an incredible way to experience dabs. The Puffco Peak Smart Rig is truly the Tesla of electric dab rigs; other options will get the job done well but aren't as far along with the technology.
Our favorite feature is intelligent temperature calibration. While most e rigs have various temperature controls, The Puffco Peak Smart Rig automatically adjusts heat times if your bowl is still hot, providing a more consistent experience after consistent use or in shesh mode. In addition, the e rig has 4 unique heating in 50°F increments (450°F, 500°F, 550°F, 600°F), so you can optimize for flavor or push your lungs to the limit. The heating system is communicated through the rig's LED light haptic feedback and will guide you through the experience. A discreet color-coded light band provides heat cycle indicators to let you know when the rig is heating, ready to drop a dab, and needs a charge.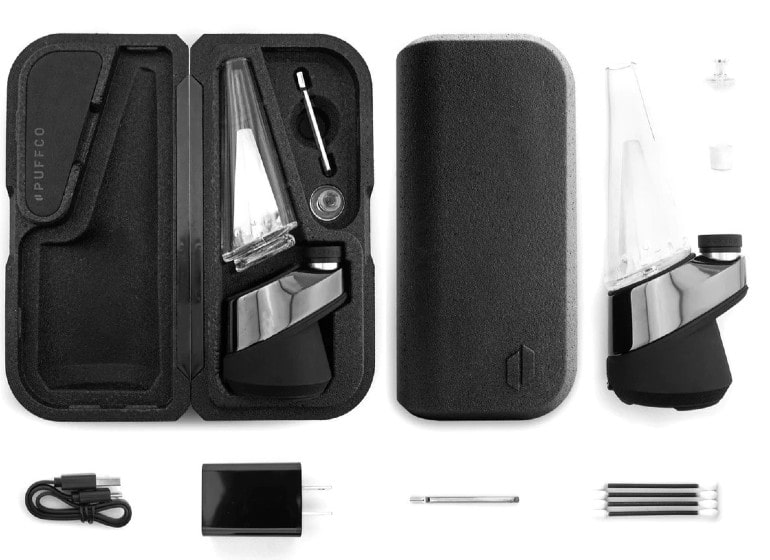 The 1700 MAh battery is also an impressive component of the Puffco Peak Smart Rig and a breakthrough in modern e dabbing technology. Your battery is heated at an average time of only 20 seconds and will last about 30 dabs, giving you more time smoking and less time waiting. Rapid charging only takes 2 hours from completely dead to full, and you'll save battery life with the automatic shut-off feature.
For an even more impressive display of electric dab rig technology, Puffco Peak also offers a more advanced option called the Puffco Peak Pro. The rig is more expensive, but if you truly want the most sophisticated smoking experience possible, it's worth the investment. You get everything in the Smart model, including the ultra-futuristic design, with even more cool tech. The Pro comes with a wireless charging deck and doubles as a portable power bank for any USB-enabled devices. Your rig and home base connect seamlessly through the Puffco App. You can save dozens of heating settings, customize the temperature down to the exact degree, and control the Pro-exclusive LED light displays. The app even provides live stats, including active heating settings, bowl temperature, daily consumption, and total dabs.
When you see a Puffco Peak for the first time in person, you can't help but marvel at the design. The minimalist volcano design illuminated by LED lights is visually stunning, but we were most impressed with the ease of use and vapor quality. Taking hits with the one-button control system is simple, efficient, and produces some of the tastiest clouds we've ever had.
Puffco Peak Smart Rig: 249.99$ @ Smoke Cartel
Puffco Peak Pro: 399.99$ @ Smoke Cartel
10% Coupon Code: CNBS
---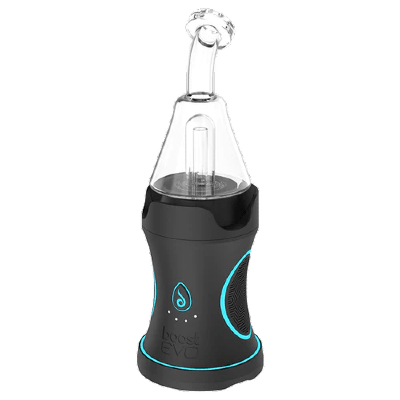 The Dr. Dabber Boost EVO is our premium choice. If you don't mind spending the money on the highest quality materials and the most advanced heating system on the market, Dr. Dabber Boost EVO is calling your name.
You'll experience 6 separate heating settings to optimize your heating environment. In addition, the Dr. Dabber Boost Evo uses an innovative quartz-to-glass pathway, so the vapor isn't diluted by subpar materials like metal or silicone. The heating process of the magnetic quartz dish is regulated using a patented built-in temperature-controlled sensor, ensuring you get an even burn and consistent experience.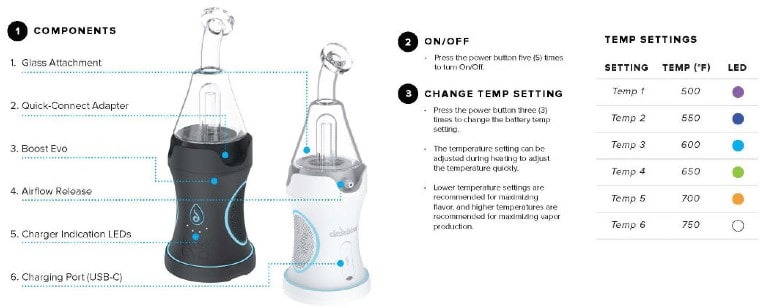 Taking pulls from the Dr. Dabber Boost EVO is like stepping into 2050 for a smoke session. The advancement of technology is truly amazing, and you won't find a more futuristic dabbing experience than with Dr. Dabber. The EVO's engineered to complement dabbing, from holding the unit to the one-touch control to taking it apart for cleaning. If you're willing to bump up your spend, the Dr. Dabber Boost EVO won't disappoint.
Dr. Dabber Boost EVO: 296.96$ @ Grasscity
---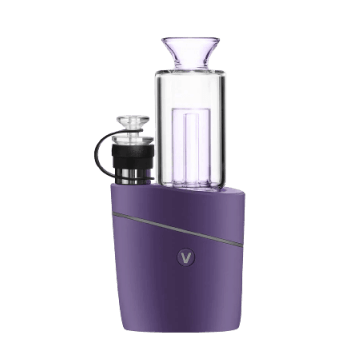 Vlab combines the innovation of electronic dab rigs and the artisan element of glass water pipes for the Halo Smart E Rig.
If you are on the fence about adding electricity or technology to your smoke sessions, this is the rig for you. While it features an advanced heating system with 4 temperature settings, the bubbler component is hand-crafted with a traditional percolator. As a result, the bubbler delivers the ideal balance of filtration and diffusion; you don't want to diffuse too much with dabs because you'll lose flavor.
We love the solid, practical, yet portable design of the Halo Smart Rig. The unit fits well in your hand, and taking dabs feels natural. In addition, using the smart touch power sensor compliments the overall futuristic e dab experience. Considering the price, quality materials, and advanced filtration system, the Halo Smart E Rig is heaven-sent.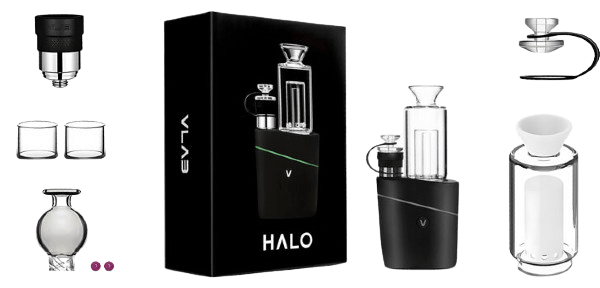 Vlab Halo Smart E Rig: $149.00 @ Smoke Cartel
10% Coupon Code: CNBS
---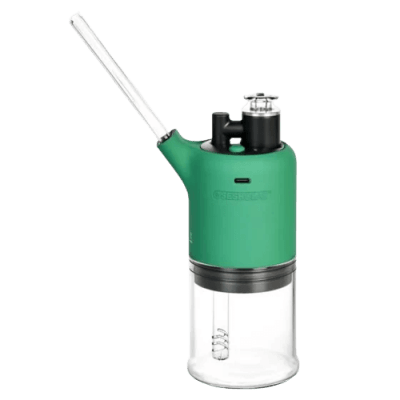 Finding an electric dab rig under $100 is not only possible, but you will also get to experience many of the features from our premium options. The Dabrton Dab Rig from SeshGear is a perfect choice if you want to save.
You'll enjoy 4 temperature settings (2.5V, Green 2.8V, 3.2V, 3.5V) to find the ideal burn point for your dabs. In addition, the rig comes with a coil-less quartz cup, a 2000mAh rechargeable battery, and it heats in just 20 seconds.
The Dabrton is small but packs a punch. We really liked the straw; its narrow design maximizes taste. While there's a bit of a learning curve, the Dabrton is well worth the price and a solid option for your first electronic dab rig.

SeshGear Dabtron Dab Rig: $55.24 @ Grasscity
---
We love the one-button control system from the Puffco, Crossing Core 2.0, and Dr. Dabber, but the temperature control is limited to preset ranges with those products. The Ispire Daab E Rig allows you to choose the exact temperature between 250°F and 800°F.
Complete control over the temperature provides a fully optimized dabbing experience. In addition, the Ispiredaab uses induction heating or an electromagnetic field to increase the temperature. Induction heating is the most efficient and safest way to heat concentrates. (More on heating methods in our buyer's guide below)
Temperature isn't just about heat. The airflow is also crucial in creating the best environment for dabs to transition to smoke vapor. You'll experience a super-efficient all-glass airflow path with the daab, instilling taste from the borosilicate glass inner cups through the percolator and into the mouthpiece.
The daab is one of our favorite electric dab rigs because there is a clear separation between the electric and glass components. While the induction heating source is housed in the base, your dabs or the vapor is never in direct contact with metal or plastic, and the difference is evident. As a result, the daab produced some of the tastiest smoke we've ever experienced; definitely worth the investment if you are looking for a new go-to daily e rig.
Ispire Daab E Rig: $224.96 @ Grasscity
Ispire Exclusive Honey Daab E Rig: $275.00 @ Grasscity
Ispire Exclusive Northern Lights Daab E Rig: $275.00 @ Grasscity
---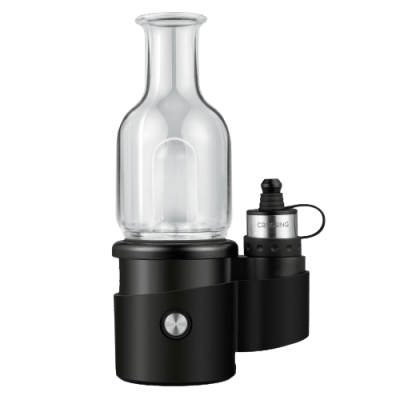 Heating is the primary advantage e rigs offer for the dabbing experience. One of the most innovative heating systems available online is built into the Crossing Core 2.0 E Rig. The separate module design encourages improved airflow and optimal temperature control.
Similar to the Puffco Peak, the Crossing Core 2.0 uses a one-button control system; the unit heats in seconds, and sessions last up to 80 seconds.
The electric dab rig kit offers incredible value for the price. Right out of the box, you'll get everything you need to start ripping perfectly vaporized concentrates, including:
Durable carrying cases
Carb cap
Carb tether
Base sleeve
Cotton swabs
Alcohol wipes
Choosing the Crossing Core 2.0 is also an excellent long-term investment. The kit comes with a spare atomizer and V5 heater, so once your rig starts to decline in quality after consistent use, you can swap out the heating mechanism to get the rig running like new.
We love how the Crossing Core 2.0 is ready to be thrown into the case and used on the go but still has a solid base. You don't have to sacrifice mobility for stability or vice versa. The Core 2.0 is an excellent choice whether you want a portable option or your primary day-to-day dab rig.
Crossing Core 2.0 E-Rig: $199.99 @ Smoke Cartel
10% Coupon Code: CNBS
---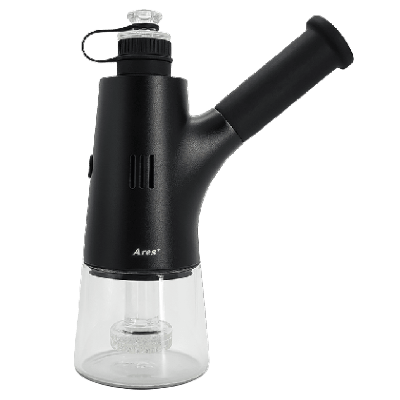 While most e rigs travel pretty well, the Waxmaid Ares Plus was designed as a portable electric dab rig. The Ares Plus can fit in your pocket at just 6 and a half inches tall. But don't underestimate this unit; the rig absolutely chugs, releasing massive clouds of sweet vapor with every pull.
Waxmaid's Ares Plus features 3 temperature settings (450-550°F, 550-650°F, and 650-750°F). Heat is controlled by an ultra-thin quartz chip connected to the quartz atomizer and instantly heats up. No waiting is necessary!
The Ares Plus travel case is a huge selling point. Every component of the electric rig fits perfectly into the stylish, smell-proof, shock-absorbent bag. The Ares Plus is ready for travel and easily fits into a backpack or suitcase.
Pictures of the Ares Plus don't translate the compact and efficient design. When we unzipped the carrying case, we were shocked at how many components fit, all with the collective purpose of delivering tasty dabs on the go. We highly recommend the Ares Plus if you want a portable electric dab rig or value keeping your smoke wear organized and discreet.
Waxmaid Ares Plus Electric Dab Rig: $155.98 @ Smoke Cartel
10% Coupon Code: CNBS
---
How to Choose the Best E Rig in 2023
Picking an electronic rig is a tough decision you will have to live with for the foreseeable future and can be a substantial investment. Before dropping a couple of hundred dollars on a new e rig, it's essential to understand the various components and types of heating.
Your approach to shopping is also crucial to finding the best e rig for your lifestyle. We'll cover the best brands in the industry, the advantages of shopping from an online smoke shop, and how to pick a premium rig within your price range.
Parts of an Electric Dab Rig
The e rig is a highly efficient way to consume cannabis concentrates. The best electric dab rigs utilize every component to maximize the user experience. Below we'll cover the parts of an e rig and how they contribute to delivering a consistent, tasty vapor cloud.
Mouthpiece
The mouthpiece is where your lips come directly in contact with your cannabinoid and terpene-infused smoke vapor. Pay attention to the angle, circumference, and proximity to the smoke chamber. All these factors don't make or break the smoking experience but will slightly impact taste and airflow velocity.
Banger
An e rig banger varies from rig to rig. For example, the Puffco Peak Pro and Halo Smart E Rig have external bangers accessed by simply lifting the carb cap and dropping in a dab. Some models, like the Ispiredaab E Rig, will house a removable cup or dish inside the banger. Others, like the Dr. Dabber Boost EVO, require you to disassemble the rig, drop your dab, reassemble the unit, and start the heating process.
The various types of e rig bangers are vital to consider when choosing a rig. While the process is typically relatively simple, you may be accustomed to a traditional dab rig and don't want to bother with taking the unit apart for every hit.
Cup/Dish
The removable cup or dish is usually made of glass or quartz and is housed in the banger. One advantage of choosing an e rig with a removable dish is you can buy replacements. The heating system increases the temperature of the dish or uses induction heating to vaporize the concentrate.
Carb Cap
A carb cap is a feature common on electric dab rigs with an external banger. Once you drop in the extract, you cover the banger with the carb cap and use your finger to allow air to flow in and out of the rig through the banger.
Bubbler
Many of the best electronic dab rigs feature an all-glass bubbler that serves as the smoke chamber. The smoke travels from the banger or heating environment into the bubbler, where the smoke is filtered and diffused, making the hit more manageable.
Percolator
Inside the bubbler, a percolator filtration system breaks up the smoke particles, so you won't cough your lungs out after taking a dab. Percolator systems are usually pretty simpleon e rigs because you don't want to break down the terpenes. Too much diffusion will degrade the taste of your extract.
Button Controls
Every e rig requires an electric heating mechanism, so you'll need to turn the unit on and off and select a temperature. While the button controls aren't the most important feature, you want to find the system you are comfortable with. The one-button control units are the most popular among the high-end models, but rigs that allow you to select exact temperatures have more complex interfaces.
Rechargeable Battery
If you're a consistent dabber, you want a battery that can last through long sessions.
You want to pay attention to two metrics: milliamp hours (mAh) and volts (V). mAh measures electricity power over time, and volts measures electric power. The larger the mAh, the more storage your e rig will hold, and the volts will determine the strength.
Conduction, Convention, and Induction Heating 
The heating method on an electronic dab rig is possibly the most essential part. As a result, understanding how your rig handles heat is something you'll want to figure out before making a purchase.
Most electric dab rigs either use conduction, convention, or induction heating. Here's how each one works:
Conduction Heating – Direct heat is applied to the surface of the heating environment. Think of cooking on a stovetop.
Convention Heating – This method works like an oven. Heat is applied to the air rather than the surface.
Induction Heating – An electric current is caused to flow through the material (cannabis concentrate) by electromagnetic induction. Basically, an electrical current flow through a magnetic field and produces a clean, efficient heat source.
Why E Rigs are the Future of Dabbing
Dabbing has emerged as the best way to enjoy cannabis concentrates. The only problem is temperature control. Blasting a quartz banger with a blowtorch isn't safe, efficient, or practical. As a result, the e rig has become increasingly popular in the cannabis community.
E rigs allow you to optimize the smoking environment catering to your dab of choice. Different types of dabs decarboxylate at various temperatures make the heating environment extremely important.
Electric dab rigs are the future of dabbing because you can control the heat, and you don't have to carry around a butane torch to enjoy a dab.
Best Electronic Dab Rig Brand
We've already featured some of the best e rig brands on the market, including Puffco, Dr. Dabber, Pulsar, vLab, and Waxmaid. Here are some other brands known for producing some of the best electronic dab rigs on the market:
Focus V (the Carta Focus V2 is a great option)
Exceed
DabTech
EO Vape
Galaxy Journey
XVape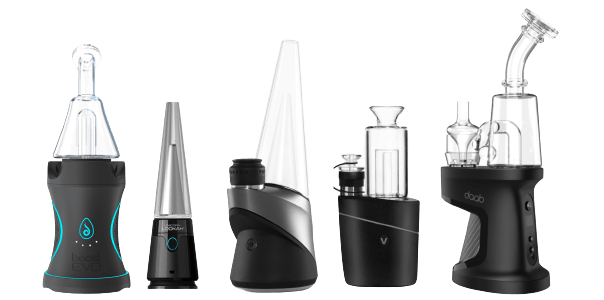 Where's the Best Place to Buy an E Rig?
We highly recommend shopping for your next e rig at a reputable online smoke shop. Some of our favorites include Smoke Cartel, Grasscity, AllinOneSmokeShop, and Vapor.com.
The advantage of utilizing an online smoke shop is you get to compare products side by side from a non-biased 3rd party. In addition, you can search using filters like price, brand, and features to narrow your search.
Our favorite aspect of an online headshop is customer reviews. Not only do you get to compare products on a single platform, but you can read feedback from fellow cannabis enthusiasts while you are shopping. If you've never ventured into the review section of a popular cannabis product, it's worth the trip. Smokers are highly active and give detailed, insightful, and sometimes hilarious reviews.
What to Look for When Shopping for an E Rig?
We recommend prioritizing 3 factors when shopping for an e rig: the heating mechanism, quality of materials, and battery.
Each of these aspects dramatically influences the quality of your vapor and overall dabbing experience. Remember to find out the type of heating and battery capacity before you make a purchase. Choosing from our reputable brand list or smoke shops will ensure you get an e rig with high-quality materials.
---
Optimize Decarboxylation with Technology!
E rigs are the most advanced form of cannabis consumption ever invented. So, if you are a cannabis user and a fan of innovation or technology, you want to try the revolutionary smoking method as soon as possible.
Our buyer's guide is the best online resource for finding a high-quality electronic dab rig. All our featured products and brands are well-known in the industry for delivering premium products that improve the dabbing experience. Remember to understand how each component contributes to optimizing the heating and cooling of your vapor. If you are knowledgeable about the industry and available products, you are more likely to make an educated purchasing decision.
---
Category Pages: