The dab rig is a testament to the progress we've made as a community. Allowing consumers to enjoy highly concentrated extracts with little to no waste is a recent development in the industry that is rapidly gaining popularity. While rolling up a joint or packing a bong bowl will always be at the core of cannabis culture, dabbing offers smokers more control over the compounds they consume in an optimized environment.
Our dab rig buyer's guide is a one-stop shop for novice dabbers and cannabis concentrate connoisseurs looking to find the best rigs available online. Our goal is to empower our visitors through education so they can find the best dab rig to accommodate their specific needs.
---
The Rise of Concentrates and the Rig for Dabs
Cannabinoid extraction is an ancient practice enjoyed by cannabis enthusiasts all over the world. While hash has been consumed for thousands of years, the destigmatization of cannabis and progressive drug policies in places like the US and Canada has created the perfect environment for concentrates to flourish. As new methods of optimizing cannabinoid delivery have emerged into mainstream cannabis culture, the market needed a revolutionary way to consume extracts. As a result, the dab rig was conceived!
A dab or cannabis concentrate like shatter, butter, wax, live resin, or THC oil isn't consumed effectively in traditional delivery methods. It is possible to add an extract to the top of a bowl or mixed with flower in a joint, but going this route defeats the purpose of a highly concentrated cannabis extract. Instead, most dab aficionados seek to enjoy their cannabis compounds free from plant matter that don't contribute to taste or psychoactive effects.
A rig for wax is the perfect way to deliver concentrates directly to the lungs with minimal waste. A high-quality dab rig complements the efficiency of cannabis extracts, allowing users to enjoy their optimal balance of cannabinoids and terpenes.

---
Parts of a Dab Rig
While most dab or wax rigs are made of premium glass, some less expensive products use silicone. Dab rigs come in a variety of sizes, price points, and delivery systems; however, all rigs have 6 essential components: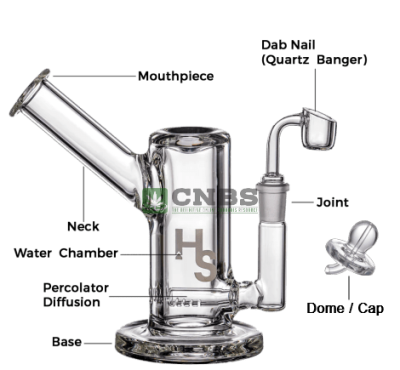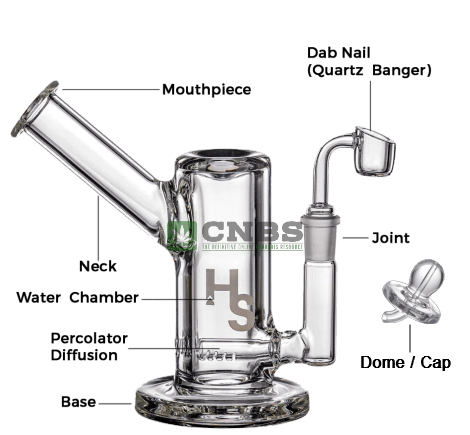 Mouthpiece
Nail or Banger
Percolator
Downstem
Chamber
Dome or Cap
Dab rigs function similarly to a bong but are optimized to handle the heat necessary to combust concentrates instantly.

---
Where to Buy Dab Rigs
There are many reputable online retailers where you can find the best dab rigs for sale. Some of our favorite smoke shops are Grasscity and Smoke Cartel. Each retailer has a plethora of premium rigs from the industry's most trusted brands.
When looking for a water dab rig, you need a piece that can handle extreme head, deliver maximum flavor, and filter the smoke, so you won't be left coughing up a lung.
Dab Rig Top Brands
Below are some of our favorite companies with a reputation for manufacturing a high-quality dab bong:
Pulsar
Evolution
Diamond Glass
Puffco
High Standards
Ispire
Pricing can vary dramatically when shopping for a new dab rig. You can find options for under $20 and over $300. That's why we suggest utilizing an established online smoke shop; you can compare pricing, reviews, and product specifications all on one platform.

---
The Best Dab Rigs – By Type
The popularity of dab rigs is at an all-time high. As demand increases, more options have become available in the market. For example, the experience is refined with additional filtration, and portable rigs make dabbing nearly as easy as pulling out a pipe.
We've picked a variety of products to exhibit the importance of choosing the best type of dab rig for your lifestyle. Our selections include products demonstrating advancements in rig smoking technology, innovative design, quality, affordability, and convenience.

---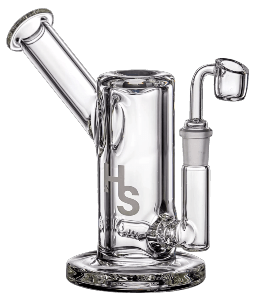 There's no substitute for glass, regardless of what type of apparatus you are smoking. Glass provides optimal taste while containing high temperatures, making it the best material to handle dabs.
If you're number one concern is quality, buy a dab rig with thick, premium glass.
The Heavy Duty Rig from High Standards is engineered with durable, 7mm, medical-grade borosilicate glass to deliver an unmatched dabbing experience. At just over 20cm tall, the piece is medium-sized, with the capacity to handle hefty pulls. The level of quality is elevated further with the addition of a free quartz banger.
High-quality materials and a first-class design come at a price. While the Heavy-duty Rig isn't the most expensive dab rig available online, $200 is a significant investment. Rigs at half the price may lack in quality but not necessarily in unison with the difference in cost. We feature multiple rigs that are far less expensive and still will deliver a smooth, flavorful hit. However, if your priority is quality, you'll be happy paying extra for High Standards' Heavy Duty Rig.
When you handle a premium quality dab bong like the Heavy Duty Rig, you can instantly notice the difference. It's heavier and feels more stable than less expensive pieces. In addition, the joint and suction mechanisms function flawlessly; after taking a rip, you can't help admiring the efficiency. If you prefer taste-forward extracts with high terpene content, you'll have zero issues with the price point.

---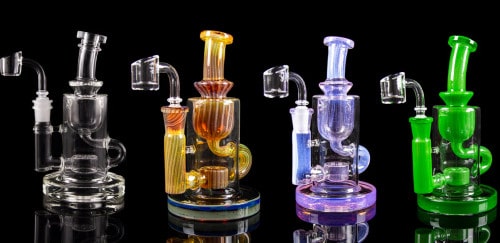 High-quality dab rigs using the latest filtration technology are more accessible than ever. While you will notice a difference in a $200+ rig, you can easily find a solid option for half the price.
The "Patty Cake" Klein Style Incycler Recycler Dab Rig is an excellent option if you are looking to save but still want a rig that will last and provide superior taste. At 17cm tall with a 14.5mm female downstem, the "Patty Cake" is the perfect height for an everyday rig. The design features an incycler filtration system, meaning smoke is diffused through 2 chambers, but 1 is inside the other as opposed to a recycler system where they are separate.
Affordability is a significant factor when choosing your ideal dab rig. Overspending will always take away from your overall experience. Thankfully, there are plenty of options to satisfy the average consumer who doesn't need a $400 dab rig but still appreciates quality. The "Patty Cake" will fulfill your desire for an exceptional dabbing experience due to its thick, scientific glass, Seed of Life Percolator, and free quartz banger.
The "Patty Cake" hits like a charm. While the incycler chamber is a bit small, it still packs a punch, and the smoke goes down slow and smooth. In addition, the construction is extremely well done and is deceivingly heavy for such a compact rig.
Our favorite aspect of the weed rig is the filtration system; it's simple but effective. You won't get any splash, and you're left licking your lips.

---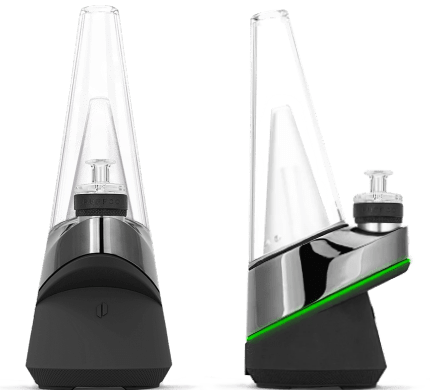 Electric-powered dab rigs or e-rigs are a recent achievement in innovation within the cannabis community.
While heating your nail electronically is less labor-intensive, advocates for the technology use e-rigs like The Puffco Peak Smart Rig because of heat distribution. Dropping dabs on overheated or disproportionately heated bangers dramatically hinders the smoke quality.
The Puffco Peak features 4 heat settings to optimize decarboxylation temperatures for your concentrate's chemical compounds. In just 20 seconds, the e-rig is ready to fire perfectly distributed heat and will stay charged for about 30 dabs.
Innovative technology delivered in a simplified form makes the experience much more enjoyable! The Puffco is just two pieces, the silicone base, and a borosilicate glass bubbler. While the rig is small, the heavy base provides a solid foundation and houses 100% of the tech. Being able to remove the glass chamber is clutch when cleaning the rig or traveling.
Taking your first high-quality e-hit is an awakening experience, and rips from the Puffco Peak are tough to beat. The banger is perfectly optimized for your choice of concentrate and hit intensity, providing your ideal dab environment; savor the flavor on low and blow massive clouds on the highest setting.

---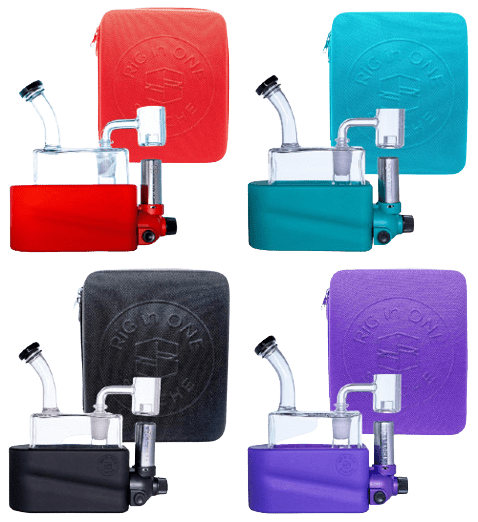 Dabbing on the go was once an impossible feat but can be done easily with various options available online. One of our favorite portable units is The Rio Matte Portable Dab Rig by Stache.
The compact rig stands only 16.5cm tall and can nearly fit in your pocket. Its resin base, designed for stability and durability, comes in a variety of colors, including red, blue, teal, and black. For an upgraded look, check out Stache's Rio Makeover Rig, the functionality is the same, but the base is much more aesthetically appealing.
Practical portable dab rigs have one common component, a functional heating mechanism. If you are taking dab rips on the go, it's inconvenient to haul around a butane blow torch. Many are designed with heating coils, but you must worry about replacing the batteries or keeping your rig charged. The Rio Matte houses a built-in, refillable butane torch, so you have a reliable way to heat your banger, take a hit, and go on with your day.
Dabs from the Rio Matte are surprisingly smooth. When smoking a portable rig, you need to set realistic expectations. You'll be disappointed if you expect the quality of the Heavy Duty Rig or Puffco Peak. However, the Rio Matte is well worth the purchase if you want convenience. It's more practical to compare a portable dab rig to a small bubbler or glass pipe, and if you are a concentrate connoisseur, we guarantee you'll choose the Rio Matte.

---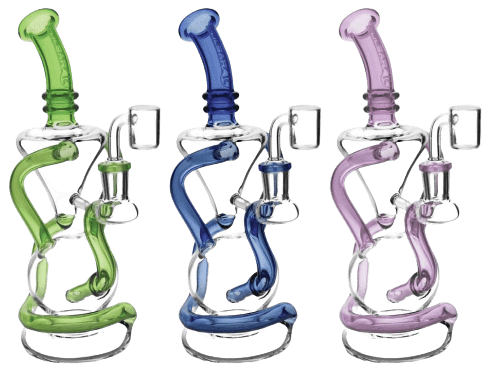 Frequently taking dabs can be tough on your lungs. Thankfully, filtration technology has evolved exponentially since dab rigs gained popularity. Sending smoke through a series of diffusers, percolators, and chambers helps break up cool down and break up smoke particles, creating an enjoyable hit. The Vortex Recycler Oil Rig from Pulsar is an excellent example of advanced filtration.
Recycler rigs like the Vortex utilize multiple chambers to reduce harshness while maximizing flavor. The Vortex's design features a fixed diffuser in the downstem and two chambers connected by recycler tubes. Its upright, 23cm design and vortex-shaped splash back drain sends your hits on a journey before reaching the mouthpiece, allowing you to hit the rig as hard as possible without sucking in bong water.
Pulsar is one of the premier brands in the smoke wear industry. You can't go wrong with anything manufactured by the reputable brand, and the Vortex is no different. We featured the wax rig because of its innovative design but is also a great cost-effective option if you are still looking for a high-quality piece.
Taking rips from the Vortex is as visually stunning as it is smooth. Watching smoke travel around the base, through the water, around the first chamber, and into the splashback chamber while filling up the colored tubes alone is worth the purchase. But The vortex design functionality is what separates the rig from other recyclers.

---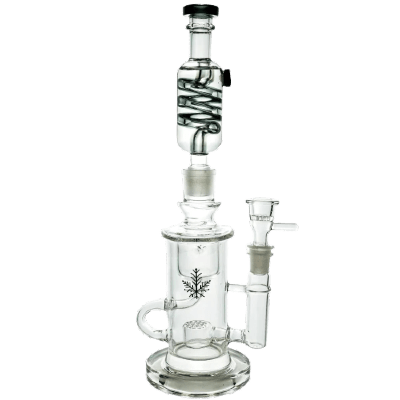 Our best dab rig smoking experience comes from Freezer Pipe, a glass wear company that specializes in implementing freezable glycerin into their designs. Their Klein Recycler Dab Rig is an accumulation of smoking technology, innovative design, and premium quality materials.
At first glance, you can't help but admire the intricate engineering marvel of the large dab rig. The Klein Recycler rig stands 30cm high, towering over our other selections, and comes with 2 detachable glycerin freeze chambers. You have the option of using a coil or straight design to cool your smoke right before it hits your lungs.
Purchasing a Klein Recycler from Freeze Pipe isn't the most economical choice, but it will likely provide the best smoking experience of your life. Hits are icy, smooth, and full of flavor. The quality is on par with the Heavy Duty Rig from High Standards, and the recycler design offers unmatched filtration.
Access to 2 freezable glycerin chambers is an absolute game changer! We kept one in the freezer as the Klein Recycler was passed around, then brought out the ice-cold coil chamber once smoke began to heat up. Coming in under $300 is relatively practical for the elite quality, design, and functionality of one of the most advanced weed rigs on the market.

---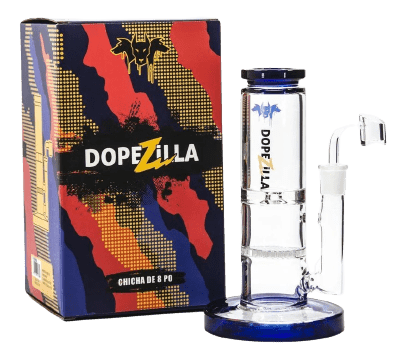 Dopezilla's Cerberus Straight HoneyComb Dab Rig is pretty basic compared to some of our other pics. However, while it lacks innovation and advanced filtration technology, it's a steal for $40.
The simple dab rig features high-quality 5mm borosilicate glass, stands 20cm high, and features a honeycomb disc percolator to cool smoke. Its straight neck design and wide mouthpiece resemble a bong, so if you want to jump from water pipes to dab rigs, it will be a smooth transition.
Our favorite component of the Cerberus is the bullet hole ice pinch, a rare feature on dab rigs. This allows you to add ice cubes into the neck, and they won't be resting on the honeycomb perc, disrupting the diffusion process.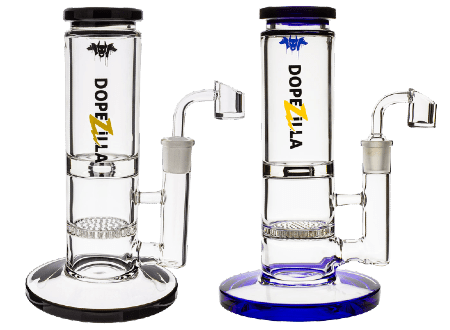 For the price, the rig is a solid deal. While the design is simple, it's made with quality glass and comes with a male quartz banger. In addition, this rig produces massive rips. Smoke travels from the banger to your lungs almost instantly, and the wide mouthpiece offers suction rarely seen in a wax rig.
There's nothing wrong with taking an economical approach to purchasing fragile glass smoke wear. Throw in some ice cubes, take a massive rip, and you'll forget all about incycler filtration technology.

---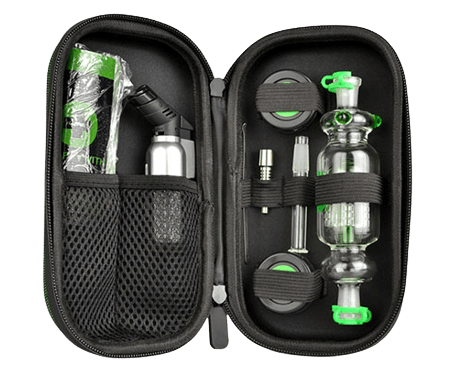 The Very Happy Dab Kit comes with everything you need to start dabbing (minus the concentrate) right out of the box. Each kit contains:
Glass nectar collector
Titanium tip
Torch
2 silicone containers
Dab tool
Dab pad
In addition to a complete dab rig, The Very Happy Dab Kit fits perfectly into a smell-proof, shock-proof, and water-resistant carrying case. At $70, the kit is an amazing deal, especially if you are getting started dabbing or looking for a portable option.
Unlike our other "best of" picks, The Very Happy Dab Kit is a nectar collector or vertically designed portable dab rig. This design is much more compact, allowing for easy travel. The Rio Matte and Very Happy Dab Kit are both great options if you are looking for an on-the-go dab rig.
The most significant differences are the design and functionality. The Rio Matte is a traditional dab rib with a male downstem and quartz banger; a nectar collector is much different. Once connected, heat the tip with your torch and use the heated end to combust your concentrate.
Hitting the nectar collection from The Very Happy Dab Rig takes some getting used to, but the tree perc does a great job of cooling down the smoke and delivering a smooth hit. The dab pad is an excellent addition to the kit. Many dabbers take hits right out of their silicone containers, but we found it nice to have a designated pad to manage dab sizes.

---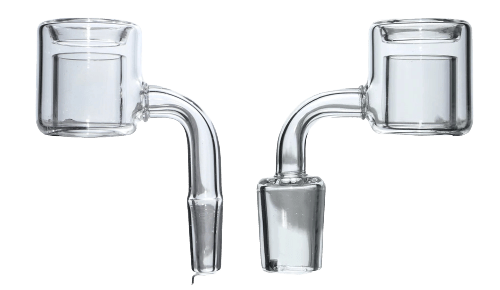 One of the best ways to revitalize an aging dab rig or upgrade a cost-effective option is to purchase a new premium banger. Smoke Cartel's Double Wall Bangers serve as an inexpensive way to take your dabbing experience to the next level.
Smoke Cartel offers great in-house products. They are the perfect place to shop for accessories like replacement bangers. The Double Wall Thermal Bangers are available in 3 sizes (10mm, 14.5mm, and 18.8mm) and various joint styles.
Stock nails are notoriously low quality, especially when you purchase a budget dab rig. Typically, they aren't great at holding heat, making low temp dabs difficult. Upgrading to a banger made of quartz instantly improves the quality of your dab experience.
Controlling the heat of your banger is crucial when it comes to taste. Smoke Cartel's Thermal Banger is heated in just 5 or 6 seconds and ready to deliver luscious clouds of smoke. The double wall design provides the heat control and durability you need to house your precious concentrates.

---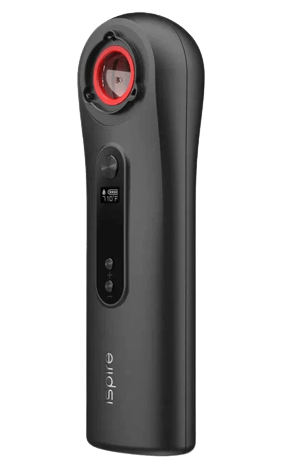 Heating concentrates with a butane blow torch isn't the most practical or safest way to enjoy cannabis. Not to mention it can turn off people not accustomed to dab rigs. We predict the torch will one day be obsolete thanks to innovations like The Wand by Ispire.
While electronic rigs like the Puffco Peak are impressive displays of stoner technology, they don't offer a solution for the segment of the community that already has a rig but wants to utilize the recent advancements in electronic heat distribution. That's where the wand comes in!
You can experience optimized banger temperatures without buying a completely new dab rig. Just set The Wand to your desired temperature (250°-800°F), and enjoy your terpenes and cannabinoids at the ideal combustion point.
Ispire has genuinely crafted a revolutionary product. An e-nail is by no means a new idea, but most other options have too many parts to justify replacing the torch. We set The Wand on 350°F auto heat, and our banger was perfectly heated in seconds and pumping out tasty rips.

---
How to Choose a Dab Rig – Our Complete Buyer's Guide
Before you buy a new rig, you should have a basic understanding of its components, the various types of rigs, how they function and be able to spot a high-end dab rig. Using our guide, you'll be able to choose the best possible option to accommodate your preferred cannabis concentrate and overall smoking experience. In addition, we'll point you in the direction of some of the most reputable smoke shops with the best selections online.

---
What Is a Dab Rig?
A dab rig is a water pipe specially designed to smoke concentrates. The administration method rose to popularity as cannabis concentrates became more accessible. High potency extracts require intense localized heat to vaporize and are enjoyed in small amounts or dabs.
Legalization and cannabis culture increased the demand for concentrates, ultimately expanding the availability of options other than hash and butane hash oil (BHO). In the late 1990s, manufacturers began experimenting with new methods to extract cannabinoids and terpenes from raw plant material. As a result, new extracts emerged, including shatter, wax, and budder.
The dab rig was the perfect solution to handle an array of cannabis concentrates. Rigs provide the localized heat necessary for extracts to combust and the water filtration system to cool down the smoke.
---
Who Needs a Dab Rig?
While dabbing is an incredible experience that captures the purity of cannabis, it isn't for everyone. Buying a dab rig setup is an investment, and it can be challenging for many to find a reliable source for concentrates.
We recommend entering the realm of dabs if you are an experienced smoker who wants to enjoy cannabis in the most efficient way possible.
In the past, dabs were meant to deliver THC into the bloodstream as fast as possible. Similar to taking a shot of liquor vs. drinking a cocktail. However, the market has shifted to include high CBD concentrates and extracts containing a significant amount of terpenes. Today there are more dab options than ever, and we expect the industry to continue evolving.

---
The Evolution of the Dab Rig
Weed oil rigs have come a long way since the early days of cannabis concentrates. The rigs were almost all metal and produced some of the harshest hits ever consumed by the cannabis community. Thankfully, today we're transitioned to premium quality borosilicate glass to handle each and preserve flavor.
Heating and taste continue to be at the forefront of dab smoking innovation. Manufacturers continue to produce new ways to optimize the combustion environment, filter smoke, and improve convenience. While electronic rigs aren't new, we've only recently gained access to options that make sense economically and functionally.
Today we have access to new heating mechanisms, compact designs, and cost-effective options that aren't made of metal.

---
Critical Components of a Rig
When you are looking to buy a dab rig, you need to understand how each component improves the smoking experience. Below we'll explore the essential parts and how they contribute to the different types of dab rigs.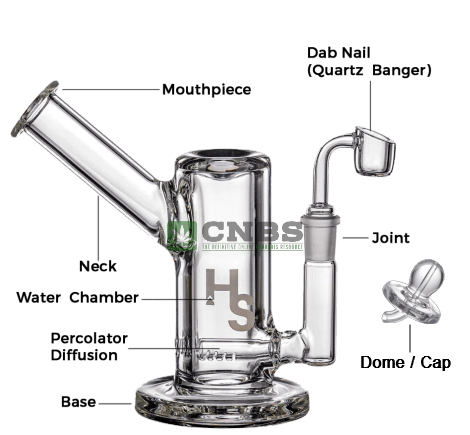 Dab Nail
The dab nail or bagger is similar to the bowl in a bong or bubbler; it houses the cannabis product and handles the heat. However, dab rigs require more heat than a traditional bowl. A nail must be made of titanium or quartz to retain the temperatures needed to convert concentrates into smoke.
Nails can be male or female, depending on the rig's design. In addition, nails come in various joint sizes that slightly change the pull or how the rig is cleared.
E-Nail
An e-nail is an electronically heated banger. The heat source is equally distributed and, in many cases, set to the ideal smoking temperature. E-nails are heated with a battery, some are built into an electronic dab rig design, and others apply heat from a separate device.
Dabber
A dabber is a metal tool that transfers your extract from a container into the nail. Dabbers look similar to dentistry tools with a small scoop end for maximum control.
Downstem
Once the concentrate is converted into smoke, it travels into the downstem. This part of the dab rig is extremely important because it determines your nail size. The most common sizes are 10mm, 14.5mm, and 18.8mm.
Percolator
From the downstem, smoke enters a chamber containing water. Percolators rest in the water and release the smoke into the chamber. They are designed to diffuse the smoke by breaking up the particles. The goal of a percolator is to cool the hot smoke and create a more enjoyable dab-smoking experience.
Percolators come in various designs, including honeycomb, disc, circ, barrel, showerhead, and many others. The different styles are defined by the point where the smoke is released into the water. In addition, advanced dab rigs can include multiple percs throughout the design for additional diffusion.
Chambers
Most dab rigs contain one chamber that houses the percolator system. This chamber fills with smoke and is cleared once the banger is lifted from the downstem.
As wax rig technology has advanced, additional chambers have been added to designs. A recycler rig contains 2 chambers. This type of dab rig directs smoke entirely out of the first chamber and into another chamber before exiting the rig. The method provides further filtration and protects you from inhaling water.
Another type of dab rig with multiple chambers is the incycler. The rig uses the same concept as a recycler, but the 2nd chamber is contained within the first, allowing for a more compact design.
Neck
A dab rig's neck separates the smoke chamber or chambers from your mouth. When looking at dab rigs for sale, you should consider the angle of the neck; it will determine how you take pulls from your new piece.
Mouthpiece
The mouthpiece is the exit point for your smoke. While it isn't the most important component on a dab rig, it should be a factor in your purchasing decision.

---
Choosing a High-Quality Wax Rig
Browsing online smoke shops and looking at rigs for sale can be overwhelming. Rig prices should reflect the quality, but that's not always the case. In addition, the purchasing process is challenging because of all the different types of dab rigs.
Below we will cover the crucial factors you should consider when buying a dab rig; if you follow our guide, you'll be able to separate a premium quality piece from poorly made products.
Price
The average dab rig price is around $100. You can find options for less than $20 and well over $300. Anything above $100, assuming you are shopping with a reputable online retailer, should be a high-quality product. However, you shouldn't only consider price when shopping for dab rigs.
Material
A rig's material is one of the most important qualities. Glass is the most popular material because the taste can't be beaten. But glass is also fragile, and if you have a history of breaking glass wear, you may want to consider a more durable material.
Silicone is the preferred option for dabbers looking for a stable material that still wants to retain as much flavor as possible. Metal is another option, but it won't handle heat or maximize the taste of your dabs. In addition, metal can be challenging to clean.
Shape
Your dab rig's shape plays a significant role in usability and filtration. The longer your smoke travels before hitting your lungs, the cooler it will be. The shape also affects how you handle your rig. You want to choose a shape that is comfortable in your hand while you are taking pulls.
Style
Dab rig styles have evolved dramatically since the late 90s. Today you can find a compact setup or a dab rig with a case designed for travel. Nectar collectors are becoming increasingly popular for taking dabs on the go.
Filtration methods are another style to consider when buying a dab rig. Recyclers and incyclers provide additional cooling but can be more expensive than a simple design.
Brand
Choosing a reputable brand helps ensure you will have a high-quality dab rig. We recommend researching the company before purchasing by checking customer feedback, product lines, and brand history.
Online smoke shops are great places to get a feel for the top brands in the market. You'll be able to compare each brand's prices, check out reviews, and look at product specs all in one place.
---
Where to Buy a Dab Rig Online?
Once you're familiar with the types of dab rigs and various components, you can begin shopping. There are 2 approaches to buying a dab rig online, going directly to the manufacturer or finding products on a 3rd party site.
We recommend implementing online smoke shops in your consumer journey for several reasons.
First, you'll have an overview of the entire market rather than a single retailer's line of products. This can help you gain a non-biased perception of the product without the manufacturer's influence.
Second, you can compare products in the same price range or with similar features. You can use authentic customer reviews to gain a complete analysis of the products you are interested in purchasing.
Last, you can take advantage of sales and promotions, helping you save and maybe even upgrade your dab rig while staying within your budget.
Our favorite online smoke shops are Grasscity and Smoke Cartel. Each retailer has a history of providing the best smoking products to the cannabis community. In addition, the online head shops serve as informational hubs through their blog posts, forums, and customer reviews.

---
How To Use a Dab Rig?
Dabbing can be intimidating for first-timers, but the process is simple, especially if you know your way around a bong or bubbler.
Step 1 – Heat the banger
You can use a blowtorch or e-nail to reach your ideal temperature. Experts recommend using the 30/30 method, which entails heating the banger for 30 seconds, letting it cool for 30 seconds, then dropping the concentrate into the banger.
The ideal temperature to vaporize concentrates is highly debated by dab smokers; we recommend starting at a low heat of 300°-400°F and working your way up if needed. Don't exceed the 650°-700°F range, or you will be at risk of overheating your concentrates.
Step 2 – Add your concentrate
 Drop in your extract of choice. We recommend starting with a low dose of around 5-10mg THC. You can gauge based on the total amount of your concentrate; it should be about the size of the ballpoint on a pen.
Dab rigs are designed to handle intense heat and deliver relatively cool smoke into the lungs. Applying the 30/30 method helps dramatically to reduce harshness but taking a dab is still an intense experience, especially for first-timers.
Step 3 – Inhale through the mouthpiece
As the concentrate is burning, inhale slowly.
Unlike smoking out of a bong or pipe, you should consume the entirety of the concentrate in a single hit. The process can be harsh initially, so we recommend starting with a small amount.
Step 4 – Fill the chambers with smoke
You'll notice smoke gradually traveling through the downstem and begin filling up your rig. Additional percolators and filtration reduce the temperature of the smoke while it's housed in your dab rig's chambers.
Dabs capture the true essence of cannabis by containing a high concentration of the plant's active compounds. While dabs began as a way to consume the most amount of THC in the shortest time possible, the industry has evolved to produce extracts retaining other elements of the plant, like CBD, minor cannabinoids, and terpenes.
Step 5 – Carefully pull the nail
Once the concentrate is done burning or you've hit your max, pull the nail. Some dabbers like to increase their suction to clear the chambers, but it's unnecessary.
Step 6 – Exhale
After clearing the chambers, exhale the smoke and enjoy those tasty terpenes.
Dabs capture the true essence of cannabis by containing a high concentration of the plant's active compounds. While dabs began as a way to consume the most amount of THC in the shortest time possible, the industry has evolved to produce extracts retaining other elements of the plant, like CBD, minor cannabinoids, and terpenes.
The dab user is much more diverse than 5-10 years ago. Many veteran dabbers have grown to appreciate concentrates containing less THC and more terpenes for a flavorful experience that's much more manageable.

---
How to Clean a Dab Rig?
One of the biggest challenges in dab rig ownership is the cleaning process. We highly recommend thinking about cleaning out the resin in your rig before making a purchase. While intricate filtration systems can provide value to the smoking experience, cleaning is a nightmare if you're scrubbing by hand.
The best way to clean a dab rig is with a solution formulated specifically for your rig's material. Formula 420 offers multiple cleaning solution options that cater to specific smoke-wear materials, including glass, silicone, ceramic, and metal.
If you use a high-quality cleaner, you can add each component separately to a sealable bag, cover with your cleaner, seal, shake, and rinse. The process only takes a few minutes and allows you to buy a dab rig that would otherwise be impossible to clean.
The level of care you put into your wax rig will be reflected in the quality of your dabs. Resin can block airways, pollute your water, affect the functionality of your percolators, and stink up an entire room.

---
Navigating the Dab Rig Market
Buying a new dab rig can be a challenging process. As demand for concentrates increases, we've seen the market flooded with retailers looking to take advantage of the hype by selling cheap dab rigs.
Our buyer's guide serves as a tool to help you navigate the industry and find the perfect wax rig for sale among the seemingly infinite options online.
Remember to consider the value of each component when purchasing a new rig. Taking this approach will help you choose the best type of dab rig for your needs. For example, the heating mechanism is one of the most critical aspects of the dabbing experience. Utilizing innovative heating techniques could be well worth the additional investment, especially if you prefer terpene-rich concentrates.
We also highly recommend shopping at a reputable online smoke shop. Utilizing a platform like Grasscity or Smoke Cartel will give you an overview of the market and provide access to customer feedback.
Dabbing is an exciting innovation in cannabis consumption that is likely to continue evolving. As the market develops, we can help you understand new smoking methods, trends, terminology, and techniques to help you navigate the blossoming cannabis industry.
---
Category Pages:
Dab Rigs -

(CURRENT PAGE)

Cheap Dab Rigs - Our cheap dab rig buyer's guide explores the market of cost-effective, premium-quality dab rigs. Learn how to shop for an affordable rig on a tight budget.
Electric Dab Rigs - Our electric dab rig guide covers how e rigs work, reviews products from popular brands, and shows you how to find the most innovative smoking device online.
Glass Dab Rigs - We tested and reviewed the best glass dab rigs available online for smokers who value taste above everything else.
Recycler Dab Rigs - The ins and outs of the complex filtrations system of a recycler dab rig. How they work, what to look for when shopping, and where to buy the best recycler dab rigs in 2023.
Silicone Dab Rigs - This buyer's guide will help you choose a high-quality, durable silicone rig that won't break your pocket (or at all.)