Our recycler dab rigs buyer's guide covers everything you need to know, including how they work, essential parts, what to look for, and where to buy them.
Recycler dab rigs are one of the many variations of the water pipe embraced by the cannabis community. The increase in demand for concentrates and dab rigs has sparked a revolution in the glass smoke wear industry, and the recycler is one of the most impressive achievements yet.
Our buyer's guide covers everything you need to know about recycler rigs. After reading, you'll understand how they provide additional filtration compared to a regular dab rig, what to look for when shopping, and where to buy the best recycler dab rigs in 2023. In addition, we provide a detailed analysis of 6 of our favorite options available to purchase now online.
---
The Best Electric Dab Rigs in 2023 – Summary
---
What is a Recycler Dab Rig?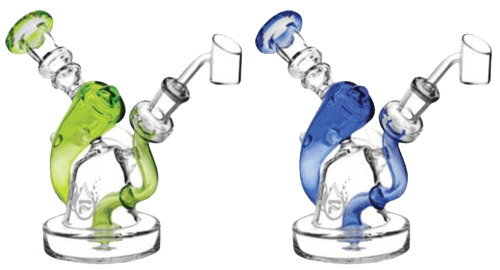 A recycler dab rig is a type of water pipe designed for cannabis concentrates with multiple chambers to maximize filtration. Recycler rigs have at least 2 chambers, an intake, and a drain that creates a whirlpool effect that keeps the smoke and water constantly moving.
The appeal of recycler dab rigs is the additional filtration system. Circulating smoke creates a smooth dabbing experience even if you take a massive rip. In addition, you won't get any splashback because water is cycling through the chambers.
How do Recycler Dab Rigs Work?
Recycler rigs are named for the looping filtration process that causes the smoke to recycle in and out of the main water chamber. Smoke travels from the banger through the downstem and into the primary chamber. Then, the smoke and water circulate together through the intake tube and into the secondary chamber. Finally, the smoke/water combination is sent to the drain tube back into the primary chamber.
As the smoke is looped through the recycler dab rig's complex filtration system, it is cooled off but retains flavor. Recyclers are the go-to choice for experienced dabbers looking to push the limits by taking as big of rips as humanly possible. Thankfully, the additional filtration makes massive clouds of vapor relatively manageable.
Recycler Vs. Incycler Dab Rigs
An incycler dab rig is a category of recycler-style rigs featuring a more efficient, compact design. Instead of the secondary chamber sitting above or next to the primary, it is housed within the primary chamber. Anincycler dab rig has essentially the same functionality as a recycler, but the loop is internal, allowing for a condensed design.

---
The Best Recycler Dab Rigs of 2023
We've selected 6 of the best recycler dab rigs available online. Each represents a different type of recycler rig:
---
Our best overall pick comes from Freeze Pipe, a reputable brand in the industry known for its freezable glycerin chambers. The Klein Recycler is the ultimate smoking device, complete with an incycler filtration system and multiple freeze chambers for an unparalleled experience.
The big recycler dab rig stands at a whopping 12 inches high, taller than any of our other picks. Every hit of your smoke is sent on a journey traveling through various percolators, chambers, and finally through the freezable glycerin neck. You'll be taking pulls you never thought possible.
At first, we couldn't get over the Freezer Pipe snowflake-branded box the Klein Recycler comes in. The padded foam box is ideal for travel and keeping all components safe. However, once we busted out the rig, we were surprised at the efficient weight balance; for such a big piece, it is lightweight yet incredibly stable. Taking hits was immaculate. The taste was excellent, and even our biggest hits didn't send us into coughing fits.
Freeze Pipe Klein Recycler: $299.95 @ Smoke Cartel
10% Coupon Code: CNBS
---
Next is an option that doesn't sacrifice quality for affordability. The "Patty Cake" Incycler Recycler Dab Rig is an incredible deal when considering quality, design, and functionality. At 7 inches tall, with a 90° joint, sturdy base, thick borosilicate glass, and a Seed of Life Perc, the dab rig is everything you could ask for and is available at a more than reasonable price point.
While there aren't as many cool features or intricate tubes connecting the chambers, The "Patty Cake" has an efficient design that delivers ultra-smooth hits.
We thoroughly enjoyed taking pulls from The "Patty Cake." The piece is the perfect size for your daily dab rig, with every inch engineered to contribute to the overall experience. One of our favorite features is the slight bend in the neck that gives you just enough visibility of the banger.
The "Patty Cake" Klein Style Incycler Recycler Dab Rig: $107.99 @ Smoke Cartel
10% Coupon Code: CNBS
---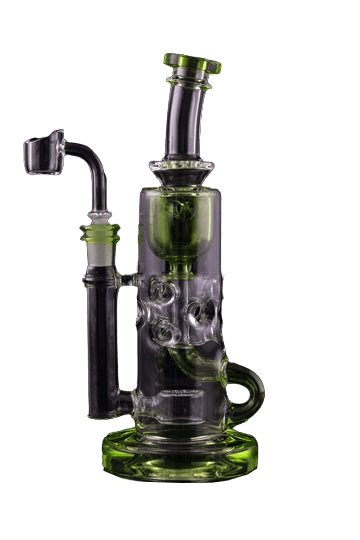 The "Swiss Cheese" Fat Can Dab Rig exemplifies a flawless incycler rig. Its name comes from the multiple holes in the primary chamber, but we can assure you there aren't any faults in its design.
Smoke travels through an extended downstem to the base of the piece, diffusing by a Seed of Life Perc, then cycled through the internal chamber filtration system. The rig is built with premium scientific glass and stands just under a foot tall. Hits are full of flavor and go down smoothly.
One look at The "Swiss Cheese" Fat Can Dab Rig, and you'll be sold. The design, craftsmanship, and impressive stature make the piece an excellent choice for your everyday dab rig.
The "Swiss Cheese" Fat Can Incycler Dab Rig $124.99 @ Smoke Cartel
10% Coupon Code: CNBS
---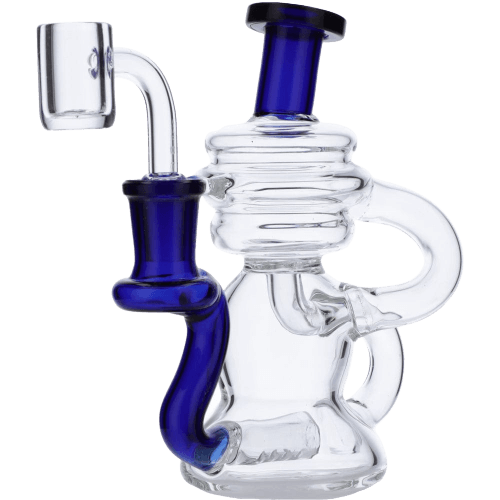 A mini rig is always great to have if you are looking for a travel option or just want to save. The Valiant Distribution Mini is one of the best recycler dab rigs under $50 on the market. You get a solid, compact unit with high-quality borosilicate glass and the piece packs a punch.
The handblown rig stands at only 5 inches tall, but the genius design prioritizes the recycler system over the rig's neck, giving you the maximum filtration per square inch possible.
Taking hits from the Valiant Distribution Mini Recycler Dab Rig can be deceiving. The piece is small and compact but delivers billowing clouds of sweet vapor. If you're looking for a cheap recycler dab rig or travel-size piece for concentrates, the Valiant Distribution Mini is a terrific option.
Valiant Distribution Mini Recycler Dab Rig: $25.99 @ Smoke Cartel
10% Coupon Code: CNBS
---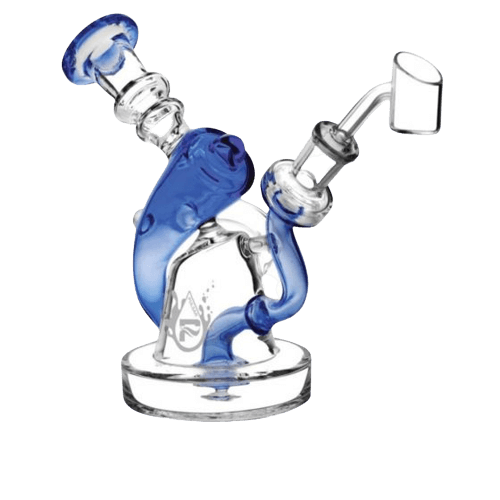 Our next pick is a premium quality rig with a unique design that elevates the overall aesthetic and functionality. The rig is a creative take on the recycler filtration system but has all the fundamental components and performs masterfully.
The Inception Mini Vortex Recycler Dab Rig by Pulsar is an impressive piece that stands at 6.5 inches tall, making it a practical travel option. It's just a little bigger than the Valiant Distribution Mini Rig but still a great choice if you are looking for a mini recycler dab rig.
Pictures don't do this rig justice. So much is lost with 2-dimensional images; you must see it in person to truly understand the amazing design. While the design is why it made our list, you won't sacrifice quality or glass, functionality, or taste to have the coolest-looking rig of anyone you know.
Pulsar Inception Mini Vortex Recycler Dab Rig: $99.00 @ Grasscity
---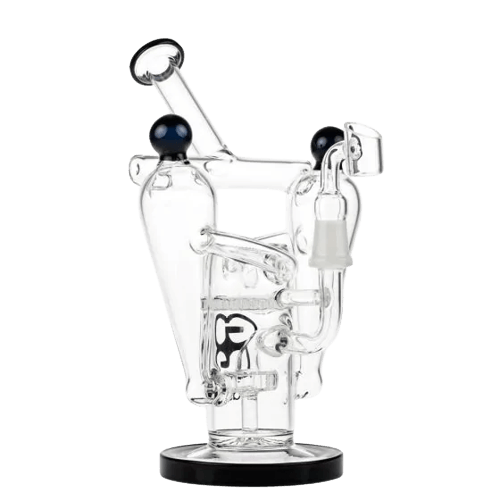 Of all the recycler dab rigs for sale online, the Recycler Vapor Bubbler with Showerhead & Honeycomb Disc Perc is the best option under $100. The rig comes from the Grasscity in-house brand. So regardless of what type of glass wear you choose, you can expect premium quality at affordable prices from a Grasscity exclusive piece.
The rig stands 8.7 inches tall and features 2 external chambers for maximum filtration. In addition, the recycler rig has 2 of the most popular types of percolators – a honeycomb and a showerhead built into the primary smoke chamber.
We loved taking pulls from the recycler dab rig. You won't help but notice how efficiently air flow is distributed, even though it's a highly complex filtration system. If you are looking to save but want the complete recycler experience, the Vapor Bubbler from Grasscity is an excellent option.
Recycler Vapor Bubbler with Showerhead & Honeycomb Disc Perc: $79.99 @ Grasscity
---
How to Choose the Best Recycler Dab Rig in 2023
There is a plethora of recycler dab rigs available online, but if you don't know what you are looking for, you could buy a rig made from cheap materials that won't last. Our buyer's guide is a compilation of everything you need to know before purchasing a recycling dab rig. After understanding the function of each component, where to buy a recycler, and how to pinpoint a quality choice, you'll be taking perfectly filtered rips in no time.
Critical Components of a Recycler Dab Rig
Each part of a recycler dab rig contributes to improving the smoking experience. Below we provide a detailed explanation of each piece that separates a recycler rig from a standard water pipe.
Banger/Nail
The banger is an essential component of all dab rigs. It is where your concentrates combust, transitioning from their solid form to a tasty smoke vapor. Because the vast majority of recycler dab rigs are glass, you want to ensure your recycler comes with a quartz banger.
PrimaryChamber
The primary chamber is your smoke's first stop on its journey to your brain. Here it makes its first contact with water and begins to cool. Many recycler dab rigs feature a special percolator, such as the honeycomb, to provide additional diffusion.
Intake
As smoke fills the primary chamber, it begins making its way into the intake tube or tubes. These pathways are an essential part of the loop that creates the whirlpool effect.
Secondary Chamber
The intake tube connects the primary chamber with the secondary chamber. Smoke and water are filtered into the second chamber, where smoke is cooled. The secondary chamber also serves as a splash guard preventing water from entering the neck and mouthpiece.
An incycler dab has a secondary chamber housed within the primary. A regular recycler will have an external secondary chamber.
Drain
Your drain tube completes the loop. Smoke naturally escapes the secondary chamber and piles into the primary chamber, creating a whirlpool effect that provides maximum filtration.
The Advantages of Choosing a Recycler Rig
Filtration is the name of the game when it comes to recycler dab rigs. The circular movement of water and smoke is the best way we currently have to cool off vapor while retaining taste.
As a result of additional filtration, recycler dab rigs allow you to take absurdly hefty rips. So, if you are looking to push the limits, you'll be amazed at how much your lungs can take after smoke is recycled.
Where's the Best Place to Buy a Recycler Rig?
Before you hit up recycler dab rigs on Amazon, we highly advise shopping from a reputable online smoke shop. This way, you'll have access to knowledgeable customer service, filter your search results, and compare customer reviews.
There are countless online headshops available, but we prefer Grasscity, Smoke Cartel, AllinOneSmokeShop, and Vapor.com. You can't go wrong with any of these outlets; they each have an extensive selection of smoke wear and customer service teams that understand the needs of their unique consumer base.
What to Look for When Shopping
Shopping with a reputable smoke shop ensures you will search through a selection of high-quality recycler dab rigs. Make sure your glass is high quality; borosilicate, scientific, and medical grade are all excellent options.
Another method for finding a recycler that will stand the test of time is choosing a reputable brand; below are some of our favorites:
Vortex Recycler Dab Rigs
Waterfall Recycler Dab Rigs
Cyclone Recycler Rig
Kromedome
Pulsar
Freeze Pipe
Diamond Glass Dab Rigs
Empire Glassworks
Envy Glass
How to Clean a Recycler Dab Rig
The only disadvantage of having an advanced filtration system is that it is tough to clean. If you try to get a q-tip or brush into every corner of your rig, you're setting yourself up for failure and a smelly dab rig. So instead, you must soak your recycling dab rig every 5-10 uses to keep it like new.
We highly recommend purchasing a premium glass cleaner like Formula 420. The cleaner is designed to handle residue created from smoking cannabis and can be purchased at online smoke shops like Smoke Cartel and Grasscity.
---
Experience Maximum Filtration with a Recycler Rig
Dab rigs have gone through various evolutions up to this moment in cannabis history. The recycler is one of the most technically functional and inventive to date. Recycler rigs exemplify the industry's ingenuity, proving that if there is a way to take bigger hits of highly concentrated cannabis extracts, we will find a way.
As the next evolution in dab rig filtration technology will undoubtedly come, embrace the best existing system with a recycler or incycler rig. Choose one of our picks or use the knowledge you've gained to pick the perfect recycler dab rig for you and your fellow dab enthusiasts.
---
Category Pages: