Optimizing the cannabis experience has been a long journey dating back centuries, spanning continents and cultures. Today we are fortunate to live in an era with access to an abundance of concentrates allowing us to enjoy the pure essence of cannabis without waste. If you want the best possible concentrate experience, there's no substitute for a glass dab rig.
Dab rigs have become a staple in the cannabis community alongside bongs, joints, and blunts as the most efficient way to enjoy extracts. They can handle high temperatures to burn extracts while using advanced filtration to cool the smoke before it hits your lips. While various types of dab rigs are available, glass delivers the most flavorful experience.
Our glass dab rig buyer's guide covers everything you need to know about the specific type of rig, including how they work, different styles, the best options available online, and where to buy one. After reading, you'll know how to find the ideal glass dab rig to maximize your cannabis experience and make informed future purchasing decisions.
---
The Best Glass Dab Rigs in 2023 – Summary
---
What is a Glass Dab Rig?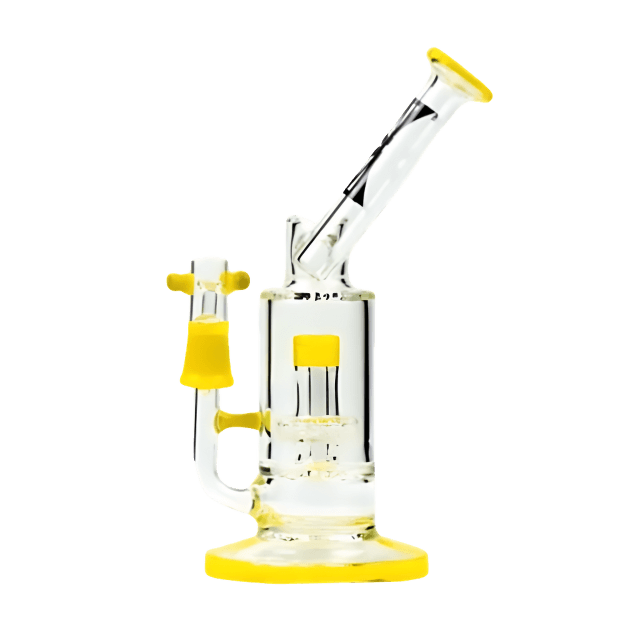 Before we get into specific products, it's essential to cover the fundamentals of "what is a glass dab rig." Concentrate consumption began with smoking hashish out of a pipe, under glass, or with knives. While these methods were the best options for our predecessor cannabis enthusiasts, they are inefficient. Today, marijuana extracts and how they are consumed have been optimized due to social change, progressive drug policies, and technology.
A glass dab rig (also called wax or oil rig) is a water pipe designed specifically for cannabis concentrates. The delivery system is similar to a bong in that smoke travels from a contained burn point, through a downstem, into the water for diffusion, then exits the device via pull carb. However, there are some distinct differences, including:
Dab rigs use a banger or nail rather than a bowl
They are specifically used for concentrates, not flower
You must heat them with a blowtorch or electronically
---
How Glass Dab Rigs Work
While we doubt we've seen the final evolution of cannabis concentrate consumption, the glass dab rig puts us in a great place. Concentrates can be heated to their precise burning points and cooled down to a tolerable temperature while maintaining the taste of the terpene-abundant cannabis extract.
High-quality borosilicate glass creates the best environment for concentrates to be cooled and delivered to the lungs. Glass dab rigs also feature quartz bangers to house and heat the extract.
Quartz has a symmetrical chemical structure that gives the natural-occurring crystal a higher tolerance to heat and pressure than glass. Concentrates require temperatures between 315°F and 700°F, with high temp dabs coming in even hotter. Heating glass to these temperatures will cause the structure to crack.
---
Types of Glass Dab Rigs
Glass oil rigs are available in various styles ranging in height and filtration systems. In addition, the quality and thickness of the glass should play a significant factor in choosing the right dab rig for your needs. While glass rigs aren't the best for travel due to their fragility, mini dab rigs and portable glass dab rigs are among the most popular variations in style.
---
The Best Glass Dab Rigs Online
Most consumers are looking for the best quality rig that won't diminish the taste of their dabs. Accomplishing this goal requires premium materials, optimal airflow, and an efficient filtration system.
Below we review 8 of the best glass dab rigs we could find online. Each selection represents the different types of glass dab rigs in the market.
---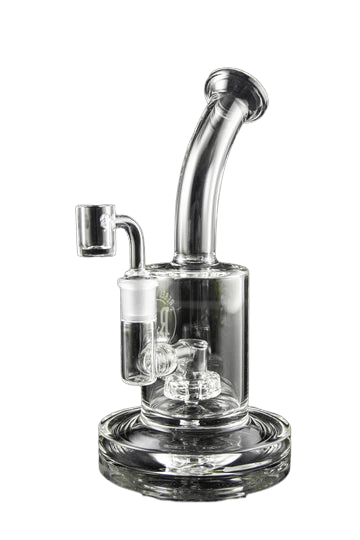 The Revolt from Rebel Initiate Glassworks (RIG) is our best all-around choice. The piece is simple, efficient, and powerful. Its minimalistic, yet elegant design, won't overshadow the star of the show, your cannabis concentrate.
Standing at 9.5 inches (65mm), the glass dab rig is the perfect size and design for your next go-to concentrate pipe. The thick borosilicate glass and sturdy base provide the support you need to pump out countless rips for years to come.
We love the simplified functionality is the Revolt; the slightly bent neck and 90° female joint make for easy pulls. In addition, the chamber holds plenty of water, and the showerhead perc doesn't over-diffuse the smoke keeping it flavorful but still easy to manage massive hits.
---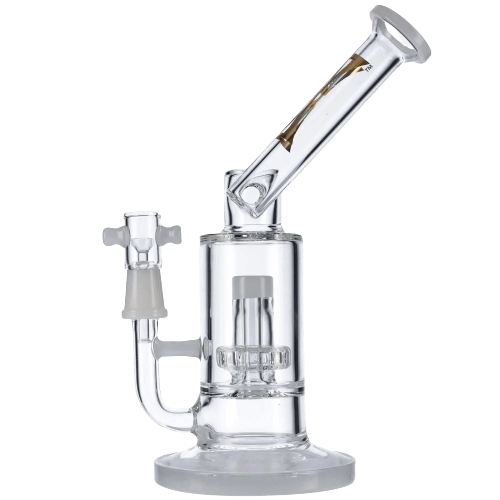 Finding a cheap glass dab rig doesn't necessarily mean you'll have to skimp out on quality. While you won't find the quality of the Rebel RIG, there are plenty of great options online; you just need to know what to look for.
The Mist Straight Sidecar Dab Rig by Evolution is an excellent example of affordable quality. You'll get the classic glass dab rig design, premium borosilicate glass, a splash guard, and matrix percolator while still having plenty of money left to spend on dabs!
Our favorite aspect of the Mist (besides its incredibly low price) is the angled sidecar mouthpiece. Rather than hitting the piece straight on, the mouthpiece is situated on the left side of the chamber, allowing for a more accessible pull.
Hits are smooth, the airflow is efficient, and you'll have a tough time finding a better deal online!
---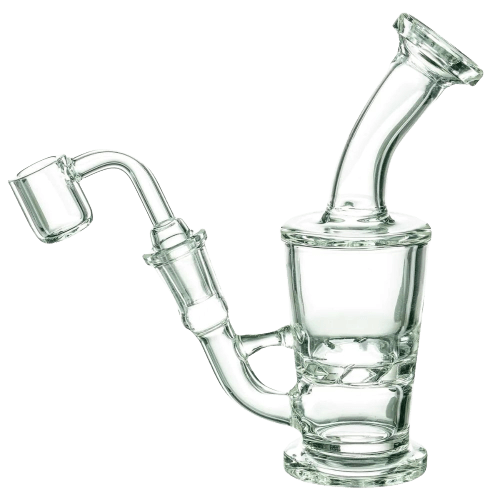 While portability is the only weakness of the glass dab rig, we're willing to exercise caution in the name of flavor. There are 2 things to look for when searching for an ideal portable glass dab rig: size and thickness. The Tiny Tornado Turbine Perc Mini Rig checks both boxes.
Choosing a mini dab rig can sometimes sacrifice filtration for portability. In most cases, the smoke's path from the banger to the mouthpiece is so short hits are too harsh. In addition, the chambers are typically not big enough to hold much water. The Tiny Tornado solves this problem with an innovative turbine percolator system that will send your smoke spinning around the chamber before entering the neck.
Taking hits from the Tiny Tornado is unlike any dab rig we've ever tried. The cyclone effect in the water chamber doesn't seem possible because the rig is so tiny, but it effectively cools your smoke and looks cool in the process.
---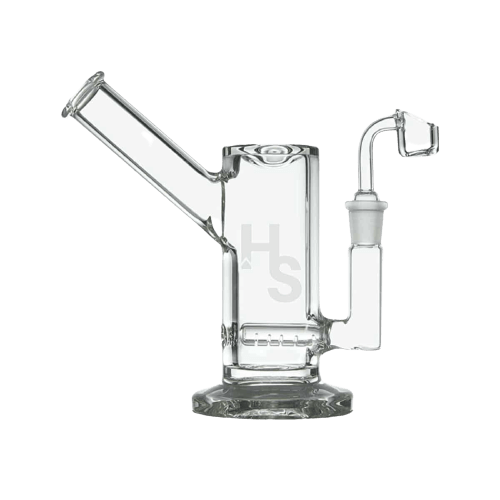 Finding high-quality glass can be challenging online. Most retailers will advertise their glass dab rigs as having high-quality glass, but you really won't know until it's put to the test. However, buying American is one way to ensure you're buying premium glass that can handle the heat.
The Heavy-Duty Rig from High Standards is made from the highest quality materials, including 7mm thick American glass. Its design is strikingly similar to the Revolt – simple, elegant, and highly functional. In addition to featuring premium medical-grade glass and nailing the optimal glass dab rig silhouette, the Heavy-Duty Rig is sold in a reusable carrying case, a 14mm quartz banger, a silicone concentrate container, and a pair of tools.
Once you take a dab from High Standards' Heavy-Duty Rig, you can't help but admire the engineering. Every single aspect of the oil rig serves to provide you with a smooth, tasty hit.
---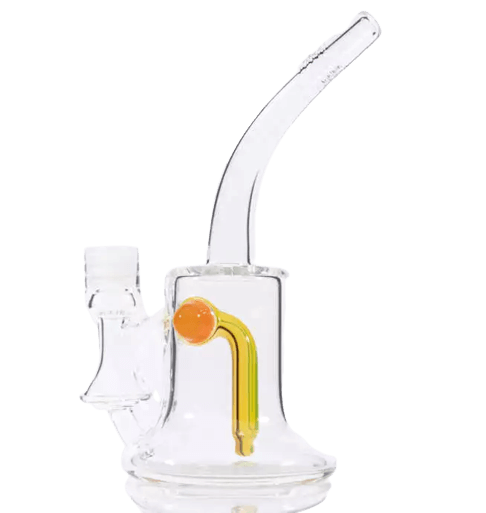 The Jammer by Eric Ross combines world-class quality with artistic functionality. The rig features a minimalistic design with some striking subtle details that improve your overall smoking experience. If you don't look closely, you may miss the floating downstem, orange marble grip, or ultra-thin mouthpiece.
Eric Ross is a master artisan and legend in the glass smoke-wear industry. While the rig is our most expensive pick, the handcrafted work of art delivers unmatched quality that will be represented in each and every dab.
While the Jammer has a similar simplistic design as the Revolt and Heavy Duty Rig, the most obvious difference is its mouthpiece. Most glass dab rigs feature a wide mouthpiece which would seem the most logical choice. However, after pulling from The Jammer, we've decided to rethink our perspective on dab rig design. A smaller airway forces your lips and tongue close to the opening, forcing more vapor to encounter your mouth's taste receptors.
---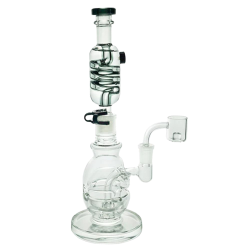 Bongs and dab rigs have evolved to include additional features to maximize taste, filtration, cooling, and the overall experience. One of our favorite features in the game is a freezable glycerin attachment. The best part about the Freeze Pipe Mini Dab Rig: it comes with 2 of them!
Without the freezable glycerin neck attachments, The Freeze Pipe is a quality rig. The piece features quality glass, a sturdy base, and a percolator to filter smoke. However, the attachments push the glass dab rig over the edge and onto our list.
Taking rips from the Freeze Pipe Mini Dab Rig is unlike our other picks. Hits are chilled, smooth, and full of flavor. Our favorite part about having multiple coil attachments is you can switch them out after a couple of hits to keep your smoke icy.
---
Diamond Glass dab rigs are among the most popular brands in the industry. The Microscope Rig from the reputable manufacturer features a unique, compact design in the shape of a microscope.
Standing at only 6 inches (15.2cm) tall, the mini rig still packs a punch. Smoke travels around the chamber through the premium quality scientific glass as it's cooled and is ready to be inhaled. Diamond Glass dab rigs are well-known throughout the industry for producing exceptional pieces; the Microscope Rig is no exception.
We were a bit taken aback by the sizable clouds produced by the mini rig. Smaller pieces typically are much harsher than sizable dab rigs like the Revolt or Heavy Duty, but surprisingly, hits from the Mini Rig by Diamond Glass stand up to any we've tried.
---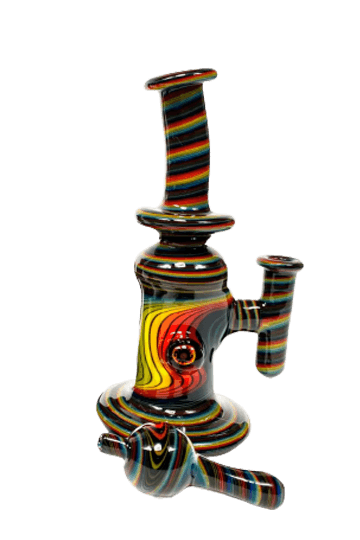 Heady Glass is a category of smoke wear created by glassblowers into unique pieces of art. The one-of-a-kind pieces typically feature intricate designs pushing the limits of the medium. While most heady glass rig artists favor aesthetics over functionality, Andy G is known throughout the industry for delivering works of art worthy of being your primary dab rig.
The Andy G Wig Wag Banger Hanger is a handcrafted glass dab rig guaranteed to steal the show every time you bust it out. Investing in an Andy G Wig Wag supports a masterful artist and the glassblowing industry as a whole. In addition, the piece is exceptionally high quality and designed to be as functional as it is visually stunning.
---
How to Choose the Best Glass Dab Rig
While we've provided many excellent choices, understanding what makes an oil rig worthy of your purchase helps you become a well-rounded, educated consumer. Understanding the parts of a rig, what makes glass the #1 choice of smokers, the best brands in the industry, and where to find your next rig will help you avoid purchasing a cheap dab rig in the future.
Parts of a Dab Rig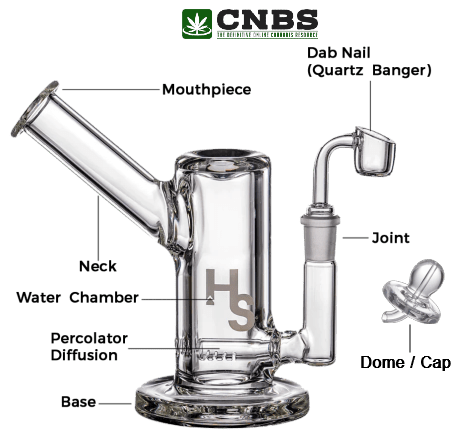 Choosing a glass dab rig requires knowing each part to determine if the design will suit your needs and if each component is high quality. Most of the piece must be made from thick (at least 3mm) heat-resistant glass. You also want to assess how air will go from the banger to the mouthpiece.
Below is a brief description of each part of a glass dab rig.
Banger
The banger or nail is the containment vessel for your concentrate. You'll need it to handle intense temperatures and be positioned so it can easily be removed when you need to clear the rig. Glass dab rigs use quartz bangers because the mineral won't crack under high heat, and it's similar to glass.
Joint
The joint of a dab rig consists of two joining parts located on the banger and downstem. You need to be aware of what size and type of joint you have when looking for a glass dab rig. Joints are available as male and female and are typically available in 10mm, 14mm, and 18mm sizes.
If you aren't sure of your joint size, a US dime is about 14mm. If the dime fits, your joint is 14mm. If it's too big, it's probably 18mm, and if it doesn't fit, you likely have a 10mm joint.
Downstem
A dab rig's downstem connects the main body of the rig and the banger. A downstem has a male or female joint that houses the banger, allowing for easy removal once you clear the smoke from your piece.
Chamber
Concentrates are vaporized in the banger, travel through the downstem, and into the rig's chamber for filtration. The chamber is filled with water and usually consists of a diffuser that breaks smoke particles lowering their temperature.
Chambers come in a variety of sizes and house different types of filtration systems. Some dab rigs even contain multiple chambers for additional cooling.
Neck
Once smoke fills the chamber and is cooled off, you can clear the rig by lifting the banger and allowing air to flow into the chamber. Smoke is then forced into the neck.
A dab rig's neck is typically a cylindrical tube, allowing for centralized smoke delivery into the mouthpiece.
Mouthpiece
The final destination of your concentrate smoke is the mouthpiece. This component varies in design from a wide mouth to a narrow opening.
The Advantages of Choosing Glass
Glass is the most popular dab rig material because of the elevated taste experience. Concentrates like shatter, wax, budder, and other cannabis extracts contain a range of terpenes, or aromatic oils, responsible for the unique flavor profiles of different strains. Other materials degrade the taste of the concentrate, essentially defeating the purpose of dabbing.
Are Glass Dab Rigs Worth It?
While there is no debate that glass offers the best taste, fragility and price point could influence you to choose a cheaper, more durable material. You can expect to pay anywhere from $50-$300 for a glass dab rig, but most premium options will fall between $100 and $200. Heady glass dab rigs typically run more because they aren't mass-produced.
If you value taste above transportability, we highly suggest choosing glass. However, if you are looking for a dab rig to take with you camping, you may want to try a more durable material or at least invest in a case to protect your rig.
The Best Glass Dab Rig Brands
Your dab rig's manufacturer is crucial if you can about the functionality and use of high-quality materials.
We've covered a range of brands in our product guide, including:
Diamond Glass Dab Rigs
Rebel Initiate Glassworks (RIG)
Evolution
High Standards
Here are a few more of our favorite glass dab rig manufacturers:
Killa Glass Rigs
Mothership Glass Rigs
Tsunami Glass Rigs
Cheech Glass Rigs
Pulsar Glass Dab Rigs
Choosing any of these manufacturers ensures you'll have a quality rig made with premium materials.
Where's the Best Place to Buy a Glass Dab Rig?
Buying a dab rig online can be overwhelming. There is an abundance of retailers selling thousands of products from various companies. The best way to find a glass dab rig worth the money is to utilize a reputable online smoke shop.
Some of our favorites include Grasscity, Smoke Cartel, Vapor.com, and AllinOneSmokeShop. These retailers source the best products and provide advanced filtering options so you can browse through their entire selection of glass dab rigs using parameters like price, brand, size, height, thickness, and joint size. Accessing multiple brands and manufacturers allows you to compare products and find the best option for your specific needs.

How to Find a Quality Glass Rig?
The 3 most significant factors in choosing a premium glass dab rig are the quality and thickness of the glass, size, and design.
Type of Glass
Finding American-made borosilicate, medical-grade, or scientific glass indicates that your glass rig can withstand high temperatures.
Rig Design
The design dramatically affects the rig's airflow and overall user experience. We recommend going with simplicity, especially if you are looking for your first dab rig purchase.
Size
Your rig's size doesn't necessarily determine quality, but remember that you want the smoke to cool within the chamber before it's sent to the mouthpiece. However, you don't want a rig to be too big because the suction will be difficult, and the vapor will lose flavor on the way. The ideal size for most concentrate connoisseurs is 6-10 inches tall.
---
Maximize Taste with Glass Dab Rigs
The dab rig is an excellent smoking method that combines ingenuity, functionality, and efficiency. Taking pulls from a dab rig is the perfect delivery system to complement the advanced extraction methods used to make cannabis concentrates.
Finding the perfect rig to accommodate your ideal dabbing experience can be done easily online as long you know where to look and what you should look for in a glass dab rig. Remember to shop only from reputable smoke shops and brands, look for high-quality glass, and err on the side of simplicity when in doubt.
Taste is a critical component of enjoying concentrates, and there's no better way to maximize the flavors of extracts than with a glass dab rig.
---
Category Pages: