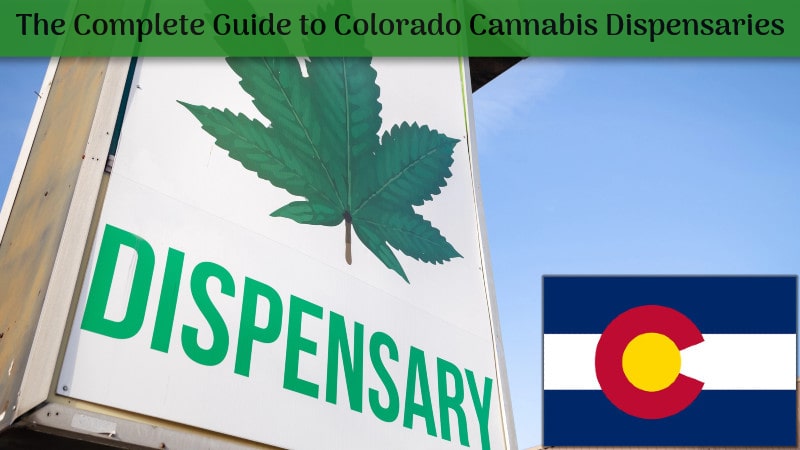 Colorado has a well-deserved reputation as one of the best US states for cannabis enthusiasts and medical patients alike. Colorado now has over 1,000 medical and recreational cannabis dispensaries, carries the notable distinction as the first US state to legalize recreational cannabis, and is home to some of the world's best cannabis brands. Whether you're a resident or visitor, a medical marijuana patient, or a recreational user, here's everything you need to know about Colorado's cannabis dispensaries – how to get the most out of your visit, and our guide to the best dispensaries in the state.
For an even more in-depth look at Colorado's dispensaries, check out our city-specific dispensary guides. Each guide is packed with insider information for local cannabis shoppers, plus our list of the best dispensaries in each region. For even more history and interesting cannabis dispensary information, don't miss our complete guide to dispensaries in the US.
---
History of Colorado's Cannabis Dispensaries
In 2012, Colorado's residents voted to pass the 64th Amendment, making the sale, use, and possession of recreational cannabis legal throughout the state. In 2014, the first recreational dispensary in Colorado opened – not only first in the state, but in the entire country! Even now, cannabis regulation continues to expand in Colorado, with both the home delivery of marijuana and the first licenses for marijuana hospitality establishments (including cannabis cafes, lounges, dispensary tasting rooms, and hotel spaces designated for cannabis use) legalized in 2019.
---
What to Expect When You Visit a Colorado Dispensary
While the legal sale of cannabis is often compared to other regulated substances, such as alcohol and tobacco, visiting a Colorado dispensary is a considerably different experience than shopping in a liquor store. Colorado law requires every cannabis purchase to be personally handled by a budtender. All product is kept under lock and key and handled only by the budtender until the point of sale. Considering this, always be prepared for a potential wait for service in Colorado dispensaries if you happen to arrive at a busy time.
Who Can Visit Dispensaries in Colorado?
Colorado cannabis dispensaries are open to anyone 21 or older (or over 18 for medical marijuana patients). Visitors must show a valid government ID as proof of age before being allowed to enter. Acceptable IDs include driver's licenses, government-issued ID cards, military IDs, and Native American Tribe Cards. International visitors may use their passports for verification. For an ID to be accepted, your face, date of birth, and the ID's expiration date must all be visible and legible. As an added verification measure, cannabis buyers must also show ID at the point of purchase. Colorado dispensary patrons are not allowed to bring minor children with them inside the dispensary.
Even though Colorado dispensaries check your ID multiple times, cannabis shoppers are still entitled to anonymity. This means that the dispensary will not share your purchase history with the state or US government, nor any other organization. However, to ensure compliance with purchase limit regulations, dispensaries in Colorado do keep track of the IDs they've scanned on a given day. Dispensaries are also required to record and maintain 24/7 security surveillance footage of the facility.
Daily Purchase Limits
Colorado state law imposes a limit on how much cannabis an individual may purchase in one day. For recreational cannabis buyers, this limit is 1 oz of cannabis flower, 8 grams of concentrate, or any quantity of edibles up to 800 total mg of THC. Medical marijuana patients may buy up to 2 ounces of flower, 8 grams of concentrate, 8,000 mg of vapeable THC, or up to 20,000 mg of THC in edible form. However, a law was passed in 2021 that now restricts medical marijuana patients under 21 from purchasing over 2 grams of concentrated cannabis in a single day.
Can You Gift or Share Cannabis in Colorado?
Yes, Colorado does allow you to share cannabis with your friends (provided they are over 21). However, it is expressly illegal to accept any type of payment in return for marijuana. This extends to buying weed for someone else and asking them to pay you back for it. For this reason, if you bring a friend on a Colorado dispensary shopping spree, budtenders will expect you each to pay separately instead of bundling your transactions together and splitting the cost.

---
Colorado's Best Cannabis Dispensaries
With an overwhelming number of Colorado cannabis dispensaries to choose from, how can you tell which ones are worth visiting? Read on for our list of dispensaries with welcoming atmospheres and truly excellent product selections.

Shopping for Cannabis in Colorado
Colorado offers one of the country's largest and most high-grade selections of cannabis brands and products. Virtually every dispensary in Colorado has its menu available online, making it easy to plan your purchase in advance. Many Colorado dispensaries also allow you to pre-order online, which will make the pickup process a little quicker.
If you're not sure which cannabis products to get, budtenders are always happy to talk you through the decision-making process. It is important to note that since marijuana is not an FDA-approved medication, budtenders are prohibited from giving advice related to its use as a medicinal treatment. However, they can advise on general product information, share their own personal experience with a given product, or ask helpful questions related to your personal cannabis experiences and preferences.
Cannabis's federally-illegal status continues to limit payment options for dispensary purchases. Banks and credit card companies are strictly prohibited from knowingly participating in the sale of illegal substances. For this reason, many Colorado dispensaries only accept cash payments. However, a growing number of dispensaries in Colorado have begun embracing legal workarounds such as on-site cash-back ATMs, which allow customers to withdraw cash via a debit card at the point of sale.
How Much Does Weed Cost in Colorado?
At the time of this writing, the average cost for an ounce of weed from a Colorado dispensary is $150. Of course, different brands, products, and metro areas will command different prices, but as the state's legal cannabis prices now sit at historic lows, it is possible to get ⅛ of an ounce for as little as $10.
On top of the retail price, Colorado levies a 10% retail sales tax, a 15% excise tax, and a 2.9% state sales tax. Some municipalities may add an additional local tax. However, these taxes only apply to recreational cannabis purchases. Medical marijuana is sold tax-free. Additionally, most Colorado dispensaries have a tip jar to thank your budtender with a cash gratuity.
When are Colorado Dispensaries Open?
Under state law, Colorado cannabis dispensaries are allowed to operate from 8:00 a.m. until 12:00 a.m. However, each local jurisdiction has the authority to further restrict dispensary operating hours. For example, dispensaries in Denver must close by 10:00 p.m., and dispensaries in Avon (just outside of Vail) must close by 9:00 p.m.
---
Where are Colorado's Best Dispensaries?
Colorado has come a long way from its earliest days of cannabis legalization, when fewer than 35 cities permitted retail dispensaries to operate within their borders. Now, the state boasts over 1,000 medical and recreational cannabis dispensaries – a mix of chain stores and singular local stores. Some dispensaries are vertically integrated, selling their own locally-produced cannabis products, while others are strictly retailers.
>Despite its statewide legality, some Colorado cities still ban the sale of recreational weed within their boundaries. A notable example is Colorado Springs, the state's second most populated city. Colorado Springs has over 100 medical dispensaries but continually votes down initiatives that would allow recreational dispensaries to operate in the city. Vail, Colorado's famed skiing destination, disallows the operation of medical as well as recreational dispensaries within its borders. To make cannabis accessible to residents of and visitors to such cities, unincorporated county areas nearby are filled with a high concentration of dispensaries.
Find the Best Dispensaries Near You in Colorado:
---
Parent Page: Cannabis Dispensaries in the USA
---
Category Pages: