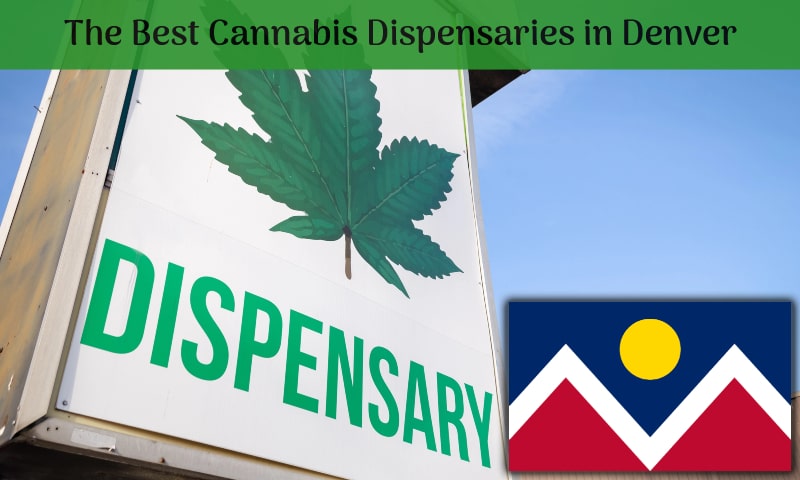 Denver, Colorado's beautiful capital city, located a mile above sea level, at the eastern edge of the Continental Divide, has made a name for itself in recent years as a sanctuary for cannabis enthusiasts and medical marijuana patients alike. Driven by significant population increases as well as a now-thriving cannabis tourism industry, the Denver metro area is now home to hundreds of recreational and medical marijuana dispensaries. In this article, we'll cover everything you need to know before visiting a Denver dispensary for the first time – plus how and where to find the best dispensaries in Denver.
For information beyond the Denver metro area, our Colorado dispensary guide gives an in-depth look at Colorado's current cannabis market, and where to find the best medical and recreational weed throughout the state. For even more history and interesting cannabis dispensary information, don't miss our complete guide to dispensaries in the US.
---
Denver's Dispensaries – Then and Now
Colorado has always been at the forefront of the post-prohibition legal cannabis market in the US. Back in the year 2000, the state was among the first to legalize the use of medical marijuana. On January 1, 2014, Colorado made even bigger history, when the first-ever legal purchase of recreational marijuana took place in Denver, at the (now closed) 3D Cannabis Center on Brighton Boulevard. Since then, the city's recreational cannabis market has grown exponentially and has expanded to include home delivery and cannabis consumption lounges.
Where are Most of Denver's Dispensaries?
The city of Denver has over 200 dispensaries within its limits, at a remarkably high concentration of 9.8 dispensaries per 100,000 residents – more than seven times the national average! This makes finding a Denver dispensary incredibly easy no matter where you go in the city, including the 16th Street Mall, River North Arts District, and the area close to Denver International Airport.
The easiest places to find a downtown Denver dispensary are Broadway, Colfax Avenue, and Federal Boulevard. South Broadway alone has so many dispensaries it's been nicknamed "The Green Mile" and Broadsterdam." The five Denver neighborhoods with the most dispensaries are Overland (home to The Green Mile), Northeast Park Hill, Baker, Elyria-Swansea, Five Points, and Valverde. Each of these neighborhoods has so many dispensaries that the city is no longer issuing licenses for new cannabusinesses within them.
Social Equity and the Future of Denver's Dispensaries
From its beginning, the rapid expansion of Denver's legal cannabis market has been notably and disproportionately dominated by moneyed, white-owned corporations. Alongside the significant financial cost of entry, the driving reason for this inequity lies in the dramatically higher rate of possession charges brought against Black and Latino people in the United States. Since Colorado's original cannabis business application laws prohibited anyone with past marijuana-related charges from obtaining licensure, an enormous number of people from these communities have historically been denied the opportunity to join this new industry.
The City of Denver recognized the disparity and has recently implemented a social equity application program intended to close the gap within the local cannabis market. This social equity program allows aspiring cannabis entrepreneurs who have previously been arrested for or convicted of cannabis offenses (or those with a convicted family member), and those who meet certain income or residency requirements the opportunity to enter the city's cannabis industry. From April 2021 through 2027, all new cannabis business licenses (including dispensaries, producers, and cultivators), as well as all licenses for newly-legalized cannabis delivery and consumption businesses in Denver, will only be considered for social equity applicants.

---
Denver's Best Cannabis Dispensaries
Out of Denver's hundreds of dispensaries, here are our favorite spots in the city to find high-grade bud, delicious edibles, potent concentrates, and more.

---
What to Know Before Visiting Denver's Dispensaries
Review these must-know facts before making your first visit to a Denver, Colorado dispensary.
Age Limits and ID – All visitors must be 21 or older (18+ with a valid MMJ card) to enter any recreational or medical dispensary in Denver. A valid government-issued photo ID or passport must be provided upon entry as well as at the point of purchase. Dispensary patrons are not allowed to bring minor children inside with them.
Hours of Operation – Dispensaries in Denver are required by Colorado law to operate only between the hours of 8 a.m. – 12 a.m. Some dispensaries don't open quite as early or stay open as late as this, but the good news is that it's easy to find open Denver dispensaries at almost any hour of the day. It is important to note that dispensaries in Denver stop accepting customers 15 minutes before closing time, so always plan accordingly.
Daily Purchase Limits – Colorado law limits how much cannabis an individual may purchase in one day. At Denver dispensaries, recreational cannabis buyers are limited to 1 oz of cannabis flower, 8 grams of concentrate, or any quantity of edibles up to 800 total mg of THC. Medical marijuana patients may purchase up to 2 ounces of flower, 8 grams of concentrate (2 grams of concentrate for patients under age 21), 8,000 mg of vapeable THC, or up to 20,000 mg of THC in edible form.
Cost – Colorado is one of the most affordable places to buy cannabis in the US, with the third-lowest average retail prices compared to other states. However, sales tax and gratuity do increase the out-of-pocket cost. The state of Colorado levies a 10% retail sales tax, a 15% excise tax, and a 2.9% state sales tax on recreational cannabis purchases. While exempt from the state tax, it's important to note that purchases made at medical dispensaries in Denver are still subject to the city's sales tax of 4.31%. In addition to this local sales tax, recreational cannabis purchases from Denver dispensaries are subject to a 5.5% special sales tax. Denver dispensaries typically also have a tip jar at the register to thank your budtender with a cash gratuity.
Pick-Up and Delivery – Most dispensaries in Denver offer the option to order cannabis online and come in to pick it up later that day. A few Denver-area dispensaries have even begun offering a drive-thru pick-up option. These pre-order pick-ups can save significant time in line waiting for a budtender in-store. While even more convenient than dispensary pick-up, home delivery of cannabis has surprisingly yet to become ubiquitous in Denver. Only a few of Denver's dispensaries currently hold cannabis delivery permits, and only half of those that do are actively offering delivery services.
Parent Page: The Best Cannabis Dispensaries in Colorado
---
Category Pages: