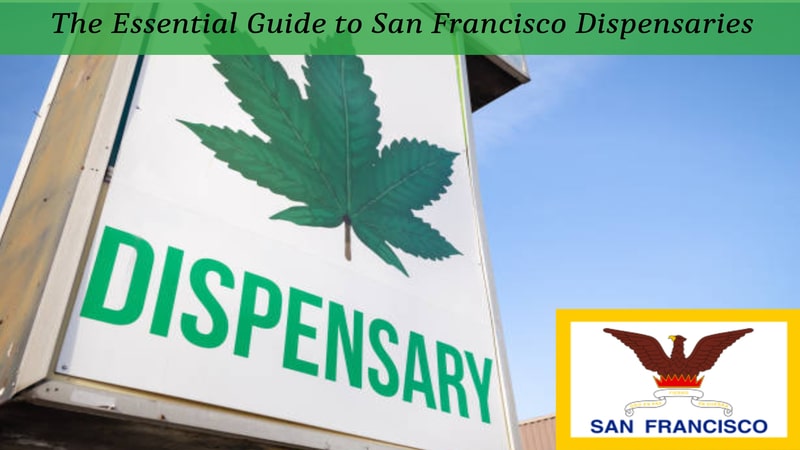 One of the most beautiful and beloved metropolitan destinations in the world, the enchanting oceanside city of San Francisco, California could truly be considered the birthplace of legal cannabis in the US. The city was the first in the nation to permit medicinal marijuana use, paving the way for future legalization efforts. San Francisco (known to locals as simply "The City") is now home to over 40 recreational and medical cannabis dispensaries and has retained its reputation as a sanctuary for medical marijuana patients, cannabis enthusiasts, and tourists alike. In this article, we'll cover everything you need to know before visiting a San Francisco dispensary for the first time – plus how and where to find the best dispensaries in The City by the Bay.
For information beyond the San Francisco Bay Area, our California dispensary guide offers an in-depth look at the current cannabis market, regulations, and the best statewide dispensaries in California. For even more history and interesting cannabis dispensary information, don't miss our complete guide to dispensaries in the US. And look out for more in-depth California city dispensary guides over the weeks to come.
---
The History of San Francisco's Dispensaries
Decades before enacting its groundbreaking medical marijuana legislation, San Francisco had already gained notoriety as a cannabis-friendly haven. The city was a cultural hub for both the Beat poets of the 1950s and the hippies of the 1960s, two groups who fully embraced the consciousness-expanding benefits of marijuana – legal or not. To this day, a free 420 celebration is still held every year at the aptly-named "Hippie Hill" in Golden Gate Park.
Through the AIDS crisis of the 1980s, San Francisco's queer community embraced marijuana for its ability to ease the debilitating symptoms of the disease. After losing his partner to AIDS, Vietnam War veteran and counterculture activist Dennis Peron began campaigning heavily to legalize the medicinal use of marijuana in San Francisco.
In 1991, Peron's "Proposition P" received 79% voter support, and he went on to found the San Francisco Buyers Club in 1992. This unofficial dispensary, smoking lounge, and activism hub was located on Church Street in the Duboce Triangle neighborhood. The Buyers Club quickly grew to include over eight thousand members, who eventually combined forces to campaign for the passage of Proposition 215, which legalized medical marijuana throughout California in 1996. Twenty years later, in 2016, California voted to also legalize recreational cannabis use.
San Francisco Cannabis Equity Program
Due to the disproportionate damage the failed "War on Drugs" has inflicted upon marginalized communities throughout the US prohibition of cannabis, San Francisco has taken steps to ensure BIPOC and LGBTQ+ people have access of entry to this new market. The San Francisco Cannabis Equity Program aims to reduce the financial and societal barriers traditionally preventing marginalized individuals from entrepreneurship at this level. The program has been highly successful, with The City now home to many thriving minority-owned cannabusinesses, and is considered a leading example for similar restorative justice programs in other US cities.

---
Where are Most of San Francisco's Dispensaries?
San Francisco, the third largest city in California, is currently home to over 50 dispensaries, each with its own distinct style, aesthetic, and vibe – from modern minimalist to flower child artsy to ultra-luxe. San Francisco is also served by numerous cannabis delivery services, making it easy to access top-shelf weed no matter where you are in The City.
The highest concentration of San Francisco dispensaries is in its north-central to northeastern neighborhoods, particularly the Outer Mission area and downtown. While it only has a few of its own dispensaries, the Haight-Ashbury neighborhood, located in the heart of the city, just east of Golden Gate Park, is the San Francisco neighborhood most often associated with cannabis. Haight-Ashbury has a storied history as a hippie haven and was home to the very first "head shop" in the 1960s, earning it the affectionate stoner nickname "Hashbury." On the other hand, there are pockets of San Francisco without any dispensaries, such as the Sunset District, to the south of Golden Gate Park.
San Francisco Cannabis Consumption Lounges
One of the things that sets San Francisco apart as a cannabis connoisseur's dream destination is its marijuana consumption lounges. The City currently hosts 10 of these lounges, each attached to a dispensary, and each with an excellent reputation and a unique atmosphere of its own. Guests must be 21 or older and must make a dispensary purchase to gain admittance to a San Francisco cannabis lounge. Some of these locations allow visitors to use smokeable cannabis while others only allow edibles and concentrates. Alcohol and tobacco use are prohibited by law. Some cannabis lounges regularly host karaoke, comedy shows, live music, or other entertainment, while others maintain a consistently low-key vibe, but each provides a unique venue to legally imbibe and socialize.

---
San Francisco's Best Cannabis Dispensaries
Out of San Francisco's scores of dispensary options, these are our favorite spots in The City to find top-shelf flower, delectable edibles, potent concentrates, seeds, plants, and everything else you need to enjoy cannabis in San Francisco. For those who prefer to skip the stores, San Francisco is home to several excellent cannabis delivery services – and we've rounded up the best of these, too. Also, find our top dispensary picks in the surrounding East Bay and Silicon Valley regions.
Best San Francisco Dispensaries
Best San Francisco CBD Shops
Best San Francisco Cannabis Delivery Services
---
Best East Bay Cannabis Dispensaries
Excellent cannabis shopping can also be found outside of the San Francisco city limits! These are our favorite dispensaries in Oakland, Berkeley, and the rest of the East Bay region.
Best Oakland Dispensaries
Best Richmond Dispensaries
Best Oakland Cannabis Delivery Services
---
Best Silicon Valley Cannabis Dispensaries
South of San Francisco, the Silicon Valley region is also home to some of California's best dispensaries. Here are our favorite dispensaries in San Jose and beyond.
Best San Jose Dispensaries
---
What to Know Before Visiting a San Francisco Dispensary
Review these "know before you go" facts if this is your first time visiting one of San Francisco's dispensaries.
Age Limits and ID –All San Francisco dispensary visitors must be 21 or older (18+ with a valid MMJ card). A valid government-issued photo ID or passport must be provided before you are allowed to enter. Babies and other minors are not permitted to accompany dispensary patrons.
Hours of Operation –Dispensaries in San Francisco operate between the hours of 8 a.m. and 10 p.m. It's worth noting that most San Francisco dispensaries do not open as early as 8 – with a few waiting until noon to start the day – but nearly all are open until at least 9 p.m. In accordance with California law, all retail cannabis transactions must be completed before 10 p.m. (including home deliveries), which means some dispensaries stop taking new customers fifteen minutes to a half-hour before closing.
Daily Purchase Limits – California law limits how much cannabis any one person may purchase in one day. San Francisco recreational dispensary shoppers are allowed to purchase up to 28.5 grams of non-concentrated cannabis or 8 grams of cannabis concentrates. Medical marijuana patients are permitted up to 8 ounces per day.

Seeds and Clones – Since growing your own weed is legal in California, a few San Francisco dispensaries also stock cannabis seeds and immature marijuana plants. While there is no defined legal limit on seeds, plants are limited to 6 per person.
Pick-Up and Delivery – Most dispensaries in San Francisco offer the option to order cannabis online and come in to pick it up later that day without a lengthy wait for budtender assistance. For even greater convenience, San Francisco cannabis delivery services will bring your dispensary order directly to your door, anywhere in the Bay Area.

Parent Page: The Best Cannabis Dispensaries in California
---
Category Pages:
Dispensaries - California - An in-depth look at California's cannabis dispensaries, filled with necessary information for consumers, interesting history, and guide to the state's best cannabis retail chains.
Dispensaries - Los Angeles - An In-depth look at the Los Angeles cannabis dispensary scene, including essential visitor tips and a list of the city's best cannabis dispensaries.
Dispensaries - San Francisco -

(CURRENT PAGE)