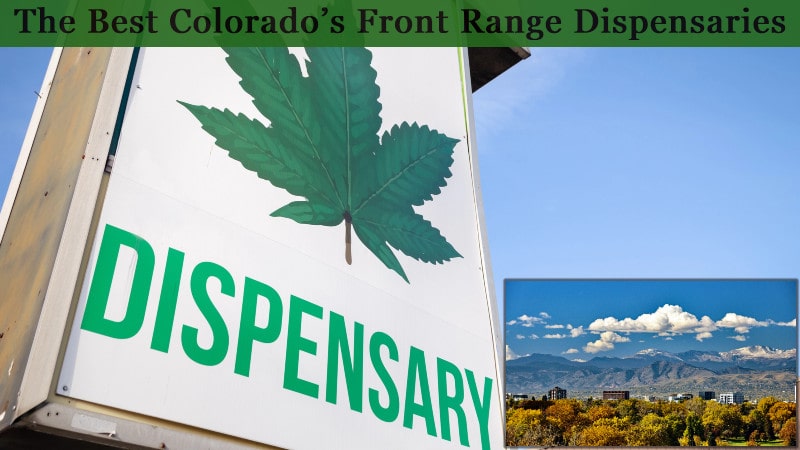 While Denver, the largest and most populated city in Colorado, is home to most of the state's cannabis dispensaries, the rest of the Front Range region is a remarkable haven for cannabis enthusiasts in its own right. The Front Range Urban Corridor, which runs all the way from Cheyenne, Wyoming, south 200 miles to Pueblo, Colorado, sits at the easternmost edge of the Rocky Mountain range. In addition to stunning mountain views and charming cities to explore, Colorado's Front Range boasts an impressive array of top-grade dispensaries.
Our guide to Colorado dispensaries in the Front Range Urban Corridor covers everything you need to know before your first trip to a dispensary in Colorado Springs, Boulder, Fort Collins, Pueblo, or anywhere in between. We've also included our top must-visit dispensary picks in each city.
In-Depth Colorado Dispensary Guides
For a closer, in-depth look at Denver's local dispensary scene, or a complete overview of dispensaries throughout Colorado, check out our other local dispensary guides. regarding the dispensary scene throughout the entire state, and cannabis retailers throughout the entire state of Colorado, check out our other Colorado dispensary guides. For even more history and interesting cannabis dispensary information, don't miss our complete guide to dispensaries in the US.
---
Pioneering in a New Industry – The First Front Range Dispensaries
Most of Colorado's Front Range cities were quick to allow medical and then recreational cannabis dispensaries to open as soon as each was legalized. Many of Colorado's Front Range dispensaries helped make history on January 1, 2014, with the nation's first-ever sales of recreational marijuana. However, even now, several cities and most small towns throughout the Front Range region still disallow the operation of dispensaries within their borders, including Loveland, Colorado City, Golden, and Morrison – home to the famed Red Rocks Park and Amphitheater – forcing these cities' residents and visitors to travel a bit farther for their cannabis.
---
Which Front Range Cities Have the Most Dispensaries?
Colorado's Front Range is home to hundreds of recreational and medical cannabis dispensaries, with most located in or just outside of the region's largest cities. Colorado Springs, the state's second-most populated city, is home to an impressive 100+ medical cannabis dispensaries. The smaller city of Boulder hosts over 60 medical and recreational dispensaries combined, one of the highest per capita concentrations in the entire country (12.1 dispensaries for every 50,000 residents). Meanwhile, the still smaller city of Pueblo's 50 dispensaries come out to an even higher concentration (16.6 per 50,000 residents).
The Best Front Range Dispensaries
Out of the hundreds of medical and recreational dispensaries throughout Colorado's Front Range, here are our must-visit dispensary picks in each major Front Range city.
The Best Dispensaries in Boulder
The Best Dispensaries in Colorado Springs
The Best Dispensaries in Fort Collins
The Best Dispensaries in Pueblo
The Best Dispensaries in Trinidad
---
Front Range Dispensary Guides by City
Unlike Denver, where you can hardly turn a corner without bumping into a dispensary, you may have to drive a bit farther and look a bit harder to find the right dispensary for your needs throughout the rest of the Front Range. Here's our city-by-city breakdown of the cannabis dispensary scene in each major Front Range city.
Colorado Springs Dispensaries
Colorado Springs, the second most populated city in the state, is home to a considerable number of medical cannabis dispensaries but stubbornly continues to forbid recreational cannabis sales within its city limits. Despite repeated ballot initiatives attempting to legalize recreational cannabis dispensaries in Colorado Springs, residents of this city continue to vote this idea down. However, residents of and visitors to Colorado Springs can find recreational cannabis a short drive away in nearby Manitou Springs.
Boulder Dispensaries
Boulder was a hotspot for cannabis enthusiasts long before weed use was even legal in the state. Boulder has a storied history as a hippie haven in the 1960s, attracting the likes of Jack Kerouac and Allen Ginsberg, and the city has kept its reputation as a welcoming community for cannabis fans. Naturally, Boulder embraced cannabis legalization right away, and today this picturesque college town has one of the highest concentrations of cannabis dispensaries (a mix of medical and recreational) per capita in the entire US.
---
Fort Collins Dispensaries
There are currently over 30 medical and recreational dispensaries in Fort Collins, though the cannabis industry initially got off to a rough start in this northern Colorado city. Once medical marijuana was legalized in the state, several medical marijuana dispensaries opened in Fort Collins, only to be shut down in 2012, after the city's residents voted to impose a ban on dispensaries. However, later that same year, the state passed Amendment 64, legalizing the sale of recreational cannabis. Following this change, Fort Collins's residents elected to allow cannabis sales within their city limits after all. Both recreational and medical dispensaries in Fort Collins have been consistently in operation since 2014.
Pueblo Dispensaries
Over the last decade, the small southern Front Range city of Pueblo has attracted an enormous influx of out-of-state transplants, due in large part to the city's lower cost of living (compared to other metro areas in the state), expansive social services, and the hope of finding work in the legal marijuana industry. There are currently over 50 medical and recreational dispensaries in Pueblo and Pueblo West, with the legal cannabis industry continuing to bolster and grow the economy of this one-time steelworking city.
Trinidad Dispensaries
The small southern Colorado city of Trinidad technically sits just south of the Front Range Urban Corridor, but it has made a name for itself in recent years as a destination for cannabis aficionados. The opening of over 25 medical and recreational dispensaries in Trinidad has completely revitalized this once-sleepy and nearly empty city 13 miles north of the New Mexico border. Cannabis tourism continues to attract visitors from neighboring New Mexico and Texas to this small foothill city, and the industry has created an attractive job market for residents of the area. The selection of Trinidad dispensaries includes medical and recreational locations.
---
What to Know Before Visiting a Front Range Dispensary
Review these must-know facts before making your first visit to any of the recreational or medical dispensaries in Boulder, Colorado Springs, Fort Collins, or anywhere else on the Front Range.
Age Limits and ID – Only individuals 21 and older (or 18+ with a medical marijuana card) are permitted to enter Colorado dispensaries. Minor children are not permitted to accompany adults inside. Proof of age must be provided in the form of a government-issued photo ID. ID must be presented before entry as well as at the point of sale.
Hours of Operation – Dispensaries in Colorado are only permitted to operate between the hours of 8 a.m. – 12 a.m. Unfortunately, most cities have placed additional restrictions on operating hours, and very few are actually open that late outside of the Denver metro area. In Colorado Springs, the latest some dispensaries stay open is 9 p.m., while Boulder, Pueblo, and Trinidad dispensaries are open until 9:45 p.m. Most Fort Collins dispensaries close by 10 p.m., but one, The Green Solution, stays open until 11:45 p.m.
Daily Purchase Limits –Colorado law places strict limits on how much cannabis any individual can purchase in a single day. At dispensaries in Boulder, Fort Collins, and the rest of the Front Range, recreational cannabis buyers are limited to 1 oz of cannabis flower, 8 grams of concentrate, or edibles containing up to 800 total mg of THC. Medical marijuana patients are allowed to purchase a bit more at one time – up to 2 ounces of flower, 8 grams of concentrate (2 grams of concentrate for patients under age 21), 8,000 mg of vapeable THC, or edibles up to 20,000 mg of THC.
Pick-Up and Delivery – Most dispensaries in Colorado Springs, Boulder, Pueblo, Fort Collins, and Trinidad make cannabis shopping even more convenient with the option to either pre-order cannabis for same-day pickup in-store. Some Front Range dispensaries also provide delivery services, bringing weed directly to your front door.
---
Category Pages: