Smoking pipes are a fundamental part of the cannabis community. For thousands of years, humans have enjoyed smoking tobacco, hashish, and cannabis with the simple yet elegant tool. There's a high probability that your first experience enjoying the effects of marijuana came from a basic smoking pipe.
Our buyer's guide is a deep dive into the world of marijuana pipes. We cover the history of the essential smoking tool, how it impacts culture today, the vast number of variations, and ultimately how to find the perfect piece to accommodate your smoking preferences.
---
The OG Smoking Tool – Smoking Pipes
While it's unclear how the original smoking devices were used, an archeologist investigation found the first smoking pipes were made of copper by Egyptians in 2000 BC. The most likely herb used in the early bowl pieces was hashish, the first cannabis concentrate. Tobacco was unlikely because it wasn't available globally until after Europeans colonized the new world in the 15th century.
After the first smoking pipes were constructed in Egypt, ancient cultures worldwide embraced the tool, from the Greeks to the Native Americans. The first known pipes used in America were by the native tribes in religious ceremonies and to seal a covenant or treaty. Native Americans used long wooden pipes decorated with feathers, beads, and other colored ornaments. While the designs and materials have changed over the years, pipes still bring us together to relax and enjoy burning natural herbs.
The influence of smoking pipes transcends the tobacco and cannabis community. Pipes play a significant role in pop culture, assisting the stylings of beloved characters such as Popeye, Sherlock Holmes, Gandalf, and Bugs Bunny when he needed to subvert his foes with a disguise.
Cannabis users still embrace smoking pipes because they are the fastest and most convenient way to enjoy the effects of the plant in all its forms. No other smoking utensil allows you to smoke flower, dabs, kief, and hash from one device.
Our guide will help you find the best smoking pipe for your lifestyle and help you understand the beautiful simplicity of the tool. Read on to learn the critical smoking pipe parts, where to buy them, and reviews of popular types available to buy online.
---
Essential Smoking Pipe Parts
When shopping for a smoking pipe, it's important to understand how each part contributes to its overall functionality. While there are over a dozen types of bowl pieces, each has the same 5 fundamental components.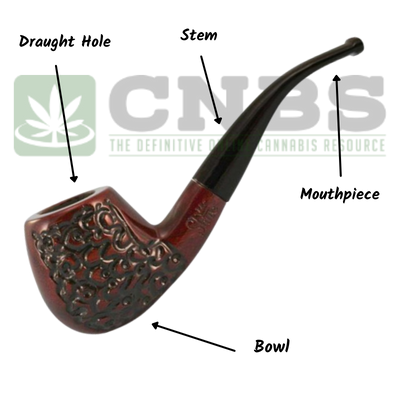 The Bowl
Draught Hole
Stem
Mouthpiece
Carb
We'll cover each in-depth in our buyer's guide section below.
---
Types of Smoking Pipes
Smoking pipes come in thousands of varieties; you can literally find pipes in the shape of your favorite cartoon, sports team, or animal. The limits to pipe design are endless. However, over a dozen distinct types of smoking pipes provide different benefits through how they are engineered.
Each type of smoking pipe can be grouped by material or design. For example, one of the community's most common types of pipes is the glass spoon pipe. Below we categorized the different types of pipes into the 2 categories.
Material
Choosing the suitable material for your needs is incredibly important. Glass is by far the most popular type of smoking pipe in the cannabis community; however, it's not the best choice if you want to smoke on the go. Other materials like silicone, acrylic, metal, and stone offer far more protection against drops but don't offer the same standard of taste as glass. Wood also provides durability and adds a unique flavor to your cannabis.
Below is a comprehensive list of all the types of smoking pipes available today.
Design
A pipe's design has a dramatic effect on the smoking experience. Some cannabis users only use pipes as a discreet way to smoke in public, and others complement their favorite smoking chair's ambiance with a giant sherlock pipe.
Chillums, bubblers, glass blunts, and steamrollers are also different smoking pipe design styles. You can read each buyer's guide for more information on these types of pipes by clicking the links below:
Chillums
Glass blunts
Steamrollers
Bubblers
We'll provide a comprehensive analysis of each type of smoking pipe and how they are used in our buyer's guide below after we review some of the most popular types of pipes used by the cannabis community.
---
Where to Buy Smoking Pipes
There are countless options online to buy a smoking pipe. However, if you want a quality piece that will last, you need to only shop from a reputable online smoke shop. Our favorites are Grasscity and Smoke Cartel. These retailers have a history of providing the cannabis community with premium products from the most trusted brands, backed by reviews and all the accessories needed to enjoy smoking to the fullest extent.
---
Top Bowl Piece Brands
Unfortunately, shopping for pipes online is difficult because so many low-quality pieces are available. Purchasing from a reputable online headshop will ensure you aren't getting scammed. You can also shop by brand to find a high-quality pipe from a trusted manufacturer.
Below are some of the best smoking pipe brands available online.
Any of these brands have a proven track record of producing premium quality pipes. In addition, the brands listed offer a wide variety of materials, prices, sizes, and functionalities. Smoking pipes cost anywhere from $10 to over $150, depending on the individual piece.
---
The Best Smoking Pipes Online Right Now
Choosing a specific type of smoking pipe can be overwhelming, especially if you are new to the community or haven't had the chance to try every kind. To help you navigate the diverse array of pipe varieties, we've picked an example from every major category. Each is from one of our favorite pipe brands and is available online.
---
Overall Best Glass Pipe
Price: $40.00 @ Smokecartel
10% Coupon Code: CNBS

Box Included
Colored Glass
Portable
Highest Quality Materials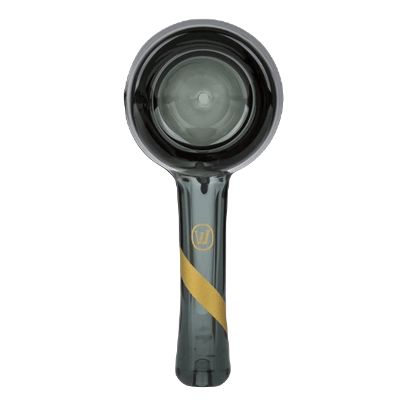 Marley Natural is one of the leading glass-wear manufacturers on the market. One of the iconic brand's best products is the Marley Natural Spoon Pipe. The glass spoon is simple, effective, and made from high-quality borosilicate glass.
The most striking feature of the Spoon Pipe is its 1.5-inch ultra-wide bowl. An enormous bowl makes this pipe the perfect choice for extended smoke sessions. In addition, a wide bowl gives you the surface area to keep the majority of your bowl green down to the final hit.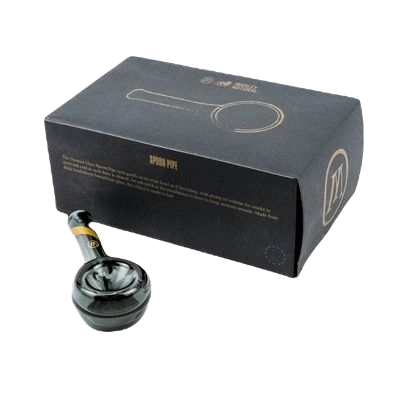 At 4 inches long, the pipe is relatively small; however, the sizable bowl allows smoke to swirl and cool before its delivered through the mouthpiece. The highly efficient design allows you to keep the piece in your pocket while still providing maximum filtration.
Smoking out of the Marley Natural Spoon Pipe offers everything you want from a glass pipe, including heat retention, filtration, convenience, and portability. The design is also a striking component of the bowl piece; the smoking green color and gold accent stripe are a subtle homage to Jamaican pride. So if you're looking for a basic, reliable, premium quality glass pipe, we highly recommend the Spoon Pipe from Marley Natural.
Marley Natural Spoon Pipe: 40$ @ Smoke Cartel
10% Coupon Code: CNBS
---
The Most Unique Spoon Pipe
Price: $32.99 @ Smoke Cartel
10% Coupon Code: CNBS

Size: 5″
Hand Blown
Comes in varying colors, sizes & designs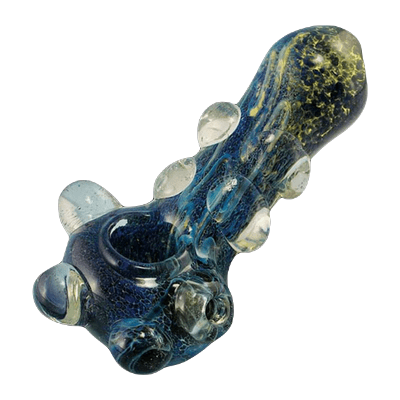 A glass spoon pipe made from high-quality, thick glass should be in every cannabis user's arsenal. The "Cosmic Marble" Heavy Glass Pipe is a classic piece made from premium borosilicate glass. At 5 inches, the bowl is a perfect size – small enough to fit in your pocket, but the stem is long enough to filter your smoke.
Each "Cosmic Marble" Heavy Glass Pipe is hand blow, meaning every piece has a unique, 1-of-1 design. While the pipe is visually stunning, the thick marble glass build is its most impressive quality. The only flaw in a glass bowl is its fragility, making the quality and thickness of the glass the most important quality when buying a glass smoking pipe.
The "Cosmic Marble" Heavy Glass Pipe provides a comforting sense of familiarity. Every veteran cannabis user has come across a similar piece at one time or another on their journey. The classic design fits perfectly in your hand with just enough length, so you don't burn your eyebrows. Pulls from the glass spoon pipe are effortless, and the smoke is smooth. If you're looking to add a pipe to your collection or are just getting started, the "Cosmic Marble" is a great purchase.
The "Cosmic Marble" Heavy Glass Pipe: 32.99$ @ Smoke Cartel
10% Coupon Code: CNBS
---
Most Innovative Designed Bowl
Price: $89.99 @ Grasscity

Silicone bowl cap
Maze filtration and cooling technology
Virtually indestructible
Portable pipe for dry herbs
Silicone mouthpiece with metal filter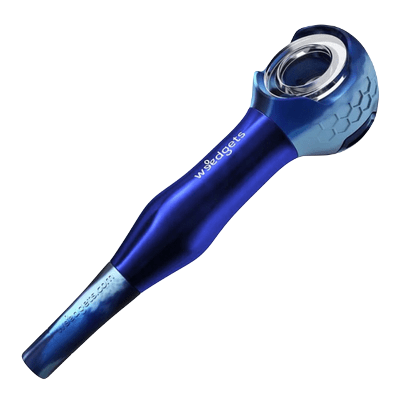 Our following selection combines the durability of silicone and metal with the superior taste of glass. Weedgets has solved the problem of sacrificing flavor for durability with its Maze-X Hand Pipe. The piece consists of a glass bowl encased in silicone with an aluminum stem and a silicone removable filter tip.
Weedgets Maze-X Hand Pipe is the perfect choice if you want to pack a bowl for a walk and take hits along the way. The silicone bowl lid will keep your herb from spilling and prevent your pocket from reeking of a half-smoked bowl. Cleaning the piece is also made simple due to its innovative design; every part of the pipe is removable, allowing you to keep it hitting like new. You can also replace the metal screen or add a charcoal filter for optimal filtration.
We fell in love with the Maze-X immediately. It is genuinely an incredibly engineered pipe that combines all the benefits of every popular pipe material. The borosilicate glass bowl keeps your herb tasting fresh, and the aircraft-grade anodized aluminum offers durability and advanced cooling. Hits out of the Maze-X are noticeably smoother, but the best part is not having to worry about shattering the indestructible pipe.
Weedgets Maze-X Hand Pipe: 89.99$ @ Grasscity
---
Best Stealth Smoking Pipe
Price: $99.95 @ Smoke Cartel
10% Coupon Code: CNBS

Size: 6″
Made in USA
Thin design that fits for any pocket
Portable
Innovative design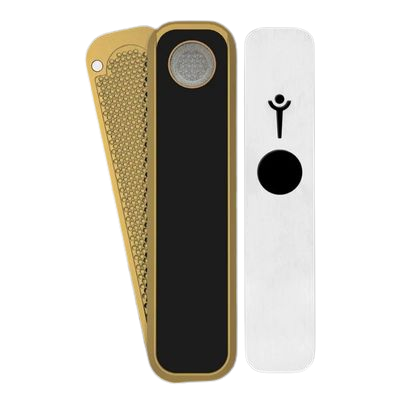 You may be interested in buying a pipe purely to smoke in confidence. If so, The Genius Pipe is the perfect solution.
The Genius Pipes design is so unconventional most people won't realize you're taking a rip until they see you blow out the smoke. Its super sleek design is complemented by innovative cooling technology using metal ridges to diffuse the smoke. Operating the metal pipe will have you feeling like a stoned secret agent. The piece is held together by magnets. The mesh bowl is revealed by sliding the top part down with your thumb. Snap the piece back into position when you are done to extinguish the bowl.
Smoking out of the metal pipe was an incredible experience. We wouldn't recommend it as your everyday smoke sesh piece, but that is not what it was made for. The pipe is designed to fit easily in your pocket and be whipped out at a moment's notice.
Most importantly, we were genuinely surprised at the smoke quality from such a compact gadget. The Genius Pipe is a solid purchase if you want to keep your consumption on the low and look cool.
The Genius Pipe: 99.95$ @ Smoke Cartel
10% Coupon Code: CNBS
---
Best Classic Designed Bowl Piece
Price: $20.69 @ Grasscity

Handmade
Portable
Color may vary from the photo
Size: 5.5″
Removable bowl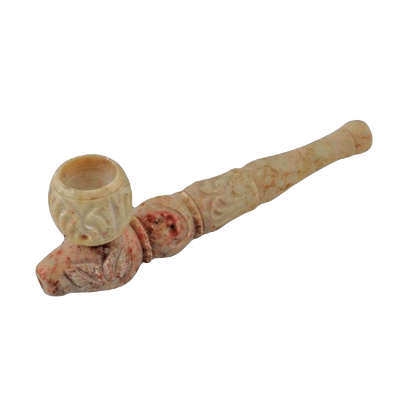 One of the reasons why the smoking pipe is so popular and has stood the test of time is its simplicity. A reliable bowl piece is all most cannabis users need. So if you value consistency and minimalism over technically advanced smoking apparatuses, the Carved Natural Marble Stone Pipe may be your best bet.
The hand-carved pipe is made from premium quality marble; it contains a deep bowl and a broad mouthpiece—all you need to enjoy tasty herbs when you are out and about.
Stone is a great pipe material because it handles heat and won't alter the taste of your weed. In addition, cleaning the Carved Marble Stone Pipes is a breeze, even if you don't have a pipe-specific cleaner.
Smoking out of the stone pipe was an amazing experience. The draws were just right, and the texture felt refreshingly natural. A stone bowl is an excellent addition to your collection, and the Carved Marble Stone Pipe is of premium quality and highly affordable.
The Carved Natural Marble Stone Pipe: 20.69$ @ Grasscity

---
Best Metal Smoking Pipe
Price: $89.95 @ Smoke Cartel
10% Coupon Code: CNBS

Stylish Design
Super-Smooth Hits
Spoon
Length 4.4 Inches
3 Titanium Coated Stainless Steel Filters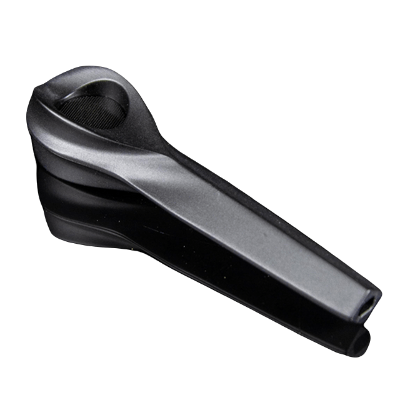 We've reviewed tons of cool smoke wear pieces featuring incredible designs, but few hold up to the KØL Mini Premium Aluminum Pipe by the high-end Danish company HØJ. The sleek, minimalistic outer construction is simple yet houses some incredible cooling technology under the hood.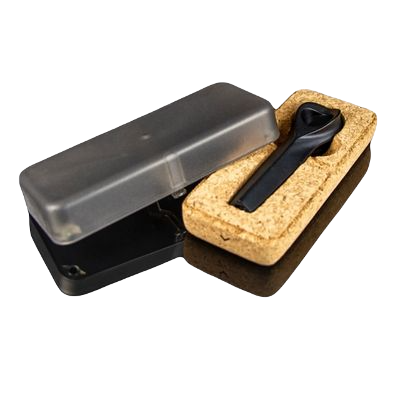 You can disassemble the piece and reveal the proprietary channel design built to guide smoke through a series of vortexes and stainless-steel filters. The complex system decreases the temperature of your smoke resulting in a smooth hit free from coughing. Easily disassembling the KØL Mini Premium Aluminum Pipe also helps you keep it clean. Just run the pipe under warm water after a couple of uses, and it's good as new.
We were enthralled immediately at the sight of the KØL Mini Premium Aluminum Pipe. Visually the metal pipe was unlike anything we'd ever seen. On top of the fantastic aesthetic, the filtration system provides an unbelievably smooth smoking experience. The community once looked down upon metal pipes, but that was before enhanced filtration was adopted, as seen in the KØL Mini and The Genius Pipe.
KØL Mini Premium Aluminum Pipe: 89.95$ @ Smoke Cartel
10% Coupon Code: CNBS
---
Smoothest Hitting Smoking Pipe
Price: $69.95 @ Smoke Cartel
10% Coupon Code: CNBS

Portable pocket size design
Instantly cools smoke
Freezer compatible
Hand pipe with glycerin filled chamber
Removable honeycomb-style glass bowl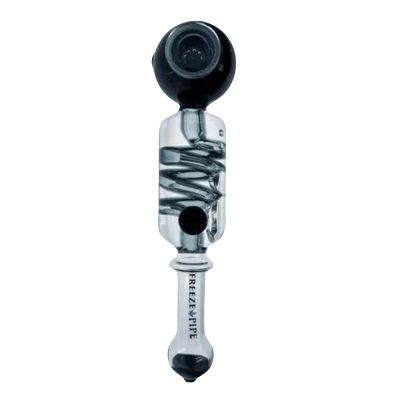 While we've featured some impressive technology so far with some of our best smoking pipes picks, it doesn't get much better than adding ice to cool down your smoke. The Freeze Pipe Hand Pipe with Glycerin Chamber is a premium glass pipe with a freezable coil that delivers ice-cold, frosty hits.
Once your herb burns in the removable honeycomb-style bowl, smoke travels through a freezing chamber before hitting your lips. The result is an ultrasmooth smoking experience, unlike any other pipe on the market. Other selections on our list, like the Maze-X, offer advanced filtration systems to cool smoke, but Freeze Pipe takes the cake by including a freezable glycerin chamber.
If you want a smoking pipe to enjoy at home, the Freeze Pipe Hand Pipe is an unbeatable addition to your collection. After about an hour in the freezer, the glycerin chamber is ice-cold and ready to go. The smoke was incredibly smooth; you'll have to really try to send your lungs into a coughing fit.
Freeze Pipe Hand Pipe with Glycerin Chamber: 69.95$ @ Smoke Cartel
10% Coupon Code: CNBS
---
Best Sherlock Pipe
Price: $44.99 @ Smoke Cartel
10% Coupon Code: CNBS

Size: 11.5″
Gandalf Pipe
Easy to clean
Material: Rosewood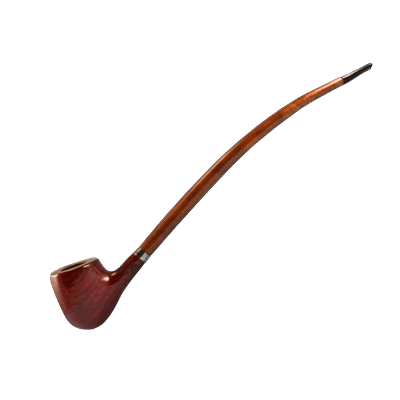 The sherlock pipe, made famous by the fictional British detective Sherlock Holmes is a classic, timeless design essential to every cannabis coinsurer's pipe collection. The "Apple Churchwarden" Rosewood Sherlock Pipe by Pulsar is a masterfully crafted 11.5-inch wooden sherlock-style bowl piece worthy of a high-class smokers' lounge.
Pulsar, one of the highest acclaimed smoke-wear brands, drew inspiration from Gandalf's pipe in Lord of the Rings. The extended, curved neck is strikingly reminiscent of the wizard's preferred smoking device seen across the trilogy. Your purchase comes with extra mesh screens and pipe cleaners, so you can keep your wooden pipe in pristine condition.
The "Apple Churchwarden" Rosewood Sherlock Pipe is beautifully designed and delivers a perfect draw cooling the smoke before hitting your lips. While you may not be able to contort your smoke into the shape of a ship like Gandalf, we guarantee the sherlock pipe will instantly elevate your smoking session.
The "Apple Churchwarden" Rosewood Sherlock Pipe: 44.99$ @ Smoke Cartel
10% Coupon Code: CNBS
---
Best One Hitter
Price: $34.20 @ Grasscity

Reduces heat transfer
Small herb bowl
Natural carnauba wax
Portable taster style pipe
Sustainably grown black walnut wood base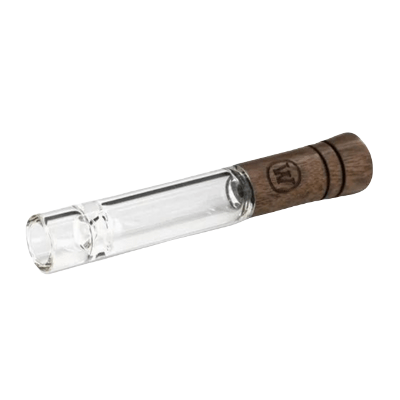 The one-hitter pipe is another classic, reliable design that offers functionality to any pipe collection. Sometimes, taking a hit in the morning or right before you leave the house is all you need; why waste an entire bowl if you just need a little pick-me-up? If you agree, the Marley Natural Black Walnut Taster is the perfect one-hitter for you.
Marley Natural is an incredible smoke-wear brand specializing in sustainable, premium-quality materials. For the Black Walnut Taster, hand-blown borosilicate glass and ethically-sourced black walnut are combined to create a match made in stoner heaven. Glass provides the perfect heating environment, and the wood mouthpiece gives you a natural feel. In addition, the divergence of materials reduces heat transfer, providing cool smoke considering the piece is only a few inches long.
The Black Walnut Taster is an incredibly well-made product. We were impressed with the quality of the wood on the mouthpiece and the seamless construction of the two premium materials. The piece delivers smooth hits, and the bowl is big enough to pack in one massive rip. A fantastic collection for every pipe collection!
Marley Natural Black Walnut Taster: 34.20$ @ Grasscity
---
How to Buy Smoking Pipes – 2023 Buyer's Guide
We've showcased a wide range of excellent products, but you must be able to find a high-quality pipe on your own. While countless options are available online, there's also no shortage of low-quality pieces.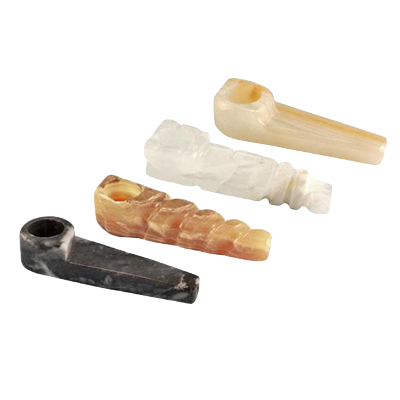 Before shopping for a smoking pipe, we highly recommend learning the qualities of a premium pipe and understanding how the different designs add value to the experience. In addition, knowing where to look is crucial in finding a high-quality bowl piece. Avoid buying a smoking pipe from Amazon, eBay, and Walmart at all costs! There are far better options that specialize in smoke wear and have a knowledgeable staff passionate about cannabis.
---
What to Look for When Buying a Smoking Pipe
Shopping online for a smoking pipe can be overwhelming, but if you know what you are looking for, you'll secure the bowl piece that perfectly accommodates your smoking needs. Below are the critical metrics you should consider before making a purchase.
High-Quality Materials
Ensure your smoking pipe is made from premium quality materials. The material is critical, whether you need a pipe that won't leave your coffee table or one that you take backpacking. Here's what to look for based on the most popular types of materials used to make pipes.
Glass – Borosilicate glass is the industry standard; other types include medical grade and scientific glass.
Metal – Anodized aluminum, brass, and steel are the best options for metal pipes.
Silicone – Look for platinum-cured or medical-grade silicone
Wood – The most common type of wood used for pipes is briar. Other popular types of wood include maple, corncob, pear, cherry, and olive. Steer clear of beech, hemlock, oak, oleander, quebracho, redwood, sassafras, and yew.
Ceramic – Ensure you buy a pipe with lead-free, non-toxic glazes and clay.
Functional Design
Design is also incredibly important when looking for a pipe for sale. The smoking pipe is a simple, elegant tool that doesn't need to be overcomplicated—pipes with too many unnecessary components (especially made of glass) risk being broken.
If you buy an advanced pipe, ensure the features provide additional functionality. For example, The Genius Pipe, Maze-X, and KØL Mini Premium Aluminum Pipe have advanced filtration systems. Paying extra for these features adds value to your smoking experience. You'll also notice that all 3 have relatively simple designs.
Reputable Smoking Pipe Brands
Buying a smoking pipe for herbs from a reliable, well-known manufacturer is another way to ensure you'll get a premium piece. Shopping from online retailers like Grasscity and Smoke Cartel feature the best smoking pipe brands, and you can compare them side-by-side.
Beginner and Advanced Pieces
Understanding your experience level is another important component to consider when buying a smoking pipe. We recommend sticking with a spoon, one-hitter, sherlock pipe, or other simple design. Buying complex piece with advanced features typically have a learning curve and can be frustrating for beginners.
---
Benefits of Smoking Pipes
Pipes are just one of the many ways to enjoy cannabis. If you are new to the community or a long-time joint smoker, smoking pipes are a great introduction to the wide world of smoking devices. Below are 4 benefits of smoking herbs with a pipe.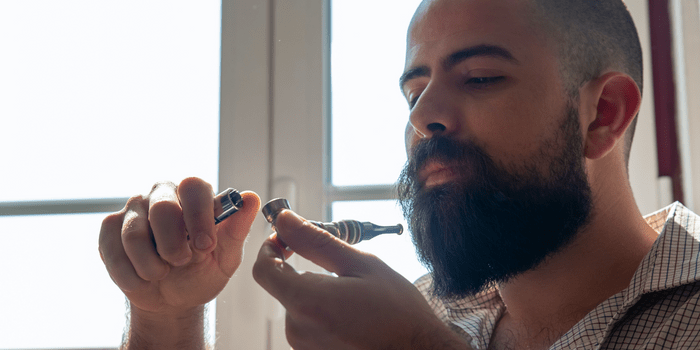 Convenience –Packing a bowl takes little time and ingenuity. In seconds you can be smoking anytime, anywhere.
Affordability – Pipes are also a low-cost investment. You won't need to keep buying wraps or papers once you've bought a pipe.
Easy to Clean – Relative to other smoking apparatuses, smoking pipes are by far the easiest to clean.
Filtration – We won't go as far as saying smoking out of a pipe is healthy, but pipes reduce the amount of resin and tar that would otherwise go through your lungs. (Some a couple ounces out of a small pipe, and you'll see for yourself.)
---
Different Types of Smoking Pipes
We've already mentioned the different types but haven't covered how they work and what benefits each design style adds to your experience. Below we cover 5 of the most popular types of smoking pipes; remember that each can be made from glass, metal, wood, plastic, ceramic, or a combination of materials.
Spoon Pipes
Spoon pipes feature the classic weed pipe design with a neck and round bowl. Most spoon pipes have a carb and a fairly deep bowl.
Stealth Pipes
A stealth pipe is any piece that is designed to be discreet. Unlike the spoon design, they tend not to be shaped like pipes. In addition, most stealth pieces can be easily concealed in your pocket. One of the most popular types of stealth pieces is coffee mug pipes. The stem looks like a straw, so you can smoke without having to deal with any nosey bystanders.
Sherlock Pipes
Sherlock Pipes are modeled after the wooden tobacco pipes of the fictional British sleuth, Sherlock Holmes. Unlike a spoon pipe, the sherlock has a curved stem designed strictly for comfort. The bowl fits securely in your hand while allowing you to light the bowl well below your eyebrows.
One Hitter Pipes
A one-hitter is designed to house one hit at a time; you'll need to refill the bowl if you need to take another rip. This type of pipe is made for convenience and moderation. Many cannabis users find they overindulge by packing overflowing bowls or rolling massive blunts when given a chance. One-hitters force you to slow down consumption and maybe decide a couple of hits is all you need.
Dugout Pipes
The only downside to a one-hitter is they make smoking on the go difficult, but a dugout pipe streamlines the process by offering a complete system. A dugout pipe includes a one-hitter, stash compartment, lighter, and usually a poker tool in one compact container.
The system is designed for smokers on the go who want to take one fresh hit of herb at a time. A dugout pipe fits conveniently in your pocket and allows you to store up to a couple of grams of ground-up herbs ready to be packed into the one-hitter.
Novelty Pipes
Not all pipes are designed to provide additional functionality. Many pipes are conversation starters, gag gifts, or just cool pipes to add to a collection. Some popular novelty pipes include pieces shaped like pop culture icons, plants, animals, and inanimate objects. Coffee mug pipes also fall into this category when they become less discreet.
---
Crucial Parts of an Herb Pipe
Each essential component of a pipe adds value to the smoking experience. So when buying a bowl piece, consider how each part is constructed and contributes to the pipe's performance.
The Bowl
The bowl is a structural support system that protects the chamber. Bowl is also another name for a pipe exclusively used in the cannabis community.
"Let's smoke a bowl" or "pack a bowl" are common phrases meaning let's smoke a small amount of cannabis (typically less than a gram, depending on the size) out of a pipe.
Chamber
Your plant matter is housed, heated, and combusts in your chamber. The chamber resides inside the bowl, where heat is contained so you don't burn your fingers.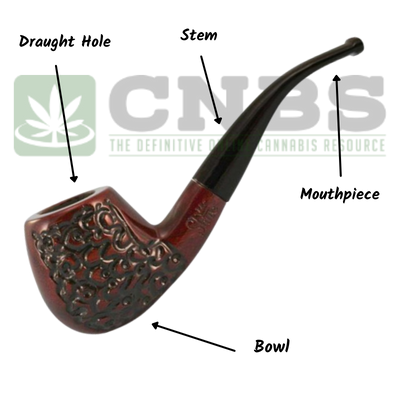 Draught Hole
At the base of the chamber, a small opening called the draught hole connects to the rest of the pipe. This part of the smoking pipe is essential because it filters the herbs, only allowing smoke to exit the mouthpiece.
Stem
The stem is the long opening between the draught hole and mouthpiece; it's essentially a long, hollow tube that carries smoke from the chamber to your lungs.
Mouthpiece
The final fundamental component of every type of smoking pipe is the mouthpiece. This is the last stop for your smoke before entering your body. A mouthpiece varies in size, width, and style but is always an opening in the stem where you place your mouth and inhale.
The Carb
Not all smoking pipes have a carb. Traditional tobacco pipes are carb-less, but the vast majority of bowl pieces explicitly made for consuming cannabis will include a carb.
The carb is an opening, usually in the bowl, that allows air to enter the pipe, clearing any smoke from the chamber and stem. When the carb is covered, smoke only has one way out – through your mouthpiece and into your lungs; when the carb is released, airflow into the chamber stops the combustion process.
---
How to Use a Smoking Pipe
The most appealing aspect of a pipe is the tool's ease of use. Smoking out of a pipe is far more straightforward than every other method. That's why most people's first cannabis experience features the beautiful simplicity of a smoking pipe. However, the process can still be intimidating if you are new to smoking. Follow the steps below so you go into the sesh with some basic pipe smoking information.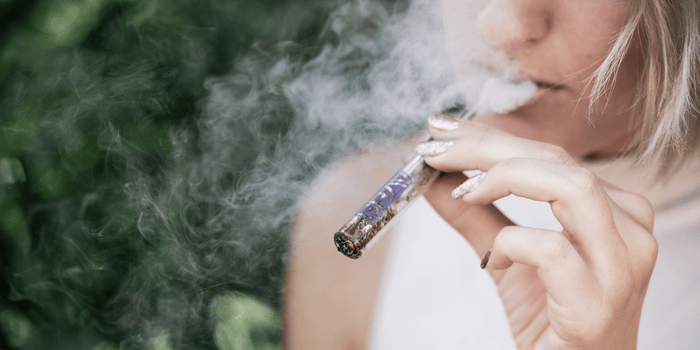 Load the Bowl
An enjoyable smoking experience starts with a properly loaded bowl. Shoving an entire nug into your pipe won't allow for proper airflow, and you won't be able to keep the weed lit. You must at least break up your flower before gently packing it into the bowl. We recommend grinding the weed up, loading it so it just overflows the brim and tamping it down carefully with your finger.
Check if you can suck with the carb covered before lighting the pipe. If you can't, you've packed the bowl too tight.
Hold the Pipe Properly
Most pipes are designed for right-handed smokers, meaning the carb is on the left side of the bowl. Hold the bowl covering the carb with your opposite hand, freeing up your dominant hand to control the lighter.
Most people cover the carb with their thumb, wrap their index finger around the bowl and use their middle finger to support the pipe from the bottom. Disregard covering the carb if your pipe doesn't have one, but you can use the hand position to stabilize your pipe.
Light the Herbs with Courtesy
Once you've found your grip and your carb is completely covered, try to light 25%-10% of the herb surface area. Torching the top of the bowl is considered a selfish act in the cannabis community because you'll be handing the pipe over to the next person completely scorched. In addition, you're wasting valuable terpenes by burning the entire "green" potion of your bowl. As a result, practice bowl lighting etiquette, even when smoking solo.
Inhale
When you inhale, the suction will force the flame into the bowl, creating combustion. Keep sucking for a few seconds. Once you're nearly satisfied with your hit, release the carb and clear the remaining smoke from the chamber and stem.
The number 1 mistake new pipe smokers make is during this step. Releasing the carb forces the smoke into your lungs and can cause you to cough. You can avoid disaster by taking a slow, modest hit, and if you need to cough, ensure you bring your mouth off the mouthpiece. Coughing into the pipe will cause the weed to be ejected from the chamber propelling pieces of flaming cannabis flower onto your clothes.
Exhale
After the pipe is cleared, exhale slowly. Ensure you don't drop the pipe on the exchange or the floor while enjoying the instant euphoria.
---
How to Find Smoking Pipes for Sale
There's no shortage of pipes available online. However, if you want the best option for your money, we recommend shopping from a reputable smoke shop like Grasscity or Smoke Cartel. These retailers have a vast selection of premium-quality smoking pipes, and you can filter search results based on material, category, brand, price, and color.
While you are more likely to find a quality bowl from a reliable smoke shop, we highly recommend still practicing due diligence while making a purchase. You still need to look for quality materials and designs to find the best pipe for your needs.

---
How to Clean a Smoking Pipe
One of the most significant advantages of smoking out of a pipe is they are easy to maintain. However, you still need to put in some effort to keep your bowl from smelling up your house and degrading your cannabis.
Here are 3 ways to clean a smoking pipe:
Boil in Water
If you have a glass, plastic, metal, or ceramic pipe, you can carefully drop it into boiling water to separate the resin from the pipe's surface. Let the pipe simmer for around 30 minutes and repeat if necessary. Avoid boiling wood pipes; your piece will be ruined after it expands and extracts in hot water.
Clean with Q-Tips
You can also use water, soap, and q-tips to clean your pipe. However, you'll need to do this frequently because the method is ineffective if too much resin forms.
Use a Material-Specific Cleaner
The best way to clean a pipe is with a cleaning solution designed for pipe cleaning. You can also find material-specific pipe cleaner that handles certain types of pipes. One of our favorite brands is Formula 420. The company offers cleaners made for a specific material or all-in-one options.
Just soak your pipe in the cleaner, and the resin will dissolve; no scrubbing necessary!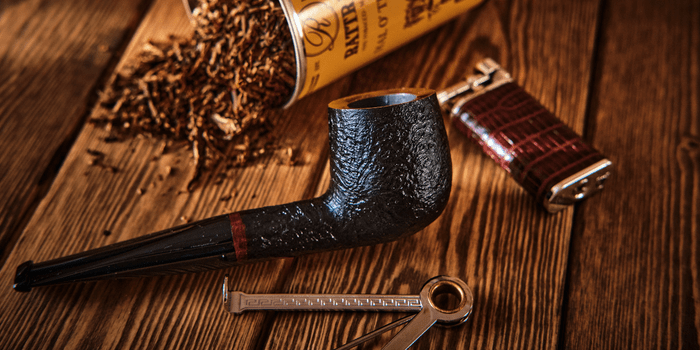 ---
Pack a Bowl and Embrace the Foundation of Cannabis Culture
Whether you are looking to buy the latest gadget, want to step up your collection, or buy your first smoking pipe, our guide gives you the knowledge to find the best possible smoking device. And the best part is that it can be ordered online and delivered directly to your mailbox in a discreet package.
While browsing smoking pipes for sale, remember to consider the value each element brings to your pipe, ensure your purchase has quality materials, and that the design provides functionality. Sourcing your smoke wear from a reputable online smoke shop allows you to gain an overview of the market and compare quality production side by side.
Smoking pipes are the most convenient way to consume cannabis in all its forms; no other smoking method offers convenience, discretion, and a low barrier to entry. As a result, pipes are the gateway to more complex forms of cannabis consumption while also being an essential part of a veteran smoker's repertoire. Embrace the fundamental smoking tool that's been used to bring us together for centuries by packing a bowl and enjoying it with your loved ones.
---
---
Category Pages:
Smoking Pipes -

(CURRENT PAGE)

Glass Pipes - Hands-on reviews of the best glass hand pipes you can find on the market today.