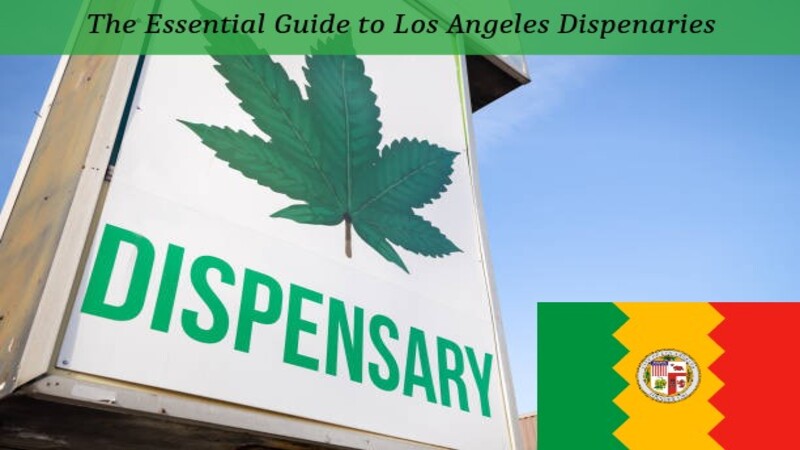 One of the most cosmopolitan and recognizable cities in the world, Los Angeles, California is not only home to Hollywood and the film industry, miles of stunning Pacific coastline, and some of the most expensive homes in the US, but also to hundreds of cannabis dispensaries, and some of the highest-grade weed in the world. One of the earliest US cities to embrace the medical marijuana movement, LA has grown into one of the world's prime destinations for cannabis enthusiasts, tourists, and medical marijuana patients alike.
In this article, we'll cover everything you need to know before making your first trip to a Los Angeles dispensary, including a rundown of the area's most cannabis-friendly neighborhoods and our list of the best dispensaries in Los Angeles.
For information beyond the Los Angeles area, check out our California dispensary guide for an in-depth look at the state's interesting cannabis history, regulations and conditions impacting the state's current legal marijuana market, and our list of the best statewide dispensary chains in California. For even more history and interesting cannabis dispensary information, don't miss our complete guide to dispensaries in the US.
---
Los Angeles Dispensary History
Long before its widespread legalization, Los Angeles communities were some of the earliest supporters of medical marijuana use. The city's first dispensary, the Los Angeles Cannabis Resource Center, was a medical marijuana "collective" serving hundreds of people suffering from cancer and AIDS. This collective made such an impact on the local community that even the city council of West Hollywood donated and loaned funds to help the organization secure its storefront.
By 2009, the number of pot shops in LA had increased so dramatically that NPR famously reported that the city now had more dispensaries than Starbucks Coffee locations. However, the city's cannabusinesses have faced more than their fair share of legal troubles over the years. On several occasions throughout the 2000s, federal law enforcement agents raided and forced the closure of hundreds of the city's medical marijuana collectives. Fortunately, since the passing of Proposition 64 in 2012, legalizing recreational cannabis use in California, the DEA has backed off, allowing Los Angeles cannabis dispensaries to operate in peace.

---
Which Part of LA Has the Most Cannabis Dispensaries?
It comes as no surprise that Los Angeles, the largest city in California and second-largest in the US, is home to a massive number of cannabis dispensaries – 238 at the time of this writing! And that's not to mention the hundreds of dispensaries in the cities surrounding LA proper. Los Angeles offers a mix of adult-use and medical dispensaries to suit every aesthetic (and budget), ranging from small, nondescript MMJ providers to luxurious high-end weed boutiques, and everything in between.
While the entire city is generally quite welcoming of cannabis, and it's not unusual to catch a whiff of marijuana while out and about in LA, a few areas stand out as especially weed-friendly. West Hollywood, home of the famed Sunset Strip, Chateau Marmont, and a huge LGBTQ+ bar scene, has earned a reputation as one of the most cannabis-friendly areas in the entire US. Other standout areas filled with Los Angeles dispensary options include Venice Beach (a cannabis culture hub even prior to legalization), downtown LA, Studio City, and the area around LAX (Los Angeles International Airport). However, a few cities in Los Angeles County, including Burbank and Glendale, still prohibit any type of cannabis commerce.
Los Angeles Cannabis Consumption Lounges
While sampling or consuming cannabis is strictly forbidden inside Los Angeles dispensaries, a small but growing number of cannabis retailers in the area (notably in West Hollywood) have opened attached cannabis consumption lounges in recent years. These lounges offer a relaxing place to socialize, create art, or simply sink into and enjoy the cannabis experience. All visitors to LA cannabis consumption lounges must be 21 or older, and the use of alcohol, tobacco, or other drugs is prohibited on the premises.

---
The Best Los Angeles Cannabis Dispensaries
The Los Angeles area offers a dizzying number of cannabis retailers to choose from. So to help you find the must-visit standouts, read on for our list of the best dispensaries in LA (and the surrounding cities) – each selected its unique atmosphere, accessible location, excellent product selection, and welcoming, knowledgable staff.
Best Dispensaries in Los Angeles
Best Dispensaries in Malibu
Best Dispensaries in Orange County
Best Cannabis Delivery in Los Angeles
---
What to Know Before Visiting a Los Angeles Dispensary
If this is your first time visiting a Los Angeles dispensary, here's what to expect.
Age Limits and ID – To gain entry to a Los Angeles cannabis dispensary, you must be 21 or older (18+ with a valid MMJ card) and must present a valid government-issued ID or passport with your photo on it. Babies and other minors are not permitted to accompany dispensary patrons inside.
Hours of Operation – Most Los Angeles dispensaries are open between the hours of 10 a.m. and 10 p.m. While some LA dispensaries open earlier (typically 8 or 9 a.m.), California state law requires all cannabis retail sales to conclude before 10 p.m. – including home deliveries. Because of this rule, most Los Angeles dispensaries close to new customers 15-30 minutes before closing.
Daily Purchase Limits – Under California's current laws, the amount of cannabis an individual may purchase and possess in one day is limited. Los Angeles medical marijuana patients are permitted up to 8 ounces per day, while recreational users are limited to 28.5 grams of non-concentrated cannabis or 8 grams of concentrates.

Prices and Tax –Cannabis retail prices in Los Angeles are (perhaps surprisingly) no higher than the rest of the state, currently averaging $13 a gram. However, new dispensary visitors may encounter sticker shock once taxes are tacked on at the register. Los Angeles's cannabis sales tax is 9.5%, plus a 10% city tax. However, at the beginning of 2023, California enacted a 15% excise tax on all cannabis retail sales, which most dispensaries have opted to cover by applying the tax to customer purchases. For shoppers on a budget, it's worth noting that cannabis sales taxes are slightly lower in West Hollywood (9.5% + 7.5% local tax).

Pick-Up and Delivery – Most Los Angeles dispensaries offer the option to place a pre-order online, which can significantly shorten the time spent in line at the dispensary. To eliminate the need to travel to a dispensary at all, cannabis delivery services operate throughout the greater Los Angeles area, bringing some of the best cannabis in the world right to your doorstep.

---

Additional Facts About Cannabis in LA

High Consumer Protection Standards

Due to California's strict consumer protection laws, buyers can rest assured that any weed purchased from a licensed Los Angeles dispensary – even the cheapest available grades – will be pure and free of pesticides, herbicides, and other toxic chemicals.

Seeds and Clones for Sale

Some Los Angeles dispensaries also carry cannabis seeds, and a few even sell immature cannabis plants for those wishing to start their own marijuana gardens. There is currently no purchase restriction on seeds, but plants are limited to 6 per person.

Cannabis Tourism

Los Angeles has been a favorite tourist spot for over a century, but today it's not only celebrity chasers and beachgoers flocking to this warm and sunny SoCal city. LA has become one of the best destinations for cannabis tourism in the US. With hundreds of stylish local dispensaries, consumption lounges in trendy spots like West Hollywood, and scores of museums, hiking trails, beaches, and world-class food to enjoy whilst under the influence, Los Angeles really can feel like a stoner's dream city. Visitors can even take a ride on one of the city's many "weed tour buses," which offer experiences ranging from behind-the-scenes tours of local cannabis farms, "dispensary crawls," or even a party bus smoke session/city tour, A handful of Los Angeles and West Hollywood hotels have also begun offering cannabis-friendly lodging – something that was virtually unheard of even just a few years ago.
---
Category Pages:
Dispensaries - California - An in-depth look at California's cannabis dispensaries, filled with necessary information for consumers, interesting history, and guide to the state's best cannabis retail chains.
Dispensaries - Los Angeles -

(CURRENT PAGE)

Dispensaries - San Francisco - An in-depth look at San Francisco's cannabis dispensaries, including the history of cannabis in San Francisco and a list of the city's best modern dispensaries.