In recent years, vaporizing cannabis has really taken off among the entire community of cannabis consumers. It's popular with everyone from occasional recreational users all the way to seasoned cannabis connoisseurs, but it's a particularly wonderful way for medical users to consume their medication. In fact, using a vaporizer for weed is the best way to consume dry herbs for medical purposes. Why? For many medical users, a vaporizer doesn't carry the same stigma as rolling a joint or packing a pipe. Even better, vaporizers extract the same active ingredients from the cannabis without burning it, which means no potentially harmful residue, being able to use less herb per dose, and being able to keep exact track of how much has been consumed.
Recreational users also enjoy all of these benefits when they use a weed vaporizer rather than lighting it up. This is why dry herb vaporizers have grown in popularity in the years leading up to 2023. With more places legalizing medicinal and recreational cannabis, people are increasingly able to vaporize openly with no worry about legal or social repercussions.
If you're planning to switch from smoking to vaporizing your dry herb and are thinking of buying a marijuana vaporizer, you'll find that the market is flooded with options. This can make it overwhelming to choose, but have no fear! The following reviews of the best weed vaporizers are here to point you in the right direction. You'll learn all about the top picks for the best dry herb vaporizers on the market, as well as what to look for in a good weed vaporizer.
Keep in mind that this set of reviews is for desktop dry herb vaporizers that are large and powerful. While some of these units are suitable for wax, the focus here will be vaporizers that are great for dry herb.
---
Top-of-the-Line Dry Herb Vaporizers ($300+)
If you use marijuana as part of your medical treatment for an ongoing illness or ailment or if you're a recreational cannabis connoisseur, it's worth investing in a high-quality marijuana vaporizer. Here are reviews of the most high-end options, these are truly the best of the best vaporizers for marijuana; you can think of them as the luxury cars of the weed vaping world.
---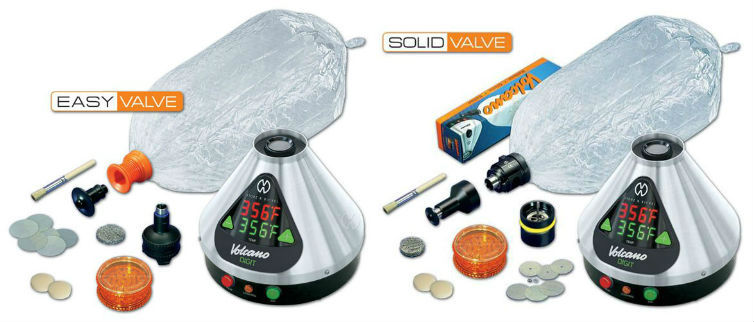 The Volcano Digit Vaporizer is made by Storz & Bickel, a company that started making vaporizers in 2000 and has built a solid reputation on delivering high-quality products. Every Volcano vaporizer is manufactured by hand in Tuttlingen, Germany, which truly makes this line the Mercedes of marijuana vaporizers. Because it's one of the most expensive options in this list of reviews, buyers will be glad to know that it can handle wax, as well as dry herb, so you're not committing yourself to just one form of cannabis when you purchase this model of marijuana vape. Also, it comes with a 3-year warranty, so you can rest assured that you're purchasing from a company that stands behind its products.
The Digit Volcano Vaporizer is an upgrade to its original Analog vaporizer style (which will be reviewed in detail next). A forced-air unit, the Volcano uses a balloon bag system to deliver the vapor in a form that users can take away from the machine and enjoy at their leisure. Their reliability, user-friendliness, and precise temperature controls are what has made the Volcano one of the most recognizable and sought-after weed vaporizers in the world.
The digital model of the Volcano vaporizer provides an air temperature range of between 40°C and 230°C (104°F and 446°F). One of the reasons it's very popular among medical users is because it allows users to attain temperature accuracy of plus or minus 1.5°C (2.7°F), which is truly impressive. It's an attractive unit with a large, easy-to-read digital LED display. It features a food-safe aluminum heating block, an auto-switch off, an air filtration system, and a silencer for quiet operation (which is a great feature, as vaporizers can be quite noisy).
This is a rather large marijuana vaporizer with solid stainless steel body, so you'll need to make sure you have room to give it a nice home. Most users report, however, that once they gave the Volcano a shot, they were so impressed with the much-cleaner experience that they'll never go back to smoking again.
Volcano Digit Vaporizer: 599$ @ Vapornation
10% Coupon Code: CNNBSEDU
---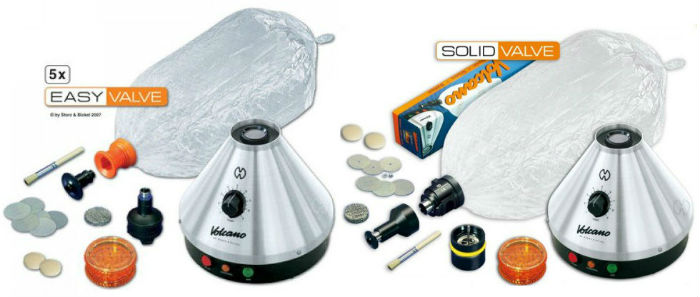 Made with the same high-quality German engineering as the Volcano Digit Vaporizer, the Volcano Classic Vaporizer also offers a way to experience the purity and potency Storz & Bickel products are known for at a slightly less expensive price than the digital version. The Volcano Classic features all of the same high-quality components of its higher-priced sibling – just minus the digital controls and screen.
The Volcano Classic Vaporizer works similarly to its digital counterpart in that it has a forced-air system that pushes vapor into a removable balloon bag. It can be used to vape dry herb, as well as wax. Like the Digital, it's a large cannabis vaporizer that will need a decent amount of space to set up and operate.
The Classic differs from the Digital in some of its features, as well as durability and temperature control. Obviously, it lacks the digital controls, with users controlling the temperature via an analog knob on the front of the unit. The Volcano Classic provides an air temperature range of between 130°C and 230°C (266°F and 446°F). It's less precise than the digital version, and has a temperature accuracy rage of plus or minus 5°C (or 9°F). If you need to get your herb up to a very exact temperature, you'd be better off going with the digital model, but if down-to-the-degree temperature control isn't a necessity and you're looking for a solid vaping experience at a slightly lower cost, the Volcano Classic is a great choice.
Although the analog Volcano Vaporizer does feature an air filtration system and a silencer, it does not feature an auto-shut off. Despite its minor drawbacks in terms of preciseness and lack of extra features, reviews largely indicate that the Volcano Classic is a bit more durable than the digital version. That being said, these are both excellent options if you'd like to buy a weed vaporizer to enjoy in 2023 and many years to come. The Volcano Classic also comes with a 3-year warranty.
Volcano Classic Vaporizer: 479$ @ Vapornation
10% Coupon Code: CNNBSEDU
---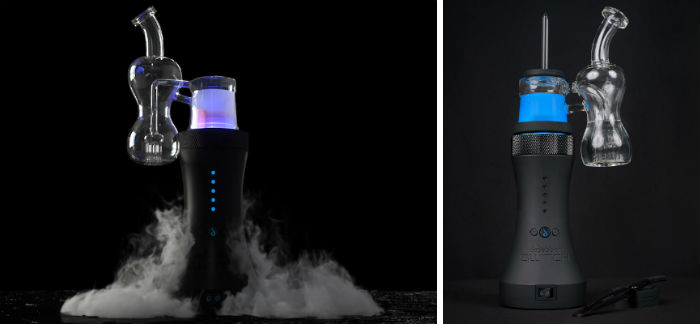 The Dr. Dabber Switch, as its name implies, was designed as an e-rig that allows you to move between dry herbs and concentrates with the flip of a switch. The plus and minus buttons allow you to move between power levels (and there are 25 different heat settings). The Dr. Dabber features an insanely fast 4-second heat-up that gets you ready to vape with no delay. The induction coils ares surrounded by ground glass, ensuring that the vapor is always flavorful.
It includes a black ceramic induction cup for low temperature dry herb vaping and a white ceramic induction cup for high temperature dabs. The ceramic is porous, making it perfect to absorb oils in order to vaporize every last drop. While enjoying the Dr. Dabber Switch, you can customize the colors of the LED lights around the top of the weed vaporizer – a truly nice touch – as well as create various hold times for heating profiles.
The Dr. Dabber Switch is a huge rig, which makes sense when you experience the huge rips of vapor this unit creates. The crack-resistant borosilicate glass bubbler percolates and moisturizes every draw, resulting in smooth, flavorful draws. Its size is also due to its removable 33.3 watt-hour battery, which charges in an hour and can be used for an impressive 200 uses before being recharged. Pass-through functionality means that you'll never have to wait for your next vape session with the Dr. Dabber Switch, even if you're in the middle of recharging it. The unit comes protected with a 2-year warranty.
Dr. Dabber Switch Vaporizer: 400$ @ Vapornation
10% Coupon Code: CNNBSEDU
---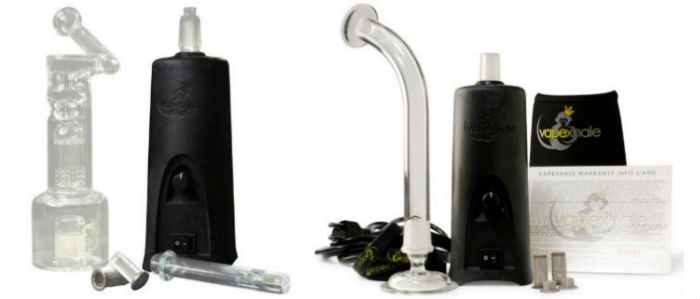 The Vapexhale Cloud EVO Vaporizer might look unassuming, but its convection heating and glass heater core packs an unexpected punch that causes some users to think of it as a "bong-like" vaporizer. The controls are very straightforward and simple; it's operated with an on/off switch and an analog temperature control knob. One slight downside is that there are no markings to denote temperature; the vaporizer is set at 93°C when the knob is turned to the far left and can be raised to 260°C by turning the knob all the way to the right.
Using the Vapexhale weed vaporizer is easy; preheat the unit, load your ground cannabis flower into one of the herb baskets or quartz tubes (also known as VapeXNails), place it in the top of the unit, attach the mouthpiece or whip, wait a few seconds and take your first draw.
The Vapexhale Cloud EVO Vaporizer is particularly impressive in its variety of starter kits featuring various mouthpieces and whips. You can choose a Build Your Own Starter Kit that comes with everything you need to vape dry herb or concentrates – minus a mouthpiece. With this kit, you get to choose your ideal mouthpiece from among six different mouthpiece or whip options.
You can also choose from among various accessories (extra baskets and tubes, shredders, a cleaning kit, etc.) and a limited 3-year or 3-year platinum warranty (the latter adds extra layers of protection for an additional charge) to complete your Build Your Own Starter Kit.
You can also choose from among various pre-built starter kits that feature a specific mouthpiece style and all of the baskets, tubes, and accessories you need to get started and clean up your vape when you're through.
Starter kit options include:
With so many options for whips and mouthpieces and a powerful unit that produces nice, milky clouds, the VapeXhale Cloud EVO absolutely rates as one of the most highly-recommended dry herb vaporizers on the market.
Vapexhale Cloud EVO Vaporizer: 320-450$ @ Vapexhale
10% Coupon Code: CNNBSEDU
---
High-End Marijuana Vaporizers (Under $300)
If you're a medical user or a fan of recreational vaping who wants a mind-blowing vaporizer but aren't committed to spending top dollar for one, here are a few that cost a little less. These units are still some of the very best cannabis vaporizers; they have very few drawbacks and deliver a really high-quality experience for a slightly lower price than the first few options on this list.
---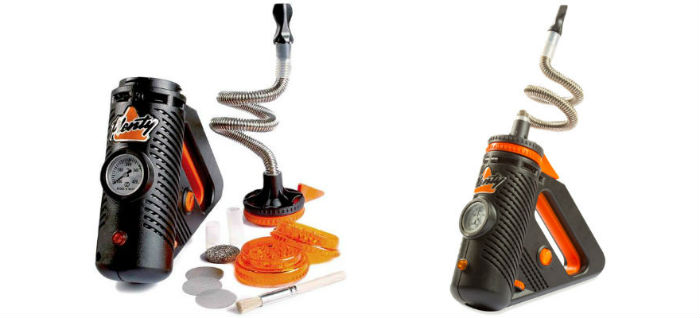 Another offering from German vaporizer gurus Storz & Bickel, the Plenty vaporizer is a bizarre-looking device, but it makes up for its lack of visual appeal with its amazing performance. Upon first glance, the Plenty marijuana vaporizer looks like something you'd use to pump up a bike or car tire, with its analog thermometer and no-nonsense texture and coloring. Although it's still a bit too large and heavy to be considered a truly "portable" dry herb vaporizer, it's one of the smallest of the weed vaporizers in this lineup of desktop vaporizer reviews. If you need a compact option to keep around the house, this is a great choice.
The Plenty Vaporizer has enough pluses to more than make up for its odd appearance, though. It heats up in about 90 seconds, which is quite an impressive start-up time for a desktop weed vaporizer. It also allows users to choose precise temperatures anywhere between 266° and 395°F (130° and 201°C). It works with both wax and dry herb, and instead of the silicone whip you'll find in other units – users draw vapor from its pulled-air system through a nifty stainless steel cooling coil.
Consumers find that the Plenty has an ample herb chamber that's large enough to handle any amount you want to pack in. It also produces a truly nice amount of vapor – something to be expected of a powerful dry herb vape. The Plenty truly lives up to the excellent reviews.
Unlike some weed vaporizers, the Plenty operates in complete silence. It's quiet, on the small end for a desktop vaporizer, and works incredibly well, which is why it deserves a top spot among dry herb vaporizer reviews. The Plenty is durable and features a 3-year warranty in the unlikely event that anything should go wrong. Overall, it's a great value for its price – truly one of the best weed vaporizers on the market.
Plenty Vaporizer: 249$ @ Vapornation
10% Coupon Code: CNNBSEDU
---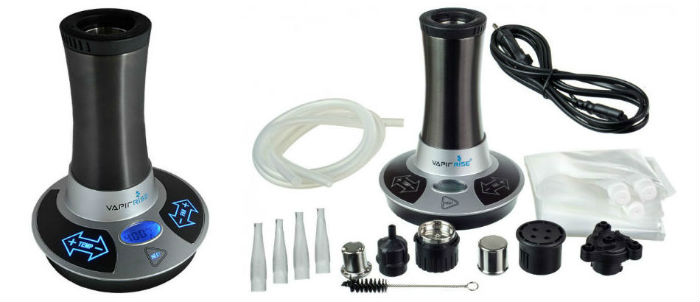 This list of review contains devices that are large and heavy as well as others that are so small that they're nearly portable. The Vapir Rise falls somewhere in between. It's definitely a desktop vaporizer, but it doesn't take up a ton of room, making it a great option to tuck away on a shelf when it's not in use.
Manufactured in the US by Vapir, the Vapir Rise is a truly sleek and compact desktop weed vaporizer. It's suitable for both wax, oils, and dry herb and heats up incredibly fast – in under a minute. While it is a forced-air vaporizer, it can be used in No Fan mode if you'd like to vape in silence.
The Vapir Rise Vaporizer features a gorgeous blue backlit display on its base, which also contains touchpad controls that allow you to put in precise temperature settings. This cannabis vape carefully heats your material to temperatures as high as 420°F (215°C). You can use the Vapir Rise via either balloon inhalation or direct inhalation through a whip attachment. Even better: if you use the optional multi-user adapter, up to four users can vape at one time.
The Vapir Rise creates clouds of thick, beautiful, and flavorful vapor. It features a ceramic heating element and a HEPA filter to ensure that you only get the best and cleanest vapor with every breath.
Vapir has definitely made a durable, enjoyable, and user-friendly vaporizer with this design. They offer a 2-year warranty on the heating element of the unit. With all of the great feedback and excellent user reviews, it's obvious that this is a really high-quality option if you're looking for a nice dry herb vaporizer to buy, but are hoping to stay in the mid-range as far as price.
Vapir Rise Vaporizer: 249$ @ Vapornation
10% Coupon Code: CNNBSEDU
---

If you're looking for a discrete, no-frills dry herb vaporizer that focuses more on performance than being flashy, the Vaporfection viVape 2 could be…well, perfection. It's a small, shiny unit that comes in either black or white and somewhat resembles an external hard drive, making it easy to stash away if you're not a fan of calling attention to your vape. It's also incredibly quiet – an ideal choice if you need a silent dry herb vaporizer.
The Vaporfection viVape 2 Vaporizer works though a user-friendly touch screen that allows you to power the unit on, choose either balloon delivery or whip functionality, and choose your desired temperature. In addition to its discrete styling and volume, the precise temperature controls make this an exceptional vape at a mid-range price for medical users who want to avoid scorching their dry herb.
It's worth noting that you can't turn the unit off during use and need to remove the whip from the glass heating element in between draws or balloon fills. This will help prevent you from wasting good vapor, as well as keep you from overheating and damaging the glass herb container. The viVape 2 is an improved design from the original viVape and features an updated touchscreen, as well as an updated heating element. It takes about 90 seconds to heat up and around two minutes to completely fill a bag using the viVape 2. All in all, it's a pretty nice dry herb vaporizer for the money.
Made in the USA by Vaporfection, the viVape 2 comes with a 1 year warranty. It's an attractive unit that's a breeze to use, so it's easy to see why it won Best Vaporizer in the Product of the Year category at the 2011 Amsterdam Cup.
Vaporfection viVape2 Vaporizer: 250$ @ Vapornation
10% Coupon Code: CNNBSEDU
---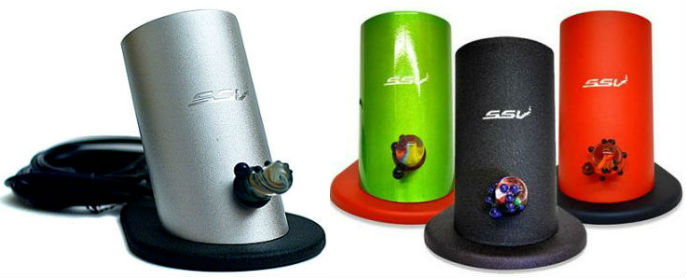 In recent years, Colorado has become a hub of cannabis-centric activity – first, when medical marijuana was legalized in the state in 2000 and even more so when voters chose to legalize recreational cannabis 12 years later. That's why, when people find out that the Silver Surfer weed vaporizer is made by Colorado Springs-based 7th Floor Vapes, they can rest assured that this is a vape manufactured by connoisseurs who really know their stuff.
The Silver Surfer Vaporizer excels at two things: customizability and performance. First off, despite its name, you don't have to get the Silver Surfer in silver. It's available in a wide range of colors, whether you want a green sparkle marijuana vaporizer or a snazzy one that's fire engine red. You can also choose which type of wand and heating element you'd prefer for this pulled-air unit. Their standard glass connection provides a more controlled heat delivery, while the ground glass connection lets you go hands-free, resting the wand on the heating element to create a seal. The reverse 90-degree design of the Silver Surfer wands means that you'll never lose herb by having it fall out as you load it. (The Silver Surfer is only suitable for use with dry herb, by the way.)
The only drawback of the Silver Surfer will be for users who want very precise temperature control. The heat is controlled by two things: an adjustable knob on the front of the unit and the speed at which you inhale. There is a learning curve for people who are new to using this unit and it may not be the best dry herb vaporizer for beginners. Inhaling quickly through the whip pulls air through the unit faster and will cool things down, while inhaling more slowly allows the herb to burn at a higher temperature; you'll need to play with the vape a bit and adjust your temperature accordingly. For vapers who are willing to take the time to learn to use it properly, however, the Silver Surfer is an attractive weed vaporizer that packs away quickly and easily to take with you wherever you go.
Silver Surfer Vaporizer: 250$ @ Vapornation
10% Coupon Code: CNNBSEDU
---
Budget Marijuana Vaporizers ($200 and Below)
The best marijuana vaporizers don't have to cost you an arm and a leg, and this next category proves that. It covers a few fantastic dry herb vaporizers that cost a fraction of the price of the higher-end options on this list. If you're shopping on a budget but would still like a vaporizer that's efficient and is a great conversation piece (or blends in, as one of the following choices does very well), these are the best options for the best available on today's market.
---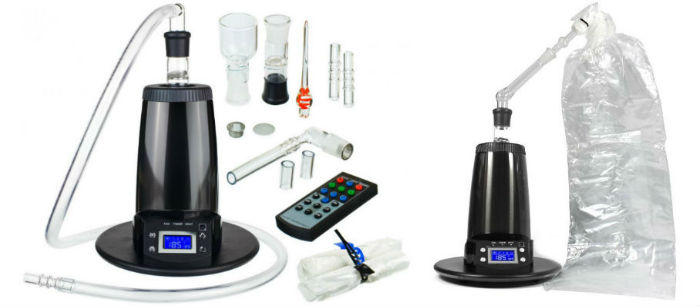 If the Volcano is the gold standard of all vaporizers, the Arizer Extreme Q does a pretty fantastic job of delivering a Volcano-style vaping experience at a fraction of the cost. It does lack a valve system and takes longer to fill bags than the Volcano, but despite these minor drawbacks, the Arizer Extreme Q truly has a lot to offer, which is why it found its way among the best weed vaporizers of 2023.
First of all, this is a snazzy-looking little desktop vaporizer with its midnight chrome finish and digital LCD screen. The Arizer Extreme Q Vaporizer is simple to use, featuring push-button controls and even a remote control to operate it from afar. The digital controls allow for nearly exact temperature control, which is excellent for medical users who would like to vaporize their dosage more efficiently, as well as recreational users who want to avoid torching their herb. Their signature Cyclone Bowl vertical heating chamber helps with even herb vaporization, as it distributes air around the material more evenly without the user having to constantly stir it.
It's a dual-function dry herb vaporizer, so you can use it in balloon-fill mode or do your vaping directly via a whip. It delivers via forced-air functionality, but the fan has three different speeds so you can fine-tune your vapor density. It'll take around two minutes to four minutes to fill a balloon using the Arizer Extreme Q depending on how high you have the fan set. It's an extremely quiet weed vaporizer, allowing you to vape in peaceful (near) silence.
The Arizer Extreme Q comes to us out of Canada. Arizer provides a lifetime warranty for heating elements of its vaporizers and a 3-year warranty for the electronics.
Arizer Extreme Q Vaporizer: 200$ @ Vapornation
10% Coupon Code: CNNBSEDU
---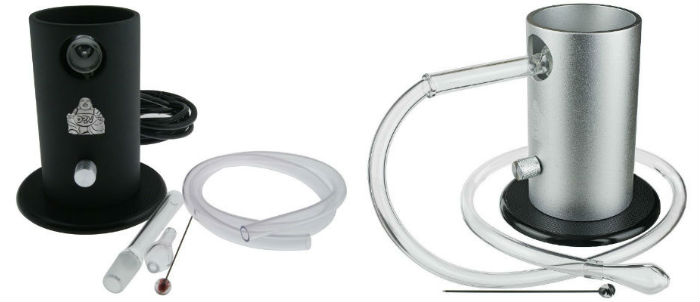 Another fantastic dry herb vaporizer option from Colorado-based 7th Floor, Da Buddha features efficient operation and a solid construction that has won it a following amongst vaporizing enthusiasts the world over.
The Da Buddha Vaporizer is a pulled-air unit that uses whip-style delivery. Its extra-wide herb chamber allows for even heating of the material inside, meaning that you don't have to stir it around the way you do with certain other dry herb vapes. The Da Buddha has a ceramic heating element and glass-on-glass elements that don't affect the smell or flavor of the vapor, leaving it pure and perfect.
There are no precise measurements for temperature on this unit, however, so you'll simply need to turn the knob and try it out to find the perfect position as you puff. The Da Buddha weed vaporizer takes anywhere from 90 seconds to four minutes to fully heat up (depending on your temperature setting). Watch for the heating element to start glowing and you'll know it's ready. It's no speed demon, but once you're there, it delivers clean, thick, and tasty clouds of vapor. It can be operated hands-free, as the wand attaches to the vaporizer and stays put once you put it there.
The Da Buddha cannabis vaporizer is known for its durability; endless reviewers brag about how they're still using theirs years after purchasing it. Still, if you have problems with it, 7th Floor offers a 3-year warranty on the unit. With its user-friendly operation, simple design, and cool Buddha etched into the front, it'll have you feeling quite chill and zen in no time.
Da Buddha Vaporizer: 189$ @ Vapornation
10% Coupon Code: CNNBSEDU
---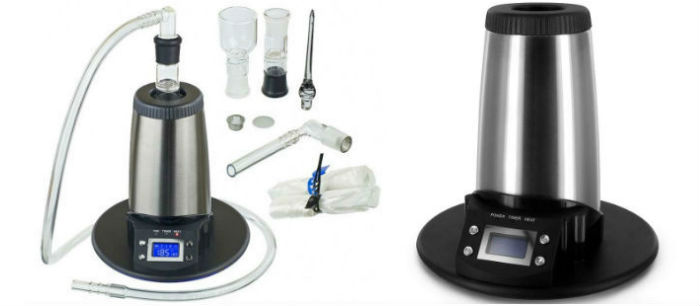 The folks at Arizer brought the cannabis world a wonderful dry herb vaporizer with the Extreme Q, but they've also provided a more affordable option for those who want a good-quality vaping experience for a bit less money. Introducing the Arizer V-Tower – with a more compact design, chrome finish, and a clear view LCD screen.
Just like the Extreme Q, The Arizer V-Tower Vaporizer features a vertical heating chamber. This ensures that hot air can travel in and all around your herb, heating it evenly and efficiently without combusting it. The glass-on-glass heating chamber means that the vapor emerges pure with no alteration to the scent or flavor. Using pulled-air delivery via a whip, the Arizer V-Tower dry herb vaporizer creates thick, huge vapor clouds. This really is an impressive vaporizer for those shopping on a budget.
One of the reasons to invest in a desktop vaporizer is to get precise heating controls, and this becomes more and more of a problem with lesser-priced weed vaporizers. There's no need to worry with the V-Tower, however, as it performs well from 122° all the way up to 500°F (50° to 260°C). Allow the ceramic heating element to preheat for 10 minutes. Once it comes to temperature and you load the bowl, vapor production will begin in roughly two minutes.
In addition to vaping dry herb through the whip, you can use the included potpourri bowl to diffuse the scent of botanicals or essential oils to relax or disperse any remaining odor after your vaping session.
All Arizer vaporizers are assembled and tested in Canada. The company offers a lifetime warranty on its heating elements and a 3-year warranty for all vaporizer electronics.
Arizer V-Tower Vaporizer: 140$ @ Vapornation
10% Coupon Code: CNNBSEDU
---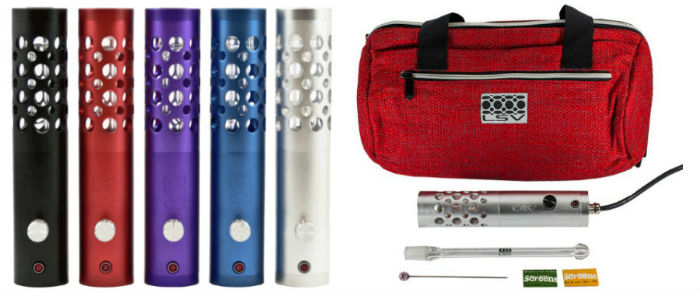 Fans of both the light and the dark side of the force will unite in agreement that the Life Saber dry herb vaporizer is one of the coolest things to come out of the minds of the folks behind 7th Floor Vaporizers.
This pulled-air vaporizer consists of an aluminum base that looks very similar to (you guessed it) a lightsaber handle. Pack your herb into the chamber of the glass wand (lightsaber blade?), pop it on, and get ready to vape! You can choose from a variety of colors for the base, and each Life Saber also comes with a glass marble pick to stir your herb.
The Life Saber Vaporizer has a 10-foot power cord, making it pretty easy to pass around if social vaping is your thing. Its shape is a bit odd and you'll have to figure out where to place it in between draws, however, as it doesn't exactly sit upright because the power cord runs squarely into the bottom of the unit.
It's a dual-functionality dry herb vaporizer; you can use it with the wand attachment, use the optional water filtration attachment to attach it to a water pipe, or remove everything from it and use it as a butane-free lighter. Its size and padded travel bag make the Life Saber extremely easy to tote along with you wherever your Jedi quests may send you. Should Jawas attack you along the way, most of the parts of the Life Saber are replaceable, and 7th Floor covers it with a 3-year warranty.
Life Saber Vaporizer: 179$-199$ @ Puffitup
10% Coupon Code: CNNBSEDU
---
Reasons Why Medical Users Prefer Weed Vaporizers
One of the factors that makes vaporizing so attractive is that it helps release the active ingredients in cannabis without generating harsh smoke or toxins. While these things may be an annoyance to recreational users, they're especially unwanted for patients who are using cannabis to treat specific medical conditions. In addition to making someone who is already ill feel even more unwell, there are concerns about the long-term effects of smoke, toxins, and damage to the lining of the lung and throat that could result from inhaling smoke every time a dosage of medicine is needed. When some studies have shown that marijuana smoking may elevate the risk of lung cancer, this is concerning to medical patients who need to consume it daily or even multiple times a day.
This is one reason why for medical users, desktop weed vaporizers are the preferred method of delivery. The best cannabis vaporizers allow for exact temperature control, which is required to avoid combusting the herb material inside. Gentle convection heating surrounds the material with heated air, bringing it to the temperature necessary to extract the active ingredients. Smaller vaporizers (such as pen-style vaporizers) use a conduction heat method that directly heats the material. It's very easy for material to combust in these types of weed vaporizers.
No combustion means no irritating smoke, no overwhelming smell, and no setting off smoke alarms. This allows patients to medicate whenever they need to – no matter where they live or even in certain hospital settings where the use of cannabis has been approved.
Simply put: if you're buying a dry herb vaporizer for medical purposes and only need to dose at home, you'll have a much better experience using a desktop weed vaporizer.
Using a cannabis vaporizer also doesn't have the social stigma attached to it that rolling a joint or puffing out of a pipe or bong still does. As laws and views on cannabis continue to change around the world, using a weed vaporizer allows medical marijuana patients to consume medicinal dry herb in a manner that doesn't fit the "stoner" stereotype. While this may not matter to some, it's very important to those who are just beginning to understand and embrace the many amazing medical uses for cannabis.
Why Recreational Consumers Use Marijuana Vaporizers
It's obvious why medical cannabis users would want to vape. But what if you only fire up for fun? Isn't it easier to simply roll a joint or pack a pipe?
With today's amazing vaporizer technology, it's not only just as easy to vape your weed; it's also a more enjoyable experience that's probably much healthier than lighting it up. Let's look at some of the reasons that recreational weed smokers become vaping converts once they try it out.
Release More Cannabinoids
There's a great deal of science to support vaporizing as a more comfortable, healthier, and more effective way to consume marijuana. Cannabinoids – the active ingredients in marijuana – start to vaporize at 285°F. When you get them to 338°, that's the optimum temperature for the most effective cannabinoid release. Go a bit higher to 392° and the cannabis material will begin to combust. Keep in mind that a joint can burn at a whopping 2,012°F.
In addition to being uncomfortable and potentially damaging, combustion also equals fewer cannabinoids. Scientists tested out the Volcano desktop vaporizer in 2004 and found that its vapor contained 95% THC (as opposed to cannabis smoke, which contained 88% non-cannabinoids).  In another study from 2009, researchers found that cannabis that was vaporized at 200°C and 230°C contained more cannabinoids than cannabis that was combusted in a marijuana cigarette. This means that vaping can offer a better way to fully take advantage of the cannabinoids within your weed.
Better Flavor
Whether you're into dry herb, oils, or wax (or even if you're a tobacco smoker who loves your e-juice), when you vaporize, you leave out most of the nasty substances and focus on the substance you actually want to ingest. Many people also say that vaping helps preserve the terpenes of the cannabis – the subtle flavors that make each strain something unique – more so than smoking it.
In the case of dry herb vaporizers, the material is heated so gently that it decarboxylates (releasing the THC), but remains intact. This means that you have material leftover to sprinkle into any food of your choice (cannabis is a superfood that's full of antioxidants and great nutrition, after all).
A Less Dizzy High
When it comes to vaping marijuana, many people wonder if vaping gets you more high. While it's hard to measure cannabis intoxication, two things are apparent. First, many people experience dizziness and lightheadedness when they smoke weed and attribute it to the marijuana when it's likely caused by inhaling smoke, as well as holding that smoke into their lungs in a (futile) attempt to absorb more of the cannabinoids. (Fact: you absorb 95% of the THC in the first few seconds, so if you do smoke, there's no need to hold it in.) It's likely that vaping gets you a "cleaner" high that's free of any dizziness caused by inhaling smoke or holding it in.
Fly High Under the Radar
Add to all of this the fact that portable weed vaporizers are easy to tote around with you, don't require rolling papers or lighters, allow you to smoke on the down-low, and don't put off the strong and oh-so-obvious smell of lighting a joint or a pipe. With so many different vaporizer options available today – from desktop cannabis vaporizers that look like external computer hard drives or travel mugs to highly portable pen options – if you don't want people to know that you vape weed, there's no reason they have to.
So even if you're a recreational user, it's worth checking out weed vaporizer reviews and at least considering buying a dry herb vaporizer. Having a cleaner cannabis experience could help create a healthier, happier you.
Choosing the Best Weed Vaporizer
When shopping for a marijuana vaporizer, you'll have a few different factors to consider. You'll need to think about the form of cannabis you'd like to consume (flower? wax?), if you'd prefer a larger desktop dry herb vaporizer or a more compact model, what features you'd like it to have, and your budget. Here are a few differences you'll note among different types of vaporizers:
Method of Vapor Delivery
As you shop for cannabis and dry herb vaporizers, you'll notice that they have different methods of putting out vapor:
Pulled-air vaporizers: With a pulled-air style vaporizer, users pull vapor through a whip, or tubing that's connected to the machine. In a pulled-air style vaporizer, the whip has three distinct parts. First, there is the wand, which is a glass piece where you'll pack your herb to be heated. The tubing is usually made of medical-grade silicon and connects the wand to the glass mouthpiece. Because there is no forced air, it's up to the user to pull the air through, bringing heat over the dry herb and generating the vapor that they will inhale.
Forced-air vaporizers: Forced-air marijuana vaporizers generate their own vapor through the use of internal fans. The fan sends hot air over the dry herb, surrounding it and gently heating it. Some forced-air weed vapes use whip attachments, but many of them send the vapor into a balloon bag. Once the balloon bag is filled, the user can detach it and inhale it at their leisure. Some forced-air vaporizer units have different power levels on the fan. Changing the fan from lower to higher enables the users to control the density of the vapor the unit puts out.
Multi-function vaporizers: Certain vaporizers are capable of being used via whip or forced-air delivery depending on a user's preference; these are called multi-function (or dual-function) vaporizer units.
Conduction Versus Convection
Some vaporizers heat via convection vaporization while many others heat via conduction.  Here's the difference between the two:
Conduction
Conduction heating happens when a material comes into direct contact with a heat source. Vaporizers that use conduction heating have you placing your dry herb, wax, oils, or e-juice directly on the heating element to be vaporized.
The pluses of conduction vaporizers are that they're not as complex as their convection counterparts. This means that they can be smaller, less obtrusive, and easier to take with you when you're out and about. They're also much less expensive. In addition to this, conduction vaporizers heat up really fast. Vape pens are an excellent example of conduction vaporizers.
The down side of these types of vaporizers is that if they're not well-made or if the user isn't careful, it's really easy to burn your weed. This makes them problematic for medical users who need precise temperature control and efficient extraction of the active ingredients from their cannabis, as well as vaporizing fans who feel that the conduction technique destroys the delicate flavors and terpenes of the cannabis material.
Convection
On the other hand, convection vaporizers surround the material with hot air. This allows it to gently come to temperature without setting it aflame or scorching it. Think of how a convection oven swirls hot air around the food you're cooking – that's what a convection vaporizer does to your dry herb, wax, or whatever else you put in it.
Convection vaporizers create vapor that tastes great because it preserves the terpenes in the cannabis. It also allows medical users to extract their dosage in a more controlled manner.
The drawback of convection vaporizers is that because their inner workings are more complex, they're larger and heavier, making them much less portable and more noticeable than conduction vaporizers. They're also much more expensive.
Vaping enthusiasts swear by both kinds, with some people suggesting that the best vaporizers for weed must only use gentle convection heating, while others enjoy the portability and fast heating times of conduction vaporizers. Which type is best for you will depend on what factors matter most – from budget and a focus on power and efficiency to being able to quickly and quietly vape on the go.
Temperature Controls
There is no single best temperature to vape weed; it all depends on which strain you're smoking and the effect you'd like to get out of it. Someone who would like to release CBD from a strain that's high in this relaxing, non-psychoactive compound will only need to heat it to 180°C (356°F). Meanwhile, THC requires a temperature of at least 157°C (314.6°F).
Different terpenes have different boiling points, as well. If you'd like to sharpen your focus through unleashing the pinene in a particular strain, you'll need to heat the material to at least 160°C (320°F), while linalool, known for it stress-relieving effects, boils at 197°C (388°F).
Generally, the lower the temperature, the milder the effects will be because you'll extract less of the cannabinoids, while moderate-to-high temperatures will result in more of a buzzed, euphoric feeling. Researchers experimenting with a Volcano vaporizer noted that when it was set to 170°C, or 338°F, it only released 24% of its cannabinoids. When they turned the temperature up to 230°C (446°F), the results were stunning—the strain released a whopping 77% of its cannabinoids. This may be why a November 2018 study found that in individuals who smoked and vaporized equal amounts of cannabis, those who vaped had higher concentrations of THC in their blood than the smokers.
This is why having a weed vaporizer with precise temperature controls is a huge plus both for recreational cannabis connoisseurs and medical users alike.
Size and Features
Do you have space to devote to a desktop weed vaporizer or do you need a model that can be easily stashed away? This is another factor to consider when looking for the best dry herb vaporizer. While larger weed vaporizers take up more space, they also tend to have more features. These include digital displays and precise temperature controls. Larger vaporizers are also more likely to have cool features like multi-function delivery that will allow you to use either a bag or a whip (or in some vaporizers, whips for multiple users at once).
Price
The final factor to work into your marijuana vape research is your budget. Do you have several hundred dollars to invest in a top-of-the-line vaporizer? If so, you might consider something along the lines of a Volcano vaporizer, as they're considered the Mercedes of desktop cannabis vaporizers.
If you can't drop that much money on a vape, don't despair! All of the models in this Buyer's Guide are known for their durability and superb function. Even if you're vape-shopping on a budget, you're sure to find something that will work for your needs and your wallet.
Which Dry Herb Vaporizer Is Right for You?
Now that you've taken time to learn all about cannabis vapes and taken a look at a rundown of in-depth cannabis and dry herb vaporizer reviews, are you ready to take the plunge? Will you opt for a top-notch, at-home marijuana vape like the Volcano Digital or a more compact option like the Life Saber that can be packed up and taken to a friend's house?
No matter what kind of weed vape you have in mind, this list will help get you started. Once you find the one you want, get ready to enjoy a whole new cannabis experience!
To Buy Vaporizers Online: 
Vapornation  (10% off Coupon Code: CNNBSEDU)