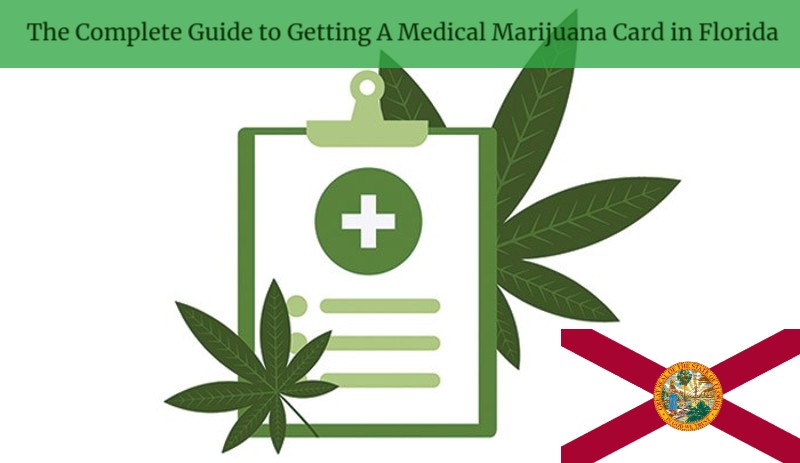 The legalization of medical cannabis in Florida has led to enormous quality-of-life improvements for hundreds of thousands of residents suffering from chronic and often difficult-to-treat health conditions. Since Florida first introduced its Compassionate Medical Cannabis Act in 2014, the state has continued expanding its medical marijuana program, which now provides over 700,000 Floridians with access to a wide range of edible, smokable, and vaporized medical cannabis products.
Since medical marijuana (often abbreviated to MMJ) is still a highly-regulated product and its use requires registration with the state, becoming a Florida MMJ patient may sound like a daunting process at first. In this article, we'll break down the steps to getting set up with medical marijuana in Florida – from determining if you're eligible to finding the right clinician to assist with your individual needs.
For information about the MMJ card approval process in other states, check out our comprehensive guide to becoming a medical cannabis patient in the US.
Benefits of Getting a Florida Medical Marijuana Card
Legal Access to Cannabis –Since adult-use (recreational) marijuana is still prohibited in Florida and marijuana is still considered a Schedule 1 illegal substance at the federal level, the only legal way to access cannabis in the state is through registration as a medical marijuana patient. Only patients (or their caregivers) with a valid Florida medical marijuana card are permitted entry to the state's 500+ dispensaries (also called medical marijuana treatment centers). Florida medical cannabis patients can also take advantage of home delivery services offered by select cannabis retailers.
Potential Future Benefits – If the state eventually legalizes recreational cannabis, Florida medical card holders will likely retain several benefits over their adult-use counterparts, including higher daily purchase and possession limits, the current sales tax exemption, and priority access to cannabis should extenuating circumstances limit its availability.
Legal Defense – While a Florida medical card is by no means a "get out of jail free" card, in some cases, it could provide a layer of legal protection in conflicts regarding employment, housing, child custody, or the operation of a motor vehicle. We highly advise all new Florida medical marijuana patients to consult a qualified cannabis attorney who can help them stay protected while using this still federally-illegal medicine.
Who Can Access Medical Cannabis in Florida?
Medical marijuana may be purchased and used by permanent or seasonal Florida residents (with proof of residency), who have been approved by a qualified Florida medical marijuana doctor to treat one or more qualifying medical conditions. All medical cannabis patients in Florida must register with the state's Medical Marijuana Use Registry (MMUR) and renew their registration every seven months. It is worth noting that Florida does not allow patients with MMJ cards from other states to purchase cannabis in Florida dispensaries.
Qualifying Conditions for a Medical Card in Florida
In order to qualify for a medical marijuana recommendation, you must be diagnosed with one or more of the following conditions:
Amyotrophic Lateral Sclerosis (ALS)
Cancer
Crohn's Disease
Epilepsy
Glaucoma
HIV / AIDS
Multiple sclerosis
Parkinson's Disease
Post-traumatic stress disorder (PTSD)
Terminal conditions diagnosed by a physician other than the one conducting your medical marijuana patient evaluation
Chronic nonmalignant pain caused by a qualifying medical condition that persists beyond usual levels for that particular medical condition
Comparable medical conditions to those on the current qualifying conditions list
Caregivers
Caregivers to Florida residents diagnosed with any of these qualifying conditions may apply for a medical marijuana caregiver card. In Florida, caregivers must be at least twenty-one years old, and may only be responsible for aiding one patient (unless otherwise approved). MMJ caregivers must register with Florida's MMUR, complete a background check (unless they are a close relative to the patient), complete a caregiver certification course, and agree in writing to assist the patient with their medicine.
How to Get A Medical Marijuana Card in Florida
Before you can apply for a Florida cannabis card, you must first complete an evaluation with a qualified medical marijuana doctor. Florida requires these evaluations to be done at an in-person clinic. The evaluating physician will discuss your medical history, current symptoms, and any lifestyle factors that could preclude medical marijuana use to determine if cannabis is a viable treatment option for you. Most clinics will waive their evaluation fee for any patient who is not determined to qualify for medical marijuana. At this time, health insurance does not cover cannabis-related medical care.
Once you've been approved, the evaluating physician will add you to the state's Medical Marijuana Users Registry. You will then need to complete your application via the Florida Department of Health Office of Medical Marijuana Use (OMMU) and submit the $75 registration fee. Within 7-10 business days, your temporary card will arrive via email, followed by your hardcopy card in the mail. The temporary card will grant you access to Florida's medical marijuana dispensaries while you wait for your official card to arrive.
Florida medical marijuana cards are valid for 210 days and must be renewed prior to expiration to avoid any lapse in MMJ access (45 days is the recommended timeframe). If no significant health changes are at play, a renewal appointment can often be completed in as few as 10 minutes (and will generally be less expensive than an initial evaluation). The state charges a $75 fee for each renewal.
What to Expect at Your Florida Medical Marijuana Doctor Visit
Fortunately, Florida is home to thousands of qualified MMJ physicians, making it easy to get an appointment without a lengthy wait, no matter which part of the state you reside in. Several office chains specializing in medical cannabis operate throughout most areas of the state, as well as smaller localized offices. Some alternative medicine practitioners and even select medical spas are also authorized to conduct medical marijuana evaluations.
One of the biggest benefits of this required in-person medical marijuana consultation is the opportunity to have a candid, ongoing conversation with a real doctor about your symptoms, bring up questions or concerns you may have about using marijuana, and receive advice directly tailored to your needs regarding dosing, strain selection, and delivery method (e.g. smoking vs. edibles). Florida law requires patients to meet with their MMJ doctor twice per year, ensuring the opportunity to address any new questions that arise or adjust dosage if necessary while building trust and rapport.
Our Recommended Florida Medical Marijuana Doctors
With thousands of physicians now offering medical marijuana services, the search for a capable and compassionate Florida cannabis doctor can feel overwhelming. To make your search easier, we've narrowed down the following list of the top MMJ doctors in Florida. Whether you're a first-time patient or looking to transfer to a new practitioner for your next renewal service, these are the Florida cannabis doctors we like and trust.

Best MMJ Doctors in Miami
Best MMJ Doctors in Boynton Beach
Best MMJ Doctors in Southwest Florida
Best MMJ Doctors in Saint Petersburg
Best MMJ Doctors in Tampa
Best MMJ Doctors in West Central Florida
Best MMJ Doctors in Orlando
Best MMJ Doctors near New Smyrna Beach
Best MMJ Doctors on the Treasure Coast
Best MMJ Doctors in Jacksonville
Best MMJ Doctors in Pensacola
---
Category Pages: