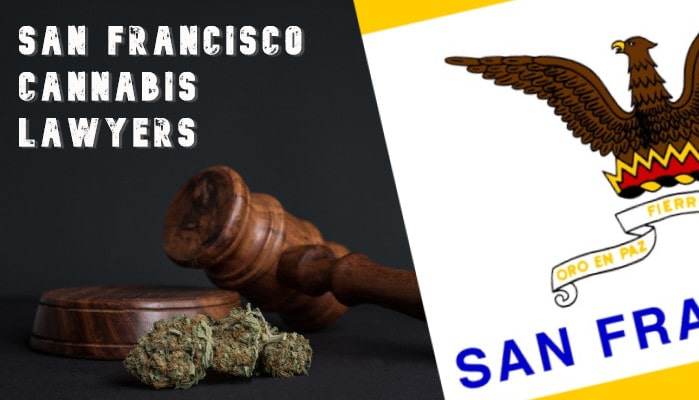 San Francisco can truly be considered the birthplace of the US legal cannabis market. From the opening of its first-ever head shop in 1966 to the nation's first public medical marijuana dispensary opening in 1992, San Francisco has long been a haven for cannabis aficionados, medical patients, and entrepreneurs tapping into this exciting new market. Since California's full legalization of recreational cannabis went into effect in 2018, the number of cannabis consumers and businesses in the San Francisco Bay Area has only continued to grow.
Along with this increase, the need for cannabis-savvy criminal and business lawyers has risen as well. In this article, we cover how San Francisco's marijuana attorneys protect local cannabusinesses and keep consumers out of legal trouble. We've also included a list of the best cannabis attorneys in San Francisco, and how to find the right one for your (or your business's) needs.
---
Cannabis Laws in San Francisco
All of California's state laws regarding cannabis apply in San Francisco and cover visitors to the area as well as full-time residents. It is worth noting that despite marijuana's state-level legality in California, it is still classified as a schedule 1 drug under the United States Controlled Substances Act. This means that the possession, consumption, cultivation, and sale of cannabis are still federally illegal, although federal agents seldom pursue prosecution of San Francisco cannabis users or businesses.
Recreational and medicinal cannabis use is legal for all adults aged 21 and older in the San Francisco Bay Area. All consumption must take place on private property.
With a doctor's recommendation, patients aged 18-20 may use and grow marijuana for the treatment of certain health conditions.
Cannabis may only be purchased at licensed dispensaries, with home delivery also a legal option throughout the Bay Area.
Home cultivation of personal-use marijuana is allowed in San Francisco. Cannabis gardens may be indoors or outdoors but must be secured and out of public view.
---
How to Find a Cannabis Lawyer in San Francisco
If you find yourself in need of legal representation by a marijuana attorney in San Francisco, whether for criminal charges or business consultation, don't try to go it alone (or with a cheap, all-purpose lawyer). Look for an attorney with a dedicated cannabis practice who meets all of the criteria listed below.
Cannabis Industry Expertise – Cannabis laws and regulations in San Francisco can be complex and highly specific. Look for a law firm with a specialized cannabis criminal or business practice.
Local Expertise – While California has a standard set of laws surrounding personal cannabis use and business operations in the state, you may find yourself better served by a local law firm. Marijuana attorneys in San Francisco will have a nuanced understanding of local cannabis ordinances and how they are applied, as well as the networking background necessary to effectively navigate the local courts.
Experience and Relationships WIth Regulators (business law) – Nearly all San Francisco cannabis businesses will encounter regulatory hiccups at some point or another. Having a cannabis lawyer with extensive experience dealing with state and local regulators goes a long way if issues arise.
Criminal Justice Background (criminal cases) – Anyone accused of a cannabis-related crime is advised to hire an attorney with experience on the prosecuting side of the local criminal justice system – such as those with former careers as police officers or district attorneys. In addition to established relationships within the local court system, an in-depth understanding of the prosecution's strategies and tactics surrounding San Francisco cannabis charges will better equip your attorney to counter them in court – potentially lessening your sentence or getting the charges dropped completely.
Accessibility – Before retaining a San Francisco marijuana lawyer, ensure that you'll have appropriate access to your attorney when you need it most. Are they available to answer emergency questions 24/7, or only within set business hours? Does your attorney personally answer calls, texts, and emails, or does an assistant screen inquiries? What method of communication does this firm utilize most? How often is your cannabis business lawyer available for routine legal checkup meetings?
Reputation and Track Record – Seek out a San Francisco marijuana lawyer with an excellent reputation and a solid track record of beating cannabis criminal charges or safeguarding local cannabis businesses. Don't be afraid to interview multiple Bay Area cannabis attorneys before deciding on the right one to represent you. To start your search, we've included a list below of the top marijuana lawyers in San Francisco. You can also visit our list of the best cannabis attorneys serving the entire state of California.
---
The Best San Francisco Cannabis Attorneys
---
Who Should Hire a San Francisco Cannabis Attorney?
Cannabis and Ancillary Business Owners
The advice of a qualified cannabis business attorney is crucial for all Bay Area cannabusinesses (including cultivators, retailers, consumption lounges, distributors, manufacturers, and testing labs). Legal counsel is also a must for all ancillary businesses servicing San Francisco's cannabis industry, including commercial landlords.
Cannabis Consumers
Representation by a San Francisco cannabis lawyer is necessary for anyone facing criminal charges involving marijuana. Medical marijuana patients planning to grow their own gardens are also advised to seek protective legal consultation with a medical marijuana attorney. San Francisco cannabis attorneys can also help individuals petition the court for expungement of prior marijuana-related charges or apply for a presidential pardon.
---
Legal Consulting for San Francisco Cannabis Businesses
In addition to California's state laws, San Francisco's cannabis businesses must also comply with strict ordinances set in place by the San Francisco Office of Cannabis. Even seemingly insignificant oversights can have disastrous effects, including everything from hefty fines to loss of licensure to criminal prosecution. Here's an overview of the most critical areas requiring the help of a San Francisco cannabis business attorney, and why each is so important.
Application – Applying for state and city-level cannabis business licensure is an intense, unforgiving, and expensive process. With no wiggle room for errors and exorbitant non-refundable fees, the counsel of a cannabis attorney is essential to get every step of the application process correct from the start.
Compliance – The best San Francisco marijuana business attorneys stay current, updated, and readily able to advise on strict and complex legal considerations at the local, state, and federal levels. In the event of a misstep or oversight, a cannabis business attorney can help you regain compliance and defend your case in court if necessary.
Environmental and Consumer Protection – When it comes to commercial cultivation, California has some of the nation's most stringent growing and testing requirements. Legal counsel regarding these detailed and important safety regulations is an absolute must for all commercial growers in the Bay Area.
Criminal Activity – In the unfortunate event of a theft, robbery, assault, or other crime occurring on your premises, a cannabis lawyer can help you recoup losses and see to it that justice is served. This also extends to the theft of your intellectual property, hacking of your website, or other crimes in cyberspace.
Employment Law – California is considered one of the most employee-friendly states in the US, with strict protections covering nearly every aspect of employment. Cannabis business lawyers play an essential role in helping cannabusiness owners understand these regulations and apply them directly to their own workforces.
Taxation Law – Even though marijuana is a federally-illegal substance, the US government still eagerly collects tax dollars from its sale, and the state of California levies an additional excise tax on retail cannabis sales. The city of San Francisco has temporarily suspended its own cannabis tax in an effort to curb black market activity. All cannabis businesses are responsible for filing correct and accurate federal and state tax returns each year. This is no easy feat – making a cannabis tax attorney a truly indispensable investment for your business.
Record Keeping – Another critical investment is a legal consultation regarding proper record keeping. All plant-touching businesses are required to utilize California's mandatory seed-to-sale tracking procedures, in which precise accuracy is an absolute must.
Protection for Ancillary Businesses
Any business working even slightly or occasionally adjacent to San Francisco's legal marijuana industry must retain its own cannabis lawyer. Marijuana's federally illegal status leaves ancillary businesses vulnerable to criminal prosecution for aiding and abetting the sale of a controlled substance. Examples of ancillary cannabis businesses include banks, packaging producers, marketers, insurance providers, security firms, HR firms, and payroll processors. Commercial landlords leasing to cannabusinesses and doctors who write medical marijuana recommendations are also strongly advised to protect themselves by retaining a cannabis attorney.
---
Cannabis Criminal Lawyers in San Francisco
With cannabis use continuing to rise in San Francisco, the number of people charged with marijuana-related infractions continues to rise as well. Despite it being a legal substance to use and possess, cannabis-related charges can carry serious consequences. Hiring a qualified San Francisco cannabis lawyer offers the best chances of avoiding hefty fines, a tarnished record, or time in jail. Here are the most common types of criminal cannabis charges in San Francisco.
Marijuana DUI
Unlawful sale or distribution
Unlawful transport
Unlawful possession
Unlawful cultivation
Cannabis use by minors under 21 years of age
Medical Marijuana Patients
Use and possession laws tend to be most forgiving toward medical marijuana patients, but other legal dangers lurk for those who regularly treat health conditions with cannabis. THC lingers in the bloodstream for a considerable time after use, meaning that most MMJ patients would constantly be considered "under the influence" by current standards. In some circumstances, this can threaten one's employment, housing, and ability to legally operate a motor vehicle. All San Francisco medical marijuana users would be wise to book a consultation with a medical marijuana attorney for proactive protective planning – or to challenge criminal charges should they arise.
Marijuana DUI
California does not currently have a defined "legal limit" of marijuana that is considered unsafe to drive under the influence of, nor is there a reliable way to test for such a limit. At this time, driving with any amount of THC in one's system is considered a DUI crime in San Francisco.  The consequences of a marijuana DUI conviction can include driver's license suspension, jail time, mandatory safety classes, and fines up to $15,000 or more, making a marijuana attorney a crucial investment if you're facing DUI charges.
Expungement of Criminal Cannabis Charges
Proposition 64, passed in 2016, not only legalized recreational cannabis in California, but it also paved the way for individuals with prior non-violent marijuana-related convictions to petition for downgraded charges on their record (i.e. felony downgraded to a misdemeanor). Some charges even qualify for complete expungement from one's record. This process is initiated by petitioning the court and can be complicated to navigate, making consultation with an experienced San Francisco cannabis lawyer an essential step in the process.
---
Category Pages: