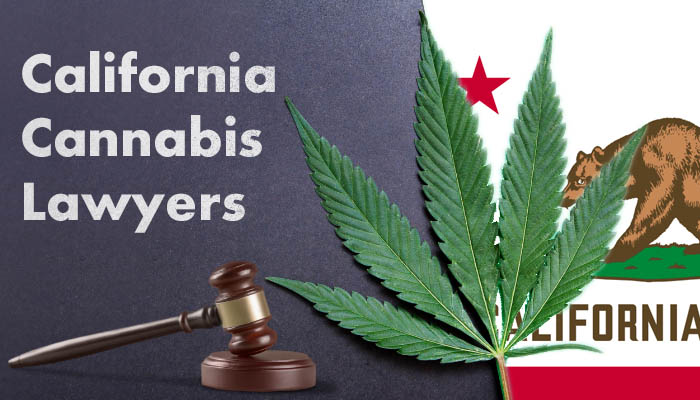 Warm, sunny California, one of the world's favorite tourist destinations and beloved home of Hollywood, the Golden Gate Bridge, and Redwood National Park, also has a glowing reputation as one of the most cannabis-friendly states in the US. Since legalizing medical marijuana in 1996 (the first US state to do so) and recreational use in 2018, California has quickly outpaced the rest of the country, growing all on its own into the world's largest legal cannabis market.
This rapid growth has increased the need for lawyers adept at helping cannabis businesses navigate this ever-evolving and highly-regulated market. Even seemingly small oversights can lead to steep fines or loss of licensure, further accentuating the need for precise legal compliance. Cannabis lawyers also serve an essential role in the lives of California cannabis consumers who find themselves accused of the unlawful possession, cultivation, sale, or use of cannabis.
In this article, we cover how California's top marijuana attorneys help the state's cannabis businesses, medical marijuana patients, and recreational consumers remain compliant and shielded against unpleasant legal problems. We also cover everything Californians should consider when retaining a cannabis attorney, for personal or business purposes.
See our recommendations for the best marijuana lawyers in California at the bottom of this page!
---
California Cannabis Laws
Despite its state-level legality in California, marijuana is still classified as a schedule 1 drug under the United States Controlled Substances Act, making the possession, consumption, cultivation, and sale of cannabis illegal at the federal level. While federal agents seldom prosecute cannabis users or businesses in California, it is still within the realm of possibility.
The Legal Status of Weed in California
Recreational and medical cannabis use is legal for all adults aged 21 and older in California. With a doctor's recommendation, patients aged 18-20 are also permitted to use marijuana for the treatment of certain health conditions. Cannabis products may only be purchased at licensed dispensaries, with home delivery allowed in most parts of the state. Home cultivation of personal-use marijuana is also allowed in most parts of California.
California's current laws regarding cannabis apply to all adults while they are within the boundaries of the state. This means that tourists and visitors to California may buy and use cannabis legally while in the state, even if they live in a jurisdiction where it is prohibited.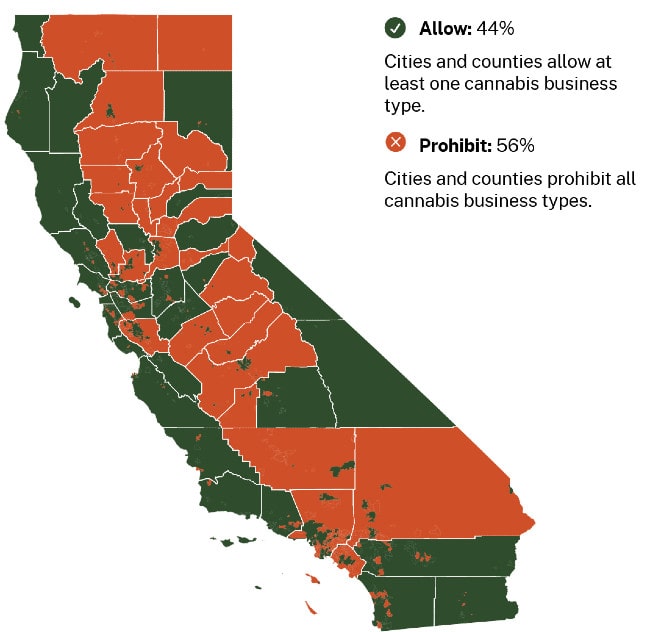 Find the Best Cannabis Attorney in Your City:
---
Who Should Hire a California Cannabis Lawyer?
Cannabis and Ancillary Business Owners
All new and existing California cannabis businesses (including cultivators, retailers, distributors, manufacturers, and testing labs) must retain a marijuana business attorney to ensure compliance every step of the way, from the application process to daily operations. Legal counsel is also essential for all ancillary businesses servicing the cannabis industry, including commercial landlords.
Cannabis Consumers
Representation by a cannabis attorney is crucial for anyone facing marijuana-related criminal charges. Medical marijuana patients engaging in home cultivation are also advised to consult a medical marijuana attorney to ensure their grow setup does not inadvertently break any laws, threatening access to their medicine. Cannabis attorneys also help individuals with prior marijuana criminal convictions petition for expungement of their records or presidential pardons.
---
Legal Consulting for California Cannabis Businesses
California's booming legal cannabis market is rife with complicated regulations and legal intricacies to comply with at the state and local levels. From applying for a business license to ensuring all products leave the dispensary in approved packaging, every single step must be handled in complete compliance. Even seemingly small missteps carry the risk of incurring hefty fines, losing your business license, or even facing criminal charges. The counsel of a qualified cannabis business attorney provides a layer of crucial protection for your business.
The advice of a California cannabis business lawyer is necessary in these prominent areas:
Application – The process of applying for state and local-level licensure for any type of cannabis business is an intensive exercise that must be executed perfectly to be successful. On top of that, application fees are steep and non-refundable – which makes getting it right the first time absolutely essential.
Compliance – Knowledgeable California cannabis business attorneys can advise on the ins and outs of keeping your business compliant with strict local, state, and federal laws regarding everything from business formation, operations, and advertising to employee and tax law. In the event that something slips through, leaving your business under fire for non-compliance, a marijuana business attorney can help resolve the charges in court.
Environmental and Consumer Protection – When it comes to commercial cultivation, California has some of the nation's most stringent growing and testing requirements in the interest of consumer safety and environmental protection. Legal counsel is critical to ensure your grow op is completely compliant with these regulations.
Criminal Activity – Legal counsel is advised any time a business finds itself faced with incidences of theft, assault, or other crimes on its premises. This extends to infractions in cyberspace (such as hacking) or theft of your intellectual property.
Employment Law – California is considered one of the most employee-friendly states in the US, with strict rules surrounding everything from weekly work hours to protection from discrimination and retaliation in the workplace. While these laws certainly make the state a better place to live and work, it's essential that all business owners know how to work within their parameters. Cannabis business lawyers can help you narrow down exactly how each of these important regulations applies to your own workforce.
Taxation Law – Despite its federally-illegal status, the US government still insists on collecting taxes from cannabis businesses. Likewise, the state of California collects an excise tax on all cannabis retail sales. US and state-level tax code is notoriously complex, and errors have the potential to cost your business dearly. A consultation with a cannabis tax attorney is critically important for all California marijuana businesses.
Record Keeping – Maintaining meticulous seed-to-sale tracking is mandatory for all plant-touching cannabusinesses in California. This process is complex and leaves no room for error, making record keeping another essential item to go over with your marijuana business attorney.
Protection for Ancillary Businesses
Any company that services businesses within the cannabis industry absolutely must seek legal counsel. Marijuana's federally illegal status leaves ancillary industries (including but not limited to banks, packaging producers, marketers, insurers, security firms, and payroll processors) in a vulnerable position. Aiding and abetting the sale of an illegal controlled substance is treated as a serious crime, making proactive legal counsel a critically important investment. This layer of legal protection is also necessary for commercial landlords leasing space to cannabusinesses of any type, as well as for doctors recommending medical marijuana to their patients.

---
Cannabis Criminal Charges in California
With marijuana more widely accessible than ever before and many more people now using it, California has seen a rise in cannabis-related criminal charges. Criminal cannabis attorneys play an essential role in helping charged individuals win in court, avoiding jail time, exorbitant fines, and tarnished criminal records. Here are the most common types of cases California criminal cannabis lawyers take on:
Marijuana DUI
Unlawful sale or distribution
Unlawful transport
Unlawful possession
Unlawful cultivation
Cannabis use by minors under 21 years of age
Medical Marijuana Patients
California's medical marijuana patients often find themselves in a uniquely tricky and vulnerable position. Since THC remains in the bloodstream for long periods of time after use, individuals using cannabis medicinally may encounter issues surrounding employment, housing, and even the safe and legal operation of motor vehicles. To ensure the use of your medicine does not jeopardize your safety and agency in other important areas of life, seek the assistance of a California medical marijuana attorney for proactive, protective planning – or challenging criminal charges should they arise.
Expungement of Criminal Cannabis Charges
When California passed Proposition 64 in 2016, making adult recreational cannabis use legal in the state, a provision was created to allow individuals previously convicted of cannabis-related felonies to request a downgrade to misdemeanor status (and misdemeanors to infractions) on their record. Additionally, some individuals also qualify to have prior cannabis convictions removed from their records completely. Petitioning the court for expungement under Proposition 64 can be a confusing process, making consultation with an experienced California cannabis lawyer a necessity.
What are the Penalties for Breaking California Cannabis Laws?
Consequences for cannabis-related charges typically follow the guidelines below in California, with the defendant's age and past criminal history playing a role. A criminal cannabis attorney can often get these standard sentences reduced or dismissed.
Minors Under 18
Cannabis-related penalties for minors under 18 years old tend to be rather mild in California. The unlawful cultivation, possession, or sale of cannabis is typically charged as a simple infraction, with penalties including mandatory drug counseling, community service, or fines up to $100.
Adults 18 and Older
Most cannabis-related charges (including unlawful cultivation, possession, or sale) are treated as misdemeanors, punishable by fines up to $500, and/or up to six months in jail. However, these charges are usually upgraded to felonies for adults who already have either serious violent crimes or multiple prior drug-related charges on their records. Felony-level penalties for cannabis charges can include fines of up to $10,000 and up to 3 years in jail.
Marijuana DUI Charges
While there is presently no defined "legal limit" of marijuana deemed unsafe to drive after consuming, nor a reliable way to test for such a limit, driving while under the influence of marijuana is a crime in California. The consequences of a cannabis DUI conviction can include driver's license suspension, jail time, mandatory DUI safety classes, and fines as high as $15,000 or more.
As you can see, the penalties for cannabis-related convictions can be detrimentally life-changing. It's not worth trying to get by with a cheap all-purpose lawyer (or worse, trying to represent yourself) if you find yourself facing criminal marijuana charges in California. Always consult an attorney with a defined cannabis practice and a track record of success with cases like yours.
---
How to Find the Best California Cannabis Lawyer for Your Needs
With hundreds of lawyers claiming proficiency in the cannabis field, finding the right one to entrust your business (or personal record) to can be daunting. Here are the essentials to look for when retaining a California marijuana lawyer.
Cannabis Industry Expertise
Choose a firm with a proven track record of expertise in the cannabis field. Far too many lawyers are quick to tack "cannabis law" onto their advertising materials without anywhere near the required level of expertise to consistently beat cannabis-related charges or keep a cannabis business running compliantly. You need a California cannabis attorney with extensive experience in the field, as well as in-depth current knowledge of local and state local cannabis ordinances.
Local Expertise
While some excellent California cannabis lawyers can and do serve clients throughout the state, certain circumstances may be best handled by a local attorney. The local advantage is especially useful regarding the details of doing business in notoriously difficult cities or counties – or the nuance of challenging criminal charges in a particular jurisdiction.
Experience Dealing with Regulators (business law)
Operating a California cannabis business inevitably involves dealing with regulators and red tape. A lawyer with extensive experience handling state regulators, and who has built positive relationships with local regulators will be the most efficient and effective at smoothing over any potential issues that may arise. Since regulations affecting cannabis businesses are constantly evolving, also ensure that any marijuana business attorney you retain is dedicated to continually reviewing local, state, and national laws for updates.
Criminal Justice Background (criminal cases)
The best California cannabis lawyers for criminal charges typically have backgrounds in the criminal justice field. Lawyers who know exactly how California's prosecution system treats cannabis cases (and have built a network of relationships within the local court system) have a significant strategic advantage in helping their clients beat these charges.
Accessibility
When dealing with urgent questions or emergency situations, you need a cannabis attorney that is accessible and available to talk things through at your convenience. Before you retain a marijuana lawyer, inquire about their firm's contact protocols. Are they available via text or phone call around the clock, or only within set business hours? Do all calls and emails reach your assigned attorney directly, or do other paralegals or assistants screen all inquiries? How often will your cannabis business attorney be available for routine legal checkup appointments?
Reputation and Track Record
Don't be afraid to interview more than one lawyer before signing on the dotted line. Look for a cannabis attorney with an excellent reputation and a proven track record of success. Your business or social network can be a great place to find firsthand recommendations. To help with your search, we've compiled our own list of California's top cannabis lawyers (below), as well as city-specific guides to the best cannabis law firms throughout the state.
---
California's Best Cannabis Lawyers

Shouse Law Group is one of California's top criminal law firms, dedicated to getting charges reduced, dismissed, or expunged while providing emotional and moral support to clients throughout the process. Shouse handles marijuana-related cases including DUI, illegal possession, sale, and transport of marijuana, and also provides legal "second opinions" on case strategy. Shouse Law Group's staff has an extensive knowledge of each local court they serve and includes former prosecutors and career police officers as well as private investigators and forensics experts. Shouse Law Group has thirty offices located throughout California, as well as offices in Colorado and Nevada.


One of California's best cannabis business law firms, Harris Bricken helps cannabusinesses of all types with legal planning, regulatory support, corporate guidance, and compliance strategy. From permitting and licensing to taxation, mergers, acquisitions, and litigation, Harris Bricken takes a bold, innovative, passionate approach to help cannabis businesses thrive while staying strong, compliant, and protected. Harris Bricken's California cannabis practice has served California's medical and recreational marijuana industry since 2012. Harris Bricken operates internationally, with offices in Los Angeles and San Francisco.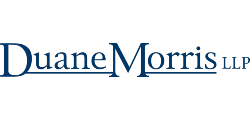 True experts in cannabis business law, Duane Morris assists cannabusinesses and individuals with a wide range of business, employment, and investment situations. Duane Morris's deep understanding of the federal and state-level regulatory framework surrounding cannabis and extensive hands-on industry experience make it one of the state's most trusted legal resources for employees, investors, and business owners in the cannabis and ancillary industries. Duane Morris operates throughout the US and internationally, with California branches in Los Angeles, Silicon Valley, San Diego, San Francisco, and Lake Tahoe.

---
---
Category Pages: